We all want to go there, but most have no idea where to start. So get ready to leave all expectations behind, open your eyes and embrace a new perspective. You are coming, at long last, to Australia's final frontier. Words by Gail Liston.
Here on the eastern edge of the Top End of the Northern Territory, the culture of the Aboriginal inhabitants, and much of its environment, remain mysterious and unknown to outsiders. In Arnhem Land, where there are not four but six seasons, raging rivers run wild, savannah woodlands teem with remarkable wildlife, primeval wetlands brim with fish, crocodiles and exceptional marine animals, more than 260 species of birds flock to the skies and the word "remote" takes on fresh meaning.
Spectacular coastal landforms with hundreds of offshore islands, cays, reefs and estuaries, combined with a strong Aboriginal cultural presence, define the Eden that is the Gove Peninsula.
You will be referred to as a "balanda" or "managa" (non-Indigenous) and witness a profoundly different lifestyle to that on your suburban street, and this is where an open mind will come into play.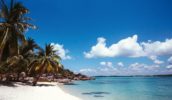 This vast, 97,000km2 region has just 18,000 inhabitants, with the majority continuing to live a traditional lifestyle on isolated homelands. The connection to country is strong, and traditional hunting and gathering activities are still practiced.
One thing is for sure, these Australians have stamped their mark over tens of thousands of years on the walls of caves and rocky overhangs and some of the most stunning landscapes this nation has to offer. So an opportunity to share this extraordinary land is not to be missed, even for a balanda.
---
Where to go
Gunbalanya
The community of Gunbalanya (Oenpelli) lies about 15km from the border of Kakadu National Park. Nearby is the rugged Arnhem Land Escarpment known as the Stone Country, where deep plunging gorges, huge boulders and wide overhanging rock platforms dominate. Beyond the settlement is Gunbalanya billabong, surrounded by open flood plains and overshadowed by Injalak Hill, a site extensively rich in rock art paintings and a source of inspiration for the local artists.
Cobourg Peninsula
The Garig Gunak Barlu National Park includes the entire Cobourg Peninsula and surrounding waters of the Arafura Sea, Van Dieman Gulf and a few neighbouring islands in northwest Arnhem Land, a land area of 4500km2. Only 15 vehicles a day are allowed into the park and permits are required for both entry and camping. The journey is well worth the effort; this is a true wilderness, where fewer than 50 Aboriginal people live on five homelands and, aside from a handful of rangers, a couple of oyster farmers and the staff at Seven Spirit Bay, there is literally no-one else.
Maningrida
At the mouth of the Liverpool River, Maningrida is in the heart of west Arnhem Land, where the landscape of the rocky escarpment country meets sprawling flood plains that feed meandering river systems. It's largely comprised of monsoon woodlands intermingled with billabongs and riverine habitats turning into one vast wetland during the wet season. Maningrida is a centre for 34 homelands, home to 2600 people, and fosters more than 800 artists through Maningrida Arts and Culture.
From living in an Aboriginal family home to making your own didgeridoo, there are plenty of ways to expand your cultural horizons in Arnhem Land.

Gove Peninsula
On the far northeastern tip of the NT mainland, spectacular coastal landforms with hundreds of offshore islands, cays, reefs and estuaries fairly churning with marine life, combined with a strong Aboriginal cultural presence, define the Eden that is the Gove Peninsula. And, good news, everything is easily accessible from the regional centre, Nhulunbuy, a modern mining town of 3500 people. Built in the 1970s to service bauxite mines, the town has become the focal point for tourism. Close by are the Indigenous communities of Gunyangara, famed for the annual Garma Festival, and Yirrkala, where the Buku-Larrnggay Mulka art centre markets the exceptional works of local artists to the world. The Yolngu people also are exponents of the yidaki (didgeridoo) and their musical ancestry has spawned such performers as Mandawuy Yunupingu and his band, Yothu Yindi.
Groote Eylandt
Able Tasman was the first European to sight the largest island in the Gulf of Carpentaria in 1644, naming it Groote Eylandt, or "large island". Since then the homeland of the Anindilyakwa people has remained relatively isolated. Some development occurred as a result of a magnesium mining operation that began in the 1960s, but the community shunned tourism. This all changed in 2007 with the opening of Dugong Beach Resort and the gradual entry of the Anindilyakwa into cultural tourism. Groote Eylandt Archipelago is now a significant new addition to the Aussie traveller's holiday planner.
---
Getting there
By air
Airnorth operates morning and afternoon flights to and from Darwin to Maningrida on weekdays, with one flight each on Saturday and Sunday (www.airnorth.com.au). The airport at Nhulunbuy in far northeast Arnhem Land is known as Gove, and Qantas and Airnorth have regular daily jet services from Darwin and Cairns. Airnorth also flies daily to Groote Eylandt from Darwin. Charter flights land at the airstrip on the Cobourg Peninsula but here's the rub: it's a 2km drive to the campground with no public transport. More info: (08) 8999 4814.
By road
There's no access into Arnhem Land in the wet season (Nov-April), with the roads and tracks becoming impassable, so plan any road trips to being after May. It's also worth noting that none of the roads in Arnhem Land are recommended for caravans, only sturdy off-road camper trailers, and the Northern Land Council will not issue permits for caravans.
Whether you're on tour or self-driving, remember you're travelling on private land through sensitive cultural regions.
If driving to Nhulunbuy, take the turnoff to the Central Arnhem Highway 52km south of Katherine on the Stuart Highway. It's a further 710km to Nhulunbuy from the turnoff, only the first 30km of which is sealed. From then on the road is corrugated, slippery with loose gravel, and in some places heavy with bull dust.
There are two major river crossings at the Wilton River near Bulman Aboriginal community and the Goyder River, about 400km from Nhulunbuy. 4WDs are recommended and fuel stops are rare. Again, the road is usually closed from November to May due to the monsoonal wet season.
The road to the Cobourg Peninsula is open during the dry season only, usually from May 1 to Oct 31. It's an unsealed road for 4WD vehicles only and will take eight hours to cover the 570km from Darwin to Black Point, with no permitted stops between the East Alligator River and the Garig Gunak Barlu National Park boundary.
Getting to Maningrida is a tad easier. It's about 520km from Darwin via Gunbalanya and takes 6-7hrs (be careful to follow the signs). There are a number of river crossings after Cahill's Crossing before reaching the settlement. Access by road is usually limited to June-November inclusive, while the road between Maningrida and the community of Ramingining is closed to all non-local traffic.
Fuel and Food
Nhulunbuy has one petrol station and two supermarkets. Fuel and food are available at the Mainoru Outback Store, about 256km from the Stuart Highway on the Central Arnhem Highway. The last fuel stop before Gunbalanya, Cobourg Peninsula and Maningrida is at Jabiru, so make sure you carry extra fuel in jerry cans.
There's no fuel available at Black Point on the Cobourg Peninsula but there's a store open throughout the dry season. Maningrida has two supermarkets, four takeaway outlets and two petrol stations.
Road Hazards
The NT now has an open road speed limit of 130km/h, but it's recommended not to travel at more than 80km/h in Arnhem Land since conditions vary on the roads so much throughout the year. And unless you're sure of the water depth, flow rate and any road damage never attempt to cross flooded bridges or causeways. Most importantly, do not ignore signs.
There's also a lot of wildlife constantly moving across Arnhem Land, particularly at dawn and dusk. Stock and wildlife often feed on the edges of roads (be particularly wary of buffaloes). It also cannot be stressed enough that Arnhem Land is very isolated, and a missing vehicle is far easier to locate than missing people. Never leave your vehicle, regardless of the circumstances. Economise on water if you're away from the main road – and if you do intend to leave a main road, let someone know of your plans and expected time of arrival. Importantly, also let them know you've arrived safely. Carrying an emergency supply of fuel and food is a good idea wherever you're going, and make sure you include at least 20 litres of water.
Entering Aboriginal Lands
Permits from the Northern Land Council are required to travel in Arnhem Land. These are free, but the paperwork must be lodged prior to your trip and approval granted. If you're travelling with an accredited touring company, your permit should be included in your tour package. Contact the Northern Land Council on (08) 8920 5100 or www.nlc.org.au
There is a fee for permits to Groote Eylandt ($30 adults, $20 kids 15 to 17 years, under 15 no permit required). For info on Groote Eylandt permits, contact the Anindilyakwa Land Council on (08) 8987 4040 or www.anindilyakwa.com.au
You will also require a permit from the Department of Natural Resources, Environment, The Arts and Sports to travel to the Cobourg Peninsula. The cost is $232.10 per car for up to seven nights, and there's an additional camping fee of $16.50 per person, (08) 8999 4814, www.nt.gov.au/nreta/index.html
Weather
The tropical dry season is May-Oct and is the so-called "winter", during which temperatures hover around 28ºC with superb tropical nights warm enough to dine out under the stars. Rainfall is usually during the tropical summer season from Nov-April and daytime temperatures are around 30-33ºC with sea breezes.
Accessing money
Nhulunbuy has Westpac Bank and there are ATMs in the bank and supermarkets. Maningrida has an ANZ Bank as well as several ATMs around the community. There's an ANZ Bank in Alyangula on Groote Eylandt, as well as ATM access. There's no ATM or bank in Gunbalanya or on the Cobourg Peninsula.
Cultural Protocol
Whether you're on tour or self-driving, remember you're travelling on private land through sensitive cultural regions. Aboriginal people tend to be polite to strangers and are thus more inclined to "agree" to requests from visitors, such as being the subject of photos, even if it's something they don't want to do. Avoid taking advantage of the hospitality of your Indigenous hosts; don't offend or intrude.
Sacred Sites
Sacred sites are vital spiritual and cultural places that link Aboriginal people to their cultural traditions and the land. Please respect this, and the wishes of the Traditional Owners, by avoiding and respecting sacred sites.
---
Accommodation in Arnhem Land
Cobourg Peninsula
1. Seven Spirit Bay // Five-star luxury with all mod-cons on an idyllic cove. www.sevenspiritbay.com
2. Black Point camping // Two campgrounds but only one allows a generator. Four huts available for rental during the season. www.nt.gov.au/nreta/index.html
Maningrida
1. IMPA Motel // Ten ensuite rooms and a central fully equipped kitchen and lounge area. Contact Maningrida Progress Association, (08) 8979 6060.
2. Djinkarr Motel // Three twin rooms about 15mins drive from the community. This motel is generally part of eco-touring packages. www.maningrida.com/tourism
3. Camps // There is no campground available at Maningrida.
Nhulunbuy
1. Gove Peninsula Motel // Comfortable self-contained units with kitchenettes and air-con. www.govemotel.com
2. Walkabout Lodge // Newly refurbed rooms in a hotel complex with entertainment, bars and restaurant. www.walkaboutlodge.com
Groote Eylandt
1. Dugong Beach Resort // Beautifully appointed, two-year-old, four star resort with classic views of the coastline. https://www.grooteeylandtlodge.com.au/
2. ET Escape Sportfishing & Wilderness Lodge // Safari-style cabins housing up to 24 guests. www.escapesportfishing.com
Important note // There is no accommodation for visitors in either Gunbalanya or Yirrkala.
---
Things to Do
Finding Fish
A select number of operators have cornered the market on quality fishing expeditions in Arnhem Land.
1. ET Escape Sportfishing & Wilderness Lodge // World-class fishing in tidal coastal creeks, mangrove-lined estuaries and along remote coastlines and islands staying at a minimal impact, safari-tented lodge on Groote Eylandt. www.escapesportsfishing.com
2. Iron Lady Wilderness Safaris // Liveaboard fly, sport and game fishing charters in the remotest areas of northeast Arnhem Land and the Gulf of Carpentaria, ex-Nhulunbuy.
3. Nomad Charters // Personalised fishing charters off Bremer Island, off Nhulunbuy in east Arnhem Land, staying at Banubanu Wilderness Retreat. www.nomadcharters.com.au
4. Gove Sports Fishing & Diving Charters // Angling adventures in the Arafura Sea, camping on Wigram Island. www.govefish.com.au
5. Arnhemland Barramundi Nature Lodge // Caters for anglers seeking remote sportfishing experiences with comfortable tented lodge accommodation near Maningrida. www.barralodge.com.au
Seeking Art
Arnhem Land is rich with Indigenous art. Here are five repositories you shouldn't miss.
1. Injalak Arts and Crafts at Gunbalanya, www.injalak.com
2. Maningrida Arts and Culture at Maningrida, www.maningrida.com
3. YBE Arts Centre at Nhulunbuy, www.ybe.com.au
4. Buku-Larrnggay Mulka at Yirrkala Community near Nhulunbuy, www.yirrkala.com
5. Anindilyakwa Art & Culture Centre on Groote Eylandt, www.anindilyakwaart.com.au
Discovering Culture
From living in an Aboriginal family home to making your own didgeridoo, there are plenty of ways to expand your cultural horizons in Arnhem Land.

Maningrida
1. Arnhem Land Eco-Cultural Tours // Owned and operated by the Bawinanga Aboriginal Corporation at Maningrida. Build your own tour or follow the three-day package available for Tuesday departures. www.maningrida.com
Nhulunbuy & surrounds
There's a wide selection of Yolngu Cultural Programs available in Nhulunbuy and the surrounding homelands. Below are a few of the favourites, and for more info on each, check out the East Arnhem Land Yolngu Tourism Hub at www.yolngutourism.com:
1. Bawaka Cultural Experiences // Join Timmy Burarrwanga and his family on their traditional homeland on the tranquil shores of Port Bradshaw.
2. Nyinyikay: Yolngu Time // Spend six days interacting in the daily life of a traditional Aboriginal family at the home of Nancy Mutilngga Burarrwanga.
3. Rripangu Yirdaki Masterclass // Stay with legendary yidaki (didgeridoo) exponent Djalu Gurruwiwi in a cultural immersion experience and become an expert at crafting, as well as playing, the yidaki.
4. Buymarr Getaway Exclusive Camping // Camp with the Wangurri and Djapu clans on a remote homeland.
Groote Eylandt
1. Historic Art Site Tour (Wurruwarrkbadenumanja) // Visit a rock art site, hear the Saltwater Stories and tuck into morning tea with your guide. www.amuwarngkatours.com.au
2. Bush Tucker Discovery (Eningerribirra Aninga) // Morning or afternoon walks with local Anindilyakwa people. www.amuwarngkatours.com.au
Gunbalanya
1.Injalak Hill Tour // Walk through beautiful sandstone caves filled with ancient remnants of Aboriginal dwellings and rock paintings. www.injalak.com
---
Touring Arnhem Land
Here's a selection of quality tour guides operating in the region.
1. Davidson's Arnhemland Safaris // Visit Mt Borradaile, one of the most significant art sites in Australia, and investigate one of Australia's most pristine environments. www.arnhemland-safaris.com
2. Lords Kakadu & Arnhem Land Safaris // Award-winning operator with a range of tours starting from $195 per person. www.lords-safaris.com
3. Venture North // Offers exclusive touring to the Cobourg Peninsula, starting with four-day Arnhem Land & Cobourg Peninsula Tour at $1569 per person. www.northernaustralia.com
4. Brookes Safaris // Personalised high-end touring for the discerning traveller throughout Arnhem Land and across the Top End. www.brookesaustralia.com.au
Tracking Big Game
Art, culture and fishing aside, Arnhem Land also represents one of Australia's most adventurous regions for big game hunting.
1. Davidson's Hunting Fishing Safaris // Not for everyone, but chasing big barra' and wild boar is pretty exciting in Arnhem Land. www.arnhemland-safaris.com
2. Blue Water Big Game // Hunt water buffalo and wild boar in remote terrains. www.bluewaterbiggame.com
---
Making Music
Music is a powerful part of Aboriginal culture and the music of Arnhem Land is an exciting mix of Western and traditional sounds. Think about picking up some CDs before your trip so you can listen to the talent in situ.
1. Milkay Mununggurr // Renowned didgeridoo exponent, plays traditional music from coastal west Arnhem Land. www.manikay.com
2. The Nabarlek Band // The boys from Manmoyi outstation cut their teeth on four upturned flour tins and snaggle-stringed guitars. With four albums to their credit, they combine traditional sounds with a rock/reggae beat. www.skinnyfishmusic.com.au
3. Yothu Yindi // You may have listened to them in the late '80s but the music is more relevant when walking along a beach in east Arnhem Land with the vocals of Mandawuy Yunupingu singing in your ears.
4. Geoffrey Gurrumul Yunupingu // Hails from northeast Arnhem Land and is a former member of Yothu Yindi. Still sings with the Saltwater Band from his homeland of Galiwin'ku on Elcho Island as well as pursuing his solo career. www.skinnyfishmusic.com.au
5. Lonely Boys // Hard rock from the remote community of Ngukurr, they won the Barunga Battle of the Bands in 2006. www.skinnyfishmusic.com.au
Getting Festive
There's no better way to see the communities of Arnhem Land come to life than by timing your visit with one of these major annual events.

1. Barunga Sports and Cultural Festival, June 11-14, 2010 // Traditionally an opportunity for different clan groups from all over the Top End, Qld, the desert, SA and WA to come together, share knowledge, dance and play sport, the Barunga Festival is evolving into a cross-cultural celebration and information-sharing opportunity. The $20 entry fee includes camping and Jessica Mauboy Concert. Central Arnhem Hwy, Barunga. www.barungafestival.com.au
2. 12th Garma Festival, August 6-10, 2010 // Australia's foremost Indigenous cultural exchange event, Garma attracts more than 3000 people from diverse clan groups. This celebration of Yolngu culture is a sharing of knowledge and an encouragement of continuing traditional practices. Entry fees apply. Gulkula, northeast Arnhem Land. www.garma.telstra.com
3. Stone Country Festival, August 28, 2010 // Visitors are welcome to come to participate in the local sports carnival, rock art tours, cultural dancing, basketball games, scenic flights, bush tucker and didgeridoo playing at Gunbalanya. Local bands headline, camping is permitted, no alcohol is to be brought into the community. Gunbalanya, west Arnhem Land. www.injalak.com
---
Don't leave home without
1. A big water bottle // You'll need to drink at least two litres of water a day.
2. The right clothes // Light-coloured, lightweight clothing that covers tummies, bottoms and legs. Aboriginal people are very conservative and for women, exposing skin below the waist and above the knees is considered inappropriate.
3. Sturdy walking shoes // The rocky terrain can be very challenging.
4. Insect repellent // Mosquitoes are big and active around sunset, so repellent with a DEET base is important.
5. Thinking of your pet // Pets aren't allowed in any NT National Parks or in Arnhem Land. Boarding facilities are available in Darwin and Katherine.
6. An open mind // Your visit to Arnhem Land will definitely be enhanced by leaving all preconceived notions behind.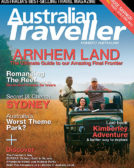 Enjoy this article?
You can find it in Issue 31 along with
loads of other great stories and tips.