Set aside at least four weeks to explore Queensland's outback western districts. If you go in August to September, you can also have yourself an "event crawl", following the weird and wonderful annual events across the region. Dates are for 2012 only. Book early!
Brisbane to Charleville (800km)
After a very full day of driving, have a rest at Charleville. If you spend the night, check out the Charleville Cosmos Centre, where visitors can use state-of-the-art telescopes to see stars, planets and moons up close. There's also the Charleville Bilby Experience, where you can meet resident long-eared bandicoots and learn about the endangered species and the local breeding program. Stay at the Evening Star Caravan Park or Bailey Bar Caravan Park; both well-equipped campgrounds that do camp-over dinners. Use the local convenience stores to stock up on food along the way. cosmoscentre.com; outbacknow.com.au; eveningstar.com.au; charlevillebaileybar.com.au
Charleville to Windorah (450km)
Arrive before August 31 to catch the Windorah Yabby Races, which see hundreds of people come to place their bets and the main street closed off while selected yabbies race around a set course. While there, check out the mud baths at Eulo Date Farm or cool off in Cooper Creek, which is a top fishing spot, ideal for birdwatching and watersports. Enjoy a pub meal at Windorah Western Star Hotel and stay the night at Windorah Caravan Park. queenslandholidays.com.au; westernstarhotel.com.au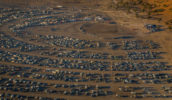 Windorah to Birdsville (400km)
Get to Birdsville in time for Birdsville Races, from August 31 to September 1. If you're in town for the event, check out Fred Brophy's Boxing Tent, Australia's last remaining boxing troupe. Also pay a visit to Big Red – the first and highest of 1100 dunes in the Simpson Desert, located 35km west of Birdsville. Camp the night at Birdsville Caravan Park or book a room at the Birdsville Hotel. birdsvillecaravanpark.com
Birdsville to Bedourie (200km)
September 7-8 is the Bedourie Ute Muster, offering plenty of food and prizes up for grabs. Refresh with a visit to Bedourie's Artesian Spa and Swimming Pool complex; comprising a 22-person therapeutic spa with warm, crystal-clear water coming directly from an artesian bore. Stay in an air-conditioned room at the Bedourie Hotel or camp at a common area suitable for vans. bedouriehotel.com
Boulia to Winton (360km)
Pop into the Middleton Hotel for a meal and a break before heading on to Winton, which hosts the Outback Festival every two years, with the next one not until 2013. But if you're there in an off-year, there's also the stunning Cawnpore Lookout and the Australia Age of Dinosaurs Museum. outbackfestival.org; experiencewinton.com.au; australianageofdinosaurs.com
Winton to Longreach (180km)
Visit Kinnon and Co Station Store, the Qantas Founders Museum and the Australian Stockman's Hall of Fame Museum. Then load your vehicle on Queensland Rail's Spirit of the Outback train service and let someone else do the steering for a relaxing trip back to Brisbane. www.kinnonandco.com.au; qfom.com.au; outbackheritage.com.au; railaustralia.com.au/spirit.php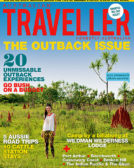 Enjoy this article?
You can find it in Issue 43 along with
loads of other great stories and tips.