Queensland has an abundance of gorges that are just as compelling as the stunning Cobbold. If breathtaking scenery is your thing, gorge yourself on these outback.
1. Cobbold Gorge
This simply stunning chasm is the star of Queensland's gorgeous gorges, unknown to all but its indigenous inhabitants until the 1990's. For more on the youngest of Queensland's star gorges, check out our adventure: Cobbold Gorge: the most gorgeous of the gorges?
2. Lawn Hill Gorge
Located in the Boodjamulla (Lawn Hill) National Park, in the remote north-west highlands of Queensland, Lawn Hill's sandstone cliffs, emerald waters and surrounding lush vegetation are stunning. Formed by Lawn Hill Creek, the gorge is an oasis in the outback landscape, attracting an abundance of wildlife, and offering visitors the choice of walks (tracks into the gorge are of varying lengths and grades), canoeing, cultural and historic sites, or the simple pleasure of drinking in the spectacular views. There is camping inside the National Park and also close by at Adel's Grove.
3. Carnarvon Gorge
The big daddy of Queensland gorges, Carnarvon is located in the Carnarvon National Park, a short drive from the regional centres of Roma or Emerald. The gorge itself presents endless options to stand in wonder at, from the cool stillness of the Moss Garden to the sheer vastness (and amazing acoustics) of the Amphitheatre. There are two absolute must-dos here: walk to the Art Gallery, a significant Indigenous site; and set out on the 87-kilometre Carnarvon Great Walk, taking in soaring cliffs and sandstone escarpments. Seasonal camping is available in the park, with year-round camping and accommodation options nearby.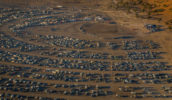 4. Porcupine Gorge
Set inside Porcupine Gorge National Park, the lookout above the gorge is about 60 kilometres north of the town of Hughenden. One of the big ticket items here is the imposing Pyramid, a monolith of sandstone erupting from the floor of the gorge and shaped like, you guessed it, a pyramid. The birdlife is another draw for visitors, and there is plentiful camping available, allowing you to pitch a tent and indulge in the solitude and beauty of it all.
5. Robinson Gorge
Situated within Expedition National Park, 90 kilometres north-west of the town of Taroom, Robinson Gorge is bordered by cliffs up to 100 metres high and lined with bottlebrushes, wattles and cabbage palms, which have been around since the time of dinosaurs. There are walking tracks and campsites throughout the park.
6. Copperfield Gorge
Copperfield Gorge at Einasleigh (329 kilometres by road south-west of Innisfail) is just a short walk across the road from the shady balcony of the iconic Einasleigh Hotel. Broader and deeper than Cobbold, it has volcanic basalt rock, a waterfall and a beach, and offers seasonal fishing and swimming, as well as great hiking tracks.
7. Hell Hole Gorge
This is where gorges get real: accessing Hell Hole Gorge National Park, 256 kilometres north-west of Charleville via unsealed roads, requires 4WD vehicle and there are no formal walking tracks or campsites with facilities. Visiting Hell Hole Gorge is about being removed from the world and coming face to face with nature at its most rugged and untouched. Camp near the Hell Hole Waterhole and strike out (with a compass) to see waterholes overlooked by sheer cliffs, and spot wildlife such as the red-tailed black cockatoo and yellow-footed rock wallaby.
More information: Queensland.com
MORE… Cobbold Gorge Tours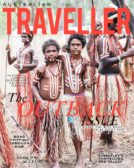 Enjoy this article?
You can find it in Issue 78 along with
loads of other great stories and tips.