Tropical North Queensland is a region of spectacular natural beauty, where the rainforest meets the reef.
Cairns is the gateway to Tropical North Queensland, from Cairns you can explore towns such as Palm Cove, Port Douglas, Daintree and Cape Tribulation, Mission Beach and Atherton Tablelands, all with their own unique character.
Make sure you explore the Daintree Rainforest and Great Barrier Reef Double Act and try spotting an elusive cassowary.
Tropical North Queensland offers sun-drenched beaches, island escapes, snorkelling and reef tours or simply the opportunity to relax and unwind at one of the Tropical North's best resorts and taste the tropics at a local restaurant or bar.
Here's our pick of the best things to do in Tropical North Queensland to make the most of your next Tropical North getaway.
Getting to the Tropical North
Getting to the Tropical North is easy, with domestic and international flights arriving daily to Cairns Airport. All major hire car companies are available from Cairns Airport to self-drive and explore the region. You can also catch the Spirit of Queensland train from Brisbane to Cairns and regular coach services also operate up and down the coast. One of the most scenic coastal drives in Australia is the 1-hour Cairns to Port Douglas drive.
Best Things to Do in the Tropical North
Reef Tours
Start your Tropical North Queensland adventure with a reef tour to the World Heritage-Listed Great Barrier Reef. Explore the spectacular underwater world with its colourful coral gardens, tropical fish, turtles and abundant marine life with plenty of snorkelling and scuba-diving tours to choose from. Prefer staying above water? View the reef from a glass-bottomed boat or set sail on day trips from Port Douglas and Mission Beach. For a truly memorable experience take flight with a helicopter or fixed wing aircraft for a bird's-eye view of the reef.
Crocodile Spotting
The easiest way to see fearsome and fascinating crocs is at one of Tropical North Queensland's wildlife parks. Half way between Cairns and Port Douglas you'll find Hartley's Crocodile Adventures or venture to Wildlife Habitat Port Douglas for some crocodile spotting, guided tours as well as other wildlife experiences.
Walking Tracks
Walk, trek or stroll your way around the Tropics with a range of trails suitable for every level of fitness. One of the most accessible and spectacular walks is to Barron Falls in the Barron Gorge National Park near Cairns.
For the more adventurous, explore the world's oldest rainforest Cape Tribulation two hours north of Cairns, on a series of walks including the Emmagen Creek and Beach walk which is a five hour round trip from Cape Trib.
For leisurely strolls, take a walk along Four Mile Beach in Port Douglas and enjoy picture perfect sunrise views.
Top Places to Stay in the Tropical North
Whether you're planning a romantic getaway, family holiday or honeymoon you'll find the perfect Tropical North Queensland accommodation to suit your style and budget. From Cairns city hotels for business to Port Douglas accommodation to relax and recharge poolside, there are plenty of options for Tropical North accommodation.
Luxury Accommodation
For a true escape to island life, head to Bedarra Island off the coast of Mission Beach to experience an exclusive adults-only haven catering to just 16 guests.
Lizard Island is Australia's northernmost Great Barrier Reef resort and just an hour's flight from Cairns. This secluded luxury lodge will have you feeling relaxed in no time.
Alternatively, chill out in Palm Cove with a choice of luxury resorts including beachfront beauty Alamanda Palm Cove and The Reef House & Spa with luxe Colonial styling.
In Port Douglas, a little more vibrant and ambient than Palm Cove, the iconic Sheraton Grand Mirage Resort is blessed with Seven Mile Beach frontage that makes all other hotels green with envy.
Built in the 1980's by notorious white-collar criminal Christopher Skase, it was the Sheraton that put Port Douglas on the map. Even if you do not stay in the hotel, make sure to eat at Harrison's – probably the finest restaurant in the region.
Hotels & Resorts
Tropical North Queensland has a range of hotels and resorts to suit every traveller.
Riley is a five-star hotel with sustainable credentials, the first of a series of hotels opening in Cairns by Crystalbrook Collection. Boasting panoramic views of the Esplanade boardwalk from the rooftop bar, 1000 sqm swimming lagoon, day spa, restaurants and more, you'll want to sleep with Riley.
Castaways Resort & Spa Mission Beach is the perfect spot to enjoy a tropical holiday. With absolute beachfront position, restaurant & bar with a cool beach club vibe, day spa, pool and direct beach access; relax, you've found the ultimate beach escape.
Hostels & Motels
There is plenty of backpacker accommodation in Tropical North Queensland.
Cape Trib Beach House offers budget accommodation from Dorm rooms to private cabins in Cape Tribulation. With no TV and limited phone and internet coverage it's time to digital detox and enjoy the picturesque private beach, meet fellow travellers and explore Cape Trib.
Travellers Oasis in Cairns is highly regarded by backpackers as a cosy and clean hostel with friendly staff happy to help with tour packages and information creating a chilled vibe in the tropics.
Best Places to Eat in the Tropical North
Nu Nu at Palm Cove is considered the best place to eat in the Tropical North with palm-filtered Coral Sea views. Chef-owner Nick Holloway creates delicious dishes to accompany a creative drinks list for all day dining in tropical style.
Harrisons by Spencer Patrick has successfully relocated from its former breezy Queenslander in Port Douglas to the grand Sheraton resort, offering all day dining for visitors and guests at this sophisticated fine diner.
It's well-known for its iconic waterfront location, but Cairns is also home to an array of fabulous places to eat and drink. Sp...
From swim-up bars to buzzing eat streets and island escapes, explore all the best bits of tropical Townsville. With its postcard-...
Tours and Packages Tropical North
There is so much to see and do in Tropical North Queensland you'll wish you stayed longer. Make time to explore the Tropical North with day tours to the Great Barrier Reef, Daintree Rainforest and beyond.
Take the Big Cat and Visit Green Island for a day of exploration including time for snorkelling or a glass bottom boat tour of the reef.
Discover our rich heritage with 10 Top Aboriginal experiences in Tropical North Queensland including opportunities to discover ancient rock art and learn dot art with inspiring Aboriginal art lessons in Mossman.
Cape Tribulation's ancient Daintree Rainforest is perhaps Australia's greatest adventure playground on the cusp of the greatest...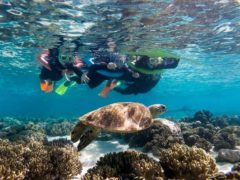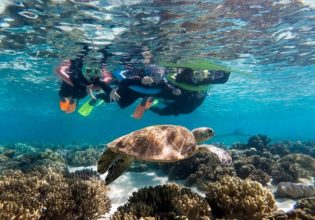 At the edge of the Daintree Rainforest is one of the best spots on the Queensland coast to explore the Great Barrier Reef - it's...
Popular destinations in Queensland to explore