Where is it?  Near Princetown, 200km down the Great Ocean Road from Geelong, or 270km south-west of Melbourne
How to see it for yourself?
Constant erosion by wind and sea of the limestone cliffs formed caves and then bridges; when these collapsed – the fate of the nearby Island Archway in 2009 and London Bridge in 1990 – they left these stacks up to 45m high isolated offshore. They're a highlight of the Great Ocean Road – probably Australia's most scenic coastal drive. Note that you can shave 50km off the drive from Melbourne by taking the inland route via the Princes Highway, but then you'd miss out on the other attractions. Formerly called the Sow and Piglets until being renamed the 12 Apostles in the 1920s, they have never numbered 12 – though it depends who's counting. Continuing erosion means they could topple at any time, but you can currently see seven stacks to the west of the 12 Apostles viewpoint, and two more to the east. Sunrise – the time this shot was taken – offers the most dramatic lighting from the viewpoint, followed by sunset. And visit at dawn or hang around after the sun goes down to see little penguins – they come ashore each evening on the beach at the base of the 70m cliffs. If you want to get to the water's edge yourself, the nearest access is via Gibsons Steps, 1km to the east, but access is restricted.
Why I love it
"People are not normally allowed onto this beach because of the penguin colony, but I was granted special permission and had to be accompanied by a ranger. We arrived in darkness to position ourselves for sunrise; at first light the penguins began to prepare to go out fishing. First one of the birds came down to the water's edge to make sure everything was OK, then he signalled to a little troupe of followers to join him. This was mirrored down the entire beach as hundreds and hundreds of penguins began their daily routine. Some of thepenguins actually walked within inches of my tripod. After they had all departed, the moon began to sink towards the horizon and its silvery light illuminated the scene before me." – Ken Duncan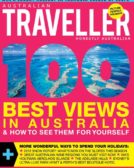 Enjoy this article?
You can find it in Issue 44 along with
loads of other great stories and tips.