You haven't been to Australia until you've gained an understanding of the Aboriginal way of life and explored its rich and varied culture.
Here are the 10 best ways to find out about our indigenous heritage, which will often take you to some of the most remote and beautiful parts of the country, as featured in our 100 Incredible Experiences (right here in your backyard) special issue
1. Journey to the far reaches of East Arnhem Land – Arnhem Land, NT
This incredible corner of Australia is full of adventure for those who like to push into the country's remote outposts.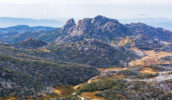 The Yolngu people of East Arnhem Land have a beautiful connection to their environment and are often happy to teach travellers about their ways. If you're up for a bit of a rustic, croc-laced experience, you can join a tour that will take you into Aboriginal communities where you can stay and spend time with the Yolngu.
We have travelled with Venture North and found them to be fantastic, but there are also a few other operators in the area. You can also head to Banubanu Retreat on Bremer Island in the Arafura Sea, where you'll find simple, tented accommodation and guided activities such as fishing and turtle watching. Banubanu has Mark Olive's seal of approval with the indigenous chef saying that the retreat "has almost everything you want in an experience, from world-class fishing, accommodation, boating, and immersing yourself in Yolngu culture, to having an amazing meal and chilling out."
Why you should go: We are so lucky in Australia to be able to venture into remote lands where we can connect with the original custodians and learn from an ancient culture. It's an experience with the power to change perceptions.
2. Explore indigenous culture around Sydney's shores
The waterways of Sydney Harbour hold great significance to the saltwater Cadigal people of the area, and there are two great ways to experience the stories of the traditional owners.
The Rocks Dreaming Aboriginal Heritage Tour's 90-minute walkabout, led by an elder, skirts along the shore and into The Rocks to reveal ancient aboriginal culture right in the heart of modern Sydney.
Celebrated indigenous chef, Mark Olive highly recommends the experience as a great introduction to indigenous heritage, saying: "It's something urban, local and thoroughly engaging."
Follow this up with a cruise along the waters of Ku-ring-gai Chase National Park to visit aboriginal heritage sites of incredible rock engravings, experience a welcome to country ceremony and spot native wildlife with the good people at Sydney OutBack.
Why you should go: To see how contemporary aboriginal society has adapted to incredible change and to understand how the past lives on.
3. Meet the islanders – Tiwi Islands, NT
You will need a permit to visit this cluster of islands north of Darwin, where the indigenous people have been for around 7000 years.
The Tiwi people's culture has been influenced by contact with Polynesia and thus differs to mainland communities, which is evident in their beautiful crafts, including batik, pottery and silk screening.
Since it was introduced, the Tiwis have also wholeheartedly embraced AFL and you will find it an integral part of the community.
Why you should go to Tiwi Island: To travel almost as far north as you can in Australia and to share in a culture that has lived in isolation for thousands of years.
4. Walk under ancient canopies – Mossman Gorge, Queensland
Aboriginal people have been adapting to the country's diverse regions for thousands upon thousands of years, from the desert to the rainforest.
Join Far North Queensland's Kuku Yalanji people on a Ngadiku Dreamtime Walk in tropical Mossman Gorge, to discover the rainforest supermarket where the traditional people stocked up on bush tucker and plants for everyday uses.
Why you should go: To appreciate a world in the undergrowth of one of the planet's oldest rainforests through one of the oldest-surviving people.
5. Party with a remote community – Katherine, NT
The 350-people strong community of Barunga swells to around 4000 souls every June long weekend, when The tiny community of Katherine plays host to sporting events, music, and traditional arts and culture.
Attracting performers including the likes of Gurrumul and Paul Kelly, as well as lesser-known local artists, the line-up is always eagerly anticipated for this celebration of remote indigenous communities.
Why you should go: To feel the warm welcome of a remote indigenous community that's otherwise closed to travellers.
6. Take a mini-break to the Dreamtime Brambuk – the National Park & Cultural Centre, Victoria
Nestled in the Grampians just three hours from Melbourne, sits this centre of learning where visitors can take a Bunjil Creation Tour to hear Dreamtime stories, explore significant rock art, and get a grounding in local indigenous lore at the fantastic Cultural Centre at Brambuk.
Why you should go: Being so accessible from Melbourne, it's a great family trip to give the kids an insight into the rich tapestry of our indigenous heritage.
7. Be a part of the solution – Garma Festival of Traditional Cultures, Arnhem Land, NT
The Garma Festival remains one of the most significant indigenous events in the country, mixing world political and business leaders alongside regular punters.
Rather than aiming to simply entertain or generate tourism, the festival was established to improve indigenous lives and preserve the culture of the Yolngu people of Arnhem Land.
Over four days, you can enjoy the evening Bunggul Dance, musical performances and indigenous films.
This year's event is significant as it marks the 40th anniversary of the Aboriginal Land Rights Act. Held in the remote community of Gulkula, flights are in and out of Gove.
This year, the festival runs from 29 July to 1 August.
Why you should go: To be a part of a collective who want to create a positive future and cherish a valuable past.
8. Walk in the footsteps of the Mungos – Mungo National Park, NSW
Mungo National Park is both archaeologically and spiritually significant.
To the three indigenous groups of the area, the Paakantji, Ngyiaampaa and Mutthi Mutthi, the ground-breaking discoveries of Mungo woman and Mungo man prove the endurance of their people and serve to teach us all valuable lessons.
The remains, which are some of the oldest found outside of Africa and dated at up to 42,000 years old, are no longer at the site but what you will see are 20,000-year-old footprints that are the largest set from the Ice Age in the world.
You'll also learn about the survival of the people in a changing and challenging environment and gain a new appreciation for humankind's resilience.
Why you should go: For the chance to visit a place of overwhelming scientific and cultural significance that pre-dates some of the oldest civilisations.
9. Awe-inspiring ancient figures – Kimberley Coast
Thought to be at least 17,000 years old, the Gwion Gwion (Bradshaw) figures makes ancient Egyptian art look as if it was painted last week.
The beautifully drawn, elongated figures featuring tassles, sashes, and movement have mysterious origins and have not yet been claimed by local indigenous people as the handiwork of their ancestors.
Theories abound as to who may have created these drawings, some argue a different group of Homo sapiens settled the coast and busily decorated rocks.
Similar to the Gwion Gwion are the Wandjina paintings, which, although very different is style, are equally intriguing.
There are an estimated 100,000 of these sites in the Kimberley.
Why you should go: To have your perception of human existence rewritten, and to understand the journey of the earliest settlers. See more at australiasnorthwest.com
10. Learn something old – Kooljaman at Cape Leveque, WA
If making the trip up the Dampier Peninsula to watch the cliffs of Cape Leveque ablaze under the setting sun isn't enough to have you bundling the family into a 4WD, a tagalong tour with local legend Brian Lee should do the trick.
In the crystal waters of Hunters Creek, Brian teaches his charges about the ways of the traditional Bardi people of the area, and shows them how to fish and snare the odd crab.
A Bardi-style cook-up concludes an incredible experience. You will need your own 4WD to tagalong, but considering you can't easily get to Cape Leveque without one, it shouldn't be a problem.
Why you should go: To experience a closeness with nature and a connection between yourself and your food. See kooljaman.com.au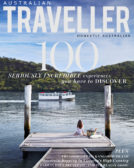 Enjoy this article?
You can find it in Issue 68 along with
loads of other great stories and tips.