East Arnhem Land is a stunning wilderness with amazing vast range of Yolngu culture and natural beauty, as we discovered on a our cultural safari through the region: East Arnhem Land – the ultimate cultural odyssey
Here are five things you might want to know before planning your big journey. (words: Steve Madgwick)
1. Think your family is complicated?
In the intricate Yolngu kinship system, each person is one of two classes known as a moiety – Dhuwa or Yirritja. The designation is regardless of clan and derives from the father's side. Traditionally, everyone must marry outside their own moiety. Next in the ID tree, everyone also has 'clan' and 'skin' names, which can make for intensely complex relationships (for an outsider to understand) between siblings. In some instances, certain brothers and sisters are not allowed to speak to each other directly. The overall objective is for the two moieties to exist in harmony, like 'Yothu Yindi', mother and child. Confused? So are we.Unless you live within this culture it could take years to grasp the nuances of this complex system.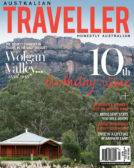 Enjoy this article?
You can find it in Issue 63 along with
loads of other great stories and tips.