Done Darwin and in need of some serious Northern Territory open spaces? It's time to head three hours south to Katherine, the Top End's 'adventure territory' for your outback fill. Voted one of AT's top 100 towns, Katherine's biggest and best attraction is the stunning Nitmiluk Gorge (sometimes called Katherine Gorge).
Carved out of the sandstone cliffs by the Katherine River over thousands of years, Nitmiluk Gorge is actually a chain of 13 separate gorges, each steeped in the culture of the traditional owners, the Jawoyn. Some of the most stunning scenery you'll see in the NT, this ancient wonder winds along 12 kilometres of sheer rock that reaches more than 70 metres in height.
How to get there
Getting to Katherine and Nitmiluk is easy – it's a three-hour drive from Darwin along the Stuart Highway, which is open all year round. Nitmiluk Gorge is 29km from Katherine, also along a sealed road.
Best way to see Nitimiluk (Katherine) Gorge
Boat cruise
Nitmiluk is the traditional home of the Jawoyn people, who jointly manage the 292,008ha Nitmiluk National Park with the NT Parks and Wildlife Commission, as well as owning and operating Nitmiluk Tours. Choose from two or three-hour cruises, dawn cruises or sunset dinner cruises. Most trips include some walking and rock-hopping between gorges so remember to wear comfortable and sturdy shoes and pack plenty of sunscreen.
Canoe trip
Hire a canoe from the visitors centre in the national park and go at your own pace – you should reach the third gorge in a day. From this perspective, the cliffs look even more dramatic and you might spot wallabies and water monitors along the banks as you paddle by, with time to stop for a swim, walk or picnic.
Hiking
Walking tracks abound in Nitmiluk National Park – each one offers differing views of the gorge from lookouts, the escarpment and along the banks. There are shorter walks from one to six hours, or adventurers can take a five-day hike along part of the epic Jatbula Trail, a 62km-long walk following an ancient Jawoyn songline. Swim in crystal pools, fall asleep to the sound of teeming birdlife and have an all-round life-altering experience.
Scenic flights
We highly recommend topping off your Katherine stay with a helicopter flight. Nitmiluk Tours and Heli Spirit both offer flights above the gorge. A 12-minute flight will take you as far as the sixth gorge and 25-minute flights include the whole gorge system. Seeing the landscape from above gives you a sense of how vast this Jawoyn-owned land is.
Things to do in Katherine
Nature and wildlife
Katherine is home to the delightful Katherine Hot Springs, perfect for a relaxing swim at the end of a long day's drive. A trip through Territory Wildlife Park, made up of 400 hectares of natural bushlands, is another great local tour.
Caves and hot springs
To the south of Katherine is Cutta Cutta Caves Nature Park, featuring the Cutta Cutta cave, which is open to the public. The underground network of tropical limestone caves can be easily explored in an hour. Just a little further south still, you'll find the wild swimming holes of Elsey National Park and the hot springs of Mataranka. Fringed by shady cabbage tree palms, the soothing turquoise waters peak at 34ºC, making Mataranka a relaxing and rejuvenating oasis.
Kayak trips
Enjoy an three-day paddling adventure away from the tourist crowds that head to the gorge and kayak the Katherine River downstream of the town. You'll paddle 40-55km through a wildlife-rich river system and camp out on riverside beaches at night.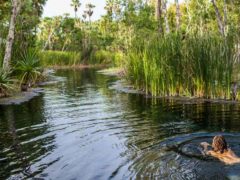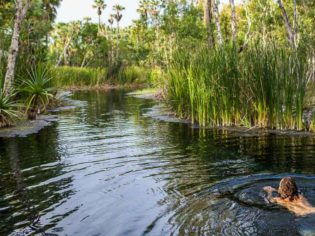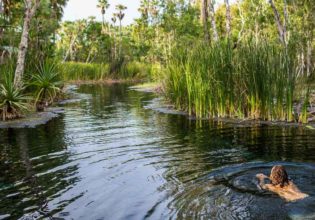 Leave urban pools behind and open your mind to the brave new world of 'wild swimming' at Bitter Springs, south of Darwin. &nb...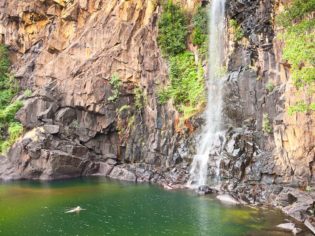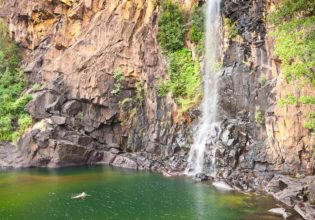 How to explore the wildly beautiful outback in Northern Territory's Nitmiluk National Park... one step at a time. Words by Cilla C...
Katherine accommodation
Resorts
Stay at the wonderful Cicada Lodge, an indigenous-owned luxury lodge with 18 spacious rooms located inside Nitmiluk National Park, and enjoy exclusive access to special tours, including a trip to a secluded swimming hole only known in the English language as 'the art site'. Accessible only via helicopter, this pristine pocket centres around a surging waterfall, surrounded by a gallery of ancient rock art.
Camping
Base yourself at Nitmiluk campground for easy access to the main attraction, Nitmiluk (Katherine) Gorge.
There is a large caravan and camping area a short walk from the gorge with hot showers, free gas barbecues, and a swimming pool. If you don't have a tent, you can stay in the pre-erected tent village, or one of the one- or two-bedroom chalets.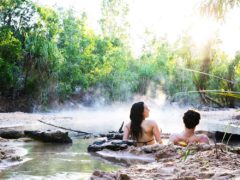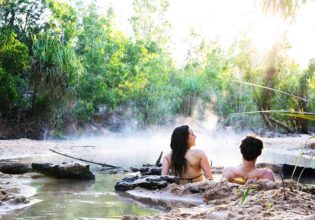 The driving route from Darwin to Katherine via Kakadu and Nitmiluk national parks is a popular one. But it does require a little ...
Best restaurants and local entertainment
The visitors centre at the gorge has a licensed restaurant with a great view over the gorge, but, if you're staying in Katherine, Marksie's Stockman's Camp Tucker is a unique experience not to be missed, with food cooked with Aboriginal bush ingredients and served under the stars with campfire yarns.