Premier transport company Cobb & Co became a true pioneer of Australian travel in a time when passage through the country was notoriously uncomfortable.
Australia's most iconic coach service was started in the gold rush years in Victoria by young American Freeman Cobb.
Along with John Peck, James Swanton and John Lamber, he had recognised the need for passenger transportation between colonies and mining towns, and further inland to the outback.
The first Cobb & Co route was the short trip between Melbourne and Port Melbourne in 1853. At the time, coach travel was essential but passengers were often struck down with motion sickness and injuries from the bumpy ride.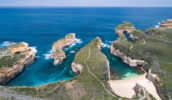 But Cobb & Co's coaches were superior, imported from America where they were designed for travel in the Midwest, which had similar conditions to Australia's rugged terrain.
With regular and reliable services, specially bred horses suited to pulling a fully laden coach at gallop (the coaches carried up to 17 people and luggage), and fixed stops at changing stations to rest and swap horses, Cobb & Co became the preferred and luxurious method of travel.
Changing stations were usually privately run by a family or couple who would provide refreshments for passengers and overnight accommodation; some were more established pubs and inns that prospered from Cobb & Co services.
By 1861 the company had expanded into New South Wales and Queensland after new director James Rutherford secured a valuable contract for the delivery of mail.
But with these profitable mail runs and regular routes came another danger: bushrangers who would wait for the coaches on isolated roads.
Australian artist Tom Roberts's 1895 painting Bailed up was inspired by one of these incidents, when coach driver 'Silent Bob Bates' was held up by local bushranger Captain Thunderbolt in the 1860s.
At its peak, Cobb & Co's coaches were travelling an astounding 45,000 kilometres each week and harnessing up to 6000 horses. But after 70 years of operation, the last horse-drawn Cobb & Co service ran in 1924, when train travel superseded the need for coaches.
Despite its demise, this iconic transport company was forever immortalised in Australian folklore, charmingly penned in folk singer Lionel Long's The Ballad of Cobb & Co.: "The driver's whips are cracking and the horses' hooves are dragging. As across the red and dusty trail they race. There's a distant light a burning and the passengers are yearning, for the comfort of a warm and kindly place."
MORE REWIND STORIES 
→ Ice cream evolution: Streets' summertime legacy
→ The cameleers role in shaping Australia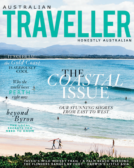 Enjoy this article?
You can find it in Issue 70 along with
loads of other great stories and tips.