South Australia's affordable beach accommodation – campsite
Where is it?
Western River Cove, Kangaroo Island, SA. On the northern coastline of Kangaroo Island, Western River Cove campground is located alongside Western River and Western River Conservation Park; 50 metres from Western River Beach, which faces Investigator Strait. In winter, waves can be seen crashing at the mouth of the river from the campsite. This picturesque area is ideal for swimming, rock and surf fishing, and children can play in rock pools on the eastern side of the cove.
What's it like?
As a basic unpowered campground, there are no designated campsites but rather an elected area for all visitors. Campfires are permitted, except during the fire danger season, and the campground has a large undercover barbecue area and toilet facilities. However, the cove is not accessible for caravans and campervans over five metres due to steep terrain.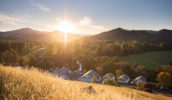 How much does it cost?
From $5 per night per car, or $3 per night per motorbike or per person if unaccompanied by a vehicle.
The details
Western River Cove, Kangaroo Island, SA, (08) 8553 4500,
kangarooisland.sa.gov.au