Burnt Pine is the curious capital of Norfolk Island, the only external Australian territory to make our Top 100. Settled by Polynesians, then "discovered" by Captain Cook in 1774, the remnants of both heritages linger among its famous Norfolk Pines.
The laidback locals, many of whom are descendents of the infamous Bounty mutineers, welcome one and all. What was once known primarily as a retiree's escape is now attracting thrillseekers for its moutainbiking, sea kayaking and horse riding. Many visit for the magnificently preserved penal colony at Kingston, others for the rare wildlife on tiny Phillip Island off Emily Bay.
"You could easily think of investigating ways to stay. That's why they have instituted rules so you probably cannot." – Matt Cleary
But there are yet others who come here simply to shop. Since Norfolk is an external territory, Burnt Pine's main strip is a duty free paradise.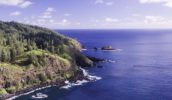 As panellist Justin Wastnage says, "Burnt Pine has surprising charm. A mix of duty free shops, clothes shops for older women and country town staples. But if you kiss enough frogs, you'll find a prince, and on the outskirts are a cool homewares store, a microbrewery and the best restaurant on the island."
Where? // 1610km northeast of Sydney, 1446km southeast of Brisbane (2hr flight).
Did you know? // The name Burnt Pine comes from the fact that much of the evergreen tree was used for charcoal during early settlement times.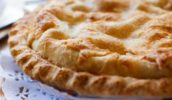 Return to: the 100 Best Towns in Australia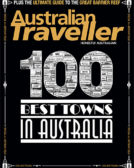 Enjoy this article?
You can find it in Issue 26 along with
loads of other great stories and tips.