Australia's most iconic monolith Uluru has changed as much as you have, says Georgia Rickard.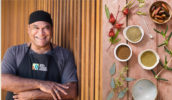 There are a few requisite expectations that come with a visit to the big red rock: namely, that it will be big, red, and rock-like.
It's not.
More on that in a minute, but first to the other expectations one might have about a trip here – that there will be a plethora of Uluru snow-globes for sale, for instance. And that they will cost at least $25.99 each.
That the coffee will be bad. And that, if you've seen Uluru once as a kid, then… you've seen Uluru.
But they're not true.
Well, not all of them, anyway.
Most of us have mixed feelings about this place; the monolithic symbol displayed on every tourist T-shirt of the '80s. Uluru itself might be an incredible wonder of nature, but the tourism culture attached to it – the overpriced hotel rooms, the tour buses, the throw-another-shrimp-on prosaisms – is not. It's easy to assume that, like so many global icons, the wondrousness of this place that's attracted so many millions from around the world has become diluted by exactly that.
But no. If a society can be judged by the way it treats its animals, as Ghandi proclaimed, then Uluru is the barometer by which Australia can measure its progress. What goes on at our red heart is a culmination of the mores and paradigms that flow through the nation's extremities; a direct reflection of our consciousness as a society.
And today's Uluru is not the Ayers Rock of yesteryear. Where once was a place where a major airstrip was to be plonked right beside the rock – on sacred territory, no less – is now a quiet, serenely reverential national park. Gone is the old sunrise viewing platform, which crammed up to 2,500 people each morning onto spiritual ground; in its place is an environmentally respectful development, relocated to a more appropriate area.
The camping ground where Lindy Chamberlain's baby was snatched – located almost on top of the rock – has been removed; all that remains now is a responsible land management policy. And though you can still climb to the summit if you so choose (though only on days when the pathway is open, and there are not too many of those), large signs ask you to reconsider your decision both at the park entrance, and in front of the climb.
In 1990, 74 per cent of all visitors climbed to the top. Three years ago, it was 38 per cent. Today, it hovers around 20 per cent. Late last year, Parks Australia announced intentions to close the climb permanently, if and when numbers fall any lower.
But back to what feels like the biggest difference: between that of the landmark I vaguely remember from primary school, and the powerfully solemn stone in front of me.
The red, dusty rock I was expecting to find – the kind that covers your hands in dust when you touch it – is not red at all, but rather a deep, rich brown. The texture is not sandy but solid. And perhaps it's an age thing – alright, it is – but this time around I'm deeply, reverently in awe of Uluru.
Not just by its height, although it's as tall as an 85-storey building. And not because of its sheer size, though that too is worth acknowledgement, with a circumference of nearly 10 kilometres. I'm in awe because this time, I know what Uluru represents: 600 million years of time. The infinite patience of nature. The wisdom of an Indigenous culture, and their 50,000-year-old-relationship with this continent. This is an Australia that's at once dignified, and raw, and I am torn between a desire to bow deeply to the knowledge of the culture here so long before me, or stand proud as I name it my home.
Of course, there are some parts of Uluru that have not changed. The crowds of sunset viewers, the keyring souvenirs, the questionable coffee (yes, sadly). But mostly, it's the surprises that keep coming.
Walk around Uluru – a 10.6 kilometre round trip, best completed before 10am – and you'll find a permanent watering hole, caves and Indigenous rock art. Take a tour, and you'll be guided by someone who won't just reel off a series of statistics – although they're in there – but who will explain the beautiful Aboriginal stories that entwine this rock through their culture.
White fellas aren't privy to most Indigenous stories, usually, and the ones told at Uluru are basic kindergarten narratives, but each word shared tells of another, greater tale. Of a people, so long treated with disdain and disrespect, who are still willing to share.
There is more to see, too, than just the rock itself. Sit a while, and notice the general abundance of life – the feathery desert oaks, the bright honey grevillea; tiny tracks of mammals and snakes in the ruby-red dirt. The sound of the breeze. The feel of the place. It sounds touchy-feely, admittedly, but there you have it – Uluru has a feel.
Other things have changed, too.
Dinner at Tali Wiru ('beautiful dune' in the language of the local Anangu people), an outdoor dinner under the stars, is truly a worthwhile experience. Like its internationally famous, multi-award-winning sister Sounds of Silence up the road, Tali is a four-hour dining experience with a view of Uluru, but unlike Sounds, which caters for up to 350 people per evening across three different sites, Tali seats just 20. If you haven't decided to splash out on a $2070-a-night room at Longitude 131, this is the next best thing: the chefs and food are commandeered straight from its restaurant. Drinking Louis Roderer in the breeze while the sun sets over a fiery Uluru is not something you'll forget easily.
The star-gazing tour sounds like a fantasy of astronomy nerds, but turns out to be a life-affirming exercise in perspective. Lie back under the spread of stars – and there's really nothing like a starry sky above the clearness of a desert – and sip your hot chocolate as astronomist Mike Dalley explains how humans, our planet and indeed Uluru were originally born from stars. If anything can cow you to the awesome vastness of our universe, this is it.
And, perhaps best of all, there is a palpable sense of community here.
Frankly, my expectations were no higher than the usual soulless experience at major tourism destinations – contrived 'native' performances – but, in much the same manner as the park's new approach to land management, industry out here seems more mindful than that. A bush tucker tour is not just enjoyable but honestly fascinating, and has the greater effect of leaving participants with a deeper understanding of Indigenous culture.
Humble Spinifex grass, for instance, reveals itself to contain a natural superglue at its roots, as strong as anything you can find at your local hardware store, as well as an entire populace of seeds, which can be ground straight into flour. The sap of some trees will crystallise into toffee. As our guide quietly pulls water, food and shelter out of the seeming nothingness around us, my sense of respect for his people grows ever deeper.
A dot painting class with Lydia and her granddaughter, Beryl (both of the local Anangu people), who barely say a word but demonstrate their methods in front of an attentive class, has me so earnestly involved in painting my story that long after class has officially finished, I'm still sitting among the whispering gums, brush in hand. It is the story of my life, marked out by a series of concentric circles, some big, some small – all significant 'meeting points' in time – are joined together by my story line, a single (wobbly) line from one side of the painting to the other. Like so many aspects of Aboriginal culture, this is an exercise not just in pleasure, but in learning.
And now there's a concerted focus on education. Since changing hands in 2011, Ayers Rock Resort has bumped up the number of Aboriginal staff from two to over 170, with many employees hired specifically to help educate guests on their way of life via performances, talks, classes and for littlies, interactive dance routines. (These do sometimes veer into clichéd territory, of course, but something is needed to keep the American tourists happy.)
Whether it is this, evidence of a new era here, or the unexpected sense of pride that's responsible for the grin on my face as I gaze out the departing plane window, I'm not sure. But this I know: the heart of Australia has never beat so well.
The Details
Getting there
Uluru is in the Uluru-Kata Tjuta National Park – about 335km south-west of Alice Springs as the crow flies. The most popular way to get there is by flying directly to Ayers Rock airport, then either hiring a car (there are two car hire companies at the airport) or taking a transfer to Ayers Rock Resort (ayersrockresort.com.au), from which you can join a pre-booked tour.
Alternatively, you can drive – a great option, as you'll arrive at Uluru with a deeper understanding of the Red Centre, and a better perspective of just how big it is. Ensure you know how to change a tyre before you set out, though – the roads are busy enough, but just in case. A car trip from Alice Springs will take approximately five hours and there are four petrol stations along the way.
You can drive to Uluru from Alice Springs via Kings Canyon – another breathtaking spot. We recommend staying at Kings Canyon Resort for a night or two – see p107 for more information, or head to kingscanyonresort.com.au.
Staying there
There are a handful of different accommodation options within the area's purpose-built town. Ayers Rock Resort (managed by Voyages Indigenous Tourism Australia), includes a reasonable five-star hotel, Sails in the Desert (from $400 per night), the four-and-a-half-star Desert Gardens Hotel (from $340 per night), four-star Emu Apartments, which are self-catering (from $340 per night), both hotel and basic motel-style rooms at Outback Pioneer Hotel and Lodge (from $198 per night) and a surprisingly green camping ground (unpowered sites from $36 per night). ayersrockresort.com.au
Aside from top-end 'glamping' option Longitude 131 (which sits slightly separate to the resort and is also managed by Voyages – yours for a cool $2070 a night, see longitude131.com.au), Ayers Rock Resort is the closest accommodation to Uluru, and it's self-contained. All resort resources are available to all guests you – including tennis courts, pools, the day spa and so on. There is also a supermarket, bank, day spa, art gallery, souvenir shop and, should you feel the urge, a hair salon. Everything is a short walk or the free shuttle-bus ride away.
You can also stay at some roadhouses along the highway, but be warned – they're very basic. Curtin Spring Cattle Station is our pick of the bunch, but be warned, it's basic accommodation (and we mean basic – from $47.50/per night twin share, shared bathroom). It's a good alternative if you plan to also see Kings Canyon as well as Uluru, however if you plan to base yourself here, you'll need a car. curtinsprings.com
Eating there
Coffee mightn't be Melbourne-standard (or let's be honest, not even close), but Ayers Rock Resort does put on a good spread (ayersrockresort.com.au/dining). We liked the following:
Café-restaurant Geckos, where lunch ($10-22 per main) consisted of fresh salads, gourmet pizza and fresh king prawns – a logistical feat considering the café is 500 kilometres from anywhere.
Pioneer BBQ and Bar, at the Outback Pioneer Hotel and Lodge. It's as gritty and 'country' as it sounds – and great for just that reason. Come here for a beer, a chat and a cheap pub meal ($13-28 per main).
Arnguli Grill at Desert Gardens. This is our overall pick for food – a lovely, contemporary menu using modern ingredients and unpretentious recipes.
It was undergoing refurbishment during our visit, but Ilkari Restaurant at Sails in the desert comes highly recommended by other travellers.
Finally, Tali Wiru (ayersrockresort.com.au/tali-wiru) is an absolute must-do – expensive at $295 a head, to be sure, but worth it. If it's booked out – and be warned, it does – long-time favourite Sounds of Silence (ayersrockresort.com.au/sounds-of-silence) offers a similar option.
FAQs
Q. Is there any way to climb the rock without a guilty conscience?
No, but you can take a scenic helicopter flight instead (ayersrockresort.com.au/experiences/detail/ayers-rock-helicopters) from $145 per person. Don't discount the Base Walk, either – you'll become a lot more intimate with Uluru than you might expect by walking around its edges, plus there's no risk of you tumbling to your death.
It used to be the case that if you really wanted to climb, you could risk it at nearby Mount Conner, which looks so similar to Uluru that people often confuse the two on the drive in from Alice Springs. However, this is now closed too.
Q. How can I bring costs down without compromising on comfort?
The best thing you can do is accept that Uluru is in the middle of the desert – nothing is going to be a bargain. This will do wonders for your comfort levels! Aside from that, the biggest cost reduction you can make is to stay at a roadhouse such as Curtin Spring Cattle Station (curtinsprings.com), rather than at Ayers Rock Resort… although it's a lot further away from Uluru and won't be quite as comfortably appointed.
Q. Is there anything else I should see out here, other than Uluru?
Yes – do not leave without a visit to Kata Tjuta (also known as The Olgas). We repeat – do not leave without coming here. Indigenous culture deems this another deeply sacred location, and understandably – the 36 mountainous peaks, which you can wander through via the seven-and-a-half-kilometre-long Valley of the Winds walk, make for an awesomely imposing natural wonder. It is arguably more breathtaking than Uluru; and at least as beautiful.
Q. Is it better to hire a car, or join the tours?
A good guide will be priceless to your time here, but having your own car will allow you to visit each icon without time pressures. Ideally, you'd hire a car and also take a tour. AAT Kings coach tours (aatkings.com) are a solid, reliable option; Seit Outback Australia also have some great offerings (especially the bush tucker tour, seitoutbackaustralia.com.au). Both offer trips to Uluru and Kata Tjuta.
Q. What sort of distances are we talking here?
From Ayers Rock Resort, it is six kilometres (10 minutes) to Ayers Rock Airport, 20 kilometres (30 minutes) to Uluru and, in the opposite direction from Uluru, 53 kilometres (50 minutes) to Kata Tjuta.
Q. What's the best time of day to visit Uluru?
The classic response would be sunrise or sunset, but don't let that stop you from coming at any other time of day. Uluru has a different look and feel each hour, and the more time you spend interacting with the area, the more you'll appreciate it.
Q. How long should I spend out here?
Two nights is sufficient if you're on a tight schedule, but three will give you enough time to stop, have at least one sleep in, get a proper feel for the area and visit the actual rock more than once.
Most people arrive at Uluru, take their photos and then jump back on a plane, but a second visit will give you a much greater connection. Moreover, there's a fair amount to do out here – camel rides (ulurucameltours.com.au), Harley motorcycle tours (ulurucycles.com) and the honestly interesting star gazing tours (ayersrockresort.com.au/astrotour), along with everything else we've mentioned.
Q. Is Uluru at Alice Springs… or isn't it?
No – though this is a common misconception. Uluru is a five-hour drive south west of Alice Springs, so if you want to fly directly to Uluru, book your flights to Ayers Rock Airport (also known as Connellan Airport) in Yulara.
Q. Any essentials I need to bring?
Aside from sunscreen, a hat, comfortable walking shoes and sunglasses? Not really – but be prepared to buy a fly net. They're not necessary all the time, but when you need one, you really need one – and the stores at Ayres Rock Resort will up-charge to around $6. Alternatively, you can find them at road side stores for just a few dollars.
It's also worth noting that the red dirt gets into everything, and doesn't always come out, so don't wear white.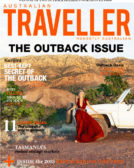 Enjoy this article?
You can find it in Issue 49 along with
loads of other great stories and tips.