Fleur Bainger checks in to Adelaide's Mayfair Hotel to see if the mix of old-world grandeur and contemporary glamour creates the ultimate five-star boutique experience.
Having good insurance in place is the key, some would argue, to a good night's sleep. So it's perhaps apt that the Adelaide headquarters of a former insurance outfit has been revived as a five-star hotel.
Constructed in 1934 (when grand Romanesque flourishes such as carved stone gargoyles, ribbon staircases and large arches were in vogue), the heritage-listed Colonial Mutual Life Assurance Society building, sprawled on the corner of one of Adelaide's busiest crossroads (and hence fabulously located), has been refreshed from the inside out, care of a $55 million-plus injection.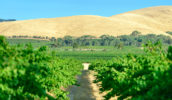 Despite the schmick new interiors, however, and the giant 'jewel box' cube tacked to its side, an old money-feel pervades, and it's this subtle balance that makes the space so lovely.
On arrival we sense old world values: thoughtful, discreet service, expensive materials such as marble and leather, and a look of refined glamour without showing off. The Mayfair has a special occasion feel. It makes you want to be on your best behaviour.
Our superior queen room, the base option, finds us on the seventh floor with a cracking view of Rundle Mall and its iconic Haigh's Chocolates store, behind block-out curtains. The walls are boot-leather beige with black finishings including a heavy, Art Deco-style bathroom door, and chunks of crystal on the lamp bases and wardrobe handles.
Marble tabletops bookend the dense, cushy custom-made bed topped with squishy pillows, which can be exchanged at the pillow bar. A sage mohair blanket spells homely comforts. Basket-weave subway tiles line the bathroom floor, a rain showerhead pokes from behind a glass wall and copper-toned statement lighting studs the wall above the toilet.
The details deliver a boutique feel, which I suspect filtrates through every one of the 170 rooms: they're all slightly different in size and shape, fitting like Tetris into the landmark building.
The location is incredible, pitting us at the heart of the CBD during Adelaide's frenzied festival season. I spy a tram rolling to a stop at the traffic lights in front of the hotel but can't hear it – double glazed windows block the sounds of the city. The tram is wrapped in a poster for the Royal Croquet Club, the Fringe Festival's newest outdoor hub and, as it happens, just a few minutes' walk away.
Our proximity to two of Adelaide's best eat streets is equally exciting. A 30-second jaunt leads us to parallel laneways, Peel and Leigh streets, crowded with speakeasy-style bars and bustling, idiosyncratic restaurants. We're so taken by Bread & Bone (still cooking at 11pm), we return the next day for its smoky, wood-grilled fare and unpretentious service.
It's surprising we have the appetite, after ravishing one of the scrummiest buffet breakfasts I've had (and it should be, at $38 a head) in the hotel's basement Mayflower Restaurant. Stemless glasses of berry-topped bircher muesli are just the beginning: flaky croissants, eggs Florentine that are both runny and hot, cinnamon- and vanilla-infused French toast, house-made bread so delicious I consider shoving a loaf in my handbag, jugs of freshly squeezed and mixed juices… the list goes on.
Breakfast alone is reason to return, but with the prime city spot, the lovely interior and the arresting urban views, the Mayfair is as safe a bet as a sound insurance policy.
The details: Mayfair Hotel, Adelaide
Mayfair Hotel, 45 King William Street, Adelaide
The verdict: To be able to step outside and greet the many personalities of Adelaide – Rundle Mall, grungy Hindley Street, buzzing Victoria Square or hip urban laneways – makes the Mayfair a fabulous choice whether you're visiting for business, fun or with the family.
The score: 16.5/20; great
We rated: The buffet breakfast, the view, the location and the old-world polish.
We hated: Nowhere to pull in and unpack the car on a really busy street.
Notes: There's no pool and parking is either by valet ($40) or at the nearby Wilson's Carpark ($18 for 24 hours). We paid $199 for a superior queen room. Buffet breakfast costs $38 per head.
Contact: 08 8210 8888; mayfairhotel.com.au
All AT reviews are conducted anonymously and our writers pay their own way – so we experience exactly what you would.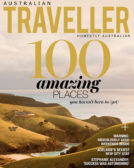 Enjoy this article?
You can find it in Issue 62 along with
loads of other great stories and tips.