Where is it? Watarrka National Park, 300km north-east of Uluru-Kata Tjuta National Park, NT.
Most people visit the Red Centre to see the Rock. While Uluru is undeniably an experience not to be missed, a surprise highlight for many is Kings Canyon. It's astounding that this phenomenal land formation so often flies under the tourist radar, but in a way it's a good thing. If you're in the area for Uluru alone, you'll be overjoyed to find this rugged, prehistoric-looking canyon, with walls rising up to 270m above the canyon floor. A sheer climb up the rock face allows access to a 6km rim walk, with vertiginous views across rugged landscape to the George Gill Ranges.
"It may be smaller than the Grand Canyon, but it is spectacular." Tony Wheeler
At the top of the canyon you'll find weathered, buttressed domes and prehistoric-looking trees in The Lost City, and a valley with pooled waterholes and lush vegetation in the Garden of Eden. A truly awe-inspiring hike at the heart of Australia.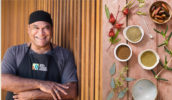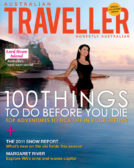 Enjoy this article?
You can find it in Issue 38 along with
loads of other great stories and tips.