Building a luxury resort in one of the world's most remote locations could have been a nightmare, but after two years of hard work, a dream destination on the Berkeley River in the Kimberley, WA, is becoming a reality. Text and images by Fleur Bainger
It's 4am when I hear the first quad bike start up. The Kimberley sun is beginning its daily climb into the sky, preparing to throw searing rays across the sand dunes, and already blue-shirted workmen are rolling up their sleeves. As the blond and ochre grains of earth absorb the northern heat, architectural drawings are unfurled, hammers whack rhythmically and chins are scratched.
Droplets of sweat are already forming on chief builder Kurt Duff's forehead as he surveys the ambitious construction surrounding him and considers what more needs to be done. "This is the hardest thing I've ever had to do," Kurt admits. "It's definitely been a challenge, this one."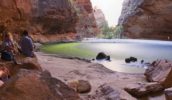 The Broome tradesman is talking about Australia's newest and quite possibly remotest resort, Berkeley River, which sits opposite the mouth of the river of the same name in Western Australia's east Kimberley. Two years ago it was nothing more than a lonely sand dune covered in low scrub and spinifex, with the crocodile-flecked Timor Sea lapping at its feet, but the resort will open in April this year offering 20 secluded bungalows and the promise of a luxury getaway in an environment few have ever seen.
Inaccessible by road and lacking an airstrip, the far-flung resort can only be reached via its surrounding waters, with a chartered float plane or private boat the two transport options. Somehow the level of difficulty makes it all the more alluring, and the splashy aquatic arrival guarantees that guests will make an entrance.
Getting to Berkeley River is far from the biggest challenge encountered by owners Martin and Kim Pierson-Jones and their right-hand man, Kurt. For starters, everything on site – every nut, bolt and sheet of corrugated iron – has to be brought in by barge from Wyndham, a lazy 14-hour trip away. When it eventually rocks up, tides dictate when the cargo can be unloaded, and on the day I arrive the burly barge driver has slept through the window of opportunity when his vessel settles on the sand; instead, he has to wait for evening before he and Martin can drive a tractor on the flats uncovered by low tide. Kurt says being held up for a day is nothing compared to being without supplies for weeks.
"You try to organise to get all the gear you need on the barge, and if you miss one bit of material, you essentially miss the lot," he says. In all, about 20 barge runs have been required throughout the building process, including two trips for the resort's 20m pool – the largest the water taxi could handle.
When I meet Kurt, he's been living at Berkeley River for 15 months. When he and his team first arrived, they had to shower under nearby waterfalls until a water supply was established. "The first thing I did was build a shower block for the staff," he says. "We lived in tents for six months until we finished the staff accommodation."
No stranger to remote locations, having built APT's semi-permanent campsite in the Bungle Bungles, Kurt says the extremes of this project have tested his mettle. "It's pretty different when you come from building houses and just being a carpenter, to worrying about where your power's coming from and where your next drink is going to come from," he says.
On speaking to the enthusiastic owner, Martin, I get the impression the rugged, boy's-own-adventure style of the project is one of the key attractions for him.
"Probably half of it was the challenge, the logistics," he admits, pointing out with a grin that his wife, Kim, who's had to rough it with him, may not entirely share his view.
Formerly an outback jackaroo who got into the pub and hotel business when work as a station pilot dried up, Martin has been expanding hisKimberleyportfolio for years with businesses in Broome, Kununurra and Halls Creek. He and Kim came acrossBerkeleyRiverwhen an Aboriginal family from Wyndham approached them about leasing their land. According to Martin, the family felt the site was ideal for a resort, and wanted to lease it to someone who would develop it.
"After the traditional owners approached us, it was days of walking through the bush and working out where to go; whether it was up the river, right at the river mouth or here, on the coast. We had a pretty big area to choose from," he says. Once a location was settled on, the hard yakka began. Finding a water source was priority number one, and spritely Martin says it was also one of the most taxing things he encountered. "We were using hand augers to dig holes nine metres deep in the sand. We didn't have any access to drilling machinery. That was pretty hard," he says.
The builders constructed a gravity-fed bore on top of a sand dune and then set about digging in underground pipes, electrical systems and other cables. Kurt says they worked all through the wet season, taking whatever Mother Nature could throw at them. "It was just a couple of machines and a lot of shovel work," he says.
All the while, a laptop was collecting weather data so that Martin and Kim could assess the sort of conditions their exotic location might experience. Cyclones are a regular part of the northern existence, so the pair elected to employ the top cyclone rating in their architecturally designed cabins, which owe their fancy diamond shape more to cyclone proofing than aesthetics. Each is plugged into the sand with an arrowhead anchor, ensuring two tonnes' worth of wind resistance.
With that measure in place, and the addition of air conditioning (a surprising rarity in theKimberley's outback accommodation)BerkeleyRivercan open year round – one of the few resorts to do so. Those fond of extreme weather – flashy forked lightning, bloated clouds exploding with giant rain drops to feed gushing waterfalls spilling from 80m-high walls of ochre rock – will undoubtedly relish the opportunity to visit during the spectacular, steamy wet season.
Cherished by locals, it's a period rarely witnessed by visitors and one that Martin and Kim want to share, humidity and all. "TheBerkeleyis regarded by a lot of people as the best scenic river in theKimberley. In the wet season the waterfalls are magnificent," Martin says. "We want people to enjoy the experience of coming here, and go away with the knowledge of another corner ofAustraliathat very, very few people have."
The resort's main house, with its 270-degree views, will surely make for prime wild-weather viewing, enhanced by the home-grown fare set to feature on the menu. During the development phase, the Pierson-Joneses engaged landscape gardener Wayne Hunter, who's been working theKimberley's pindan soils for 22 years. One of his roles has been to collect native seeds from the surrounding bush, propagate them and revegetate the resort grounds where scrub was cleared during construction. The other has been to create herb and vegetable gardens and an orchard to supply the restaurant.
"Because we're remote, there wasn't much possibility of storing fresh produce, keeping healthy and eating healthy otherwise," he says. "There are only certain vegetables you can grow because of the heat, so we're looking mostly at rockmelons and watermelons, and all the leaf vegetables like silverbeet and bok choy – they're thriving."
He's also planted several chilli plants to sate Martin's obsession with the spicy stuff, along with squash, pumpkins, tomatoes and beans. Making use of the surrounds,Waynehas also identified 20 edible natives, which will be used in the restaurant. While it may only make a small dent,Wayneis quietly confident he'll help to lessen the load lugged by the barge – which also has to bring in every skerrick of food needed by the resort.
Later, standing on the deck with a flute of bubbly in hand, overlooking the pool, spa and pancake-flat ocean that melts into the horizon by sunset, Kim reflects on the amount of patience required to pursue such a project. "I did wonder if we were crazy at times," she admits. "I'm certainly looking forward to coming back as a tourist."
The Details
Where? Berkeley River resort is on the edge of the east Kimberley overlooking the Timor Sea, 250km north-west of Kununurra,WA.
Notes: When the resort opens in April, there will be 20 twin-share bungalows catering largely to adults, with a maximum resort occupancy of 40 guests at any given time. All-inclusive packages start from $897 per person per night, year round; minimum two-night stays. Each private bungalow will have an open-air bath, flushing toilet, balcony and air conditioning. The main house will have a restaurant serving food accented with native produce, as well as an indoor-outdoor bar, internet capabilities, a library and wine cellar. There is also a conference facility for corporate groups. While there is no ocean swimming due to crocodiles, there is a 20m lap pool and an outdoor spa.
Activities: The include cultural walks, bird watching, boat cruises, helicopter tours, waterfall and rock-pool swimming and seasonal fishing and mud-crabbing.
Getting there: Departing from Kununurra, a chartered float plane (included in the price) will take you on a one-hour scenic flight to the resort. Cruise company Kimberley Quest will also be including stopovers on its boat charters of the Kimberley.
Contact: (08) 9195 5266; www.berkeleyriver.com.au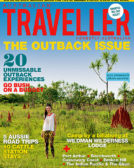 Enjoy this article?
You can find it in Issue 43 along with
loads of other great stories and tips.