Want another trip for your bucket list? Kerry van der Jagt discovers a secret island escape that's really something special
THE WILD ISLES
There are few places wilder than the remote Houtman Abrolhos Islands, an archipelago of 122 islands located 60km off Geraldton on the west coast of Western Australia. It's a place of beauty and harshness, of light and shadows, of wonder and adventure. It is also the setting of one of the most blood-chilling stories in Australian history.
Land gives way to sea as our eight-seater aircraft flies over clusters of small islands floating in a wash of aquamarine, before banking left and coming low over flat and scrubby West Wallabi Island.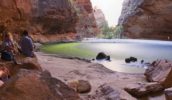 "There's Wiebbe Hayes' fort," says our pilot, pointing to a small rectangular dry-stone structure. "It was the first building constructed by Europeans in Australia."
The fort was built in 1629 by survivors of the shipwrecked Batavia, the flagship of the Dutch East India Company that ran aground on a nearby reef on her maiden voyage. It was built not as a home, but for protection against a crazed mutineer, Jeronimus Cornelisz, who butchered 125 of the survivors (including women and children) over the course of a couple of months in a bid to get his hands on the ship's loot.
Our pilot circles Beacon Island, where most of the atrocities took place, Long Island, where Cornelisz was hanged, and finally the wreck of the Batavia, still gripping the reef and visible in the clear waters. The Shipwreck Special with Geraldton Air Charters is a full-day tour that combines history with nature and a fine picnic lunch.
After landing on East Wallabi, we walk the length of Turtle Bay, spotting sea eagles and crested terns before swimming out to the reef. The reef is world-class for many reasons, including the effects of the warm Leeuwin Current, which allows coral and tropical fish to thrive where they wouldn't normally survive, and its pristine condition – thanks to four marine sanctuaries within the island group.
The daytrip is a good introduction to the Abrolhos, but I'm after a more intimate experience and have arranged to rendezvous with a fishing boat for a three-day charter. A short flight brings me to Big Rat Island, where I become the newest and greenest member of a six-crew team.
During the crayfish season (March 15 to August 31), 22 of the islands are occupied by fishermen. Divided into three groups – the Wallabi islands, the Pelsaert islands and the Easter group of islands – the Abrolhos are in an A-Class Reserve managed by the Western Australian Department of Fisheries for the conservation of flora and fauna and also for the purposes of commercial fishing.
As we approach Little Rat Island, the setting sun casts its golden rays on the brightly coloured fibro shacks, their rickety jetties reaching across the coral like threads securing the island to the sea. The water is so translucent it pulls me in, like Alice into the looking glass.
Over the next three days I float through a brighter, more colourful world; on Leo's Island I swim with sea lions in its massive central lake; at Morley Island I drift-snorkel over colourful sponge gardens; while on Wooded Island I'm surrounded by more than 40 species of seabirds. The highlight is the Anemone Hole, clear as a bell to a depth of 40m. I slip into the water and swim among schools of giant spangled emperor fish, the sun dancing off their backs like silver glitter.
The days slip out to sea as we travel at the mercy of the wind and the weather; catching squid, trolling for yellow-fin tuna, pulling pots or simply detouring for dolphins. At night we sprawl out on deck listening to the ocean breathing around us. And it is wonderful.
For more info on the Houtman Abrolhos Islands, go to www.australiascoralcoast.com
The Details
How to get there
The archipelago that makes up the Houtman Abrolhos Islands is about 60km off the coast at Geraldton, 424km north of Perth. Skywest flies between Perth and Geraldton.
skywest.com.au
Activities
• The Abrolhos Islands Shipwreck Special is a full-day tour with Geraldton Air Charter. The cost is $240, including snorkelling gear, morning tea, lunch and a guided nature walk. Customised tours are also available.
(08) 9923 3434; geraldtonaircharter.com.au
• Multi-day fishing boat charters can be arranged through a number of operators (April-July) including Blue Juice Charters
(08 9203 5111; bluejuicecharters.com.au), Mills Charters (08 9246 5334; millscharters.com.au) and Reef Walker Kalbarri (08 9937 1356; reefwalker.com.au). Fully catered fishing charters work out at about $400 per person per day.
What to read
Batavia by Peter FitzSimons (2011, Random House)
Where to stay
• Unfortunately, visitors cannot stay on the Abrolhos Islands (unless a local lobster fisherman invites you).
• Ocean West holiday units in Geraldton provide a convenient place to base yourself before and after a trip out to the Abrolhos. The units are minutes from Fisherman's Wharf. (08) 9921 1047; www.oceanwest.com.au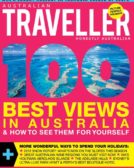 Enjoy this article?
You can find it in Issue 44 along with
loads of other great stories and tips.