Image Portfolio by 17 photographers in the Tasmanian Wilderness
Let there be Light



What happens when you unleash 17 of the world's best photographers onto an unsuspecting Tasmanian wilderness? One thing's for sure – once the shooting dies down, you're left with a whole lot of dramatic imagery.
In April 2008, to herald the arrival of the new Adobe Photoshop Lightroom2 editing suite, a group of photographers, bloggers and techno-nerds landed in Tasmania to test-drive their beta software and shoot everything in sight. With each release of the software package, a destination is selected in which to showcase its capabilities. Last time it was Iceland. This time Swedish digital photography pioneer and author Mikkel Aaland choreographed the 17-strong trek into the Tasmanian wilderness, drawing from a pool of top guns from around the world. We've published only a select few of the thousands of images taken, including shots by Marcus Bell, Peter Eastaway, Philip Andrews, Bruce Dale, Catherine Hall, Ian Wallace, Peter Krogh, Mikkel Aaland himself and US gadget and IT guru Leo Laporte. Each day the team of crack photographers would fan out into regions centering mainly around Bicheno, Hobart and Cradle Mountain – where even the simplest 20-minute walk would take four hours, and two-hour drives would stretch into the night as the photo stops just kept on coming. Then, at the end of each day, the photographers uploaded their literally hundreds of images. The best of the best detailed here certainly do our island state justice, capturing the spirit of people and place that is a living, breathing photographer's dream: dramatic cliff faces, eerie rainforests and larger-than-life local characters. For more info, check out Aaland's book of the trek, Photoshop Lightroom2 Adventure, or visit www.adobe.com/lightroom
Ted the sheep Farmer // Travel photographer Catherine Hall chose to focus her lens on the people in Tasmania, not the landscapes, and produced this striking image of "Ted", an 80-year-old sheep farmer living on the outskirts of Cranbrook on the east coast. "He flirted and laughed a lot," says Catherine. "And told us about all the women whose hearts he broke when he told them he had no plans on getting married, ever."
The landscape as portrait // Named by the BBC as one of the world's top ten wedding photographers, Australia's Marcus Bell is clearly no slouch when it comes to landscapes either. His eye for portraiture isolates singular objects in nature, such as this gnarled old tree on Tasmania's west coast, imbuing them with dramatic human character.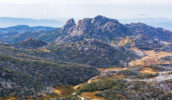 Submerged Caves // Tasmanian landscape photographer Ian Wallace spent most of his time on the Lightroom2 Adventure doing what he loves most – exploring temperate underwater wonderlands. Here he's plumbing the depths of Cathedral Cave, one of southeast Tasmania's most popular diving locations.
The face of Tasmania? // Best-selling Australian photographic author Philip Andrews took this image of a massive hog on a farm between Bicheno and Douglas Apsley National Park. He actually took another shot from the other end of this same hog – but that one didn't make it into the final edition of the family-friendly bookl.
The Island of Inspiration // Mikkel Aaland, author of Photoshop Lightroom2 Adventure, snapped this shot of fellow adventurer Jeff Pfleuger just south of Bicheno on the east coast. "It really was an accident," says Mikkel. "I purposefully threw bread at a few birds to attract enough of them to make a good photograph. Jeff, seeing what I was up to, jumped up with his camera and stepped in front of me – ruining, I thought, my shot. Well, of course, it turned out to be the best one of the lot."
Worshipping at Dolomite Cathedral // Even US gadget and IT guru Leo Laporte, whose duties on the expedition included the filming and blogging of its daily activities, managed to snap this wonderful dolomite cathedral image on Tasman Island off the very southeast tip of Tasmania.
Devils in Hiding // Legendary National Geographic photographer Bruce Dale captured this image of two secretive Tasmanian Devils, and on the final evening of the expedition each photographer donated images to an auction that raised more than $7000 for the Save the Tasmanian Devil campaign (www.tassiedevil.com.au)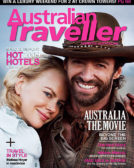 Enjoy this article?
You can find it in Issue 24 along with
loads of other great stories and tips.