Considered to be the gateway to Tasmania's West Coast, Strahan itself is worth stopping in. Not only is the harbourside village filled with fascinating stories of convicts and pioneers who once lived here, but it's also where rivers, mountains and rainforests meet, a location that allows it some truly stunning scenery.
After a morning or day exploring its wild beaches, towering sand dunes and dense, ancient jungles, head to one of its more than a dozen eateries serving fresh, local produce, or grab supplies from a shop to cook up lunch or dinner in your ocean-facing cottage or apartment. Whether you're after a lazy break in a chilled-out seaside town, or a heart-pumping holiday filled with nature adventures, Strahan's got something for you.
Top things to do in Strahan
Activities & attractions
One of the best ways to experience Strahan is to hire a bike and ride through its village streets or along its two-kilometre-long Ocean Beach Trail.
Prefer to see the village by sea? Take an evening cruise to Bonnet Island to see its colony of Fairy Penguins. Or, take a morning or afternoon cruise with World Heritage Cruises or Gordon River Cruises, where you'll stop on Sarah Island for a guided tour of its convict heritage sites, as well as hear the fascinating story of Macquarie Harbour and its settlement.
For a heart-pounding experience, hire a sandboard and slide down Henty Dunes. Or for more of the area's history, visit Morrison's Huon Pine Saw Mill, a family business sawmill that's one of the oldest still in operation. If you have more than a day to spend here, consider taking a half-day or full-day journey to the Tasmanian wilderness or Queenstown on the West Coast Wilderness Railway.
Nature & beaches
In addition to its fascinating history, Strahan is also known for its nature. Head to 40-kilometre-long Ocean Beach for a swim or to watch the sunset. Spot platypus at Hogarth Falls, a waterfall reached by a 2.4-kilometre-return hike from Peoples Park. Rent a sandboard to ride down 30-metre-high Henty Dunes, a 10-minute drive north of Strahan. Or, drive an hour inland to Franklin-Gordon Wild Rivers National Park in the Tasmanian Wilderness World Heritage Area to see incredible natural sights including Frenchmans Cap, Nelson Falls or Gordon Dam.
Walking & outdoors
Strahan Historic Foreshore Walk (two kilometres) starts at West Strahan Beach and will take you along the Esplanade before finishing at Regatta Point Station. Ocean Beach (two kilometres) is a flat trail, accessed from Ocean Beach Road. Or drive to Franklin-Gordon Wild Rivers National Park to walk one-kilometre-return Franklin Nature Trail, the 1.1-kilometre-return trail to Donaghys Hill or the 1.4-kilometre-return trail to Nelson Falls.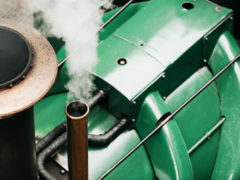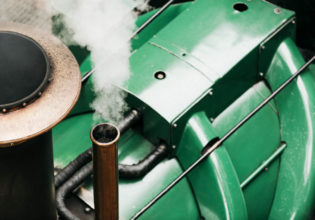 All aboard for a unique rail journey into the hidden heights of Tasmania. The West Coast Wilderness Railway is leaving from platfo...
Caravan & holiday parks
Located just one kilometre from the village centre and steps from West Strahan Beach, Strahan Beach Tourist Park makes for an ideal base. The park has a TV room with a fire pit, a playground and a communal laundry room. A five-minute walk away is Strahan Holiday Retreat, a 4.5-hectare property with caravan sites, cabins and cottages. Caravans can also be parked at Macquarie Heads Camping Ground.
Hotels & motels
Strahan Village has waterfront rooms, a hilltop restaurant (View 42° Restaurant & Bar) and a cosy bistro, complete with a log fire (Hamer's Bar & Bistro). Ormiston House offers bed and breakfast accommodation in a grand federation mansion, set on a landscaped garden with magnolias, roses and azaleas.
For affordable, yet comfortable accommodation, look no further than Motel Strahan. Or, for a historic stay, opt for one of four colonial cottages at Kerrelie Cottages. And for somewhere more luxurious, book into Risby Cove, an 11-room boutique hotel with Tasmanian timber furniture and local artwork, or one of two apartments at Wheelhouse Luxury Apartments, both perched on cliffs overlooking Macquarie Harbour.
Lodges & bungalows
Set across seven hectares, Strahan Wilderness Lodge features views of Mill Bay and adjoining Smugglers Cove, a shared guest lounge and complimentary breakfast. Strahan Bungalows has apartments sleeping up to five guests. And GreenGate Cottages has just three cottages in a quiet part of Strahan.
Strahan restaurants & pubs
For elegant dining, visit The Risby Cove Restaurant or View 42° Restaurant & Bar at Strahan Village. Also inside Strahan Village is Hamer's Bar & Bistro, which serves traditional Aussie pub food. Regatta Point Tavern's Bistro & Restaurant is equally relaxed with a menu heavy on seafood. Tracks on Point is a café known for its pancakes, shakes and burgers. And you'll find Bushman's Thai inside three-room accommodation Bushman's Strahan.
For a quick meal, visit The Bay Fish or Molly's Great Food Café. And for good coffee, head to The Coffee Shack or The Kitchen.
Getting to Strahan
Strahan is a 4.5-hour drive from Hobart, a 3.5-hour drive from Launceston and a three-hour drive from Devonport. You can fly from Hobart to Strahan on a twice-weekly commuter service. Tassielink has a bus route linking Strahan to Burnie with stops in Queenstown, Rosebery, Zeehan and Tullah.
Best time to visit Strahan
Expect frequent rain and windy weather in Strahan, with June being the wettest month. January and February are the driest months, so good times to visit – though, it's important to know it still rain occasionally. The average temperature in the warmest month (February) is 15 degrees Celsius, while the average temperature in the coldest month (July) is 9 degrees Celsius.
Tours & packages for Strahan
To see the village and its coastline from above, join a Strahan Helicopters or Cradle Mountain Helicopters scenic tour. Heli-Steam tours are also available and operated in conjunction with the West Coast Wilderness Railway. And to explore more than just Strahan (on land), look at Under Down Under Tours' 5-Day Best of Tasmania Tour from Hobart. The tour is also organised for three or seven days.