Natural beauty, spectacular landscapes, beaches and historic townships; this is the east coast of Tasmania. It's truly one of the most scenic coastal drives in the country and the area is filled to the brim with things to do and places to see. With fishing spots, sheer rock walls, deep fissures, caves and sea whips for diving, and temperate rainforests, the area is truly magical, offering something different at each twist and turn.
Top Things to See on the East Coast of Tasmania
From Ansons Bay in the north to Orford in the south, there's so much to see and do on the east coast, you'll struggle to fit it all in. With long beautiful beaches, including those of the Bay of Fires, one of the most spectacular regions in the world, and five national parks scatted along the coast, the area attracts visitors from all over the world. In fact, it's one of the most stunning stretches of coast in Australia, regardless of the season.
Wineries
The temperate climate of the east coast has created the perfect growing ground for cool climate wines, and the wineries definitely don't disappoint. There are a lot of wineries to choose from. Some of the best wineries in the state are in Cranbrook. The rustic cellar door at Craigie Knowe Vineyard is welcoming and the owners are always keen for a chat while you sample the award-winning wines. It's the oldest vineyard on the east coast of Tasmania with loads of history behind it and the original varieties that were planted are still being grown today.
Growing principally Pinot Noir grapes, Spring Vale Vineyards is a small family vineyard, known for intense varietal wines. Wines are made on-site and all operations are carried out by hand. The original homestead is one of the oldest properties on the east coast, having been in the Lyne family since 1875.
There's also, of course other regions around. Of note, is Devil's Corner where the cellar door is considered one of Tasmania's most striking pieces of contemporary architecture. The natural setting is equally breathtaking. Don't rush through this visit. Sit down, enjoy an award-winning wine and grab a plate of fresh oysters. Enjoy!
Snorkeling and Sailing
Being on the water is perhaps the most beautiful way to see the spectacular scenery that makes up the east coastline of Tasmania. Whether you're chartering a yacht or hoping on a tour, as you sail through the water you'll pass 300-metre high cliffs and remarkable rock formations. There's also a fur seal colony out there, as well as loads of other animals from dolphins to albatross and even whales, and secluded beaches to explore. Highlights include Wineglass Bay and the Freycinet Peninsula, the Hazard Range, and Maria Island. You can even sail past the historic convict settlement in Port Arthur.
Many boat tours will give you the option to snorkel with the wild marine animals so you can see them in their natural environment. The temperate waters afford much greater visibility than the tropical waters and there's a diverse range of flora and fauna. If you want to snorkel straight from land, head to the seaside town of Bicheno which offers great snorkeling spots with sponge gardens, seahorses and even sea dragons. Alternatively, head out on a glass-bottom boat to see the beautiful marine life without even dipping a toe in the water.
Fishing Charters
With so much coastline, why wouldn't you go fishing. You can hire some gear (if you haven't brought your own) and head to a beach, jetty or river and try your luck. All along the coastline there are opportunities to simply throw in a line to try for Australian salmon, flathead and bream. Alternatively, you can charter a fishing vessel. Many charters will offer a few options including deep sea reef and bay fishing, game fishing, bay fishing or a simple charter around the coastal areas for guests to drop a line and try their luck. The professional fishing charters will offer either half day or full day tours depending on what you're after.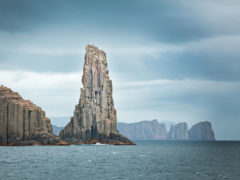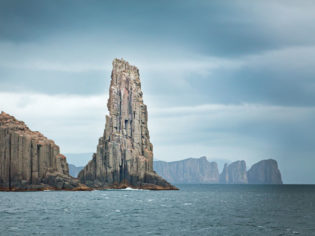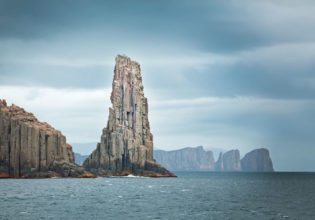 A cruise along Tasmania's east coast reveals a multi-layered story of human history and ancient wilderness. As we mak...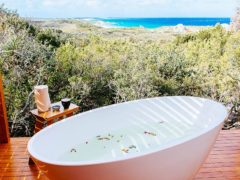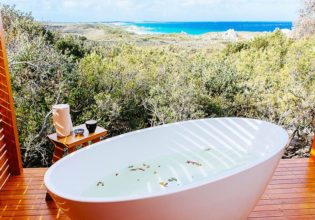 A glimpse into Tasmania's award-winning Bay of Fires Lodge Walk, through the lens of photographer Elise Hassey. This place is s...
Top Ways to Stay on the East Coast of Tasmania
From luxury to budget, East Coast Tasmania has it all.
Luxury Accommodation
Have you ever wanted your own private island? Picnic Island is filled to the brim with natural beauty and is set against the majestic backdrop of the pink Hazards mountain ranges. The retreat was designed by local architect John Latham and is located just around the corner from Wineglass Bay. If you've got 10 people that you love dearly, the whole island could be yours. With individual sleeping cabins, you'll have your privacy, and the communal dining area means you can enjoy the company of your family and friends. There's plenty of wildlife to enjoy on the island, with regular visits from dolphins and seals, various birds and penguins that return to their burrows as night falls. You honestly can't get more waterfront than this.
With a view that's almost impossible to describe and all luxury needs taken care of, the elegance and poise that is the Saffire Freycinet is unmistakable. The hotel has even been dubbed the world's best boutique hotel. Here you can stand knee-deep in an estuary, enjoying fresh oysters and local sparkling wine – a once-in-a-lifetime experience. With floor to ceiling glass, purpose designed to enjoy the magical view from wherever you are in the hotel, the aim is to connect the Saffire Freycinet and its gusts to the surrounding environment. The most 'basic' of accommodation is luxury suites and it's only up from there with the option of booking a private pavilion with a private suite kitchen and chef, a private courtyard and plunge pool.
Hotels and B&Bs
Meredith House and Mews is a hosted bed and breakfast, overlooking the town of Swansea. It's a short walk to the beaches, cafes and restaurants, and has been extensively renovated throughout its 100 years. While the B&B offers traditional rooms, there is also the option for studio apartments situated adjacent to Meredith House.
Diamond Island Resort is located on the beachfront. There's an onsite restaurant and a seasonal swimming pool. The self-contained apartments are luxuriously appointed and all offer a private patio with ocean views. The property is home to little penguins who come out to play between 6:30 and 8:00pm.
Aptly named Edge of the Bay Resort due to its location on the Freycinet Peninsula, the resort offers excellent views across Great Oyster Bay to Coles Bay and the Hazard mountains, as well as direct access to three private beaches. In walking distance to stunning Wineglass Bay, the resort also has a children's playground, restaurant and bar, tennis courts, and a range of activities for hire including mountain bikes, scooters, BMX bikes and even dinghies. There are oceanview suites and secluded cottages on offer.
Camping and Glamping
For those who are after a budget-friendly option there are plenty of camping, glamping and holiday park options. Dotted along the east coast are many camping areas for tents, campervans or trailers and they all have superb views. Of course, the national parks at Freycinet, Maria Island, Douglas Apsley and Mt William all have campgrounds and there are dozens more scattered along the coast.
There's also the Swansea Holiday Park, which is a great place to base yourself to explore the region. There's a variety of accommodation options from self-contained cabins through to grassy powered sites. There is also a communal kitchen and lounge area, BBQ hut and laundry facilities.
Situated between the Bay of Fires and Bicheno, the Scamander Sanctuary Holiday Park, offers a range of accommodation options including safari cabins, camp sites and even glamping tents. The surrounding area is peaceful and relaxing and it's central to loads of tourist attractions. Best of all, you can hear the waves crashing as you relax at the accommodation and camp sites and what's more soothing than that?
Festivals and Local Events
There's plenty happening throughout the east coast of Tasmania throughout the year, including cultural, entertainment and sporting events.
Bay of Fires Winter Arts Festival happens in, you guessed it, winter, and is a wonderful way to get involved with the Tasmanian arts scene. It's three days filled with art in all forms, genres and abilities and includes workshops, events, gardens, exhibitions and more. There's even a market so you can shop up a storm.
For the foodies, don't miss the Bicheno Food and Wine Festival which is held on the third weekend of November each year. The main Festival day is Saturday, however it does run over three days. From cooking schools to a wide variety of stalls and an excellent location right by the sea, the atmosphere is fantastic and produce is phenomenal.
The Falls Festival is held on a farm against the backdrop of Marion Bay and is most definitely geared towards the youth. Some of the biggest names in the international music scene are on hand to entertain as the Festival moves throughout the country. There's also arts and crafts, camping and gourmet food. But don't worry if you're not a millennial, Falls Festival has something for everyone and is family-friendly.
Packages and Tours
Bus, car or sailing ship, the Tasmanian east coast is a wonderful place to explore. There are a range of packages to choose from, from full week tours to just a couple of days so you can enjoy the rest of your time at your leisure. Of course, at each place you visit, there will be specific tours on offer, including cruises of Wineglass Bay, tours to see the penguins in Bicheno and even an opportunity to see how the Tasmanian devils behave after dark. There are also scenic flights you can take to see the scenic coastline by air. Alternatively, hire a car and do it all yourself.
Remember though, there is so much to see and so many beautiful places to explore, leave enough time so you don't feel rushed as you move through the region.