AT's Alissa Jenkins laps up a girly getaway in the Blue Mountains…all in the name of research of course!
If you're anything like my friends and I, it's hard to catch up. You might squeeze in the odd coffee or phone call, but between work, family and other commitments, orchestrating some quality time together is a rare feat.
In a bid to quash this pattern, I recently spent a weekend away with three close girlfriends – two of which I hadn't seen in almost a year. Our weekender took us to the Blue Mountains where we were booked in with Lavender Blue Mountains, a holiday house business with a number of properties, specialising in getaways for women.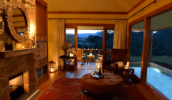 Following a two-hour car trip and non-stop natter and chatter from Sydney to Katoomba, we arrive at 'the flagship property', the Lavender Majestic. Nestled in a quiet corner of Katoomba, overlooking surrounding bush, the Majestic is a newly renovated two-storey 1890 sandstone house, with a promising first impression.
As we pull up, our bubbly host for the weekend, Nicky, greets us and offers to help carry our luggage up the driveway and through a solid timber door to the interior.
We enter through the outdoor entertainment area, featuring a large timber deck constructed around beautiful old oak trees, full barbecue and outdoor dining facilities, as well as a heated Jacuzzi and manicured gardens.
Whispers of "wow" don't stop there.
As we walk around Nicky explains that the house was originally built as a holiday home for the wealthy Foy family that established the ultra-luxe Hydro Majestic Hotel nearby, hence the name.
Inside, the house is filled with light beaming through many large glass windows, and it has been thoughtfully renovated to include modern luxuries like heated bathroom tiles. With chic touches like decorative throws and teapots, antique furniture, and family photos, the house has a truly warm feel that we're visiting not as clients, but as welcomed friends.
There are three bedrooms sleeping up to eight guests; a king-sized bed, a queen-sized bed with ensuite, and four king singles with private balcony.
The rest of the property includes a lounge room with fireplace, conservatory, sizeable kitchen, dining room, another bathroom and a treatment room, which brings me to the next chapter of our stay…
As we settle into our accommodation, lounging about in the glass-walled conservatory, Nicky brings us a cheese platter and a choice of tea or sparkling wine…or both. Then to really indulge, we are each treated to either a full-body massage by a professional masseuse or a facial by Nicky (also a fully-qualified beauty therapist), in the house's own treatment room.
I opt for the massage and needless to say, I am so relaxed by the end that I have just about melted into the massage bed.
As evening sets in, we head into town to attend a private champagne viewing that has been arranged for us at a local shop named Chateau La Belle French Homewares Store. A word of warning; if you fancy the French-inspired, this may well be your heaven but hell for the bank balance.
After a couple champagnes and purchases, we bid Chateau La Belle adieu and make our way to the Trattoria at St Mounts in Blackheath for dinner, a little Italian restaurant recommended by Nicky.
Quickly seated and served, we each order a pasta dish and share a bottle of red. I can highly recommend the seafood spaghetti but beware of the large servings – it's easy to over-eat. Nonetheless, we all thoroughly enjoy our meal and can attest to the relaxed atmosphere, decent wine list and great service.
When we arrive back the at the house, ready for bed, there is a small wooden box waiting on each bed with "Sweet Dreams" written on it, holding a couple little treats inside such as a post-dinner chocolate.
That's the beauty of this holiday house – you have the space and privacy to do what you want like a typical holiday home, but with the benefit of a host that prepares food, cleans dishes and leaves sweet treats to make the stay that extra bit special. Although Nicky stayed in a downstairs bedroom during our stay, I can honestly say we did not notice her in the house. She would magically disappear and reappear, and to be honest, she was so warm and friendly it felt like she was part of the group anyway.
Soon snuggled up in our uber-comfy beds, it is lights out and a deep sleep ahead.
The next morning we wake up to the smell of a cooked breakfast being prepared in the kitchen. Quickly lured to the dining room, there's already an impressive spread waiting for us – fruit salad and muesli, fresh juice, croissants, toast and condiments, as well as menus for main course.
I go with the smoked salmon and scrambled eggs on sourdough, and Nicky quickly serves it at the table. Scrumptious!
As much as we'd all like to stay for another week, soaking up this sloth-like-lifestyle, Lavender Blue Mountains is more than an accommodation experience.
Nicky has organised for a personalised styling session at a fashion store in Leura, named Circus Boutique. We sift through the racks and pick out our favourite items before the shop assistants help to complete our outfits with accessories or alternative combinations, better suited to our body shapes. There's a great range of clothing here for various age groups, great for mother-daughter shopping.
A couple transactions later and we're soon on our way to the last stop for the weekend; a truffle-making workshop with the award-winning chocolatier behind Josophan's Fine Chocolates, Jodie Van Der Velden.
We gather around a table at the rear of the Josophan's store and listen as Jodie briefly explains the process of chocolate making, from harvesting cacao beans to the art of tempering chocolate.
With a basic understanding of the process, we enter the kitchen and watch on as Jodie performs a few demonstrations before we help cook three batches of truffles; honey and hazelnut, rosemary and sea salt, and fresh mint.
The interesting feature of Josophan's truffles is that Jodie does not use any preservatives or artificial flavouring; she infuses the flavours using fresh, natural ingredients. The downfall of this is that the chocolates only last for about a week, so when we took home a box of our own hand-made chocolates; I was forced to scoff them down within a few days.
But truffle-making, styling sessions and massages are just some of the activities offered by Lavender Blue Mountains getaways. There's also makeup workshops and psychic readings available, it's just a matter of selecting what you'd like to do when booking.
I'd highly recommend the experience, be it for a catch-up with friends, to celebrate a birthday or a hen's night. It's not just girls either; the Lavender properties are also open to couples and families.
As the Lavender Blue Mountains tagline promises; my first stay won't be the last.
The details:
Alissa was a guest of:
Chateau La Belle French Homewares Store // 27-29 Govetts Leap Road, Blackheath // (02) 4787 5700
Circus Boutique // 172 The Mall, Leura // (02) 4784 1213