Even by Hamilton Island standards Ciaran Handy seems laid back. But Irish-born Handy is not in the Whitsundays for R&R, he's the General Manager (Hotels and Resorts) of an island that hosts 220,000 people and 600 weddings a year and even has its own airport. The 47-year-old, who has worked in places as diverse as London and Uluru, moved to Australia in 1990 after meeting his wife, a Brisbane girl, and has been on HI since 1996. Even with 1,137 staff under him, he still admits to working seven days a week and being on constant call. So just what makes Ciaran (and Hamilton Island) tick?
Apparently Hamilton Island was a basket case when you took over?
It was very run down – we had to start from scratch. It was basically just a party island for staff, and the mariners were a shambles. There were a lot of stakeholders that were very angry. People had invested a lot of money in Keith Williams' day in property and then the island had no value.
A victory or two since then no doubt? Great moment?
In 2012, when qualia won Best Resort in the World in the 2012 Condé Nast Traveler Readers' Choice Awards, occupancy just went ballistic.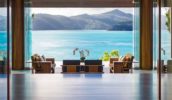 With 1137 staff under you and an island to look after, you must put in some hours?
If I'm on the island I'm always at work, It doesn't matter what time of the of the day – I love my job. [AT: 60 hours a week?] Easily. Seven days a week. First meeting at seven.
How do you get your head out of that workspace?
Photography – well and truly [Handy has won several awards]. I also go for a walk or a ride every morning, 20 kilometres if I'm riding, five to seven kilometres if I walk, up at quarter to five, some times with one of my daughters. There's normally a camera slung over my shoulder too. I know where on the island you have to be for certain lights and colours. So I'll get there, get the shot, go home and go to work.
Where do you holiday?
I used to like taking my holidays on the island. And you can actually switch off. If the word gets around that you are on holidays, people actually don't annoy you. It's a bit like running a farm though, I can't switch off completely.
Who are Hamilton Island's competitors?
We lock horns with everybody and we're proud that we are very diverse and can look after a lot of different markets: a very strong conference market at the same time as a very strong school holiday segment, for example. At the luxury end, qualia has a lot of competitors, but we have formed alliances with some of them, through Luxury Lodges of Australia and Relais Chateaux.
What about the new kid of the block, One&Only Hayman Island?
Absolutely, One&Only is a competitor. We'll fight for the same business as Hayman and Daydream, but whoever wins it, we'll say, 'good on you, how can we help?' Hamilton's owner Bob Oatley made sure we understood his overall vision for the Whitsundays – we have the airport here and we're the gateway to the region. One&Only is a beautiful resort, luxury level with families, and it's important that it does well too. Hamilton can't survive on its own in the Whitsundays.
As an outsider it seems like it must be heaven to live here, but there must be a downside to living in a resort all year round?
Years ago it used to be difficult to live in a small community, but you evolve with that. I'm down in Sydney once every six weeks and I actually can't wait to get back up here. It does have its moments though: you get bad storms in wet seasons, cyclones. But this happens every year in northern Australia so you learn how to deal with it.
Shouldn't leave Hamilton without doing?
A bush walk up to Passage Peak for sunrise. I also love going up the mountains to Escape Beach on the other side of the island – all the hiking tracks, they are all beautiful. We've just started a new walk on Whitsunday Peak (on nearby Whitsunday Island) from qualia called Elevate – the boat takes people out there with three staff and they hike up to the top and we do photography with them. We're also exploring the history and culture of the Whitsundays' traditional owners, the Ngaro Tribe, first and foremost through qualia, including exploring cave paintings.
Tell us a Whitsunday secret?
At Nara Inlet, a beautiful deep-water natural inlet on Hook Island, there is graffiti on some massive boulders dating from when sailors first started coming through the islands until the early 90s. They would paint or scrape the name of their boats on the rocks. You can see the name 'Sirocco' – Errol Flynn's boat. On one of the last cruises before he died, Flynn was up at Nara Inlet and he actually got thrown out of there, because he was womanising or whatever.
What would you be doing if you weren't a GM on a tropical island?
Oh, I don't know… Photographer, I'd say. But I washed my first pot when I was about 13, on my school holidays back in Ireland; hospitality is all I've done. I absolutely adore it.
Images: 
2. Hamilton Island GM Ciaran Handy with his favourite tool in hand: a DSLR camera
3. Sailors' graffiti on Nara Inlet in the Whitsundays is said to include the name 'Sirocco' scratched into the rock by none other than Errol Flynn.
4. Whitsundays sunrise – by Hamilton Island General Manager Ciaran Handy.
MORE
Five reason to drag yourself up from your Hamilton Island daybed