One of the best whale-watching sites in the world, home to a World Heritage-listed island, and historic Queensland country towns, the Fraser Coast sure packs a punch for such a small slice of paradise.
A trip to K'gari (Fraser Island) – is on the cards for intrepid travellers, and is home to perched lakes, 4WD dune adventures and wild dingos. Add the Lady Elliot Island Eco Resort to the Fraser Coast itinerary: swimming with manta rays here on the Southern Great Barrier Reef is not something you'll ever forget.
Come winter, drop anchor to see humpback whales play in the calm waters of Hervey Bay. Return to shore for a sumptuous feast of the region's famed scallops, and a sunny afternoon dozing at a secluded beach. Also, make a special day trip inland to admire the heritage architecture at the quaint town of Maryborough, the birthplace of Mary Poppins author, P.L.Travers.
Best places to visit on the Fraser Coast
On the mainland, most visitors' first port of call will be Hervey Bay, famous for its migratory whales and as the gateway to K'gari (Fraser Island). The nearby town of Maryborough makes for a charming trip to a heritage 1800s town.
K'gari is a World Heritage destination that is also the planet's largest sand island. The tiny coral cay of Lady Elliot Island is a must for divers and is located at the southern end of the Great Barrier Reef, north of K'gari.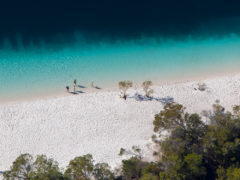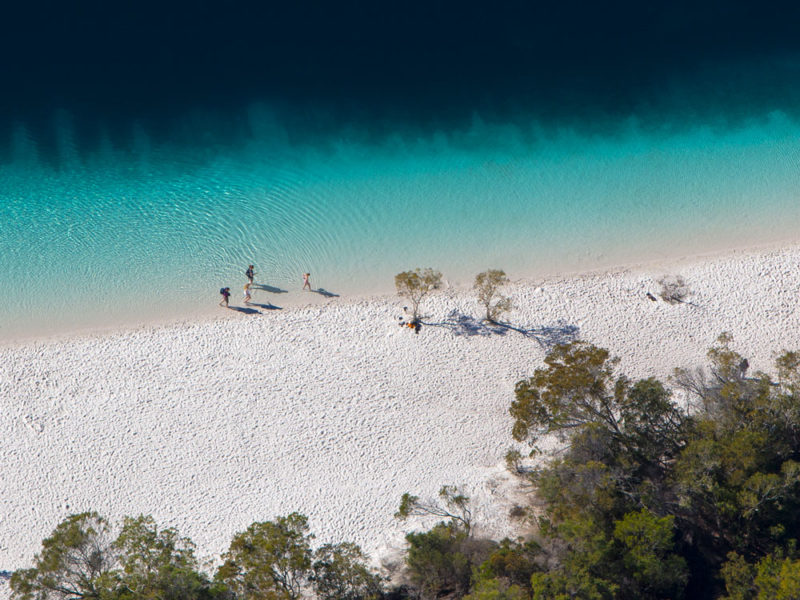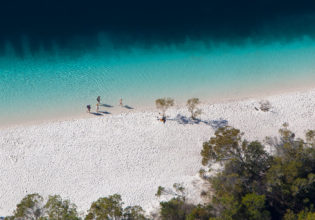 Discover the many secrets Fraser Island has to offer. I'm supposed to be enjoying the scenery. Instead I'm cupping my hands gre...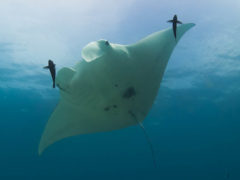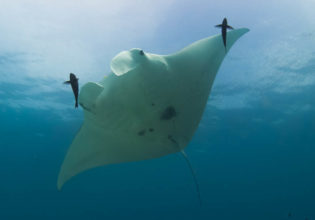 The Great Barrier Reef is a living structure under pressure, threatened by climate change, pollution and land run off, and other f...
Top things to do on the Fraser Coast
Nature & wildlife
On the mainland, embark on an expedition to see whales and calves up close, and lounge at one of Hervey Bay's calm, protected beaches, like Torquay. Out K'gari way, enter the crystal clear waters of 'perched' Lake McKenzie. Do part, or all, of the Fraser Island Great Walk. Spot wild dingoes from a distance, then grab a pole for catches like Spanish mackerel. You can also learn more about dingoes at Maryborough's Fraser Coast Wildlife Sanctuary.
Islands & diving
On Lady Elliot Island, snorkelling is on the agenda. Here, you can spot turtles, whales and giant Manta Rays, and take guided walks in the shallows to learn more about the reef. The ex-HMAS Tobruk off Hervey Bay also makes for a fascinating scuba diving trip. While K'gari's strong currents make it limited for diving, there is plenty else to do. Hire a 4WD to explore its dunes or make for an unusual swimming spot, like the delightful Champagne Pools.
Art, markets & history
Over on K'gari, the Maheno Shipwreck on 75 Mile Beach, which was wrecked in the thirties, can still be seen today. Twenty monuments make up the Fraser Coast Military Trail, which honours those who have been to war. The Maryborough Military & Colonial Museum is also filled with historic memorabilia, and you can 'go back in time' to Edwardian England during its Mary Poppins Festival. When it comes to culture, the Maryborough Heritage City Market takes place every Thursday morning. In the afternoon, grab a map to see the 37 murals and installations of the quirky Maryborough Mural Trail.
Accommodation on the Fraser Coast
Luxury Accommodation
A luxurious alternative to your typical Fraser Island camp set-up is the boutique Eliza Fraser Eco-Lodge: an all-inclusive stay among the dunes of Orchid Beach. At Hervey Bay, the family can have all the tropical vibes at the five-star Akama Resort, a self-catered sleep that overlooks K'gari and the Great Sandy Straits in the town's Marina district.
Hotels & Resorts
For those who would rather not camp, resort accommodation like child-friendly Mantra Hervey Bay and Oaks Hervey Bay Resort and Spa are available on the mainland. The award-winning four-star Kingfisher Bay Resort on K'gari is a couple and kid-friendly option, which offers package deals of resort accommodation and classic experiences like whale watching, 4WD tours and ferry transfers. Upgrades to luxury villas are available at this eco-resort.
Camping, Caravan & Holiday Parks
If you want to beach camp on Fraser Island, rest assured others have had the same idea. You'll need to book in advance by up to six months and organise a camping permit before you get there. Once you arrive, there are about 45 spots to choose from (and you can find them here). On the mainland, there's a variety of cheap and bush camping to pick from. If availability runs out, or if you want something more upmarket, you're in luck – there are a variety of beachfront tourist parks for tents and caravans. There's also lots of options in Hervey Bay, like Pier Hervey Bay and Hervey Bay Caravan Park.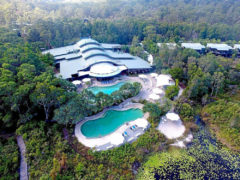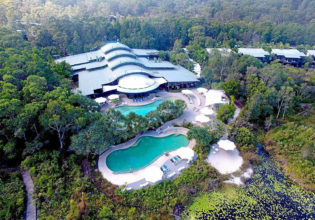 Let these dreamy island accommodation options tempt you into a stay on Fraser Island. The local Butchulla tribe refer to Fraser I...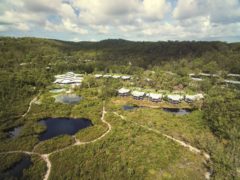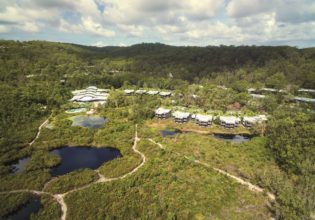 Remaining beautifully untamed and rugged, World Heritage-listed Fraser Island is nothing short of paradise, whether you seek a hol...
Restaurants & dining on the Fraser Coast
Famed for its Hervey Bay scallops, the Fraser Coast plate is prone to be both tropical and seafood-focused. At Hervey Bay, eat brunch as close to the sea you can get without falling into the surf at Enzo's on the Beach. Open for breakfast, lunch and dinner, sipping a sundowner cocktail here as the sky darkens is magical. Go full Grease at the fun, fifties-style Happy Days Diner at Maryborough, whose Americana-meets-Australiana theme permeates from its waffle breakfast to its pavlova freak shake.
If you wish to eat dinner down at the marina, The Dock has an extensive tapas and cocktail menu overlooking the water. While the famous Vineyard restaurant is currently closed, the ambient Odyssey Bistro at Scarness is another fine dining option for those seeking a dinner for that special occasion, boasting a menu carefully crafted from local produce.
On K'gari, Kingfisher Bay Resort has a few restaurants onsite, while a limited number of food options like pub food Satinay Bar & Bistro are dotted around the island. If you're self-catering, you can stop by towns like Kingfisher, Eurong and Happy Valley for supplies. But all in all, it's best to stock up on all you need before you arrive, due to K'gari's limited supplies and higher prices.
Getting to the Fraser Coast
Located 300 kilometres north of Brisbane, the Fraser Coast can be reached by flying to Hervey Bay Airport or by road trip. From Brisbane, it is around a six-hour trip. Once you arrive, those who intend to go on to K'gari can take the 50-minute ferry or barge from River Heads.
Between August and October is the most likely time to see whale calves migrating south with their mothers. The shoulder months, when you can both see whales and avoid the summer humidity or winter chill, are your best bet for a magnificent trip.
Tours & packages for the Fraser Coast
When it comes to whale watching, there are plenty of boats that can take you out to see these majestic gentle giants. But if you want the chance to slip into the water alongside them, you can't go past Hervey Bay Dive Centre.
Limited on time? Take a 4WD day tour with Fraser Explorer Tours. With them, you'll soak in the natural beauty of the island, visiting spots like Lake McKenzie and Central Station as part of a small-group, eco-certified adventure.