Despite its location within the Darling Downs farming region, Toowoomba feels far from an agricultural outpost. The city's streets are peppered with Victorian-era architecture, and the odd art deco building, including more than 50 heritage-listed sites. A glut of gorgeous, manicured gardens, including more than 150 public parks, lie within the city's boundaries. And it's also home to a university, a cathedral, a number of annual festivals, a notable local museum, and a  thriving international restaurant scene, among other attractions. No mean feat for a city of just 134,000.
Queensland's largest inland city perches on the western slopes of the Great Dividing Range, some 700 metres above sea level, and overlooks the green patchwork of the Lockyer Valley. So once you've wandered around and uncovered the charms of Toowoomba, you can enjoy the great outdoors, which sits right on its doorstep too.
Top things to do in Toowoomba
Gardens & outdoors
Green thumbs and budding botanists will be in flora heaven in Toowoomba. There are a plethora of public parks to stroll around. Two of the city's standouts are Queens Park and Laurel Park. The former is an impeccably manicured 26-hectare heritage-listed garden that sits smack bang in the centre of town. The latter is home to 'scented gardens', a vast arched trellis dripping with wisteria and even croquet greens.
There's ample opportunity to get out into the great outdoors here too. Go for a bushwalk and journey to the summit of Table Top Mountain: a walk that typically takes around two hours one-way, and is steep in parts. Or save your legs and drive up to Picnic Point Lookout and Parkland, which promises panoramic views over the surrounding farmland.
Art & history
Explore the city's burgeoning street art scene, which features more than 100 murals; spend an evening at the heritage-listed art deco Empire Theatre, the largest regional performing arts complex in Australia that regularly hosts music and ballet recitals and comedy event; or explore Toowoomba Regional Arts Gallery, the oldest of its kind in regional Queensland, and a venue that plays host to three permanent collections, as well as temporary exhibitions.
Events & attractions
Perhaps the city's most famous attraction, the Toowoomba Carnival of Flowers is the longest running floral event of its kind in Australia. The event takes place every September and features plenty more than just blooms: expect twilight tours, light installations, live music, fairground rides and foodie events.
Another notable calendar event is Toowoomba's Languages and Cultures Festival, which has been running for 15 years and features plenty of international food and cultural performances, as well as the Toowoomba Royal Show, which takes place every autumn.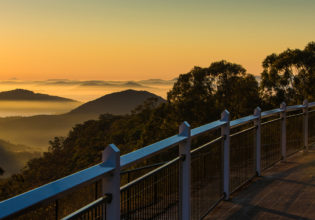 Toowoomba is known for two things: as the home of the Lamington, and as the home of the Carnival of Flowers, held every year in sp...
Hotels & motels
Uber contemporary, the Avenue Motel Apartments make for a solid base. Wheelchair-accessible rooms are available, as well as family rooms (featuring a queen bed and two singles) and studios. Each has a small kitchenette area, and some have balconies too. Of a similar ilk is the 54-room Potter's Boutique Hotel; rooms feature a white and grey palette with blonde wood and pops of burnt orange.
A chain hotel with a twist, the Quest Toowoomba is housed partly within a heritage church building (check out the impressive double-height lobby), and features serviced apartments, some with parkland views.
Camping & caravan parks
Conveniently located near to local shops and backing onto a quiet park, Toowoomba Motor Village is a popular option known for its clean facilities and friendly staff.
Set amid spacious grounds, 15 minutes drive from the CBD, the Toowoomba Showgrounds Caravan Park is among the more economical options in Toowoomba, with rates starting from $25 a night.
Holiday homes
A stylish two-bedroom, one-bathroom rental, this bright and airy two-storey loft studio in East Toowoomba also features a gorgeous little patio area.
A modern and cosy one bedder, this Stayz property in South Toowoomba has a spacious courtyard and all the amenities you could need.
Toowoomba restaurants & cafes
The Toowoomba restaurant scene is thriving and features a strong contingent of international food options.
Start the day at Ortem, right next to Toowoomba station: a smart little spot for coffee, brekkie or brunch that serves up artfully plated dishes. Later, when a hearty pub lunch calls you can't go past Fitzy's, which dishes up all the pub staples: calamari, burgers, chicken parmas, steaks with beer battered chips. After lunch, pay a visit to the venue's Tapestry Bar, which specialises in craft beer, whisky and cocktails.
Come dinner, try out Chimac for size: known for its Korean fried chicken, friendly service and generous portions, there's almost always a queue for this local Korean eatery. Another local contender for the city's best Korean is Kocu. Or, for a no-frills restaurant that turns out noteworthy Thai street food, visit Smiling Thai. Run by husband and wife team Kevan and Suwapat, the menu runs the gamut of Siamese classics (tom yum spot, green curries, fish cakes, pad thai).
If you're in the mood for a burger then you can't go past Queensland-born mini-chain Betty's Burgers. And if fine-dining calls, then book a table at Encores at the Empire. One of the pricier establishments in town (two courses for $60, or three for $70), this restaurant consistently earns top marks for the execution of its Modern Australian menu (think beef cheek with soft polenta and XO sauce, and fresh snapper with a chilli lime butter).
Otherwise, you can't go wrong at brightly decorated Ice n Spice: known to serve a mean curry, it's your go-to for Indian in Toowoomba. The highly rated, service-focused restaurant even offers its diners a taste of their chosen curry post-order just to check that it's the right level of spice. Or, feast on Anatolian food (mezze platters, chargrilled meats, pide and more) at cosy Sofra Turkish Cuisine.
Getting to Toowoomba
Located 125 kilometres west of Queensland's capital, it takes approximately 90 minutes to reach Toowoomba from Brisbane by road. Alternatively, direct train services depart from Brisbane Roma Street twice weekly onboard The Westlander, and the journey takes just shy of four hours. Toowoomba Wellcamp Airport also operates direct flights to Melbourne, Townsville, Brisbane, Western Queensland and Sydney.
Best time to visit Toowoomba
The so-called Garden City is in full bloom come spring, when the Annual Carnival of Flowers takes place (September). Situated 700 metres above sea level, Toowoomba is typically cooler than many other towns and cities in the Sunshine State and features warm summers and cool winters.