There's no shortage of things to do in Australia. If anyone knows that, it's us…
However with such a breadth of things going on around the country, it can sometimes get a little overwhelming to separate the champs from the chumps. You're busy people, we get it.
To help you out, we have collated a guide of the best-goings-on for the month of September, allowing you plan your calendar accordingly. Thank us later.
NSW
Indulge in some cinematic nostalgia at Randwick Ritz
Randwick's Ritz Cinemas is dialling up the nostalgia at a pop-up video store. While the doors (and cinemas) are closed during lockdown, locals can head in and browse for DVDs and videos to take home and plug in (that is, if they still have a DVD or VCR player). Everything's free to borrow, and punters are encouraged to donate any VHS tapes or DVDs they no longer want.
Unlike the Blockbuster of Video Ezy processes you may remember, there are no rental limits; everything works on an honesty system.
View world-class Art online
Two of the Art Gallery of NSW's blockbuster 2021 exhibitions have been brought online thanks to lockdown. Oh and even better, they are completely free.
Scroll through the mystical works of abstract artist Hilma af Klint in a Youtube video walkthrough – this Swedish artist's work at New York's Guggenheim Museum broke attendance records back in 2019, so it's definitely worth your time.
The famous Archibald, Wynne and Sulman exhibitions are also on offer, which is the perfect cultural fix during lockdown.
Support small business
Necessary precautions to stop the spread of the novel coronavirus – cancelled events, social distancing, and businesses working from home, as well as the decline in outside activity – have left shops and restaurants empty, creating immediate losses in revenue across the board.
Head here to learn 6 ways you can support small businesses during lockdown.
VIC
Do an online exercise class
There are a myriad ways to get your sweat on in lockdown. From yoga and pilates classes, living-room-friendly workouts, and free apps to lead you around the park.
Universal Practice at Home is an online platform with unlimited access to more than 70 classes by the Melbourne-based pilates and physiotherapy studio. Tune in for an abundance of workouts including pilates, strength training, yoga and meditation – for $49 per month.
Yoga studio Humming Puppy (which has studios in Melbourne, Sydney and New York) is offering unlimited access to its suite of pre-recorded classes for 50 cents a day (plus its offering a handful of freebies).
Retrosweat is live-streaming '80s-style aerobics on its Instagram account.
Do some vintage shopping from your phone
Get your shopping fix from online designer treasure trove, Hawkeye Vintage. Via their Instagram account, they host live sales of luxury and vintage items – by the likes of Chanel, Louis Vuitton, Fendi, Dior, Hermès and more – spread across two days for locked down convenience.
Tune in every month to watch the livestream. Expect styles mainly from the '70s through to the 2000s. All of the pieces are guaranteed authentic.
Take a virtual ceramics class
Learn how to make bespoke clay totems with Elph Ceramics over Zoom, with all the materials you need – including clay, tools and a pre-built tiny house – delivered to your door.
Each kit contains 500 grams of air-dry clay, as well as a wooden clean-up tool, a sponge and an original Elph Ceramics tiny house to start your tiny village.
Classes run on Thursdays only between September 9 and 30. The kits can be shipped Australia-wide – best to order at least two weeks before your chosen session. Private group bookings are also available.
TAS
Great Eastern Wine Week
Stretching along 221 kilometres of coastline envied for their cool-climate drops, The Great Eastern Wine Week is an 11-day festival and is a collective of 50 events at the region's boutique wineries and other local businesses. Meet the winemakers, the growers, the producers, and the people behind the wine.
It's all about the people, the places, the natural beauty and the stories of the East Coast.
Junction Arts Festival
Junction is an annual Festival of extraordinary arts experiences in unusual spaces throughout Launceston, held in the first week of September.
In 2021 Junction will celebrate its 10th anniversary festival, with a history of developing, commissioning and presenting participatory and community-engaged contemporary artwork.
QLD
Toowoomba Carnival of Flowers
Toowoomba is known for two things: as the home of the Lamington, and as the home of the Carnival of Flowers, held every year in spring.
The two-week event, to be held this year from September 1-30, will bring together the very best of the region's gardens, events, entertainment and food and wine experiences to aptly showcase all that Toowoomba and its surrounding regions have to offer.
A new addition to this year's Carnival is the Flower, Food & Wine Festival, which will offer three days of mouth-watering menus from regional restaurants, cafes and food producers.
Under The Trees Music and Arts Festival
Under The Trees continues to be a feast of the senses. On September 18, sight, sound, taste and touch comes alive with amazing art and lighting, rhythmic sounds skipping across reggae, pop rock, folk, blues and soul entrancing laid back, friendly crowds.
Tasty hip food offerings and craft beers on tap add to the experience whilst lolling in the Pineapple Lounge or playing dress up from the dress up box or dancing with the wandering brass band as it beats out great sing along tunes. Kids are also catered for with a variety of activities offered across the event.
SWELL Sculpture Festival
September brings the return of much-loved SWELL Sculpture Festival. This annual affair runs over 10 days (this year from September 10-19).
Catch local and international sculpture designers, creatives and artworks scattered across the glorious Currumbin foreshore. Unique experiences such as guided twilight walks, chats with the artists, an outdoor cinema, masterclasses, a photography competition judged by Sean Scott and various kids' activities are sure to tickle your fancy.
NT
Top End Pride Festival
In 1985, a group of passionate Darwinites came together to create the very first Darwin Pride Festival – promoting diversity, equality and celebrating LGBTIQ+ communities. The current global situation looks pessimistic for many areas of Australia right now, and the committee of Top End Pride NT (inc) holds a vision; to create a weekend celebrating life, diversity and community sharing positivity with one another.
The focus of Top End Pride this year is Hope. Celebrate the LGBTQI+ community with locals and people from further afield.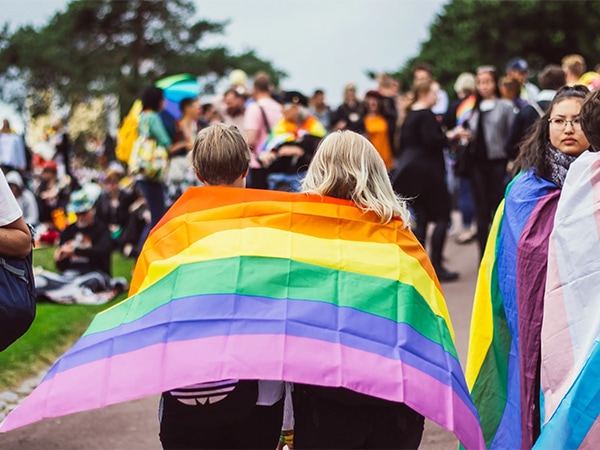 Bush Bands Bash
Showcasing some of the finest Indigenous bands and solo artists, Bush Bands Bash is an open-air festival with attendance of over 3000 people, with many more tuning in to live radio broadcasts and live video feeds.
Celebrated in the spring time in Alice Springs, Bands Bush Bash has grown into a huge foot-tapping night under the stars at the historic Alice Springs Telegraph Station.
With many of the bands singing in traditional cultures, this is the biggest night of Aboriginal music in Central Australia. The event is drug and alcohol free, family-friendly event.
Kakadu Bird Week
Kakadu National Park is a bird lover's paradise – home to more than a third of Australia's bird species, Kakadu is the perfect place to discover and learn all about the unique species of birds living in this magical part of the world, which is dual World Heritage listed for both its natural and cultural values.
Enjoy a host of exciting activities, including birdwatching, wetlands cruises, Aboriginal cultural experiences and much more.
WA
The Perth Royal show
The Perth Royal Show is Western Australia's largest annual community event, welcoming hundreds of thousands of visitors from across the state and beyond since 1834.
It is anticipated that the 2021 Perth Royal Show may have some slight differences, but it will have just as much agriculture, entertainment, displays, animals, food and fireworks than previous years.
The Perth Royal Show will continue to honour its traditional values of connecting the city and country, featuring a unique mix of traditional agricultural fair, entertainment, fairground attractions, great Western Australian food and beverages and educational exhibits.
Lost And Found Festival
Get
Lost and Found
in Bunbury and the Ferguson Valley this Spring. The bustling port city and its wine loving neighbour come alive with special events made for lovers of great food, incredible wine, craft beer and live music.
Taste back vintages in cellars after hours, discover pop-up restaurants in barrel halls, wine workshops and artistic performances by mind-blowing talents. All jam packed into four days of adventure.
SA
Bloom Festival
Welcome to Bloom 2021 – an inaugural celebration of South Australia's springtime events and festivals. Coloured by music, sport, arts, culture, food and wine, our great state is in full bloom from September to November.
Use the Bloom 2021 calendar to discover South Australian spring events you won't want to miss. Welcome the spring sunshine at new events including Barossa Contemporary, IMMERSE and The Ultimate Event and existing South Australian favourites including the Royal Adelaide Show, OzAsia, the Adelaide Rally, Feast Festival and so many more.
Drive the South Australian Distillery Trail
The South Australian spirits industry has unveiled its brand-new Distillery Trail, showcasing a growing number of award-winning distilleries around the state. South Australian spirits are leading the nation, and in many cases the world in terms of quality, and there has never been a better time to sample their products.
Map your journey here.