NORTH BONDI
North Bondi is home to the rich, famous and heavily mortgaged. A casual stroll along the promenade reveals an abundance of beautiful people.
The surf at North Bondi is usually calmer than it is further down the beach, and is favoured by young families. Kids love snorkelling around the rocks at Wally Weekes Pool, nestled below the rock face at the northern end.
The Bondi Markets are an integral part of Bondi life. Held in the grounds of Bondi Beach public school every Sunday, they feature everything from retro furniture to yet-to-be-discovered fashion designers. This end of the beach is home to one of Australia's best surf schools, Lets Go Surfing.
Excellent restaurants abound and cover most cuisines and budgets. Watch sunset from Raw Bar over fresh sushi and sashimi, or wander up the hill to Jo and Willy's Depot for super-sized salads.
An inexpensive feed with fantastic views is to be had at the North Bondi RSL, also known as 'The Rats'. it's packed on weekends thanks to decent food and drinks at RSL prices. Below the RSL, North Bondi Italian Food is a stylish, laid-back venue, serving simple and superb Italian fare.
The pick of the overwhelming number of cafes is Speedo's on Ramsgate Avenue. Offering great food and coffee without fuss, it's the first choice of local surfers and celebrities.
Back on Campbell Parade, Sean's Panaroma is one of Sydney's most popular restaurants. Chef Sean Moran opened his charming, shabby chic cafe in 1993 and has been serving sophisticated, clever food ever since. Further along, the Beach Burrito Company dishes up healthy Mexican food – cheap enough for you to throw in a few mojitos too.
North Bondi's best-known hotel option is the Swiss Grand on Campbell Parade, an incongruous architectural mix of style and pompous kitsch. But inside it's a little tired – some say exhausted.
The details:
Bondi Markets // bondimarkets.com.au
Lets Go Surfing // (02) 9365 1800; letsgosurfing.com.au
Raw Bar // (02) 9365 7200; rawbar.com.au
Jo and Willy's Depot // (02) 9300 0077
North Bondi RSL // (02) 9130 3152; northbondirsl.com.au
North Bondi Italian Food // (02) 9300 4400; idrb.com
Speedo's Cafe // (02) 9365 3622; speedoscafe.com.au
Sean's Panaroma // (02) 9365 4924; seanspanaroma.co
Beach Burrito Company // www.beachburritocompany.com
Swiss Grand // (02) 9365 5666; swissgrand.com.au
CENTRAL BONDI
In the heart of central Bondi is the Bondi Pavilion, built in 1928 and home to the very expensive Nick's Bondi Beach Pavilion restaurant (and a selection of other quick and easy food outlets), conveniently located change rooms, an art gallery and a theatre. The Pavilion hosts regular events such as the annual Bondi Short Film Festival, food and wine fairs and photo exhibitions.
Next door, Bondi Surf Bathers' Life Saving Club was established in 1907, making it the oldest of its kind in the world.
Back from the beach along Campbell Parade, central Bondi is where the tourist traps become pretty thick on the ground, but avoid the tacky souvenirs and ferret out the following gems.
Aquabumps on Curlewis Street is a surf report wrapped in a photography gallery by local legend Eugene Tan, or 'Uge' to his mates. Visitors to the gallery are blown away by his images of this celebrated patch of Australian sand.
The place to be seen and party is Ravesi's Hotel on the corner of Campbell Parade and Hall Streets. The multi-tasking Ravesi's is a pub, restaurant, cocktail bar, wine bar and value-for-money accommodation. A monthly Zabriskie Book Club adds a bit of culture to the mix.
When locals deign to eat around here it will usually be at Hurricane's Grill & Bar on Roscoe Street for barbecued ribs, or next door at Pompei's for perfect thin-crust pizza. Two other food outlets worth a mention are The Original Fish & Chip Company on Glenayr Avenue and Gusto Bondi, where all the cool kids gather in the morning to share their hangovers behind giant sunglasses over fluffy bacon and egg rolls and lattes.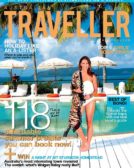 Enjoy this article?
You can find it in Issue 35 along with
loads of other great stories and tips.