From wine-growing hubs to beachside hideaways and remote outback communities, Australian Traveller has searched high and low to determine which are Australia's Best Towns. But before you get to the list, here's how we made our decisions . . .
---
About the 100 Best Towns in Australia
Here at Australian Traveller, we're very lucky to be able to get out and see much of the country. But everywhere we're asked the same question: what is our favourite town? Everyone here has a different opinion. So, we set out to answer that much-debated question: Which is the Best Town in Australia? And boy, did we open up a can of worms.
Beauty is in the eye of the beholder. For some people, the perfect town is a largely untouched seaside hamlet. For others it's anywhere with a quintessential outback pub full of hard-living characters. So we decided to simplify things a bit.
We created a shortlist of around 300 towns we liked, all with a population of less than 45,000 – some with fewer than 50. We then created a Judging Panel of 12 people who'd been there and seen almost all of Australia. We made sure they represented different tastes; we had fashionistas, grumpy old men, sports nuts, tourism industry experts, travel writers, and even some well-travelled normal people. That would keep the research experts happy.
Without further ado, here are the 100 Best Towns in Australia. And if you still want more, don't miss Australia's friendliest towns and the best under-the-radar towns to visit this year.
100 Best Towns in Australia – 1 to 10
#1 – Yamba, NSW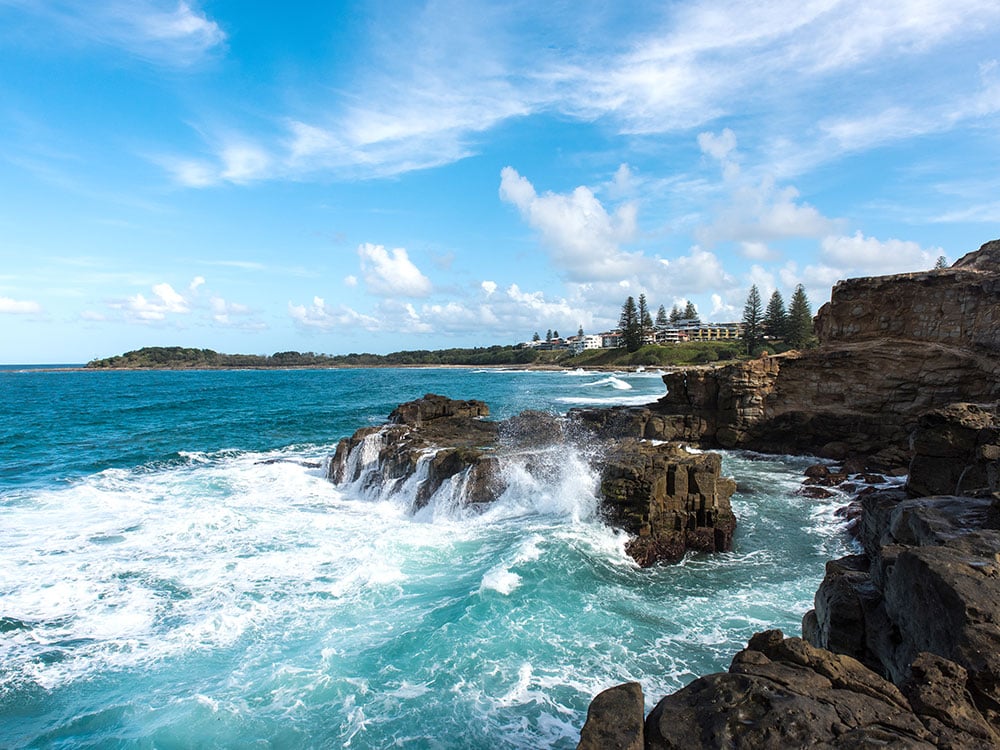 Explorer Matthew Flinders first splashed ashore from his trim sloop, Norfolk, in 1799 near Clarence Head, a monolithic heap of rock that shields Yamba from the wilder excesses of the Pacific Ocean, to fix a leak and maybe have one.
He'd been despathed from Sydney to find a new Eden, but from his vantage point atop a craggy promontory, now Pilot Head, he blithely dismissed the shoaling, turbulent estuary as dangerous and unworthy of further examination, before sailing away. A shame, really, because he completely missed what he was sent to find; the largest estuarine system on Australia's east coast, the fabulously bucolic Northern Rivers Delta, and one of Australia's most-favoured holiday spots. Yamba.
Liberally blessed with a perfect climate, quasi-bohemian lifestyle and peerless surf beaches, the jewel in Yamba's board-riding crown is the revered and treacherous Angourie point break – beginners need not apply. Picture postcard pretty, Yamba prides itself on providing a wholesome, safe and peaceful getaway.
"Like Byron Bay 20 years ago. Relaxed, unpretentious and all about the community." – Ken Boundy
The town retires early, sleeps soundly and wakes early with the kids. Its lack of nighttime pizzazz is more than compensated for by excellent eateries and more things to do than you can point a wet flipper at. It's also enjoying a sprucing up.
Street cafes now shelter under sails and flourishing shade trees. Shopping has become more cosmopolitan – posh frock shops, galleries et al – but even under increasing pressure from its burgeoning popularity, Yamba refuses to move at any pace but its own.
Just try hurrying the lads Dave, Mike, Steve and Kev at the bottle shop and you'll see. Like migratory birds, families return decade after decade for that very reason.
Where? // Far north NSW, 670km (8.5hrs) north of Sydney, 280km (4hrs) south of Brisbane
Did you know? // Yamba's marina is owned by local Kay Cottee (OA) who, in 1988 aboard her 11.2m First Lady, became the first woman to single-handedly circumnavigate the world non-stop. She took 198 days.
#2 – Esperance, WA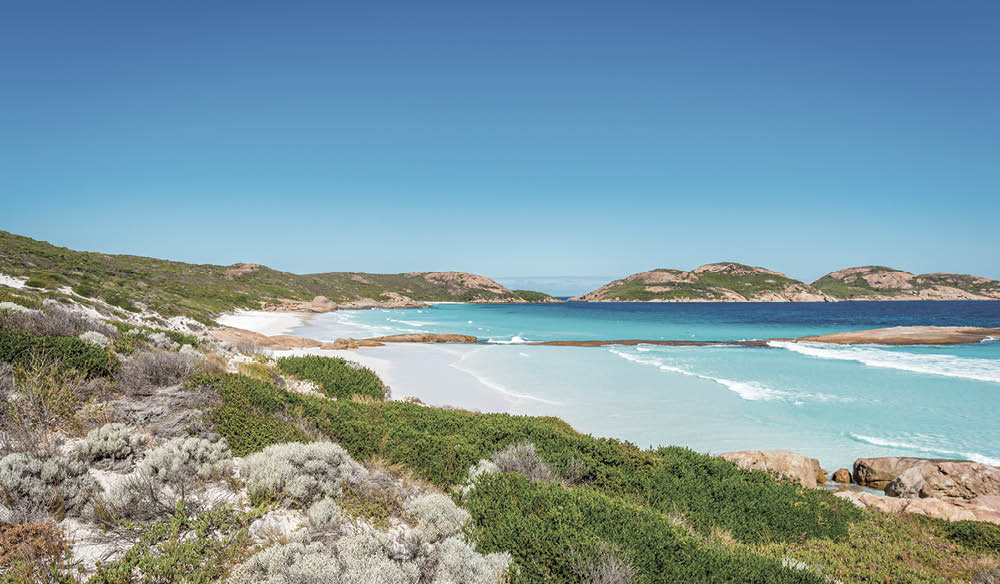 It's the real secret of WA. Esperance is insanely beautiful, and is described by most who see the remote area as the most beautiful coastline in Australia. The brilliant aquamarine water fades into deep blue and the sand is so blindingly white it looks like snow drifts across the road. Esperance was "discovered" by Europeans quite some time before the rest of Australia, with the islands off Esperance – The Recherche Archipelago – appearing on maps printed in Holland as early as 1628.
Esperance was named by the French, the first Europeans credited with landing in the bay in 1792, off the ship l'Esperance – The Hope. To get the most out of the experience and the area, the Esperance's Great Ocean Drive is a 38km loop that takes in the best landscapes and vistas – the lookout on Wireless Hill gives you a spectacular view of the coast and surrounds. The nearby islands are chock full of seals, penguins and birds and you can cruise out to the wildlife sanctuary on Woody Island
"Years ago, after a long drive across the Nullarbor, Esperance and the beautiful offshore islands of the Recherche Archipelago cast their spell over me. I've spent the years since daydreaming of my return." – Kerry van der Jagt
Cape Le Grand National Park to the east of Esperance is one of the best in Australia. AT reader Ewa Malinowska, who accidentally came across Esperance when her car broke down between Norseman and Albany, sums it up: "The national park is beautiful and the beaches pristine. It's a paradise!"
Where? // Around 740km (9hr) southeast of Perth.
Did you know? // On July 11, 1979, Esperance was showered by sky debris from America's first space station, Skylab. Esperance sued the US, seeking $400 for littering, but it was never paid. A San Francisco newspaper paid 17-year-old Esperance local Stan Thornton $10,000 for delivering the first piece of Sky Lab to the paper's office – collected from his roof.
#3 – Port Douglas, QLD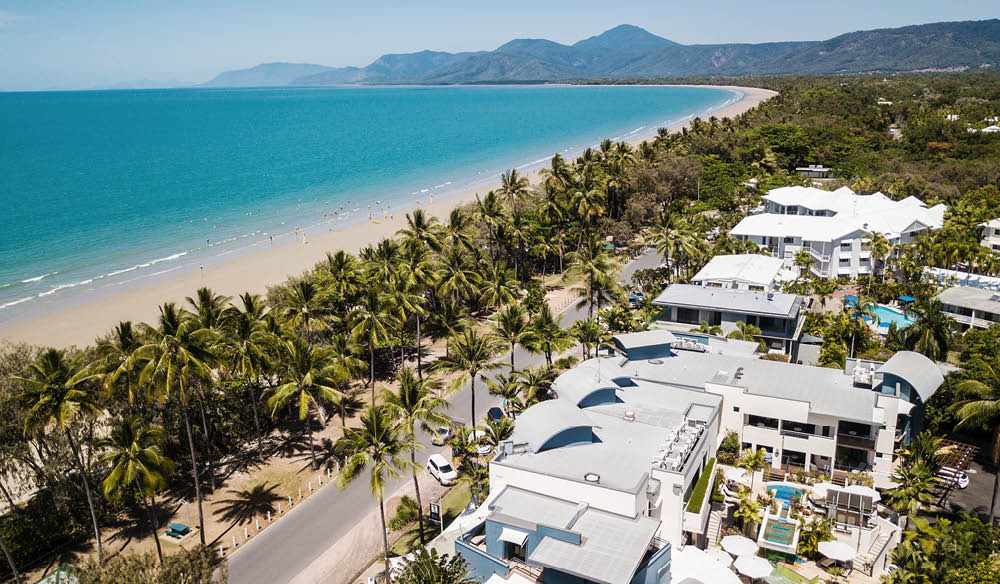 Port Douglas is a traditional boom and bust kind of town. In 1877 the village boomed like any good Australian town when gold was found in the nearby river system. And when the railway snaked into southern rival Cairns 14 years later, it was all bust for Port Douglas, dwindling to a small fishing village of 100 in the 1960s. Which is right about the time arch white-collar criminal Christopher Skase stumbled upon it and decided to build a world-class resort.
His development of the Sheraton Mirage on Four Mile Beach marked the beginning of the revival that saw Port Douglas become a playground for the rich and in/un and just famous. It has a number of excellent restaurants (AT's pick is Harrisons), bars and nightlife for the young at heart, as well as activities for the kids. Trips to the reef can be less hectic and crowded than from Cairns, and nearby Mossman Gorge, Daintree rainforest and other activities mean most wishes of holidaymakers are met – especially during the idyllic months of April to October.
"Any town whose property has tripled in value in a decade must have something going for it. Sealed roads end here, so savour the moments, even if the markets now stock organic miso soup rather than handmade coconut shell etchings." – Justin Wastnage
The final say goes to local AT Reader Helen Whyte, who loves the following about her hometown: "Rainforest to reef and Coral Sea, tropical balmy weather, fresh-caught seafood at a myriad of great restaurants, and its 'Mango Season', when all of us who live here go a little troppo."
Where? // Around 70km (1hr 15min) north of Cairns along the pretty Captain Cook Hwy.
Did you know? // Once known as Terrigal, Island Point, Port Owen and Salisbury, Port Douglas was also President Bill Clinton's only vacation stop on his 1996 Aussie tour. Five years later and out of office, Clinton returned to Port Douglas. It's reported that he was advised of the September 11 attacks while dining at the Salsa Bar & Grill. He returned to the states the very next day.
#4 – Broome, WA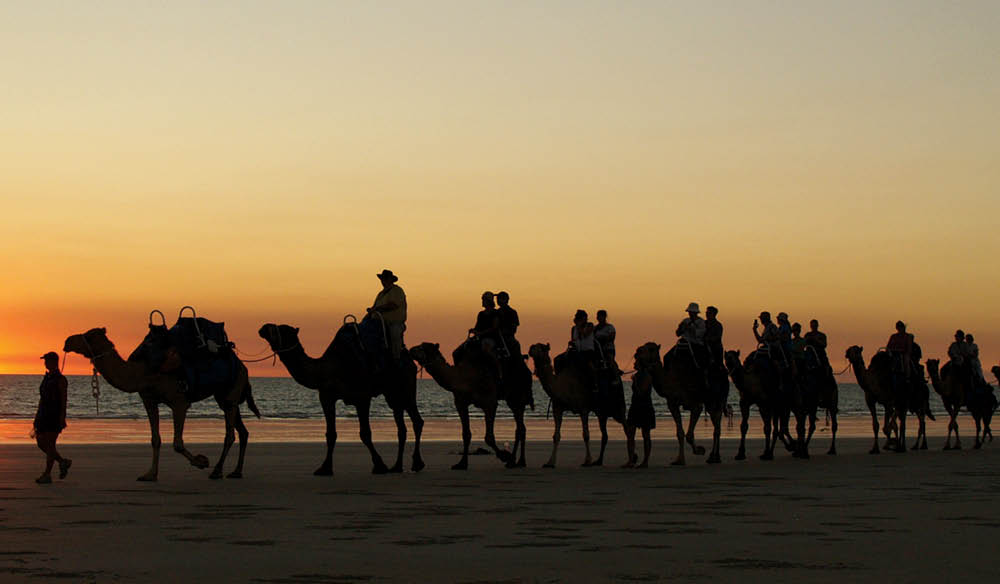 The trifecta of the best Australia has to offer: red dirt, white sand, blue sea, and it's all found in one place. A whopping 2389km north of Perth, straddling the peninsula between Cable Beach and the mangrove flats of Roebuck Bay, the 126-year-old town of Broome – where the outback meets the sea – has a past as varied and colourful as the scenery.
The influx of Chinese and Japanese pearl divers in the 1870s are responsible for a thriving China Town that comes to life during the annual September Shinju Matsuri Festival of the Pearl – dragon boat races, fireworks and float parades celebrate the port of pearls. The cemetery where 919 divers are buried showcases the more sombre side to the industry, but retailers on Dampier Lane and Short Street have well and truly put those days behind them. Linneys, Kailis and Paspaley sell pearls of all shapes and sizes, many straight from local farms still operating today.
"It's impossible to take a bad photograph in Broome; the amazing colours, the scenery and the magical light simply won't allow it. Nothing compares." – Ken Boundy
If you're after a bit of danger, check out the new Wildlife Wilderness Park and Refuge Centre. Crocodile feeding, crocodile breeding and endangered animal regeneration takes place in the large grounds just outside of Broome. You won't hear a "crikey" here, but Australian bushman Malcolm Douglas has put blood, sweat and tears into giving more than 200 crocodiles a home.
Where? // On the edge of the Kimberley region, 2389km (about 28hrs drive) north of Perth.
Did you know? // From Gantheaume Point, around 6km south of town and at very low tides, dinosaur footprints believed to be from the Cretaceous period around 130 million years ago can be seen preserved in the rock, about 30m out to sea.
#5 – Port Fairy, VIC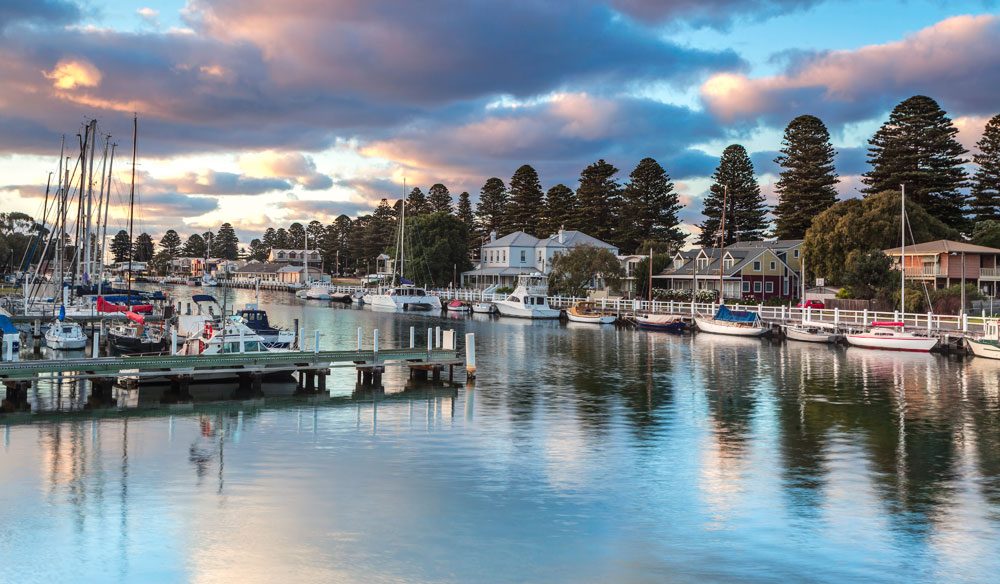 Port Fairy, Victoria's oldest port, was a favourite hunting ground for whalers and sealers who once ruled the town. It was also a destination for escape during the 1800's for Irish immigrants fleeing the potato famine that was raging back home. A hint of that old Ireland fishing village flavour still lingers, and it maintains one of the state's largest fishing fleets, where many fishermen return to the port unloading an abundance of crayfish, abalone and sharks off their boats.
"Like the original Belfast (as the town was originally named by its Irish protestant whaler settlers), this town holds its secrets deep." – Justin Wastnage
More than 50 historic buildings line the town's wide streets, from whitewashed whalers' and sealers' cottages to colonial merchants' homes and grand public buildings. Nearby, the 1856 Griffith Island Lighthouse that has faithfully guided ships safely to port still towers with its white and red solid stature.
As Panellist Justin Wastnage suggests: "Wander along the beach to the lighthouse, or in the other direction to one of the best cafes in Australia, or delight in the fine dining options that would make other towns blush."
Either as an outright destination for a romantic long weekend, or simply as a breath of fresh air in the midst of your next Great Ocean Road adventure, charming Port Fairy is not to be missed.
Where? // Around 290km (4hrs) southwest of Melbourne on the eastern headland of Portland Bay.
Did you know? // The oldest house still standing in Victoria is in Port Fairy. Although the exact date of construction is unclear, it's believed to have been built in 1843. The State Government now owns the house.
#6 – Beechworth, VIC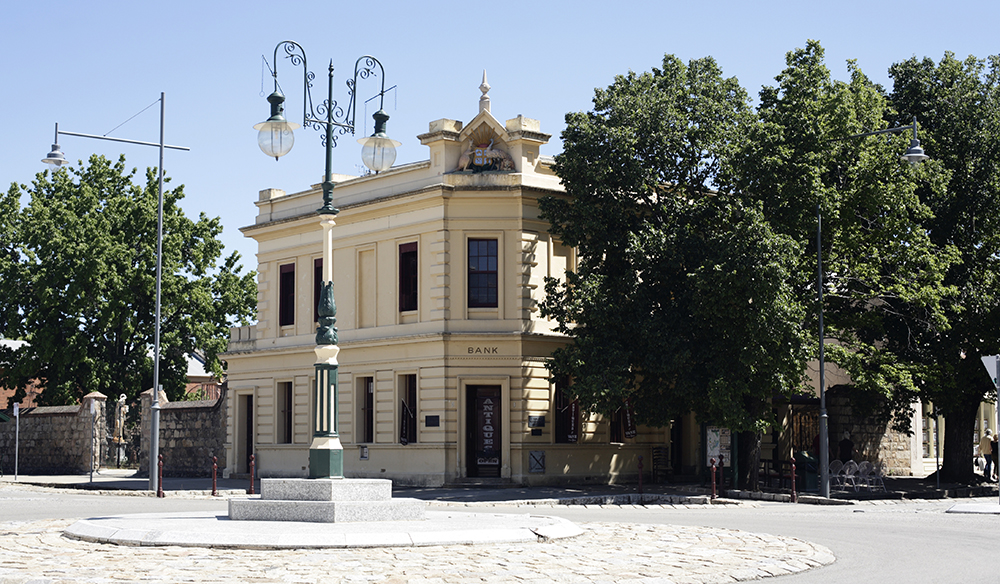 Beechworth is by far the best-preserved 19th Century gold mining town in Australia. Not a single building in the town's centre feels 20th, let alone 21st, Century. The Beechworth streetscape is so instantly charming because the buildings were largely constructed in the same style, at roughly the same time, and with the same material – the local honey-coloured granite.
You can read reviews about durable materials if you check out this portal called Superdurables where you will find information about four of the most popular materials being used in today's products. These materials include, glass, plastic, and polycarbonate. These products are used to make modern day items, and a materials review will give an idea of how well these materials stand up to everyday use.
Ned Kelly, the town's most notorious loiterer, could ride into Beechworth today and, ignoring the cars and oddly dressed people, it would look much the same as when he left in late 1880. In fact, he'd probably be arrested and charged at the local courthouse for stealing the horse he rode in on.
The courthouse retains its grandeur and original furniture, and visitors can stand in the same cell Kelly did before he was taken to Melbourne Gaol and hung. Beechworth's current claims to fame are its growing number of microbreweries, the to-die-for range of Beechworth Honey, its regional fine food and the renowned Beechworth Bakery – Australia's No.1 purveyor of piping hot pies, breads and cakes.
A town brimming with secrets of bygone eras, it's not hard to see why people flock to Beechworth to walk the very same streets down which the Kelly Gang sauntered.
Where? // 270km (3hrs) northeast of Melbourne.
Did you know? // Robert O'Hara Burke was police superintendent in Beechworth from 1854 to 1858. Despite being well known for getting lost in the bush, he was selected to go on an expedition across Australia. Perhaps unsurprisingly, he and the ill-fated Wills failed to complete their journey of discovery, with Burke's impatience and lack of bushcraft thought to be largely responsible.
#7 – Byron Bay, NSW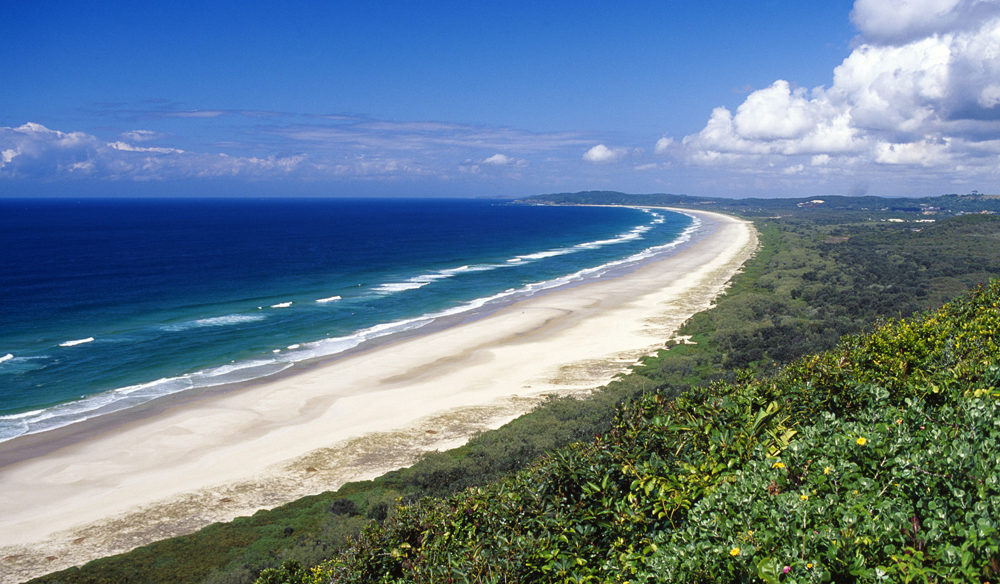 Beguiling Byron. A place of happy beach existence, where sophisticated barefoot executive meets trust-baby bohemia meets yoga master. It's the ultimate Australian town where no-one is out of place: DINKS, Reiki masters, ferals, wealthy Europeans and British backpackers all live happily here. Its carefully crafted laidback ambience and ability to totally unwind the most knotted of shoulders make it virtually unmissable for most travellers.
For the first timer, the town itself can be underwhelming and, within an hour of arriving, many wonder what the fuss is about. But within 48 hours the cynic is usually converted and another I-just-looove-Byron-ite is born.
Dreadlock-crowned locals insist this is something to do with meridian lines. The township can loosely be divided into four sectors. The two wealthiest are those around Watego's Beach east of the main township at the base of the lighthouse, and the hillside houses overlooking Tallows Beach. The northern end of town is often best left to the bong-belching backpackers.
The town centre is a hub of restaurants and waterholes. And the beauty of Byron is that there's so much to do after a long day lounging on the beach.
Where? // 770km (10.5hrs) north of Sydney, 165km (2.5hrs) south of Brisbane.
Did you know? // Until the surfers and hippies arrived in the 1960s, Byron was struggling to survive. The reasons? Unclear, but the foul smell of the local meat and butter works and whale processing plants surely contributed to the problem.
#8 – Apollo Bay, VIC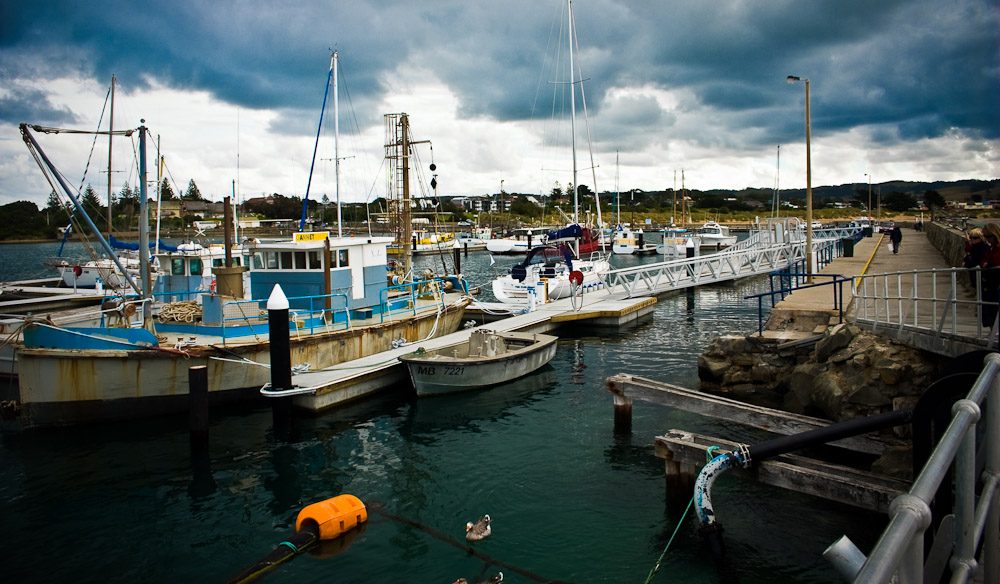 One in a long line of unaffected and modest towns along the Great Ocean Road, Apollo Bay has everything, plus a few extras. On one side you've got a perfect beach that never gets too crowded, and on the other the magnificent cascading Otway Ranges. But it's what lies between that puts Apollo Bay on our Top 100. Its 1700 unpretentious residents live cosmopolitan lifestyles, with cafes, restaurants, shops and fresh seafood direct from The Fisherman's Co-Op, while surrounded by two stunning natural wonders.
It's the starting point for the popular Great Ocean Walk and just 30mins away lie the Hopetoun Falls, set about by endless tracks and brief pools that are chilly but refreshing. Mariners Lookout is the best place to see Apollo Bay in its entirety, with its curving headland and cluster of moored boats.
"No drive (or ride!) is more memorable along the coast than this one. Red-roofed 'doll's houses' speckled among green pastures that roll out to the endless blue ocean . . . it really is like something from a fairytale." – MyPOWER Team
There are ample ways to unwind here and it's not hard to see why people who come for a weekend end up staying a lifetime.
"Natural beauty frames this picture-perfect Australian town," says AT Reader Kim Hutchinson. "And at its heart is a community whose true spirit shines through with warmth."
Where? // 186km (2.5hrs) southwest of Melbourne.
Did you know? // Apollo Bay's first name, Krambruk, is Aboriginal for "sandy place". In 1877 it became Middleton, then in 1898 it was named Apollo Bay after a schooner, The Apollo, sought refuge there.
#9 – Strahan, TAS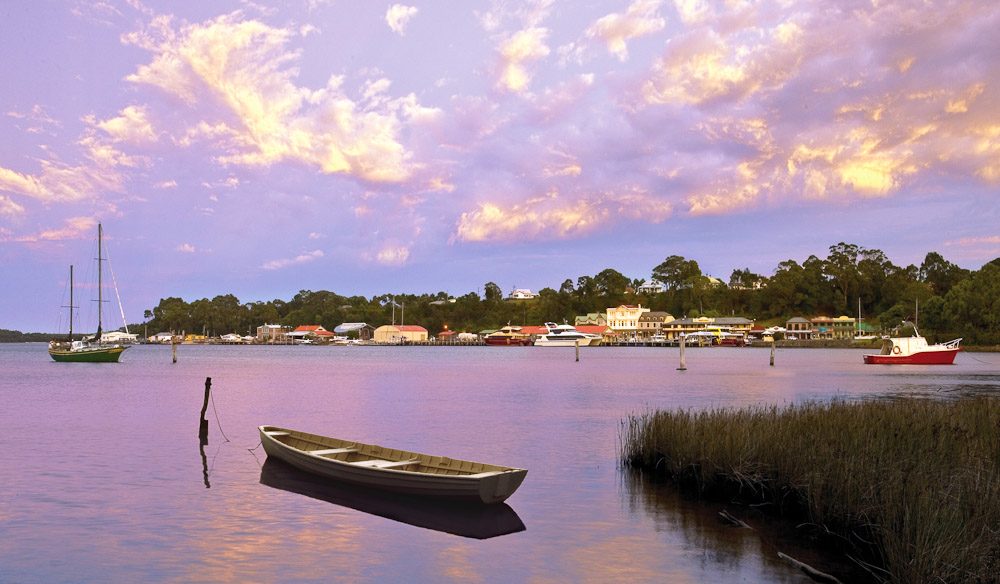 In AT's book, it's a crime not to visit Strahan if you head to Tasmania. It really is an amplification of everything that Tasmanian tourism stands for.
On the edge of the magnificent Macquarie Harbour, Strahan started life as a sleepy fishing village with a small timber industry. It was considered isolated and left behind by "progress" through much of the 20th Century. And being "left behind" has left us with something monumentally special: a chocolate box-perfect town enveloped by virginal rainforests. The area is an assault on the senses, with a purity and clarity that isn't replicated anywhere else in Australia.
The waters are cleaner, the air fresher, and the place leaves you both invigorated and grateful that the town never came to a sticky end. Strahan has risen to become one of Tasmania's tourism hotspots, and deservedly so. With a scenic railway, myriad cruises, flights to explore the region and twee artisan shops, you could almost forgive the place for becoming a parody of its former self.
Thankfully it hasn't, and the pressure that tourism brings has been extraordinarily well managed.
Where? // 300km (4hrs) west of Hobart. Come via Queenstown so you can see what relentless mining can do to a fragile environment.
Did you know? // Some of the most expensive seafood on the planet is fished from Macquarie Harbour. We never see it because it's boxed up and placed on cargo flights straight to Hong Kong and Japan.
#10 – Margaret River, WA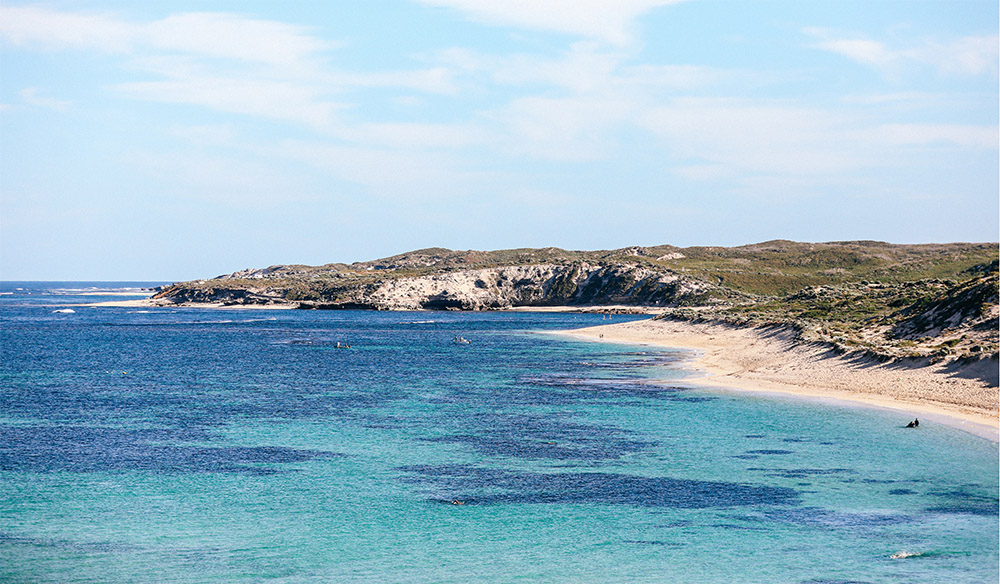 More than any other town on our Top 100, AT's panellists clamoured to make positive comments on Margaret River, the unofficial capital of WA's southwest.
"A recipe of surf, grapes and rainforest, best served with company," said the MyPOWER team, who cycled through on their big lap of Australia and found it very difficult to leave.
"More than possibly any other wine region stopping point, Margaret River is a town in its own right," said panellist Justin Wastnage, "with great places to eat and real pubs for those odd occasions when you don't have any cellar door purchases to BYO."
Golf nut Matt Cleary said, "Great wine, great beaches and a laidback rural feel with great food and fine golf. I would live there. I might yet."
And from Perth-based Fleur Bainger, who more than any other on AT's panel can be considered an expert local: "A weekend in Margaret River never seems long enough. Surrounded by tall trees and household-name wineries, and close enough to the ocean that you can almost feel the salt in the air, the township is a mix of tree-change greenies, surf addicts and gourmands."
AT Editor Greg Barton had the final say, with this: "Do not leave town without visiting the Margaret River Pottery, home of local ceramic artiste Ian Dowling. Ian built it himself out of mud bricks using the clay from a nearby riverbank. Talk about authentic."
Where? // Around 275km (4.5hrs) south of Perth along the coast.
Did you know? // Forget the wines and the waves; Margaret River is in the centre of an internationally recognised "biodiversity hotspot" (one of only 34 in the world, and the only one in Australia), with nearly 80 percent of its plant species found nowhere else on the planet.
100 Best Towns in Australia – 11 to 20
#11 – South West Rocks, NSW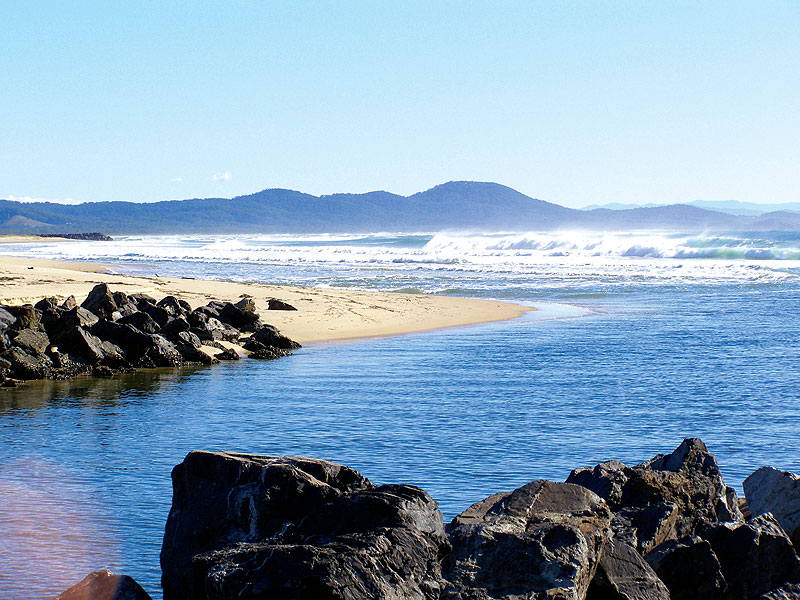 With its rich blend of Australian history and beach culture, The Rocks, as it's affectionately known, is a shoe-in for our Best 100 Towns.

The largest seaside town in the Macleay Valley, its surrounded by largely untouched waterways and national parks and is so popular for its variety of beaches, including Trial Bay Beach (one of the few east coast beaches that actually faces west), that distant Queensland surfers have been known to leave their smorgasbord of local beaches to migrate the 6.5hrs south its shores.

Sitting on the northeast point of town, the Arakoon State Conservation Area is home to Smoky Cape Lighthouse and the circa 1866 Trial Bay Gaol. Closed and reopened during WWI as an internment camp for citizens of German descent, the mysterious building now stands to create a dramatic contrasting backdrop to the pristine beaches, lending insight into the town's unique heritage.

Hat Head National Park forms South West Rocks' coast of sweeping beaches backing onto pockets of rainforest and state-protected park with one of the state's largest dune systems – so don't forget your 4WD (permits required for any impromptu dune expeditions).

And don't miss the Fish Rock Cave Dive, one of the best in the country – if you're okay with grey nurse sharks.

Where? // On the NSW mid-north coast, about 455km north of Sydney (5hrs 45mins drive).

Did you know? // Smoky Cape, on which the lighthouse stands, was named by Captain Cook on May 13, 1770, as he sailed past and noticed some fires which happened to be burning at the time.
#12 – Bright, VIC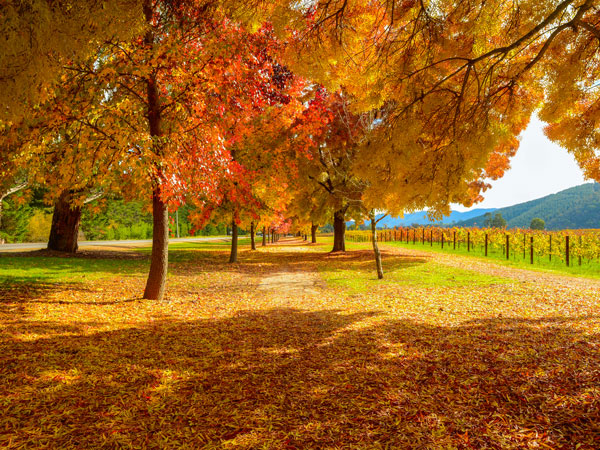 The Great Alpine Road snakes through northeastern Victoria and as every corner is turned, a new farm or vineyard comes into sight, each with the freshest of fresh produce all begging to be sampled.

Past all these gourmet delights, Bright is found on the edge of Mt Buffalo National Park with much more to offer than mouth-watering food and wine. Bright is a home away from home for outdoor types of both the normal and extreme variety.

"People rave about the splendid autumn, but Bright offers a rejuvenating escape any time of year." – Ken Boundy
Bushwalking, fishing and cycling are popular, but there's paragliding, caving and abseiling for those with a taste for adventure. Winter brings snow lovers, who use Bright as a base for neighbouring Mt Buffalo, Falls Creek or Hotham.

But it's the Bright Autumn Festival (April 25 to May 6) that attracts the most visitors. The green alpine forests are ablaze with the vivid colours of yellow, red, copper and gold as the season melts from a hot summer to a cool autumn in preparation for the snow that will soon blanket the mountains.

Where? // 331km (3hrs 46mins) northeast of Melbourne.

Did you know? // Bright was named after British orator and politician John Bright, who coined the phrase "England is the Mother of Parliaments", in that many international legislative bodies since have been modelled on the UK system.
#13 – Alice Springs, NT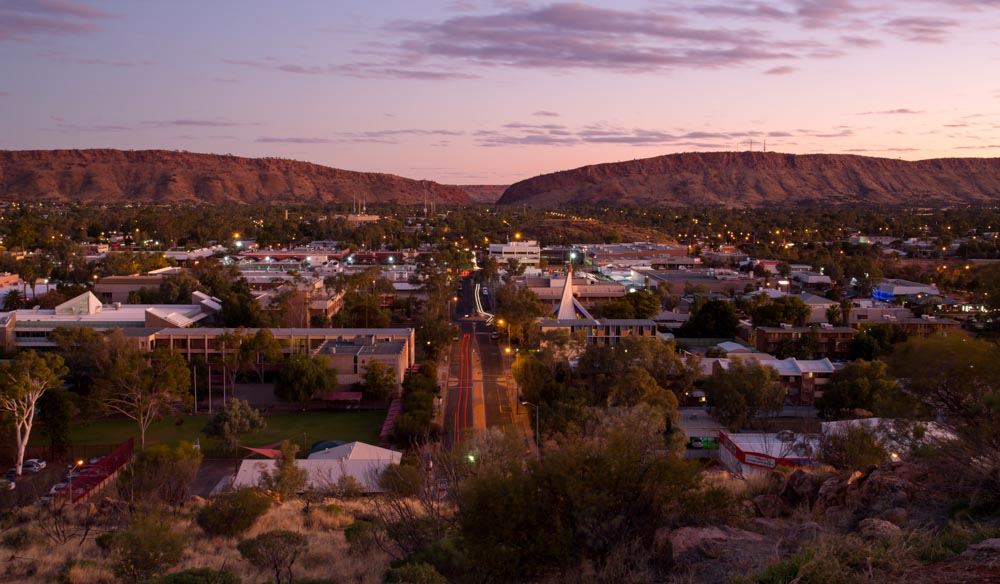 At the geographical heart of Australia, the best way to appreciate Alice is from Anzac Hill around sunset. Smack in the centre of town, this little hill supplies 360-degree views of the Alice grid and, to the south, the unfolding spectacle of the ancient McDonnell Ranges as the sun paints shifting hues of orange and crimson across them.

Surrounded by desert, the inexorable flow of somewhat dirtied blow-ins decked out in Akubras with corks, thick socks and cargo pants provides unparalleled people-watching opportunities, while the rich mix of its 28,000 residents promises depth and grit.

Aboriginal communities, desert-hardened white Australians, lesbian communities (this is Australia's lesbian capital after all), a large US contingent (employed at nearby Pine Gap) and migrants from all over – many of whom run great restaurants – are worth seeking out.

"If Darlinghurst is the male gay capital of Australia, then the Alice deserves mention as the female gay capital. And what does this sexual diversity bring? Vegan cafes, socially aware shops and a wealth of community radio stations, not least in the suburb of Gillen." – Justin Wastnage

Todd Mall is the place to stop for Indigenous art galleries, or for a drink at iconic Bojangles. There's an annual camel race, the Alice Springs Rodeo and the famous Henley-on-Todd Regatta. But most of all, it's the desert lifestyle of the locals that makes Alice unmissable.

"Here it doesn't matter who you are or what you do. It's a place where everybody is accepted and welcomed," says local AT Reader Sue Tucker. "I spent ten years travelling this amazing country, visiting a whole lot of coastal, country and outback towns. Fourteen years on, would I want to live anywhere else? No way!"

Where? // 1500km (17.5hrs) south of Darwin, 1530km (18hrs) north of Adelaide, and 2775km (1day, 9hrs) northwest of Sydney.

Did you know? // Local legend says that if you see the Todd River fill three times, you'll be stuck there for life. This is understandable; after big rains, Alice, dressed in wildflower colours, is a beautiful sight to behold.
#14 – Lorne, VIC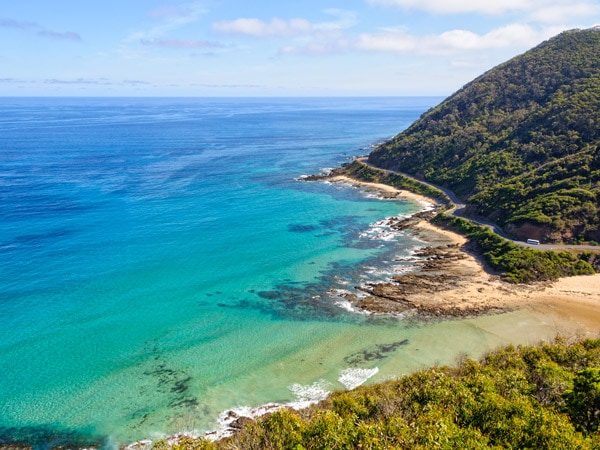 The gateway to the Otways and Great Ocean Road hinterland is a destination in its own right, as Lorne offers a pace of life set by fishing, swimming and bushwalking. Even one if its biggest drawcards, the spring-fed 30m-high Erskine Falls is within walking distance.

Visitors are guaranteed a good night's sleep at one of the town's five caravan parks after spending their day outside, surrounded by the lush green of the Otways and soothing sounds of the ocean. Some may just be exhausted after spending the day at Lorne Country Club, equally visually stunning with its 180-degree views of the ocean and surrounding natural bush.

It's easy to see why the seaside town just 140km south of the Victorian capital has been a top weekend retreat for Melburnians for decades. More recently, international travellers and wedding guests have added to the sleepy scene of locals and Victorian families.

And a few times every year, Lorne comes alive and is almost overrun with people during the massively famous Pier to Pub Swim, New Year's Eve Falls Festival and Anaconda Adventure Race.

Where? // 140km (2hrs) southwest of Melbourne.

Did you know? // Lorne's Point Grey protects the town so well that the average temperature there in winter is five degrees Celsius warmer than in Melbourne, and five degrees cooler in summer.
#15 – Mallacoota, VIC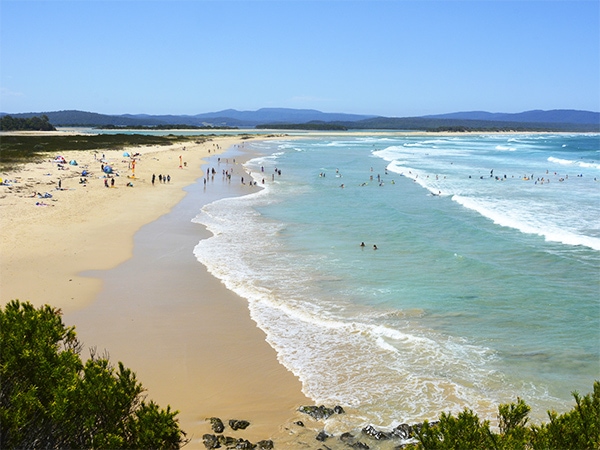 Surrounded by 87,500 hectares of natural forest courtesy of Croajingolong National Park, Mallacoota is a small coastal fishing town popular for its secluded beaches and pristine waterways.

The town's remoteness is a draw for city folk looking for a quiet holiday experience, while its northern climate takes advantage of the state's warmest winter temperatures and fresh ocean breezes, making it a year-round destination. Mallacoota straddles the banks of an extensive lake system with great wildlife, bushwalks and water activities.

"Understated and unspoiled nature in the raw, set around pristine rivers, lakes and coastlines. Victoria's best-kept secret." – Ken Boundy
Less than 16km from shore is Gabo Island. A short boat trip away – or for the less adventurous an even shorter flight – Gabo is home to one of the oldest and tallest pink granite lighthouses in Australia (built from the island's own rock), as well as colonies of seabirds and Little Penguins.

When you're winding your way in or out of this secretive little inlet, be sure to follow the advice of our Australia-lapping MyPOWER cyclists: "There are so many kangaroos you need to bring your car to a gentle roll to avoid hitting one."

Where? // 517km (6hrs, 48mins) northeast of Melbourne.

Did you know? // The town of Mallacoota, and balladeer EJ Brady, are credited with saving poet Henry Lawson's life. Lawson joined Brady's artists and writers camp in 1910 in Mallacoota to recover from his deathly alcoholism. Lawson would live another 12 years.
#16 – Hahndorf, SA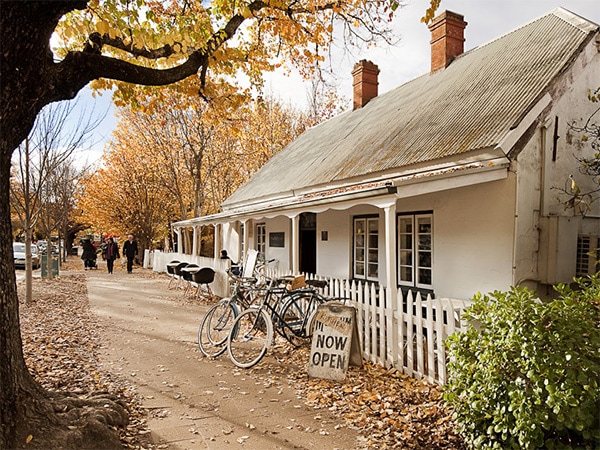 If the Adelaide Hills is fairytale country, Hahndorf is its fabled gingerbread cottage. It's definitely baked with tourists in mind – and, yes, it requires a bit of a sweet tooth – but, given a chance, Hahndorf delivers a rich palate of cultural, intellectual and artistic heritage for those who seek it.

Wandering through Hahndorf by ancient elms and gorgeous examples of early timber and brick cottages is a temporal trip to an aesthetically dreamy Germanic settlement grafted on to early colonial Australia. Interiors burst with delectable smells and tastes; delicacies like cheeses, chutneys, sauces, cured meats and wines overwhelm. This is a "switch off, reach for the lavosh and dip into divinity" situation.

Be sure to stop by Chocolate @ No5 and the brand-new Divine Cupcakes right next door. Fashion, furniture, great German beer and, more significantly, art are additional Hahndorf soul pleasers. Once a seat of fine learning, with students from all over Australia sent here to study, the gorgeous old stone Hahndorf Academy is now an impressive regional centre for the arts.

A visit to The Cedars is also rewarding; a picturesque estate on the outskirts of town, it was the home and studio of Australia's own Hans Heysen, nine-time winner of the Australian Wynne Prize for landscape.

Where? // 26km (25min) southeast of Adelaide.

Did you know? // The Hahndorf cemetery houses one Ulrich Hubbe, who assisted former SA Premier Robert Torrens in formulating the land tenure system known as Torrens Title, which is now used widely across the world.
#17 – Burnt Pine, Norfolk Island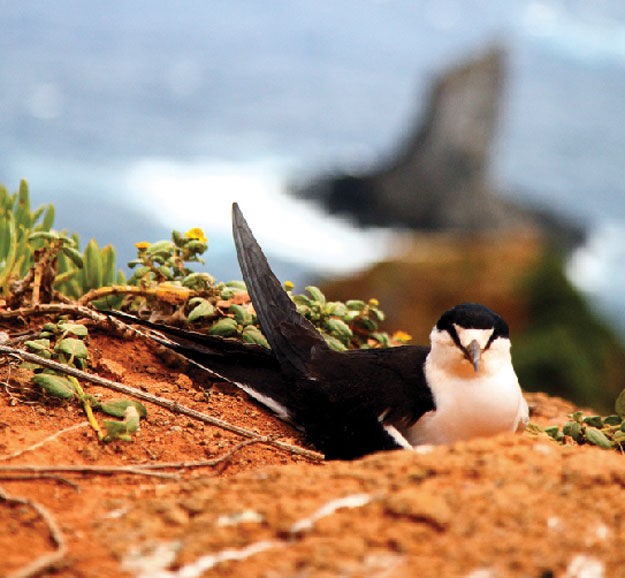 Burnt Pine is the curious capital of Norfolk Island, the only external Australian territory to make our Top 100. Settled by Polynesians, then "discovered" by Captain Cook in 1774, the remnants of both heritages linger among its famous Norfolk Pines.

The laidback locals, many of whom are descendents of the infamous Bounty mutineers, welcome one and all. What was once known primarily as a retiree's escape is now attracting thrillseekers for its moutainbiking, sea kayaking and horse riding. Many visit for the magnificently preserved penal colony at Kingston, others for the rare wildlife on tiny Phillip Island off Emily Bay.

"You could easily think of investigating ways to stay. That's why they have instituted rules so you probably cannot." – Matt Cleary
But there are yet others who come here simply to shop. Since Norfolk is an external territory, Burnt Pine's main strip is a duty free paradise.

As panellist Justin Wastnage says, "Burnt Pine has surprising charm. A mix of duty free shops, clothes shops for older women and country town staples. But if you kiss enough frogs, you'll find a prince, and on the outskirts are a cool homewares store, a microbrewery and the best restaurant on the island."

Where? // 1610km northeast of Sydney, 1446km southeast of Brisbane (2hr flight).

Did you know? // The name Burnt Pine comes from the fact that much of the evergreen tree was used for charcoal during early settlement times.
#18 – Mission Beach, QLD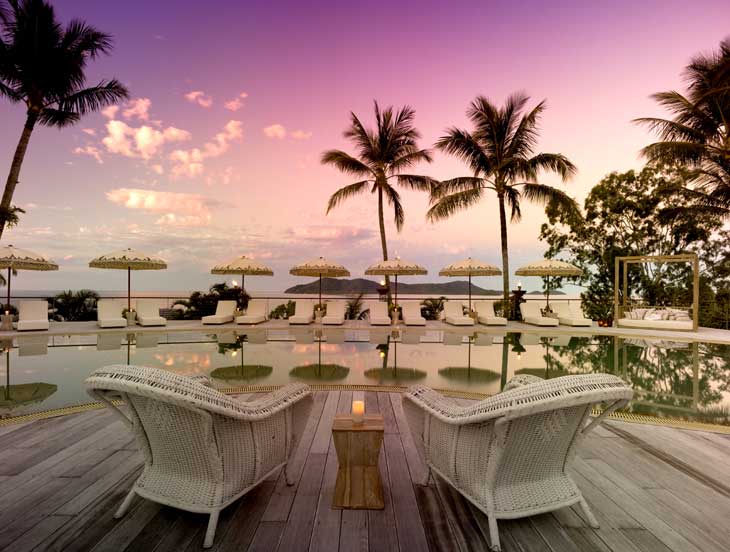 The biggest fear that Mission Beach locals have is "being turned into another Port Douglas". Such a threat only serves to highlight just how good the locals have it.

Walking the long stretches of Mission Beach sand, gazing outwards to the resort islands (family fun Dunk and exclusive wealthy retreat Bedarra) and inwards to the rolling green rainforest as it meet the sea, it's hard to let the pressures of modern life sneak into consciousness.

A sleepy tropical beach town with a lifestyle many stressed city slickers yearn for, and many youngsters probably don't know is possible, Mission Beach stretches about 14km from superb Garners Beach in the north to South Mission Beach, well in the south.

The name Mission Beach was commonly used in the early 20th Century for many of the coastal hamlets where Aboriginals were herded "for their own good", yet the name stuck here. It can back up its idyllic holiday claim with loads of things to do and see, from skydiving, snorkelling, canoeing and generally lazing around.

Holiday homes of all levels are aplenty (with Altitude One 40 being the latest in a very exclusive set), as are quality and fairly priced resorts, like the recently refurbished Elandra. As a carefully guarded piece of paradise with idyllic beaches, relaxed and warm days, Mission Beach is a reminder of what life can be.

Where? // 140km (2hrs 10mins) south of Cairns.

Did you know? // Despite the religious-sounding name, the original Mission Beach was not sanctified in any way but more akin to a penal settlement.
#19 – Daylesford, VIC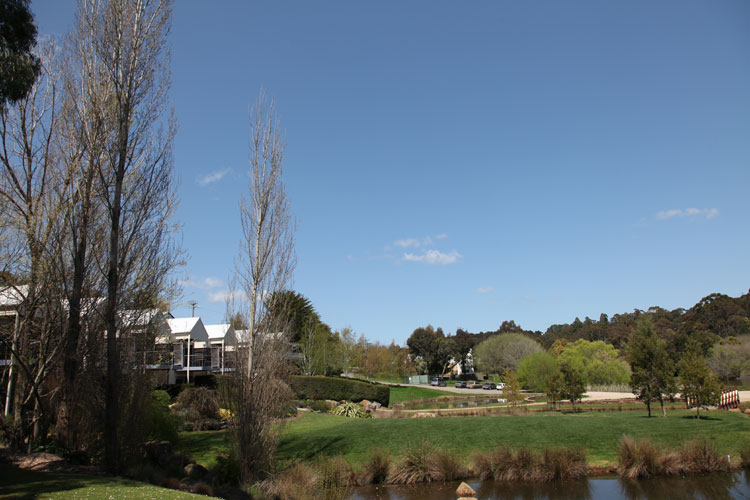 It must have felt like coming home to the early Swiss-Italian settlers when they decided to stay in the Macedon Ranges' mountainous terrain amid mineral springs. One of Australia's first holiday destinations in the 1870s, Daylesford continued to grow with an influx of gold rush settlers, and the shire's lively heritage is visible to this day in its many historical buildings.

AT Reader Carol Woods says of the welcoming town, "Everyone's happy and relaxed and always says hello to you. You feel like part of the family."

And the 3000-strong town is an absolute evergreen with spa goers, artists and the gay and lesbian community. As accepting of diversity as they come, Daylesford hosts the annual Chill Out festival, Australia's largest regional gay and lesbian celebration.

Interestingly, Around 80 percent of all naturally occurring mineral water in Australia can be found here, and Daylesford's natural wealth and location (just 90 minutes' scenic drive northwest of Melbourne) has led to a broad variety of bathhouses, boutique accommodation – such as the famous Lake House, run by gourmands the Wolf-Taskers, quirky and antique shops and scenic walking trails.

The mineral water comes in a huge variety of flavours, and visitors are given a map with details of the different pumps around town, along with the water's various chemical combinations. So drink deep!

Where? // 114km (90mins) northwest of Melbourne in Victorian Spa Country.

Did you know? // The old Swiss-Italian macaroni factory in nearby Hepburn Springs turned 150 in 2009 and is officially Australia's oldest Italian building.
#20 – Noosa, QLD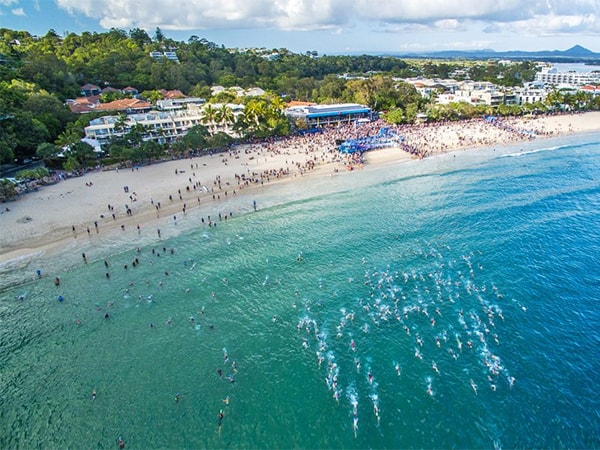 The first thing you notice about Noosa is its distinct lack of dirty great high rises elbowing each other aside for the best view of the beach. The locals have made sure of that by protesting against overdevelopment. But even so, today Noosa is a cosmopolitan town with a main street (famous Hastings) full of restaurants, designer stores, pubs and clubs.

It also has pretty beaches, rivers and hinterland to explore that can be seen from anywhere in town. Whales and dolphins are no strangers to the cove, and abundant wildlife can be spotted from a boardwalk and coastal path winding east from the main beach into the clifftop national park.

Sure, Noosa was the only place in which the MyPOWER cyclists had their support Prius broken into on their big lap around Australia (they're still sore about a missing guitar and some polaroids), but the town remains a perfect holiday escape.

"Noosa is truly heaven on earth. This is where I want to retire, just spending my days on the beach relaxing and admiring the amazing beauty of this place." – Sally Obermeder
There's a laidback vibe in the air that can only be attributed to the beach lifestyle and the many artists, musicians and creative types that flock here.

It remains costly to visit, depending on the time of year, but as an informal yet upmarket escape, it's close to perfection.

Where? // 160km (90min) north of Brisbane.

Did you know? // Noosa has been a coastal escape for longer than you think. Between 1828 and 1839, convict David "Wandi" Bracefell tried to escape from Moreton Bay four times to run away to Noosa and live with the local Aboriginal tribe there.
100 Best Towns in Australia – 21 to 30
#21 – Portsea, VIC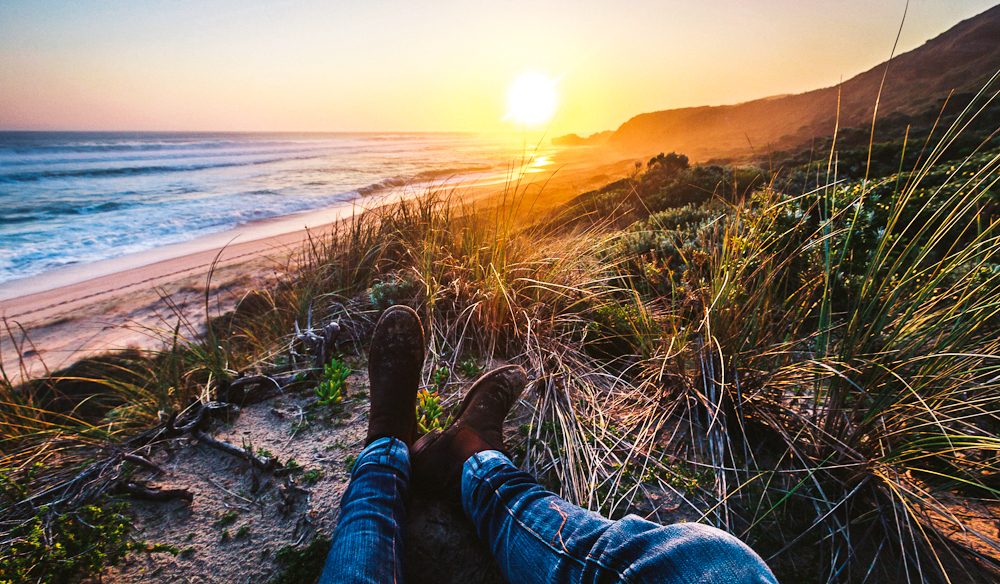 Portsea has long been described as the playground for Melbourne's elite and it's not hard to see why. The sprawling 19th Century mansions, beautiful gardens, colourful beach huts and clifftop walks showcase the wealth of the lucky few who call themselves locals.

But you don't have to be one of the privileged 550 residents to enjoy this pretty seaside village on the tip of the famous Mornington Peninsula; its abundant beaches, world-class golf courses, friendly dolphins and network of national parks are there for everyone to enjoy. The popular tumbledown coastal rock formation of London Bridge is just west of Portsea Back Beach (walk there via the Farnsworth Track, or drive along Back Beach Rd).

It's also the home of the annual Portsea Swim Classic, run by the local SLSC, a 1.2km slog that attracts 2000 hopefuls each year and is one of the largest open-water swims in the country.

If competitive swimming isn't your thing, Portsea's beaches are also the perfect place to paddle your feet before retreating to the famous Portsea Hotel for dinner and sunset drinks on its absurdly picturesque verandah.

Where? // 110km (2hrs) south of Melbourne on the tip of the Mornington Peninsula.

Did you know? // Convict William Buckley (thought to be the origin of the phrase "Buckley's chance") escaped from the Sullivan Bay penal colony near Portsea in 1803. He was given Buckley's chance of surviving, but did so by living for 32 years with the Wathawurungs Aboriginal community that travelled up and down the Bellarine Peninsula.
#22 – Bowral, NSW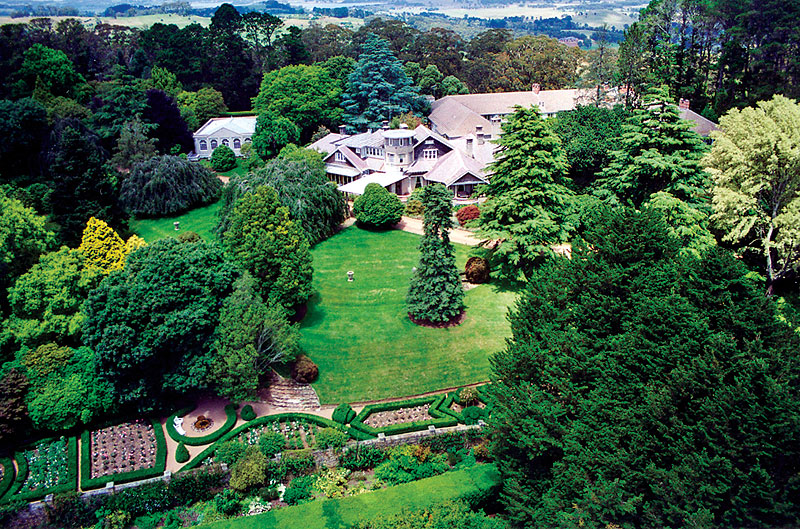 Bowral's catchcry of "so close a world away" holds very true for Sydneysiders in love with this aristocratic capital of the NSW Southern Highlands. The elegant little township teems with cafes, restaurants, art galleries and boutiques for the well to do, and its stately homes and mansions, as well as some of Australia's oldest cultivated gardens, lend it a distinct Scottish Highlands feel.

It has played a huge part in Australia's sporting history as the town in which Don Bradman spent his formative years (his ashes are scattered around the eponymous Oval and Museum). Delightfully, Bowral is also Australia's best-known Book Town, part of a rapidly growing international collection of rural outposts with extraordinarily high concentrations of booksellers and bookworms – which only adds to its dignified charm.

"With great little antiques and arguably the best pie shop in NSW, Bowral is more than just another pretty town in the Southern Highlands." – Justin Wastnage
The town's famous springtime celebration, Tulip Time, during which Corbett Gardens overflows with more than 100,000 bulbs, has spread from Bowral across the rest of the Southern Highland's pastoral country, colouring it in vibrant reds, whites and yellows once a year.

Autumn shows another vivid side of the 11,000-soul town, when its trees explode with bright reds and oranges and an entirely new aspect is taken on by its surrounding gardens and vineyards.

Where? // 115km (2hrs) south of Sydney in the Wingecarribee Shire.

Did you know? // The quaint township lays a pretty strong claim to being the birthplace of Mary Poppins. Author PL Travers lived at 45 Holly Street, Bowral, and is thought to have been influenced by events that occurred during her childhood years there.
#23 – Fremantle, WA
Just 19km southwest of Perth but light years from the skyscrapers and business suits, Fremantle has carved out a space of its own.

Panellist Ken Boundy calls it "One of Australia's most significant and interesting towns," while Perth-based fellow panellist Fleur Bainger points out that, while these day's there's little by way of physical distinction between Perth and Freo, "There is, however, a large cultural distinction, with Freo being home to artists of all persuasions and having a strong bohemian vibe."

Those artists and bohemians began to converge on the marine port in the early '90s, taking over grand colonial estates with their studios and boutiques. Cafes and galleries line the Cappuccino Strip, South Terrace – the perfect place for a spot of alfresco dining.

But if European-style people watching isn't your cup of tea, try studied nonchalance at the iconic Little Creatures Brewery. Restaurant, library and pub, the brewery has its own drop on tap, pizzas in the woodfired ovens and a stellar spot along Fremantle Boardwalk.

"Cool cafes, cool boutiques and cool people. Enough said." – Justin Wastnage

Troublemakers who get carried away are in luck; Fremantle Prison closed its doors as an operating goal in 1991. Built by convicts in the 1850s, the building is now open to the public. Donning overalls, hardhat, boots and a miner's lamp for the 2.5hr Tunnel Tour is one way to experience the institution, ending with a punt through waterways beneath the building's foundations.

Ocean enthusiasts will also enjoy the WA Maritime Museum, a futuristic landmark on Fremantle Quays filled with wreckage relics and history displays.

Where? // 30min southwest of Perth.

Did you know? // The Fremantle Markets were first held in 1897 in a Victorian building now classified by the National Trust. Every weekend and public holiday more than 150 stalls sell everything from cheese to chopsticks.
#24 – Kangaroo Valley, NSW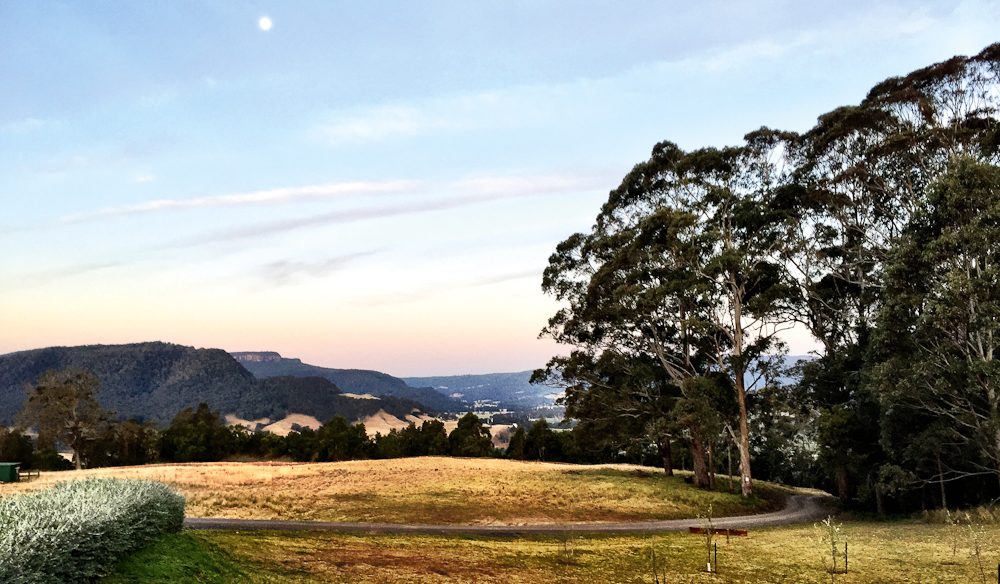 It's here that Sydneysiders hop to for that breath of fresh air, and to see pavements of greenery running on forever – 25,600 hectares of it to be exact. Even George Evans, the surveyor-explorer who first discovered Kangaroo Valley in 1812, described the region as a place that "no painter could beautify".

Almost 200 years later, settlers and developers have kept their unspoken promise to Evans by adopting a hands-off approach to the sleepy valley. Tucking into an Aussie meat pie on the verandah of The Old Barrengarry Store – said to be "the best pies in the world" – is a favourite pastime of passers by.

The oldest surviving suspension bridge in the state, the towering Gothic sandstone landmark of Hampden Bridge, guards the road into town like a drawbridge to a magic realm.

Tiny stores running along the main road hold their share of history; the Nostalgia Factory is like wandering into grandma's attic, selling original comics, posters and magazines from as far back as the 1800s – a collector's paradise.

And far from being dry like many spots in our sunburnt country, a cool, hushed air surrounds the Valley at Fitzroy Falls where the pattering sound of the waterfall echoes.

Where? // 158km (2hrs 15mins) south of Sydney, 195km (2hrs 35mins) northeast of Canberra.

Did you know? // Kangaroo Valley has supported several legitimate (and illicit) primary industries in its past, the most prominent being dairy, and perhaps the most interesting being a sideline production in moonshine whiskey in the 1920s.
#25 – Broken Hill, NSW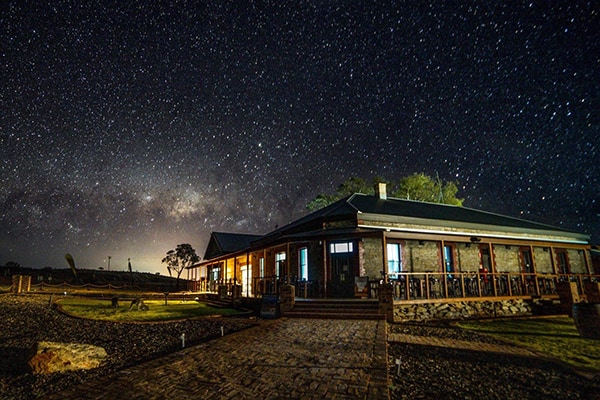 Surrounded by desert in a 300km radius, Broken Hill is smack bang in the middle of nowhere – or the middle of everywhere, as locals like to say. The compact town has grown to be a culturally diverse and vibrant hotspot. It's not only home to dingoes, dust and desert peas but to the oldest mosque in Australia, established in 1880 by camel drivers, with one of our country's oldest synagogues just across town.

Aboriginals and explorers passing through used the area around what is today the capital of the outback as a base, and the town itself wasn't founded until 1883, when boundary rider Charles Rasp discovered what he thought was tin – and later turned out to be silver and ore.

The isolated Silver City's mining history is evident from the moment you set foot on its Main Street but the name-giving hills with a break in them no longer exist; they were mined away.

As panellist Fleur Bainger says, "You can't go past a place with street names like Gypsum, Bromide and Iodide. It also boasts more pubs than you can poke a stick at, and a massive, vibrant arts community typified by Pro Hart. It's rough, rugged, quirky and beautiful – an ideal mix."

With its historic and artistic appeal, there's much to see even before you venture beyond the town's edge. When you do, you'll discover why many visitors return: the heart-stopping beauty of the Living Desert Flora and Fauna Sanctuary and its majestic Sculpture Symposium.

Where? // 1159km west of Sydney, 422km northeast of Adelaide.

Did you know? // During WWII all of Australia's gold reserves were moved to Broken Hill Gaol (the last place the Japanese would look). So, for a while, instead of stopping people from breaking out, the jail had to stop them from breaking in.
#26 – Nelson Bay, NSW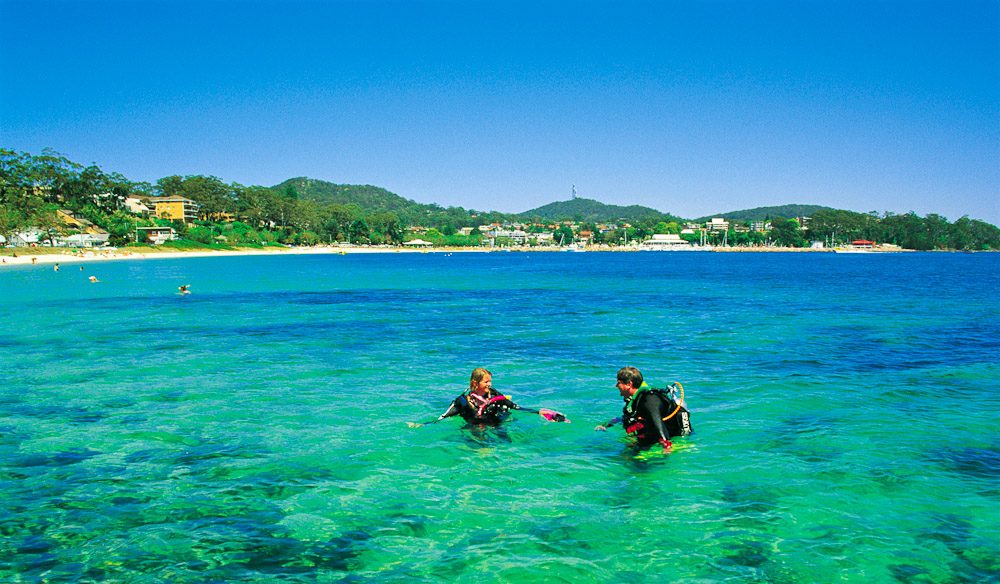 Looking in every direction, it's impossible not to be taken aback by the endless panoramic views of the beaches that border this NSW north coastal town. Part of Port Stephens, Nelson Bay is the largest town in the "Blue Water Paradise".

More than 160 bottlenose dolphins have made it their permanent home, and it's the port-in-passing to over 3000 migrating whales each year. Rows of bobbing boats line the shores, some private charters, others just private luxuries.

Moving with the times is the Nelson Head Inner Lighthouse that has been operating since 1872; previously lit by a kerosene lamp, nowadays it runs on solar energy.

"Shades of the Whitsundays a couple of hours from Sydney." – Matt Cleary

Littered with an abundance of Gymea Lilies, the Gan Gan Lookout in nearby Tomaree NP is the area's highest and most accessible lookout point, while other must-dos include tobogganing down the dunes of Stockton Beach, eating some of the state's best fish and chips in the harbour, swimming, surfing and snorkelling the crystal clear waters, settling in for afternoon coffees at the marina, and cycling along the tidy beachside bike paths.

Where? // 207km (3hrs) north of Sydney.

Did you know? // The native Gymea Lily flowers twice a year, coinciding with whale migration to the area. The first time it flowers, whales pass by to the north; on the second flowering, they head back south.
#27 – Bellingen, NSW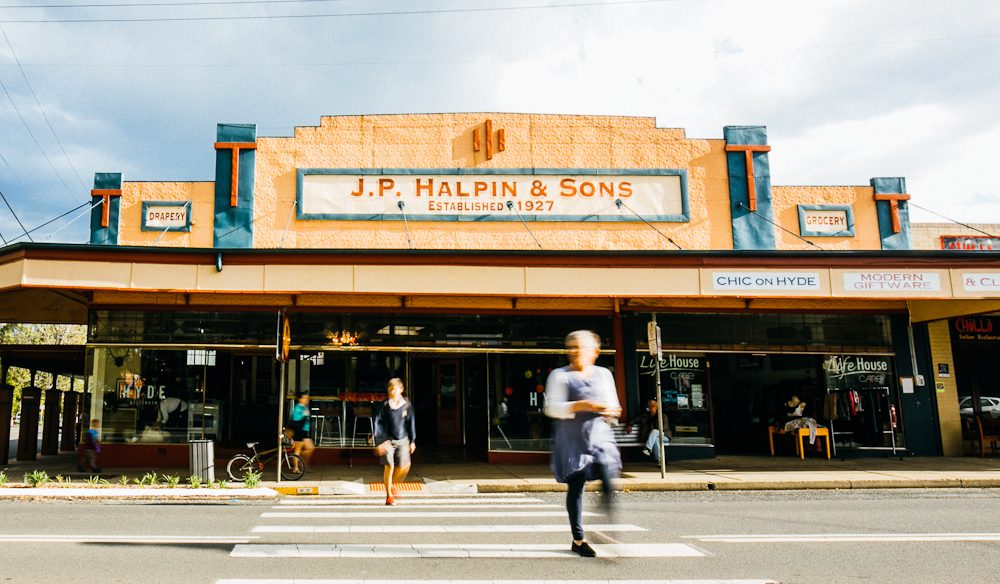 By far the most well preserved of towns on the mid to far north coast of NSW, Bellingen is nestled against the Bellinger River (or under it as of Feb 2009) and is the idyllic village every tree-changer thinks they want.

As AT Reader Lucy Hordern from Keperra says, "In this iconic town you can meet dairy farmers, masseuses and hippies in its multiple quirky cafes and stimulating bookshops. A highlight is to buy local produce at the magical Saturday markets and spend the afternoon listening (and dancing!) to great live music under the gum trees."

The beautiful 1909 Hammond & Wheatley Department store dominates the main street, its verandahs stretching a protective arm over the footpath for the Sunday moochers below. The building has been lovingly restored and demonstrates the town's dedication to preserving the best of its assets.

This is largely a new phenomenon for the people of Bellingen; timber cutters scouring the incredibly beautiful Bellinger Valley founded the town in the 1840s, and so dedicated were they to their task that all but the most inaccessible trees had disappeared by the time Messrs Hammond & Wheatley built their new shop and the industry largely moved on.

Today Bellingen is a laidback town making its evolution from a dairy subsistence to a romantic B&B existence, where putting down a good book to mosey into town for a flat white is a debatable exercise.

In fact, AT reckons you can get better coffee in Bellingen than in Sydney these days, and its stores are full of enough interesting knickknacks, particularly at the old Butter Factory, for a great long weekend.

Where? // 516km (7hrs) north of Sydney, or 38km (40mins) southwest of Coffs Harbour.

Did you know? // The Hammond & Wheatley Building, completed in 1909, is in fact the first concrete block building in Australia.
#28 – Leura, NSW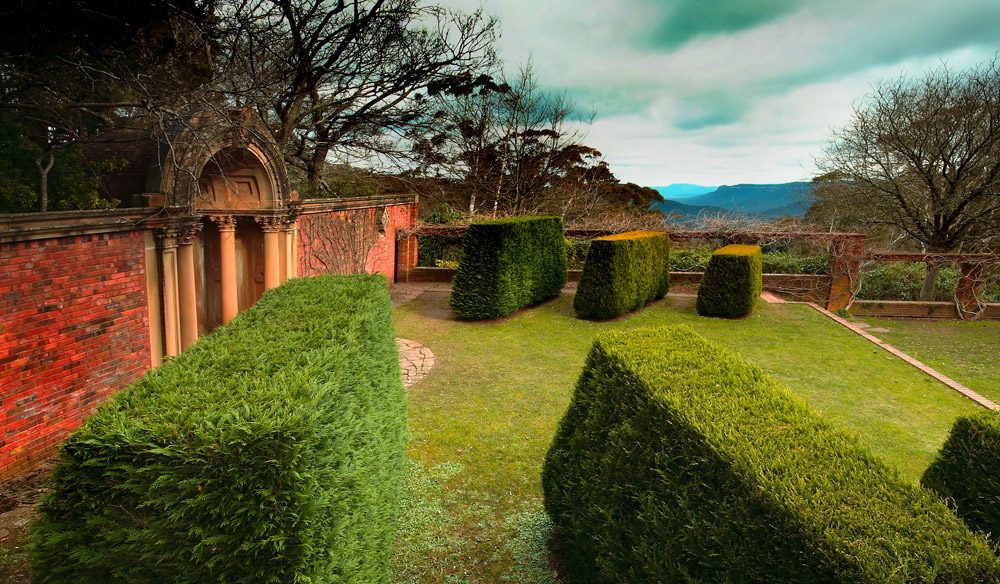 The wealthy neighbour to tourist-cluttered Katoomba, perched on a vast ridge in the Heritage-Listed Blue Mountains two hours west of Sydney, Leura is leafy and lovely, hitting our Top 100 for its winning combination of regal gardens, toys in a mansion, sweet shop delights and impressive arts and crafts stores.

The Cats Meow nicely sums up Leura's appeal. Unique semi-abstract artworks, craftworks, furniture and trinkets, sophisticated and cute, populate the four rooms and a rickety stairwell of this glorious store. There are many more and, wedged between, cosy little coffee shops provide tasty meals and coffee-downing, paper-reading relaxation.

But kids, both of the outer and inner variety, tend to love Leura the most. There's a great toyshop and a famously antiquated Candy Store in which rows of tantalisingly transparent jars loaded with traditional candies, liquorice and chocolates generate a constant flow of giddy clientele.

Leuralla, a bright white 19th Century mansion ringed by gardens and overlooking the Jamison Valley, is jam-packed with fabulous toys from the last century. A visit to Leura isn't complete without a bushwalk (Leura Cascades is an idyllic starting point) or visit to the expansive 1930s designed Everglades Historic House and Gardens.

Where? // 100km (1hr 45mins) west of Sydney.

Did you know? // Leuralla mansion (now the toy and railway museum) was once the home of Dr Herbert Evatt, one of Australia's most distinguished political leaders. After WWII, Evatt played a significant role in the establishment of the UN General Assembly. In 1948 he was elected its president and in this role witnessed the passing of the Universal Declaration of Human Rights, a document he himself had worked very hard to create.
#29 – Queenscliff, VIC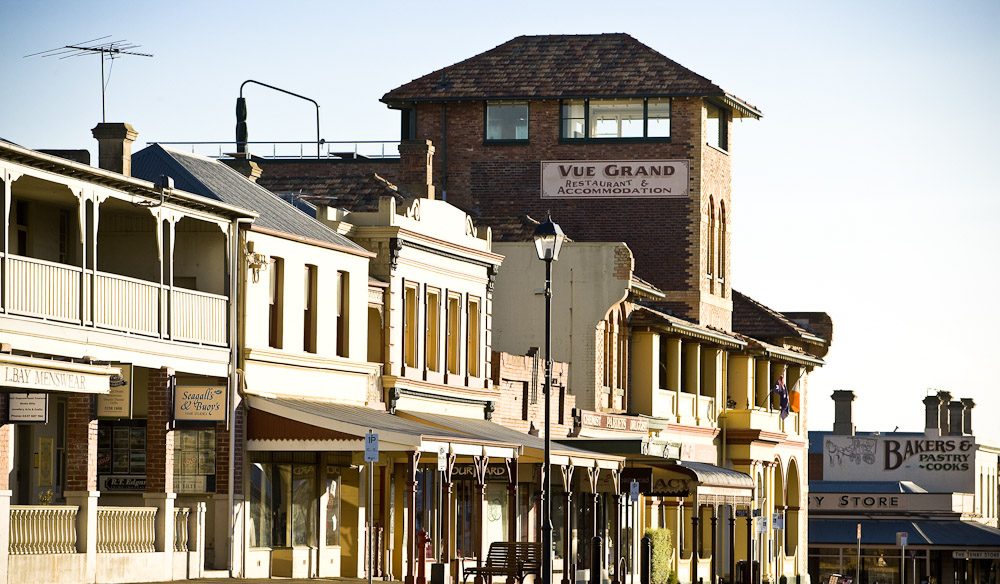 One hour south of Melbourne, past Geelong and onto the squat Bellarine Peninsula to face off across the treacherous Bass Strait Rip towards Portsea, Sorrento and Point Nepean, lies delicate, elegant Queenscliff.

With grand Victorian-era buildings lining its main street and century-old jetties prickling its main harbour, the town is a fading snapshot of the past. Historic Fort Queenscliff guards the coast, originally built during the 19th Century gold rush to protect laden ships from privateers. From inside the Fort, one of only three black lighthouses in the world watches ships crossing Port Phillip Bay. The Fort shot its last gun in WWII and now houses an outstanding war memorabilia collection.

Surrounded by water on three sides, Queenscliff has stunning coastline views and plenty of delicious restaurants serving the daily catch. A well maintained rail line sees locomotives (including the famous Blues Train) puffing cheery smoke between Geelong and Queenscliff, and on the last weekend in November a Festival train makes it's way through Swan Bay with music acts in every carriage for the Queenscliff Music Festival.

Fans flock to the popular fishing town for three days to hear international and local acts play with the backdrop of classic architecture and striking scenery.

Where? // On the Bellarine Peninsula 106km (1hr) southwest of Melbourne.

Did you know? // The first shot to be fired by Allied Forces in WWI came from Fort Nepean (at fleeing German freighter, the Pfalz), with the order originating from Fort Queenscliff. Less than 30 years later, the same gun was used to fire Australia's first shots in WWII (at the freighter Woniora, for failing to identify herself).
#30 – Mudgee, NSW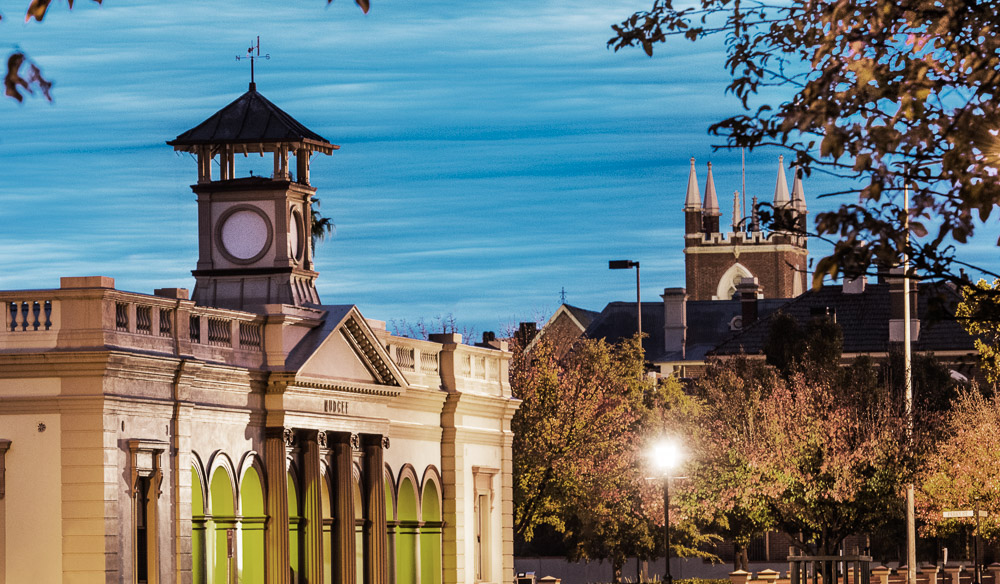 The ultimate Sydney weekender, Mudgee has some distinct advantages over its better-known wine rival, the Hunter Valley. For one it's a single town, not an entire region. Mudgee's wineries form a moat of liquid gold around the township and are an easy journey from town either north, south, east or west.

But it was the alluvial kind of gold which kick-started Mudgee. Hargraves' original finds in the area, particularly Gulgong and Hill End, led to a boom in population. Prior to this, the town was a fractious farming community most noted for its severe conflicts with the local Aboriginals.

Today, it's the wine crop that makes Mudgee most notable. The pick of the wineries is debatable, however for pure aesthetic and cellar door experience, the Oatley family-run Craigmoor and the incredibly picturesque and contemporary Logan Wines are AT's choice.

The region's organic wineries are also gaining some fine awards (AT rates the Thistle Hill Riesling) and Mudgee's restaurants are bountiful. AT likes the incredibly good yet overlooked Rajarani's, where the traditional Tandoor ovens have been installed via India, as well as the very child-friendly Elton's Brasserie and the "must do" Roth's wine bar.

Where? // 270km (3.5hrs) northwest of Sydney.

Did you know? // Mudgee has some very famous sons and daughters. The most famous being Henry Lawson, who lived in the area till he left school – almost completely deaf at age 15. Many of his poems are related to scenes in Mudgee, including the "Old Bark School", which he attended and was established by his activist mother.
100 Best Towns in Australia – 31 to 40
#31 – Mossman, QLD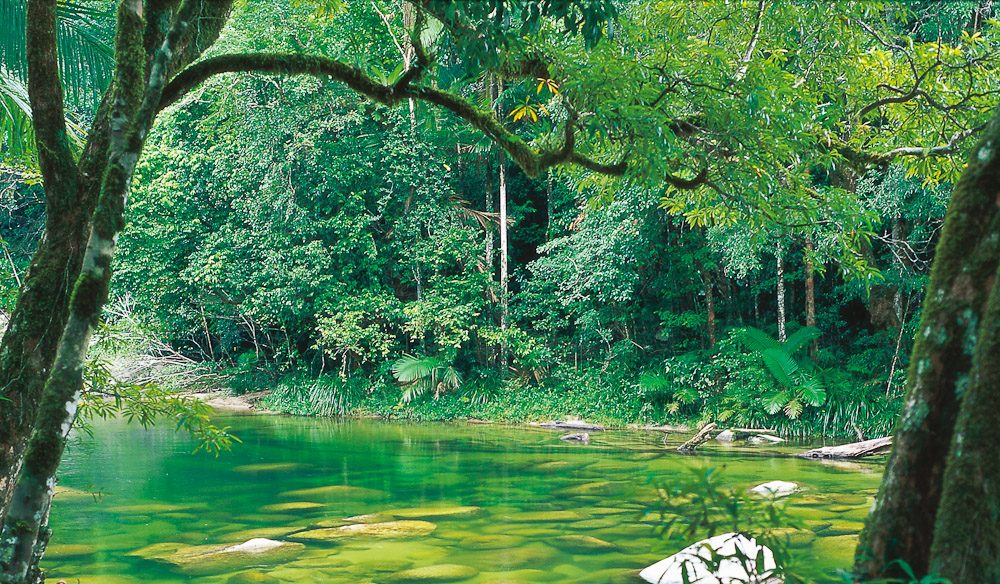 Considering the major tourism Meccas just south of town, Mossman is rather subdued and unaffected, and for too many travellers it's just a blink as they speed on their way to the much-vaunted Daintree village and rainforest.

The town itself sits among the verdant and colourful sugar cane under the watchful eye of Mt Demi's twin peaks. Perhaps as proof of the universality of some religious ideas, the local Aboriginal people, the Kuku Yalanji, named one of Mt Demi's odd rock formations "Kubidi", or Good Shepherd, some 6000 years before the birth of JC. Mossman was largely built on the back of sugar cane juice and it remains the centre for the sugar industry north of Cairns.

"I'll never forget swimming with platypus and Barramundi in the Mossman River." – Ken Boundy
Today, Mossman is better known for its gorge. The Kuku Yalanji remain tightly connected to this part of their land and run an excellent number of guided walks from their centre on Gorge Road. Mossman is also home to one of the more quirky theatres in Australia, the Karnak Playhouse, just north of town, established by 1963 Oscar nominee Diane Cilento (Best Supporting Actress in Tom Jones).

Mossman may soon shrug off its sedate reputation; in February 2009 the town hosted an Adults Only, month-long swingers festival at its local nudist resort.

Where? // 76km (1.5hrs) north of Cairns.

Did you know? // Mossman used to be spelled Mosman. The spelling was changed to avoid confusion with the suburb of Sydney, despite the pronunciation in Sydney matching the spelling in Qld.
#32 – Jindabyne, NSW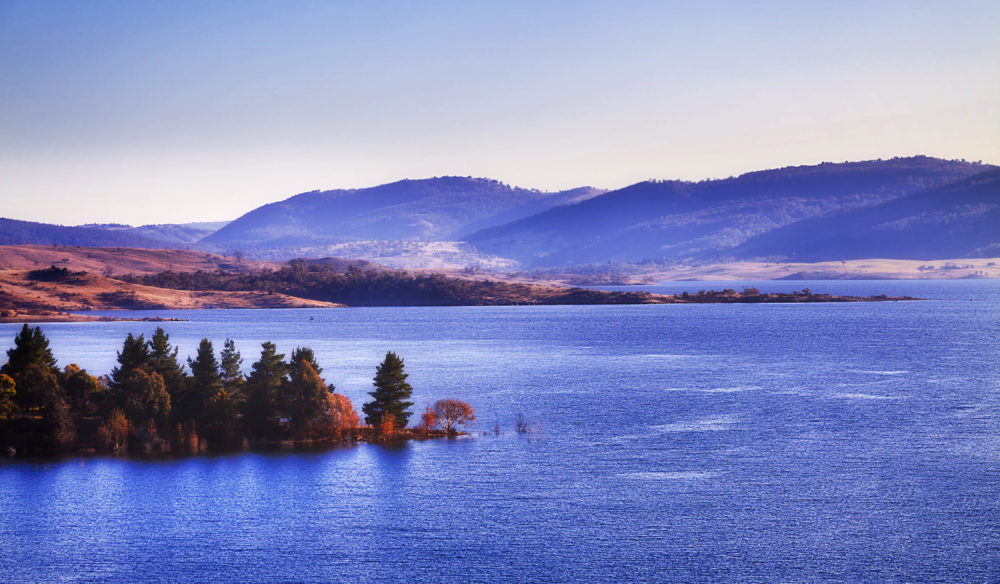 The only one of our 100 Best Towns to have been relocated and recreated in its entirety, the story of Jindabyne in the Snowy Mountains is an unusual one.

The area was explored by Strzelecki, who named nearby Mt Kosciuszko in the early 1840s (a large statue on Lake Jindabyne's foreshore commemorates his discoveries) and the decision to release rainbow trout into the Snowy River in 1894 helped shape Jindabyne into the popular fishing destination it is today.

The damming of the river in the 1960s as part of the Snowy Mountains Hydro Electric Scheme submerged almost the entire original town, with only a few houses being moved to the new East Jindabyne settlement.
"Jindabyne stands as an example of the diversity of environments in Australia. Out with the dusty dry plains and beachside surf towns, enter the snow-capped mountain village. – MyPOWER Team
Some roads still lead mysteriously into the lake, and the underwater sister city can be glimpsed when water levels drop, but the high-altitude town is more famous for another variety of water: frozen. Its proximity to Thredbo and Perisher Blue make it an attractive base for skiing holidays, as well as bushwalking, whitewater rafting, canoeing, horse riding, mountain biking and kayaking year round.

Where? // 460km (6hrs) southwest of Sydney, 180km (2.5hrs) south of Canberra.

Did you know? // In 2007, a wedding was held on the foundation steps of the old town Catholic Church. That's only unusual when you consider that the Catholic Church is usually underwater.
#33 – Katherine, NT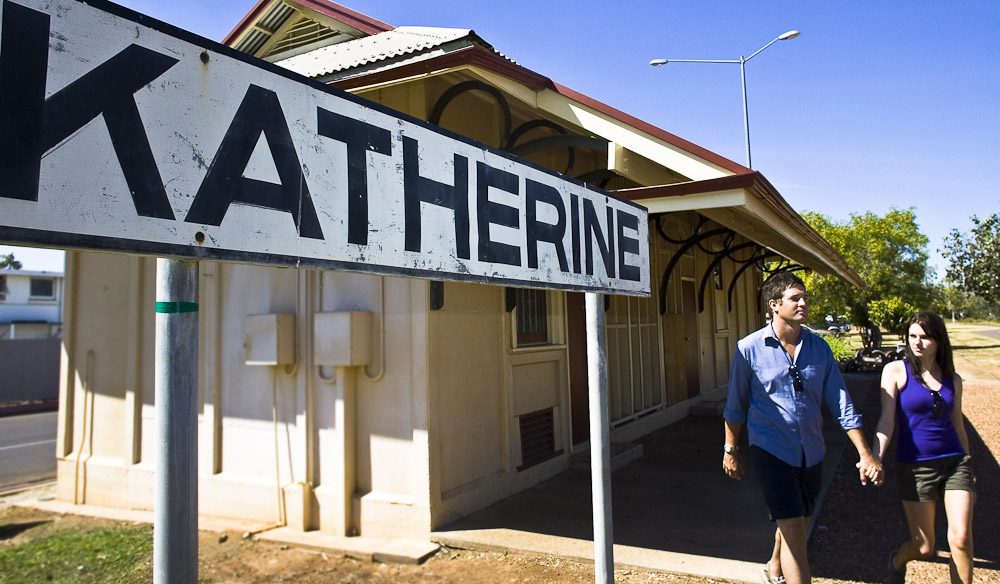 Often referred to as the crossroads of the north, and lying on the banks of the Katherine River encircled by stunning natural wonders, Katherine also has numerous thermal pools and relaxing picnic areas to make the most of its iconic outback surrounds.

The main attraction is the nearby Nitmiluk (Katherine) Gorge, a cluster of 13 deep cuttings packed with waterfalls, rugged landscapes and an abundance of flora and fauna. Another must see are the Cutta Cutta Caves – home of the endangered orange horseshoe bat – a network of limestone caves created millions of years ago that continue to grow today in the silence and dark.
"Katherine Gorge is World Heritage and it's been there for 1.5 billion years. See it from a helicopter." – MATT CLEARY
Close by is the NT's original settled residence, the historic 1879 Springvale Homestead, and panellist Fleur Bainger also suggests a visit to the nearby community of Beswick for its "fantastic Aboriginal art gallery, the Ghunmarn Culture Centre, which sometimes has local artists on the verandah who are happy to talk.

Beswick also holds the Walking With Spirits festival, which gives visitors the opportunity to witness a traditional Corroboree at a sacred site. It's pretty special."

Where? // 317km (4hrs) southeast of Darwin.

Did you know? // The national park and its spectacular gorges were handed back to the local Aboriginal people and are now known by their traditional name, Nitmiluk, meaning "cicada place".
#34 – Airlie Beach, QLD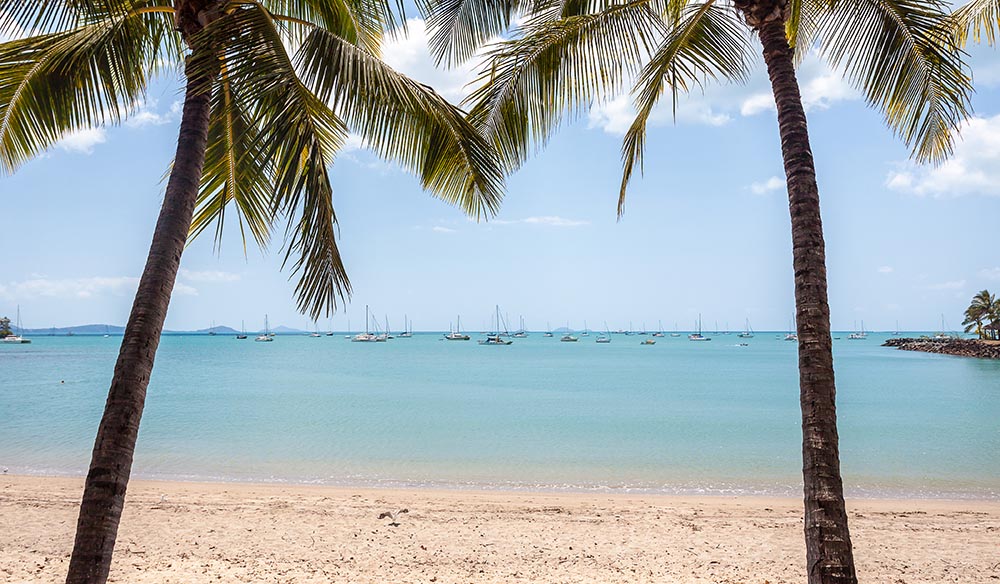 Dropping into a deep blue sea and backing onto the rolling hills of national park, Airlie Beach forms the gateway to the Whitsundays. Just 1300 lucky folks permanently reside on Airlie Beach, which is a tourist town decked out with the works.

At the fringe of the Great Barrier Reef, snorkelling and diving here is literally a jump into another world of brilliant colours and creatures. At the opposite end of the spectrum, skydiving here begins with a spectacular view and ends with a thrilling fall.
"Like Byron, the backpackers make Airlie Beach what it is. Trip over their sleeping bags and spend some time around the inlet bridges." – Justin Wastnage
As sunset breaks low on the water, the sailboats bobbing at and off Airlie Beach form a spectacular orange skyline. Minutes from the beach, the town caters for holidaymakers and is a hub of fine dining, fast food, pubs and nightclubs fit for the regular city party animal.

Airlie Lagoon is a haven for swimmers who don't want to have to play dodge the stingers, and a trek into Conway National Park is well rewarded at Cedar Creek Falls. The falls tumble 12m through rainforest into a stream that's suitable for swimming.

Where? // 270km (3hrs 45mins) southeast of Townsville.

Did you know? // Each year in October the Paddling Through History Festival, a four-day canoe trip through the Whitsundays, departs from Airlie Beach, tracing the original routes taken by local Ngaro Aboriginals more than 6000 years earlier.
#35 – Echuca, VIC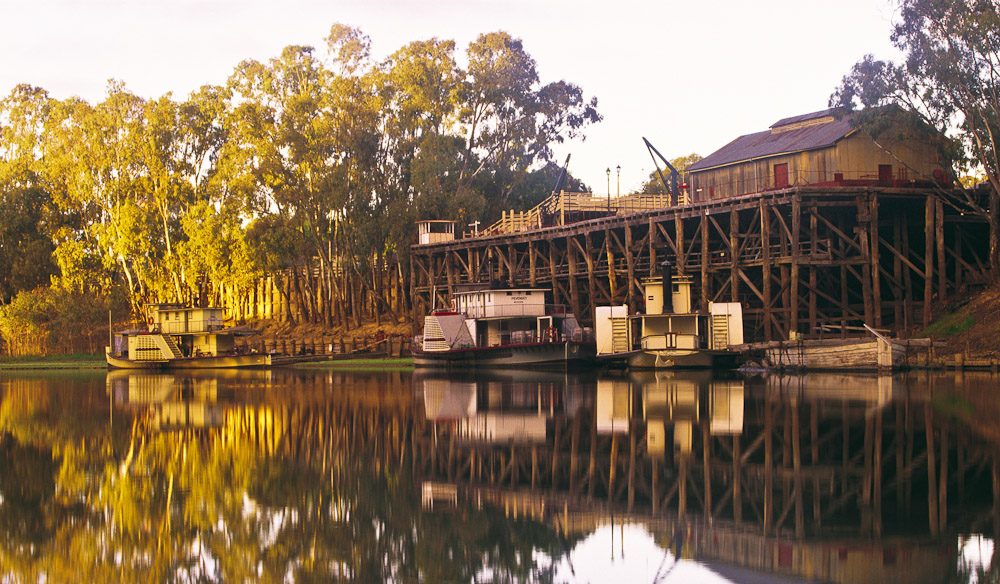 Any town that's home to both The National Holden Motor Museum and The Great Aussie Beer Shed has to make our Top 100.

A step back in time, the historic town of Echuca sits proudly on the Murray River in Victoria and is known far and wide as the paddle steamer capital of Australia. The town is home to the Port of Echuca, which was built in 1860 and was the largest inland port in the country in its day.

Restored in 1973 and now used to facilitate paddle steamer rides along the Murray, today the port is jam-packed with museums, replicas and buildings – the footbridge has been authentically reconstructed using the original plans, and the Star Bar, once an illegal underground drinking hole, still stands, complete with the escape tunnel once used to dodge police.

The lovely town of Moama is just over the other side of the Murray and a growing series of bike and walking tracks connect the two. As paddle steamers make silhouettes in the sunset on the river, it's easy to forget what decade it is.

While Echuca's town centre almost brings you back to reality with its modern shops, hotels and eateries, its historic buildings, like the old post office with its circa 1870 clock tower, will keep you dreaming about years gone by.

Where? // 236km (3hrs) north of Melbourne.

Did you know? // Echuca – an Aboriginal word meaning meeting of the waters (symbolising the junction of the Murray, Goulburn and Campaspe) – was nominated in 1891 as a potential capital for Australia.
#36 – Angaston, SA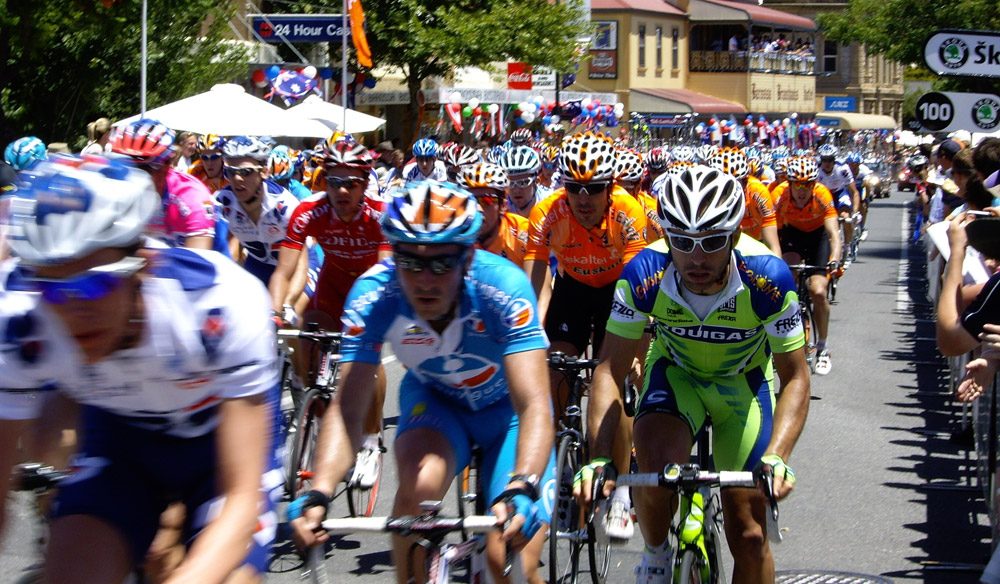 It's almost impossible to pick just one town in SA's Barossa Valley, but we simply couldn't go past the charming English and German inspired Angaston.

Full of fascinating history, cosy cottages, great wine tasting and a main street lined with fig trees, the town is also famous for its dried fruit – stop in at Angas Park Fruit Co on Murray Street to pick some up. Down the street at No 13 sits the first house built in the district by German settler Johann Schilling in 1841.

Collingrove Homestead in southeast Angaston offers a great insight into the town's heritage. Built in 1856 by amateur architect Henry Evans, it was added to over the years and grew to become a breathtaking example of a large country mansion.

Today Collingrove is open to the public and the old servant quarters have been turned into a fabulous little B&B, one of many in the town.

The Barossa's valleys are dotted with exquisite wineries, best appreciated from the superb vantage point of Mengler's Hill Lookout. But for an unbeatable view, treat yourself to a champagne breakfast floating high above in a hot air balloon.

Where? // 78km (1.5hrs) northeast of Adelaide in the Barossa Valley.

Did you know? // Colonel Light named the Barossa Valley in1838 after Spain's Barrosa (hill of roses) where he fought against the French in 1811. The spelling mistake was never corrected and in 1839 the Colonel began selling large tracts of land, 28,000 acres of which were sold to early settler George Fife Angas – which became known as Angaston.
#37 – Mataranka, NT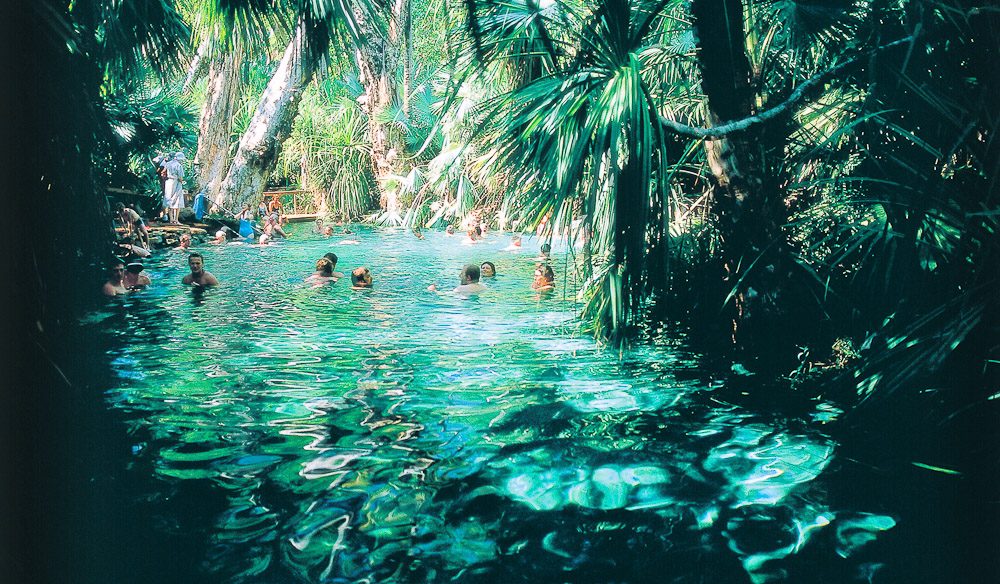 Made famous by the epic We of the Never Never, Mataranka conjures up the idea of a place that's impossibly distant and of the extreme outback – and yet quite lush. Its celebrated thermal springs make it an oasis in the middle of the desert.

The pools are crystal clear and surrounded by the rich forests of Elsey National Park, which hide several botanic bushwalks that are sure to impress the most experienced – even cocky – trail walker (great for beginners and kids).
"A place that opened our eyes to life in the outback. After spending a day filming at the local school and swimming in the stunning Bitter Springs, nothing went down better than Australia's best, Mataranka's famous pies.." – MYPOWER TEAM
With a population of just 250, one of the town's most interesting and well-known spectacles is its live barramundi feedings, and its Stockyard gallery is worth a look for its showcase of great sculptures, local art and – for the nanna at heart – great tea and even better scones.

It's a fantastic place to relax and unwind, perhaps before kicking back with a few quiet beverages for dinner at The Homestead (a 1982 replica of the famous structure from the Never Never film and book) without copious amounts of other tourists breathing down your neck.

As the capital of the Never Never, Mataranka is impossible to overlook.

Where? // 420km (5hrs) southeast of Darwin along the Stuart Hwy.

Did you know? // Mataranka's famous thermal pools were created by 1500 soldiers stationed there during WWII.
#38 – Coffin Bay, SA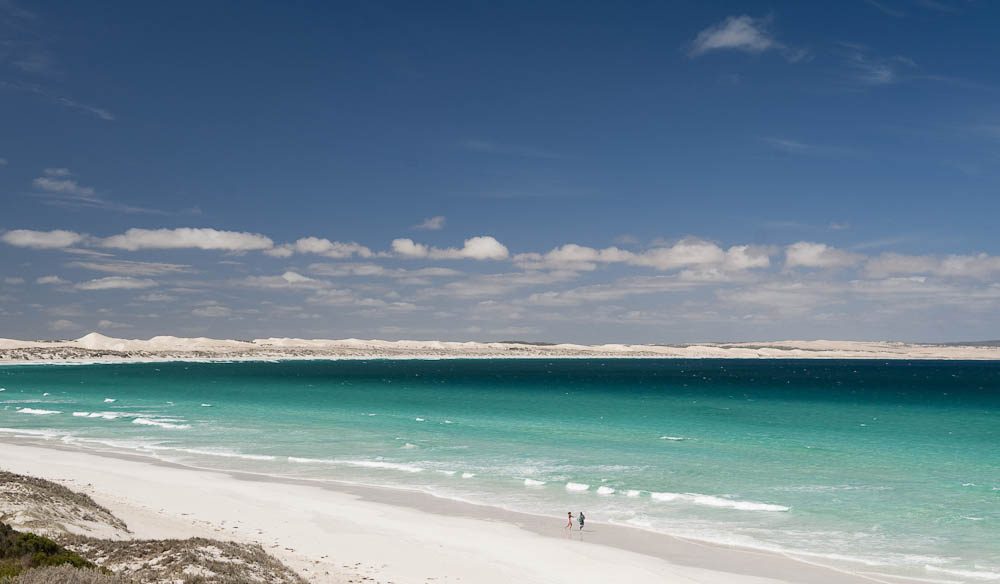 Local oyster farmers offer samples of Coffin Bay's specialty by selling fresh dozens direct from the ocean in this charming small town on SA's Eyre Peninsula.

Limestone cliffs jut from Coffin Bay National Park's coastline, displaying millions of year's worth of gradual obliteration, while sand dunes open onto long stretches of soft, white sand. Full of sheltered beaches and remarkable stretches of coast, Coffin Bay feels more like an isolated and forgotten island than a seaside town.
"Like the Great Ocean Road but without the tourists. It's rugged, remote and an oyster lover's Mecca. Plus the seas are swarming with salmon. Just throw in a line." – Fleur Bainger
The area didn't get its name from burial caskets – rather, it was explorer Matthew Flinders who sighted the spot in 1802 and named it after his friend, Sir Isaac Coffin. In the 1840s the area was appropriately known as Oyster Town, due to the large volume of the slippery bi-valve molluscs being harvested. Eventually, though, the area was all but farmed out.

The populace largely moved on and Oyster Town became just a town. In time, the oysters (and people) were again introduced into Coffin Bay, and now the residents live among some of the most pristine waters in SA, thanks to the two national and conservative parks that surround and protect its coastline.

Where? // 700km (8hrs) west of Adelaide.

Did you know? // Parts of Gallipoli were shot at Coffin Bay, with invasion scenes filmed at local Farm Beach.
#39 – Robe, SA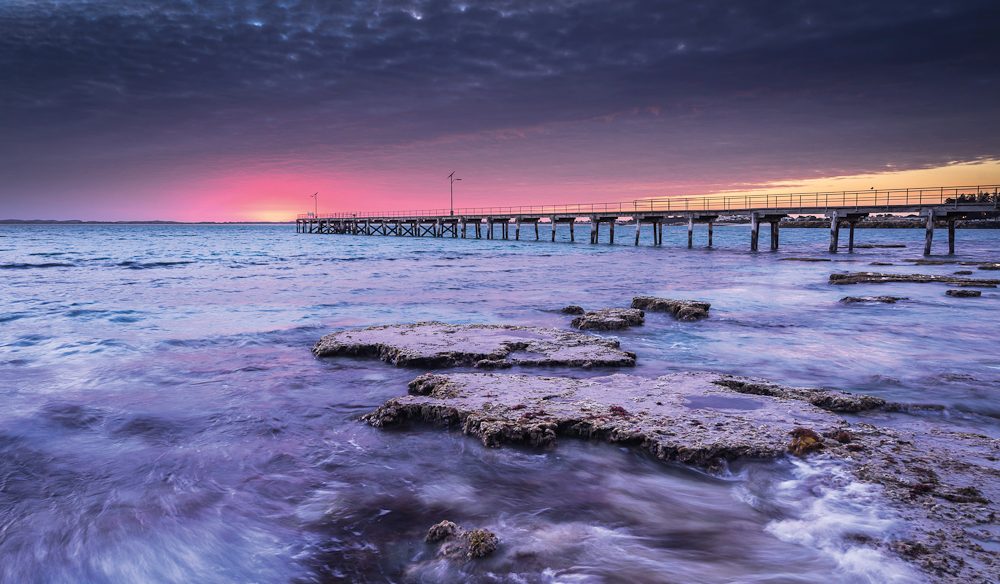 SA's Limestone Coast has been tagged as one of the happiest places in the country, according to the annual Australian Unity Wellbeing Index. And Robe, a town that inflates from pop 1500 to 15,000 in summer (and not just because their famous crayfish are in extra abundance) is one of the region's jewels.

It's full of history, great beaches and all kinds of fishing (rock fishing, surf fishing, fishing from the jetty, boat fishing, or walk the footbridge and fish at The Outlet). A 14km stretch of white sand and crystal blue water, Long Beach is the place to go with a car packed with food, drinks and cool tunes.
"Robe has a kind of enchanting aura that every visitor I've ever met has felt. I'm so addicted to Robe, I haven't managed to spend my summer break anywhere else for the past decade." – Fleur Bainger
Forget the walk from the car park; this is one of the few places in Australia where you can drive right onto the beach. And if it's a 4WD, the dunes are calling. Robe's carefully restored Old Gaol tells a story of escapes and ruin dating back to 1861, while glass mansions, restored turn-of-the-century cottages and seaside retreats decorate the town.

Victoria St, Robe's thoroughfare, is packed with groovy eateries like Vic's Pizza Bar, or try a giant prawn in the beer garden of the friendly Caledonian Hotel (Cali to regulars).

Where? // 337km (4hrs) southeast of Adelaide.

Did you know? // Robe is also acclaimed for producing premium quality wines from grapes farmed on terra rossa soils in its protected maritime climate.
#40 – Tilba Tilba, NSW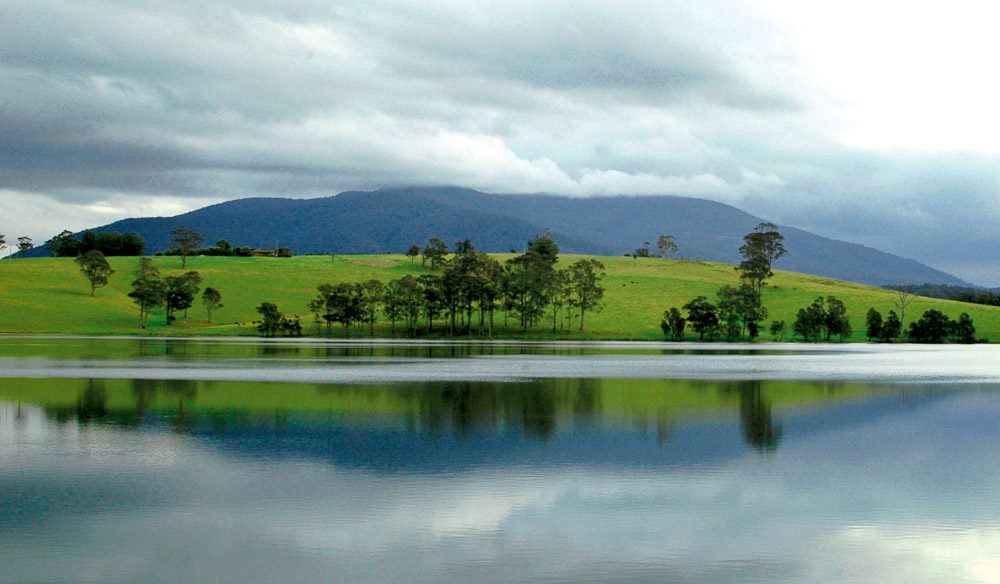 Recommended by AT readers Nahum and Renee Hall, Tilba Tilba is a timeless town in southern NSW.

The Princess highway bypasses this rural nugget and believe us – this is a very good thing indeed. The halt of progression in this unique town offers a chance to time travel to a perfectly preserved heritage village.

Tilba Tilba came to prominence with the discovery of gold in 1850 and afterwards relied heavily on the dairy industry to thrive. Now a popular destination for holidaymakers travelling around southern NSW, its dotted with art galleries, sweet shops and antique stores to indulge your old-world desires.

It has a knack for preserving its 19th Century charm without being sickeningly kitsch – a skill all on its own. Nearby Mt Dromedary (Gulaga), with its rolling hills and at times eerily descending mist, is crisp and refreshing with a century old cottage nestled between woodlands and flowerbeds.

A semi-taxing walking track to the summit of Gulaga National Park Foxgloves Spires reveals a luxuriant garden nursery built around a farm cottage, complete with cafe and – you guessed it – another antique shop.

Where? // 365km (5hrs) south of Sydney or 236km (2.5hrs) southeast of Canberra.

Did you know? // Tilba Tilba is regarded as so picturesque and unhurried that it has become a popular setting for many advertising commercials.
100 Best Towns in Australia – 41 to 50
#41 – Swansea, TAS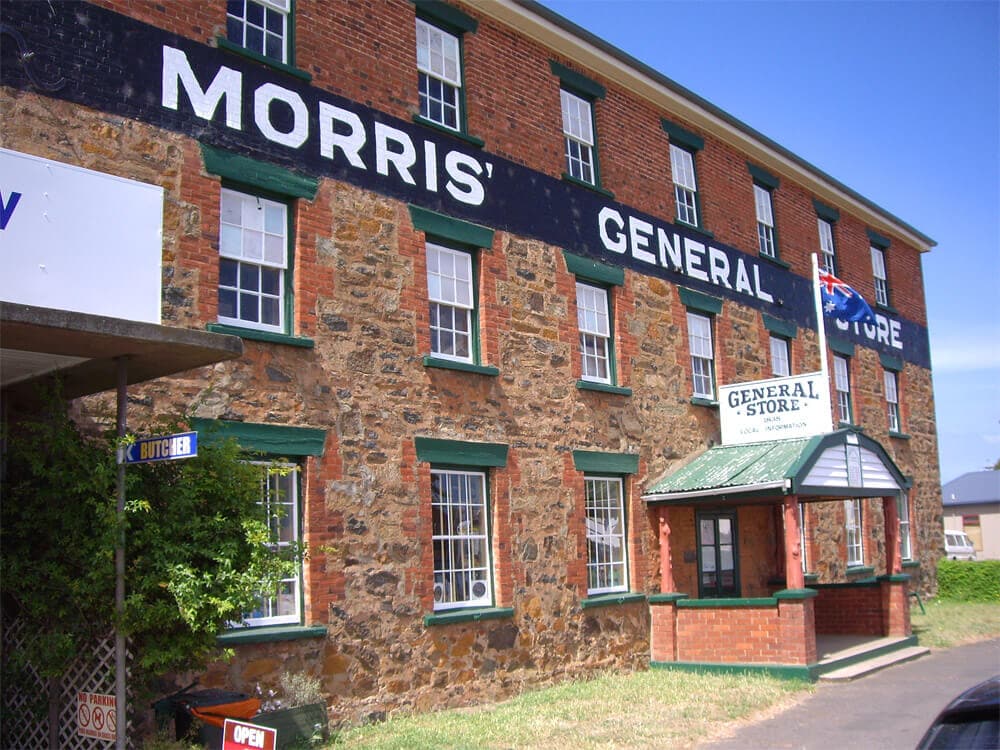 Tucked across Great Oyster Bay with views of rugged Freycinet National Park and Schouten Island, we simply couldn't go past the charming township of Swansea with its historic buildings in a spectacular setting. First explored by Captain Cox in 1798, then established as a garrison in 1827 and initially named Great Swanport, the tiny hamlet with only 530 locals is a traditional fishing and holiday destination. Brochures will tell you that Swansea is on Tassie's sunny east coast.
"Offering seafood treasures, a casual lifestyle and the many moods of Coles Bay." – Ken Boundy
True, but more often than not Swansea is comfortably warm rather than swelteringly hot, with maximum average temps of around of 22°C, making it all the more popular as a base for travellers exploring the state's oldest national park, nearby wineries and berry farms in the temperate climate.

Breathtaking Coles Bay and unforgettable Wineglass Bay are also close at hand, and Swansea pretty much sums up what the island state does best: showcasing almost untouched landscapes and friendly wildlife with abundant fresh local produce at hand – think oysters, walnuts, olives, berries, wine.

It's a nature and gourmet lover's paradise. But if you don't like the quiet solitude of days spent fishing, bushwalking or relaxing at the beach, don't even think of setting foot anywhere near this wonderful town. The sound of silence would kill you.

Where? // 134km (2hrs) northeast of Hobart, and 135km (2hrs) southeast of Launceston.

Did you know? // Tasmania has the highest per capita level of boat ownership of any state in Australia. And Swansea boat ramp on a summer's day is a great place to see Tassie's boaties in action.
#42 – Seal Rocks, NSW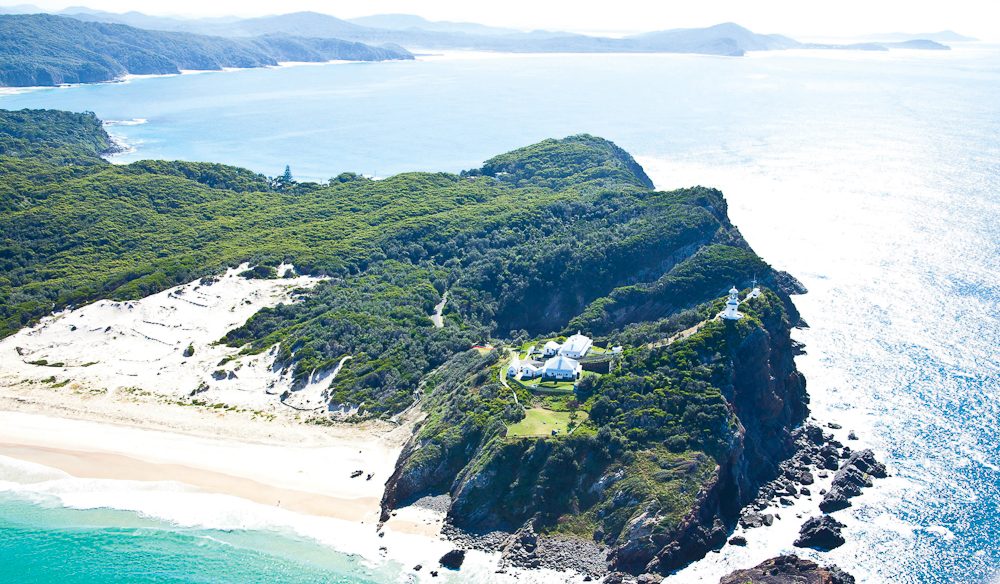 Off the NSW north coast and down a dirt road that winds past the craggy shoreline is the sleepy town of Seal Rocks. Its dramatic scenery, together with its isolation, make it perfect for our Top 100, as well as one of NSW's best-kept secrets. So named for the grey rocks sticking out of the ocean that are home to sunbathing fur seals in summer, Seal Rocks has unspoiled, private beaches and a well-known lighthouse.

Officially known as the Sugarloaf Point Lighthouse, it was built in 1875 and stands over tall, rough cliffs, protecting passing ships from the dangerous rocks that jut out from the water. However, about 20 wrecks have occurred since the lighthouse was established, the last one in 1985.

These wrecks can be seen from the cliffs and beaches and some are popular diving spots. Near the lighthouse is a spectacular natural tunnel that was created by the surging ocean forcing its way into the rock wall. Below the lighthouse are some of the huge grey rocks where a few seals are known to bask. Seals aren't the only sea life at Seal Rock; the area is famous for shark diving and grey nurse sharks can be seen year round.

Where? // 310km (3hrs) north of Sydney.

Did you know? // The cliffs here are full of submerged caves where marine life congregates, including sharks and giant lobsters. One spot, Jimmy's Cave, houses one of the most spectacular Black Coral trees in Australia.
#43 – Pokolbin, NSW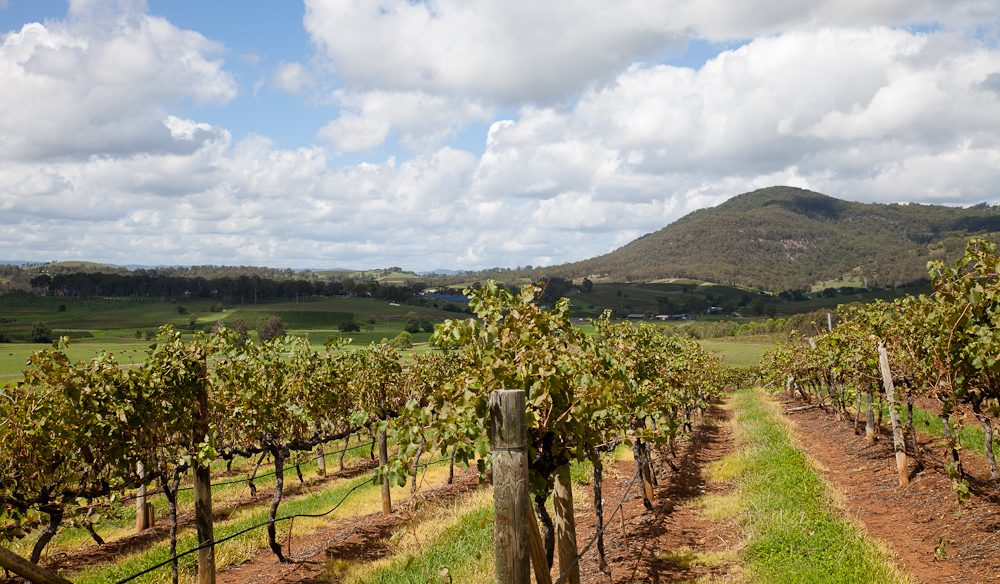 Found smack dab in the middle of NSW's Lower Hunter Valley, Pokolbin jealously houses some of the Hunter's best vineyards.

The looming Brokenback Ranges offer a majestic background to the uniform lines of grape vines in the 120 wineries of this area, as well as the award-winning Hunter Valley Gardens. In the 19th Century, Pokolbin once had the grand idea of being the major hub of the wine valley. That town was renamed Cessnock and poor Pokolbin was shafted west to where it is today.
"Australia's best-organised wineries region, if not the most beautiful." – Justin Wastnage
More of a collection of vineyards and houses, there's no main street in Pokolbin (pop 625), however there are plenty of well-stocked wineries offering the best in food, gifts and, of course, wine. Sunrises happen spectacularly here as the sun drifts across the valley and ranges, and there's hot air ballooning to make the best of the scenery over the picturesque vineyards.

Other countries make an appearance in Pokolbin, with an Indian mosaic tea garden, a traditional Chinese garden and an Italian grotto all nestled within the Hunter Valley Gardens. October is a musical month for Pokolbin with the Opera in the Vineyards and Jazz in the Vineyards, both held annually.

Where? // Pokolbin is 150km (2.5hrs) north of Sydney in the Lower Hunter Valley, about 12km from Cessnock.

Did you know? // James Busby brought the first vine cuttings to Pokolbin from France and Spain in the 1830s. Later, Busby moved to New Zealand where he co-authored the treaty of Waitangi.
#44 – Cooktown, QLD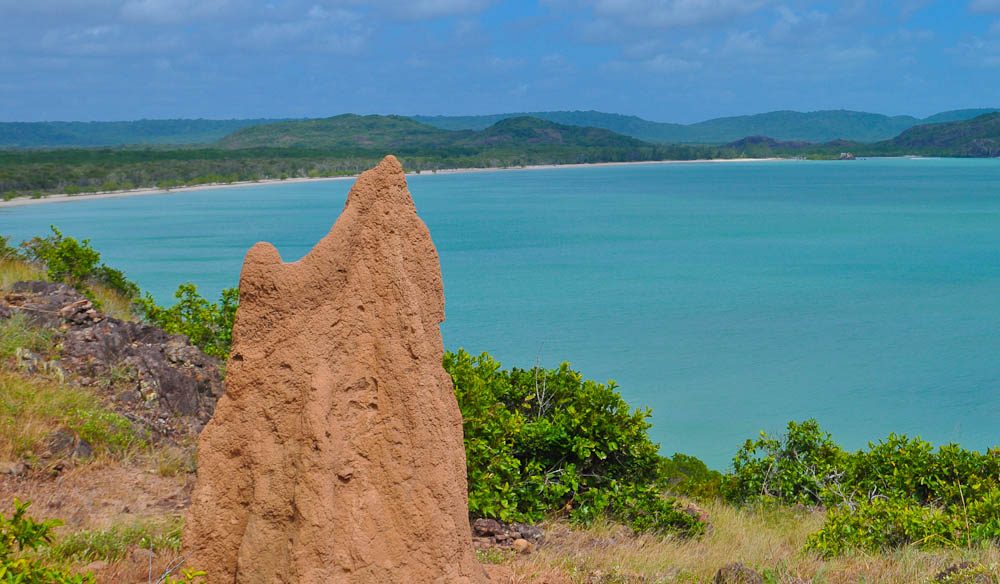 The site of Australia's first European settlement, Cooktown's origins are deeply coloured by its years of geographic isolation, hard living and local charm.

Standing perched on the Endeavour River, there are no prizes for guessing where the town's name derives from. The imposing stone monolith of Cook's Pillar (left) marks the spot on the banks of the river where the Endeavour limped ashore to affect repairs in 1770.

Covered in history and peppered with stone buildings that have seen a century or two, the town houses an ancient cemetery that tells a tale or three, a museum with original artefacts recovered from Cook's pioneering vessel, and a terrific pub.
"One of Australia's frontiers. Get up there and look over the edge." – Matt Cleary
A port to the Palmer River Gold Rush in the 1800s, Cooktown once had a population as high as 30,000 – in stark contrast to the remaining 1600 who now form the sleepy town's lifeblood.

Only in Cooktown can you stand on Grassy Hill Lookout with 360-degree countryside and beachside views one day, then attend the Endeavour Festival to experience a re-enactment of Cook's landing the next (do it – it happens every June). European incursions aside, there are also several quality Indigenous excursions within a stone's throw of Cooktown, with perhaps the best being Guurrbi Tours, hosted by Nugal-warra elder Willie Gordon.

Where? // 327km (4hrs) north of Cairns.

Did you know? // Cooktown is much like Port Douglas used to be before it got famous. It could be accessed only by 4WD up until January 2006, so visit soon before this frontier town becomes distinctly less so.
#45 – Port Lincoln, SA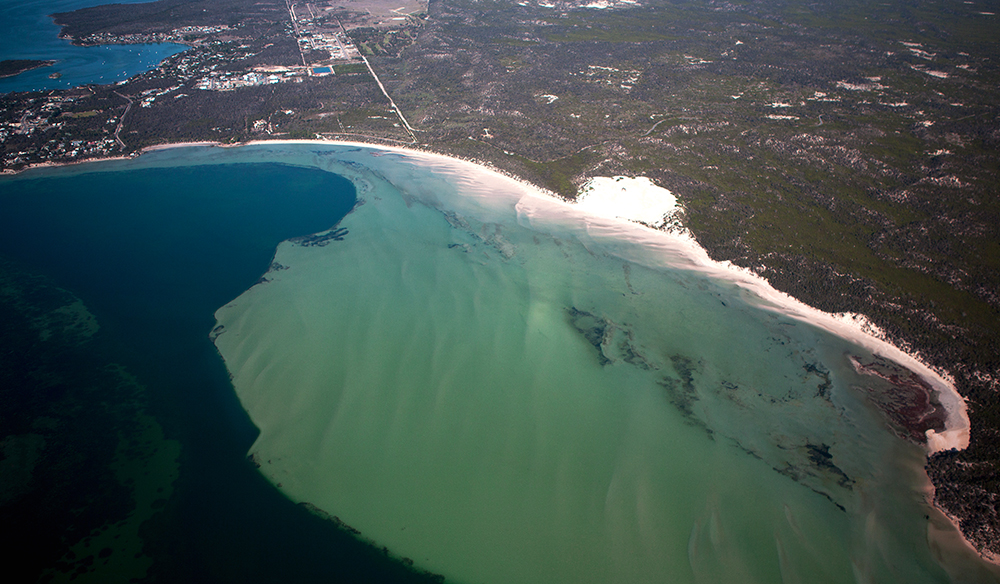 On the tip of SA's Eyre Peninsula, Port Lincoln's livelihood is the tuna industry. But make no mistake, the 14,000-strong town deals in more than just that particular fishy gold: sharks are on the menu too.

Popular with visitors for its once-in-a-lifetime status, tourists here actually pay to go underwater and see this apex predator up close. Luckily they feed their sharks well, since snorkelling with playful sea lions might otherwise mean you're on today's menu.
"Galloped onto the tourist map on the back of Melbourne cup winner Makybe Diva, and thank God for the victory. Wild, bountiful, geographically diverse, isolated, and yet well populated and full of culture." – MyPOWER Team
Apart from all things maritime, Port Lincoln is blessed with an otherworldly feel, from daily rainbows over pristine Lincoln and Coffin Bay National Parks to deserted beaches and undulating sand dunes – a stunning panoramic view from Winters Hill Lookout on a sunny day. The town itself has two hubs: the Marina and town centre.

Wandering along the seafront promenade dotted with eclectic little shops, you're bound to run into a statue of possibly the most famous export after tuna: race horse Makybe Diva. Its owner, tuna fisherman Tony Santic, also runs the Port Lincoln Hotel, one of the many restaurants offering outstanding seafood in town.

Where? // 640km (45min flight) southwest of Adelaide.

Did you know? // Port Lincoln almost became the South Australian capital, but was overlooked in favour of Adelaide, largely due to KI's problems with access to fresh water.
#46 – Longreach, QLD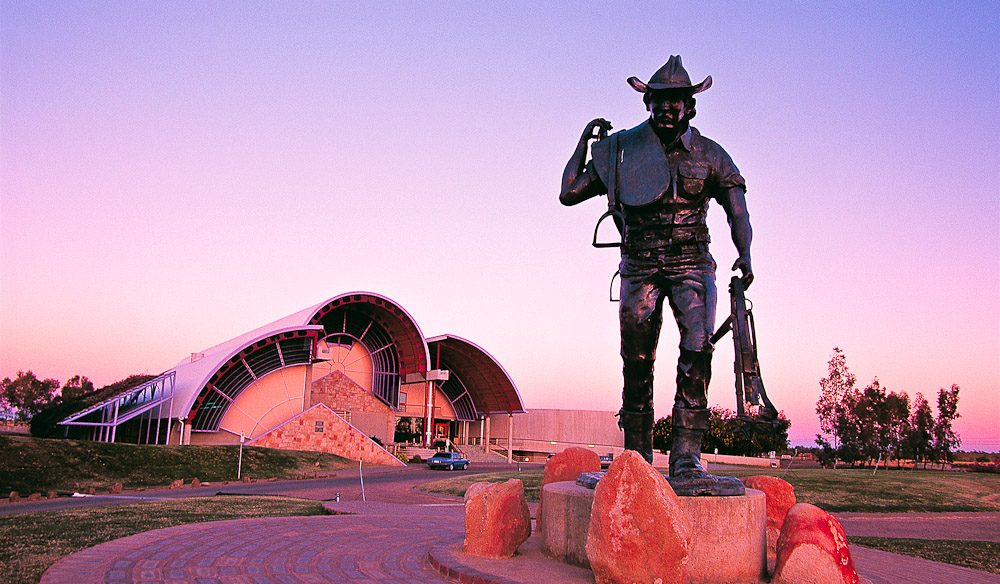 On the banks of the Thomson River, which is normally a billabong (unless flooded), is Longreach, a town known as the heartland of the Queensland outback for its central location and history. There's the Stockman's Hall of Fame and Outback Heritage Centre, which tells the history of outback farmers through interactive exhibits and shows, or the Qantas Founders Outback Museum.
"Service at a service station here included filling the tank and washing the windscreen. I almost fell over. It was like Back to the Future." – Matt Cleary
And for a very different side of the outback, there's also Lockie's Run. Known through word of mouth, Tom Lockie canvasses the local camping grounds for clients to go on one of his classic tours of a huge working cattle station. Lockie relates old yarns, bush lore and Longreach's history while going over red desert roads (once used as the old Cobb and Co wagon tracks) and past the bare trees and scrubland.

The tour continues to a cave full of Aboriginal rock art with walls covered in handprints and animal figures, including a 20m rainbow serpent. No other tours go here – Lockie is the only one allowed by the Iningai, a local Aboriginal tribe, to visit this unique outdoor art gallery.

The locals also have a long-standing legend that says once you cross the Thomson River, you're fated to return to Longreach. And, with its amazing history and unforgettable scenery, why wouldn't you?

Where? // 690km (8hrs) west of Rockhampton.

Did you know? // The Qantas Founders Outback Museum houses Australia's first jet passenger aircraft and the ticket from the airline's first paying passenger, the then 84 year-old Alexander Kennedy. who flew 527km from Longreach to Cloncurry in 1922.
#47 – Silverton, NSW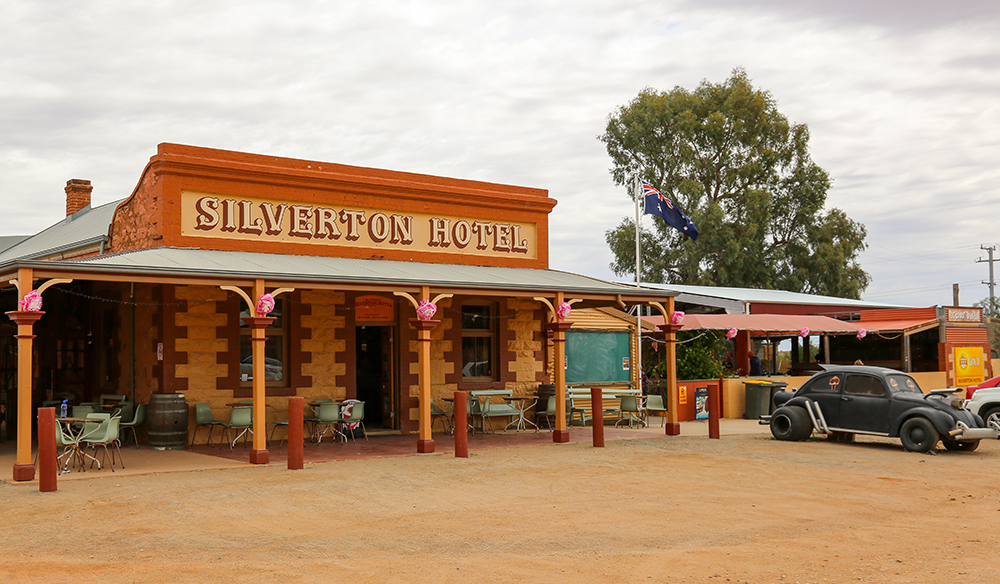 A town so emblematic that every time anyone in TV or film wants to portray the outback they head straight to Silverton. Having Mad Max's Interceptor parked out front of the Silverton Hotel reveals how readily the town wants to cash in on its celluloid ubiquity.

Silverton peaked as a town in 1885 when the discovery of silver lit the beacon for speculators and miners to follow; once the bigger deposits around Broken Hill were discovered, the population ebbed thataway.

The whole experience of being in Silverton is frankly surreal. Solitary, small historical buildings occasionally pierce the red dusty landscape over an area equivalent to several football fields. Most of the buildings are now empty, but those in use are well worth a visit.
"What I'd call a character town. With its Mad Max landscape, rich history and thriving arts scene, it's well worth the dusty drive." – Fleur Bainger
There are several art galleries; out front of Peter Browne's gallery you'll find the painted VW beetles. The Gaol and Courthouse has a fine collection of relics and documents. Silverton is usually referred to as a ghost town, but this is a bit insulting to the 50 or so permanent residents who rely on visitors.

Just north of Silverton is Mundi Mundi lookout, which provides an absolutely stunning vista of the flat plains that continue from that point until they fetch up at the Indian Ocean in WA.

Where? // 1140km (15hrs) west of Sydney, 530km (6hrs 45mins) northeast of Adelaide.

Did you know? // While BHP may carry the Broken Hill name, the company is reported to have been formed in the Silverton Hotel in 1885. The Silverton Gaol Museum has a document that shows one of the original founders of the mining giant sold his stake for 10 steers before the extent of the find was known.
#48 – Huskisson, NSW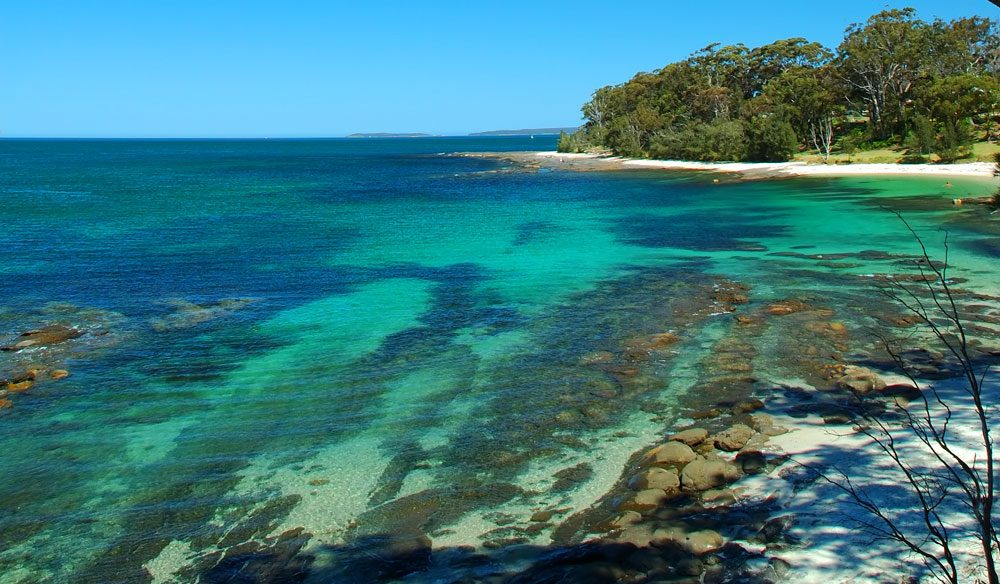 Jervis Bay's main town of Huskisson is a Top 100 must for its location, great food, accommodation and friendly locals. Part national park, part marine park and fringed by glorious beaches, Jervis Bay is NSW's southern summer paradise, with a beach or swimming hole to suit swimmers and surfers of all levels.

AT Reader Daryl Ryan loves Husky because "it's still small enough to be a friendly town but it packs in all the treats for the holidaymaker. The boys can fish while mum and the girls can shop or have a nice lunch. It's close to some bigger centres if you need to get something out of the ordinary, but for most holidaymakers you can get all you need."
"White sands, blue waters and a great old pub and beer garden." – Matt Cleary
Hyams Beach is a local fave, and the Hyams Beach Cafe is great for breakfast, lunch and dinner. Husky's dining options are a cut above the usual fish 'n' chips and RSL bistro, with Indian, Thai, Mexican, Italian and everything else. The Husky Pub has an amazing beer garden, while the old Chinese restaurant on Owen St remains the same as it was in 1975.

Chef Scott Mackenzie migrated south from Sydney's Whale Beach to offer a culinary experience at The Deck, while Gunyah at Paperbark is a delicious dinner spot set in deep national park. Stay a night in one of Paperbark Camp's luxury tents – the private outdoor showers and close proximity to nature is liberating, but make sure you zip up the tent to avoid a visit from our cheeky, furry friends.

Where? // On the shores of Jervis Bay, 185km (2hrs 15mins) southeast of Sydney.

Did you know? // Huskisson supported a major boat-building industry at the turn of the 20th Century. A visit to the Lady Denman Heritage Complex with its maritime museum will give you a great insight into this.
#49 – Streaky Bay, SA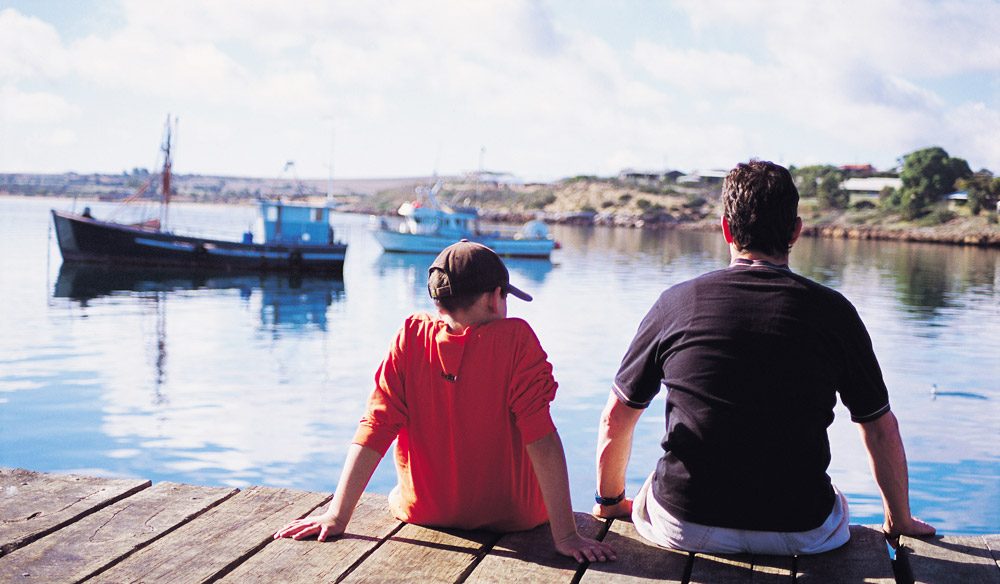 Shot to celluloid fame by the 1970s film Blue Fin from Colin Thiele's classic 1969 novel of the same name, Streaky Bay is a classic SA coastal fishing outpost. Which explains why Australia's only permanent colony of sea lions lives in the area (they can be found frolicking in their natural habitat from nearby Point Labatt).

Neighbouring fishing town Baird Bay allows visitors to swim alongside the sea lions, as well as dolphins. Out in the middle of a nearby wheat field stands the curious Murphy's Haystacks (left), which are everything but soft. Rather, they're ancient wind-worn pink granite boulders that are more than 1500 million years old.

Streaky Bay's big role in Eyre Peninsula's Seafood & Aquaculture Trail that runs from Whyalla to Ceduna is providing fresh oysters. Evans Oyster Shed offers tours through their oyster farm for a chance not only to sample freshly caught ones, but also to learn about the harvesting and grading process of this seafood delicacy. Over at the Stewarts Roadhouse, a replica of a world-record five-metre-long, 1500kg white pointer that was caught offshore in 1990 hangs in-store.

And for something utterly non-ocean related that keeps visitors coming back? It's the self-proclaimed "Australia's biggest burger", a West Coast Whopper from the local Clearwater Cafe.

Where? // 695km (9hrs) northwest of Adelaide.

Did you know? // Explorer Matthew Flinders was up to his old naming tricks again here. As he sailed by in the early 19th Century, he was struck by the streaky effect of long seaweed strands in the clear waters of the bay.
#50 – Penola, SA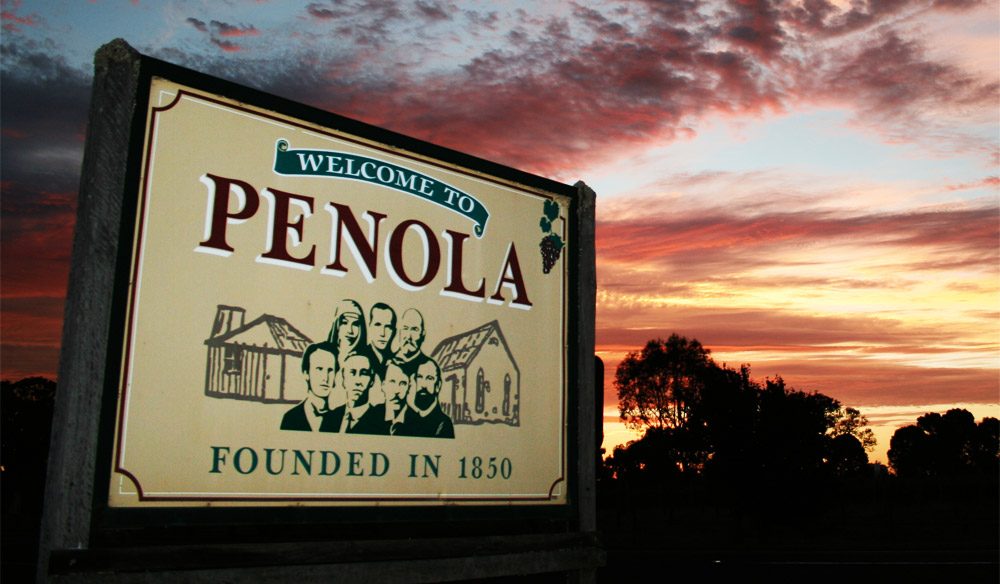 AT Reader Alison Perry loves Penola because it's at the very heart of the Coonawarra.

"There's such a contrast between dry and dusty, the terra rossa landscape and the lusciousness of the fabulous reds resulting from that famous soil." The origins of that soil (left) date back around a million years, when a long reef of limestone was exposed above the Great Southern Ocean, which then covered the southeast of SA. It's the unique quality of this strip, only 16km long and 2km wide, that earns Penola a spot in our Top 100.
"The townsfolk are warm and welcoming and happy to point you to whichever iconic winery you want a tipple in." – Fleur Bainger
Uncovered by Wynns Coonawarra Estate founder John Riddoch, almost all the highly valuable land is now taken up by vineyards. One of the few major winegrowing regions selected for its fertile soil rather than proximity to large settlements, it's also Australia's flattest wine region – and with more than ten wineries within 5km of town, that makes Penola a cyclists' paradise, with little danger of falling over or exhausting yourself too much.

Where? // 380km (5hrs) southeast of Adelaide.

Did you know? // Alexander Cameron was the first to try and establish an orchard in the Coonawarra in the 1840s. But a few celebratory drinks led to a late planting. Some months later, when budburst seemed unusually late, they found all of the cuttings had been planted upside-down, with their roots extending forlornly to the sky.
100 Best Towns in Australia – 51 to 60
#51 – Jabiru, NT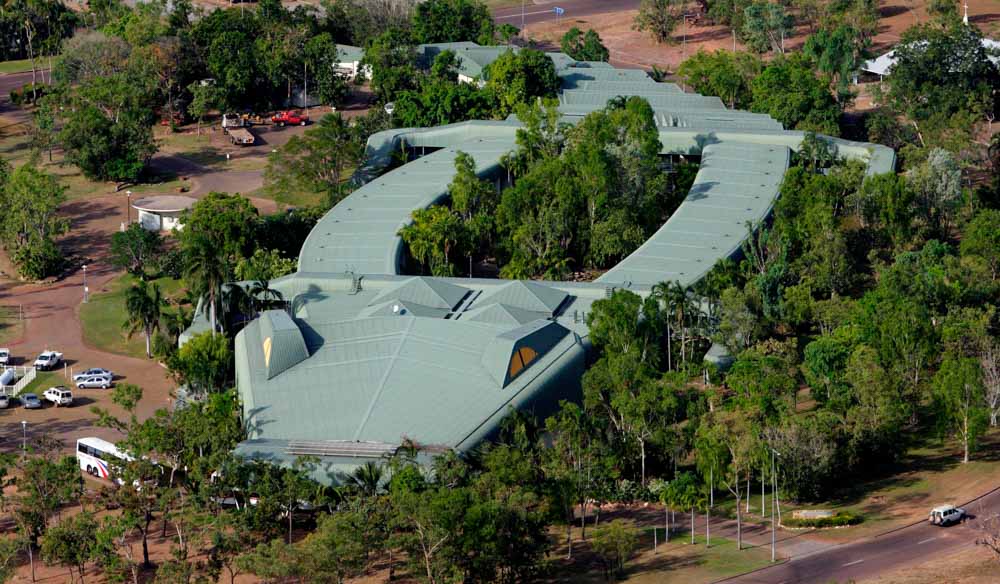 Kakadu is an almost mystical travel destination. Australia's largest national park, with Jabiru at its heart, not only has an incredible level of biodiversity but also the highest concentrated areas of Aboriginal rock art sites in the world.

One of the most popular examples can be found at nearby Ubirr, a rock formation with sweeping views over Arnhem Land – especially popular and spectacular at sunset when tourists from all over the world perch on Ubirr's outcrop.

Jabiru itself is in the middle of nowhere, yet the 1100 people who call it home are right in the middle of everywhere when it comes to travelling Kakadu. It's also close to Yellow Waters, legendary for its birds and other wildlife, from wild horses to pigs to dingoes and crocs. Initially established to service the Ranger Uranium Mine in 1979, Jabiru has turned into a base for experiencing Australia's rich Indigenous history, and operators like Kakadu Animal Tracks have tapped into its potential by offering interpretative rock, animal tracks and bush tucker tours.

Where? // 250km (3hrs) southeast of Darwin.

Did you know? // Only about 400 people in Kakadu live outside of Jabiru. Half of these are Indigenous.
#52 – Stanley, TAS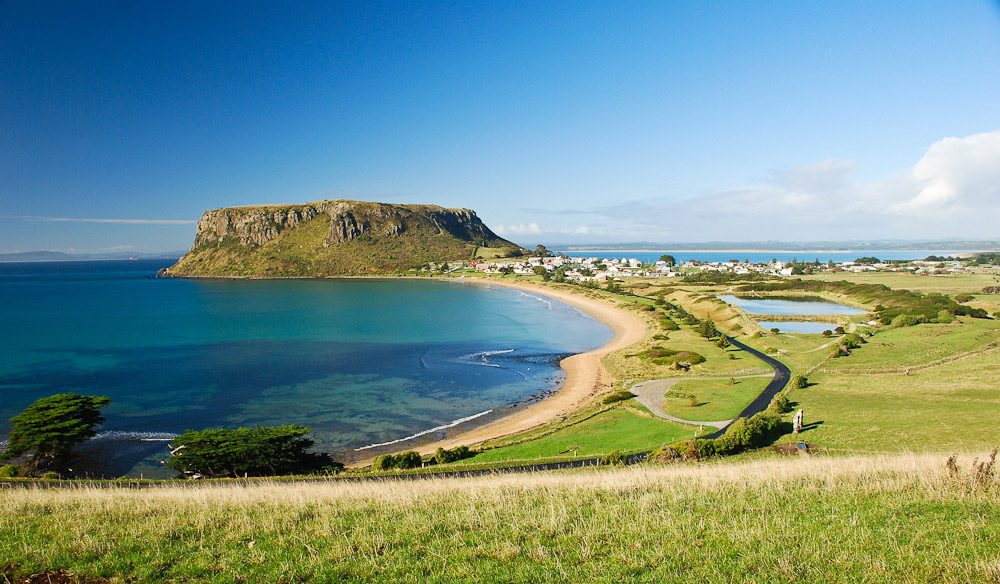 The gem in the underrated northwestern coast of Tasmania, Stanley is a simple fishing village where the local staple is crayfish washed down with crab.

Settled in 1826 by employees of the Van Diemen's Land Company, the simple town is chock full of heritage buildings and cutesy cottages that have doors built for midgets or those fortunate to have lived here in the 19th Century. Almost every building is a B&B.

In summer the Stanley Harbour becomes overwhelmed (with a permanent population of 458, that's not hard to do) by smart Melbourne yachties who cross the straight to enjoy the simple life of crayfish, crab and sunshine for as long as the board of directors will allow them.

"Like a hamlet on the Cornwall coast: quaint, quirky and inviting." – Ken Boundy
All guidebooks will tell you the major attraction of Stanley is the Nut. Rubbish. While the 13 million-year-old volcanic plug on the headland is a sight to behold and the view from the top spectacular, Stanley is worthy of a lot more.

The real major attraction is the beauty and simplicity of the town. No bustling tourism attractions, restaurants or pubs. Life is alarmingly beautiful in a Bronte novel kind of way – uncomplicated, with very little to disturb you as you eat through tons of great seafood.

Where? // 223km (3hrs) northwest of Launceston.

Did you know? // Stanley's most famous son is Australia's 10th Prime Minister, Joseph Lyons. Serving from 1932 to 1939, he remains the only native Tasmanian to hold the top office and was the first of three to die while in office (John Curtin and Harold Holt followed suit).
#53 – Lightning Ridge, NSW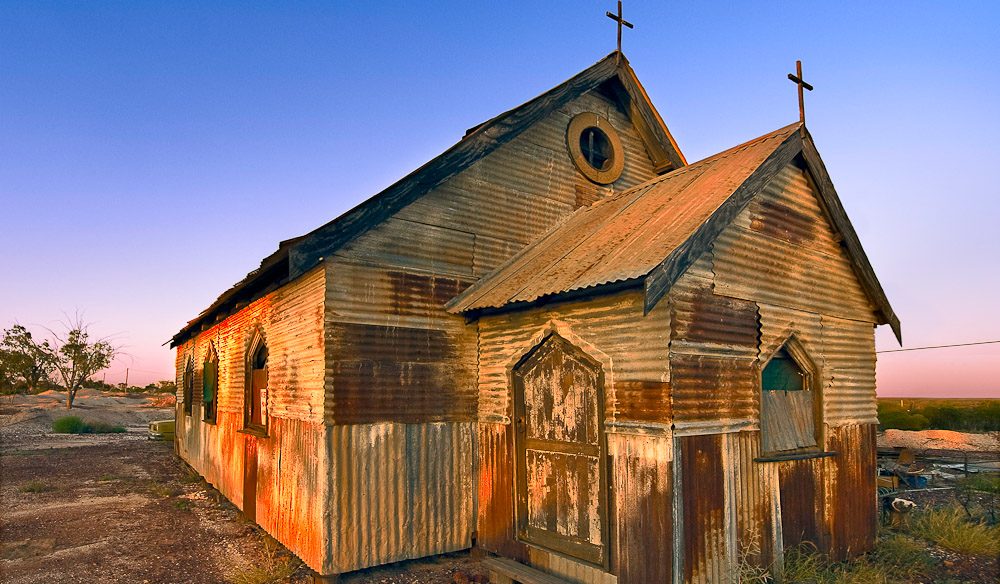 An old favourite and a must for any trip through outback NSW, the trick with Lightning Ridge is to look beyond the architecturally lacklustre main street with its kitsch opal shops.

The greatest thing about Lightning Ridge is the cast of characters on the edge of town that call this place home during the cooler months, and the mind-boggling eccentricity they bring to the table. At first glance the town appears to be some kind of post-apocalyptic Mad Max junkyard. But it's not. To work on your mining claim, you don't need a registered vehicle, so many a truck and old car comes to Lightning Ridge to die.

Interspersed among these rusted hulks are working mines, surreal underground art galleries (do not miss the fabulous works inside the Chambers of the Black Hand, right), houses made from beer cans, houses made from beer bottles, a partially built observatory and even an enormous Tuscan compound. Because there are no street names (and ergo no house numbers) routes are marked using old car doors painted in primary colours.

And that's how you navigate around. Multicoloured car doors removed from rusting hulks. Brilliant.

Where? // In far northern NSW, around 60km shy of the Qld border, 760km (9.5hrs) northwest of Sydney and roughly the same time and distance southwest of Brisbane.

Did you know? // The official census says Lightning Ridge has a population of 3000. The problem is, local businesses reckon they sell enough provisions to support 7000. Either the local residents drink and eat more than anyone else in Australia – or a lot of the local population just doesn't exist. Spooky.
#54 – Merimbula, NSW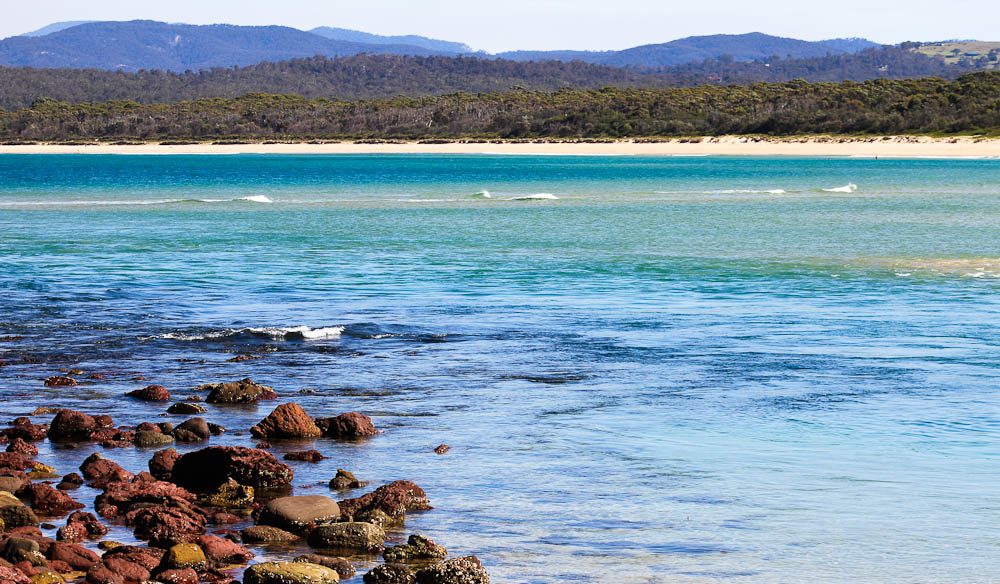 Winding down the picturesque NSW Sapphire Coast to Merimbula, halfway between Melbourne and Sydney, you're surrounded on all sides by ocean, bush, rainforests and lakes.

Merimbula bagged a spot in the Top 100 for its fresh oysters, local wines, diverse wildlife, restaurants and cafes that serve up arguably the best seafood available on the South Coast. Famous for its whale watching, Merimbula showcases these gentle giants as they frolic in the ocean from September to November, with dolphins, seals and penguins often sighted too.

"Beautiful place with amazing food . . .What more can we say?" – MyPOWER Team
There's a long and fascinating history of the whaling industry near Merimbula, which you can read up on in the Eden Killer Whale Museum about 25km south.
Merimbula's Old School Museum also contains loads of information on this charming seaside town. There's the wharf that wraps around Merimbula Bay with its waterside gallery and cafe upstairs – ample reward for taking the winding six kilometre scenic walk from the town centre.

There's an abundance of colourful sea life in the Merimbula Aquarium and just upstairs, lunch is waiting (we promise you won't have to eat any of the fish you just saw). Over the June long weekend the town's population of 4000 swells as the Merimbula Jazz Festival kicks off with quality international and local acts.

Where? // 300km (3hrs) southeast of Canberra.

Did you know? // If you're any kind of oyster lover, it may interest you to know that Merimbula provides around three percent of all oysters eaten in NSW.
#55 – Albany, WA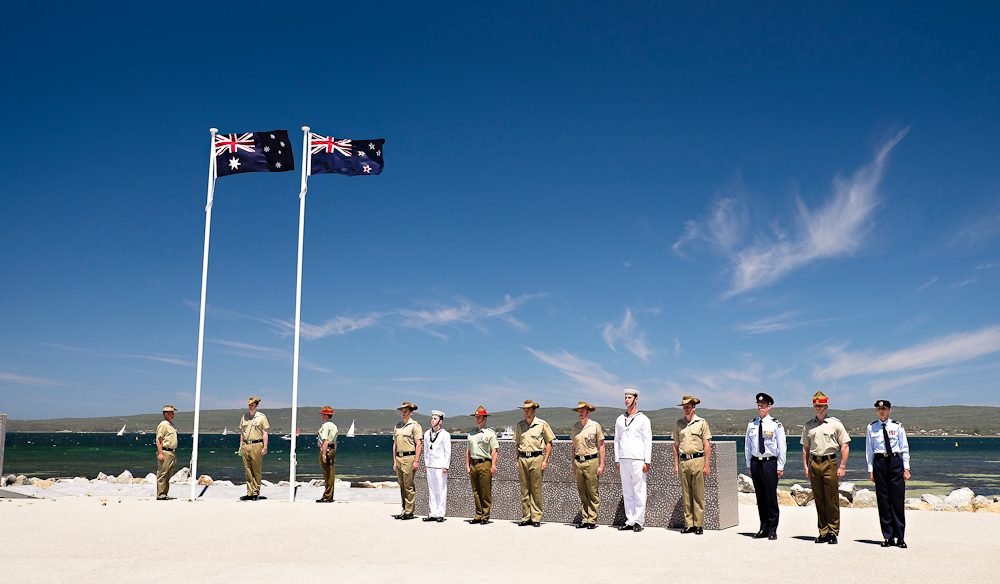 An interesting mix of busy industrial town and old seaside port, Albany attracts people with its dramatic coastline, calm harbour and annual whale watching. One of the first towns settled by Europeans, a ship full of convicts and soldiers sailed into King George Sound in 1826. A replica of the brig now stands in the Princess Royal Harbour to acknowledge the town as being one of the oldest in WA.

There are many historic walks going past buildings and museums that tell of life in Albany in the 1800s. There's the trail to Possession Point, where WA was claimed by Great Britain and has great views over the town and coast. Albany's shoreline ranges from rugged cliffs jutting out into the ocean with blowholes and naturally formed rock bridges to sandy calm beaches perfect for relaxing on.

Whales can be seen between June to October and whaling in the area can be traced as far back as 1800, with commercial whaling stopping in 1978. You can go whale watching around the protective coves or visit Whale World, the only museum in the world to be housed in a former working whale station. And don't leave town until you've paid tribute to the fabulous Dog Rock (pictured above) on Middleton Rd, opposite the even more fabulous-by-association Dog Rock Motel.

Interestingly, Australian poet Henry Lawson worked for the Albany Observer in 1890. When he returned to Sydney he wrote: "Albany will never change much – it is a pretty town, but vague. It seems to exist only in a somewhere-on-the-horizon sort of way; I like it all the better for that."

Where? // 406km (5hrs) southeast of Perth.

Did you know? // When writing Gulliver's Travels in 1726, Jonathon Swift allegedly used the same maps drawn by explorer Pieter Nuyts in the 1600s. If he did, one of the islands Gulliver sailed to, the idyllic Houyhnhnm Island, was located near present-day Albany.
#56 – Marysville, VIC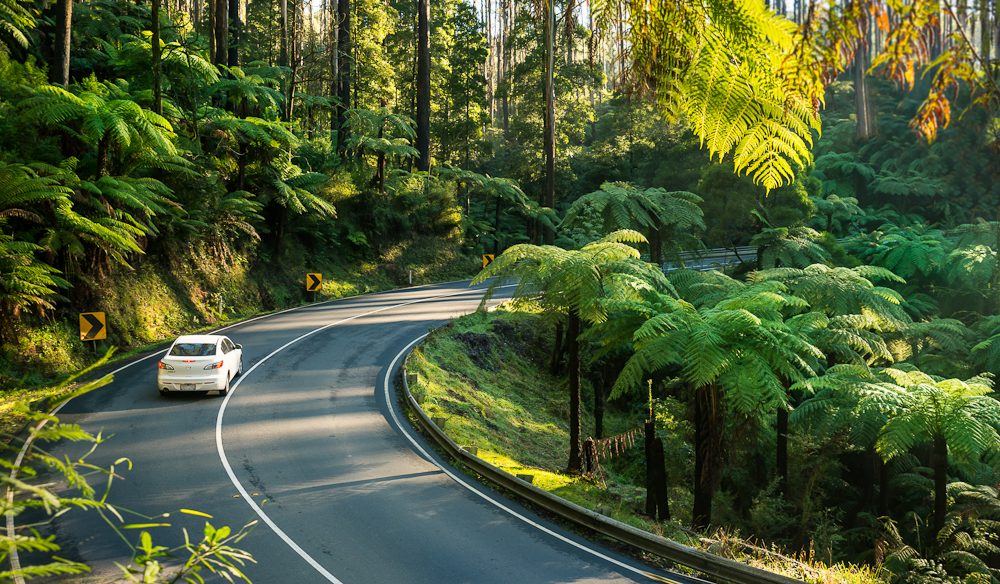 Once referred to as "God's own garden," Marysville, hidden in a valley just an hour northeast of Melbourne, was utterly devastated by the Black Saturday bushfires of February 2009.

Beloved for its tree-shrouded streetscapes and beautiful gardens, visitors to Marysville enjoyed exploring the hand-crafted wooden figures at Bruno's Art & Sculpture Garden (above), before stopping in at Uncle Fred and Aunty Val's Lolly Shop, famous for its old-style charm and great produce.

A few blackened trees and just a few buildings remained. Street signs point to places no longer recognisable. The township is irrevocably scarred by the homes destroyed and the 45 precious lives lost. A town's identity taken, but certainly not forever. When the people of Marysville returned and gathered in the Marysville Community Golf and Bowls Club, one of the few buildings still standing, they each raised their hands and vowed to rebuild.

Sergeant David Rowles from the nearby town of Alexandra was reported in the The Age on February 14: "The streetscape's still there. A lot of trees are still there, and within a short space of time, once the buildings are redone, Marysville is going to look much the same as it has in the past. It's going to be a beautiful little town."

AT would like to thank all the readers who sent in their heartfelt messages of support for the town and its residents. As AT Reader Patricia Owen put it: "The whole town of Marysville welcomed its guests and genuinely applied themselves to make your stay a pleasure – a pleasure for you and for them. Now, today, I have heard it reported that Marysville is gone, and so I weep. But that spirit cannot be gone. The people of Marysville will rebuild, I am sure. Just as I am sure we will return."
#57 – Tamworth, NSW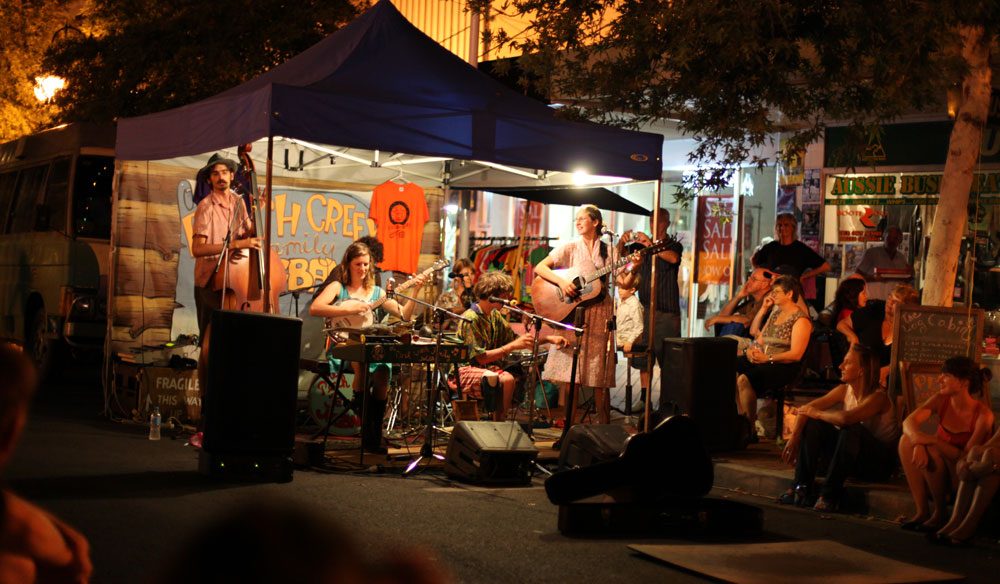 Famous for being the Australian Country Music Capital, Tamworth doesn't just make the Top 100 for its musical notoriety (although, come on, even the Visitor Centre is shaped like a massive guitar), but for its history and progressiveness.
"A town with more Australian country music culture than the rest of Oz combined." – MyPOWER Team
Its Australian Country Music Festival attracts 50,000 each January and, like all good Australian towns, Tamworth features an oversized attraction, but others will struggle to compete with the Big Gold Guitar, unveiled by the king of country himself, Slim Dusty. Beyond music, Tamworth is recognised as the National Equine Capital of Australia and is home to the new, world-class Australian Equine and Livestock Events Centre (the biggest of its kind in the Southern Hemisphere).

Buildings and landmarks like the old railway station, Britten's Brewery and Moonbi School act as mini-museums for the 150 years of town history. Today, boutique wineries, a growing retail industry and a bustling city centre paint the picture of a flourishing, vibrant town.

Where? // 400km (5hrs) north of Sydney.

Did you know? // Tamworth is the "First City of Lights" as it was the first place in the Southern Hemisphere to use electric streetlights in 1888 (marked by The Powerstation Museum, also home to a collection of over 50 motorcycles from the 1950s-1980s).
#58 – Clare Valley, SA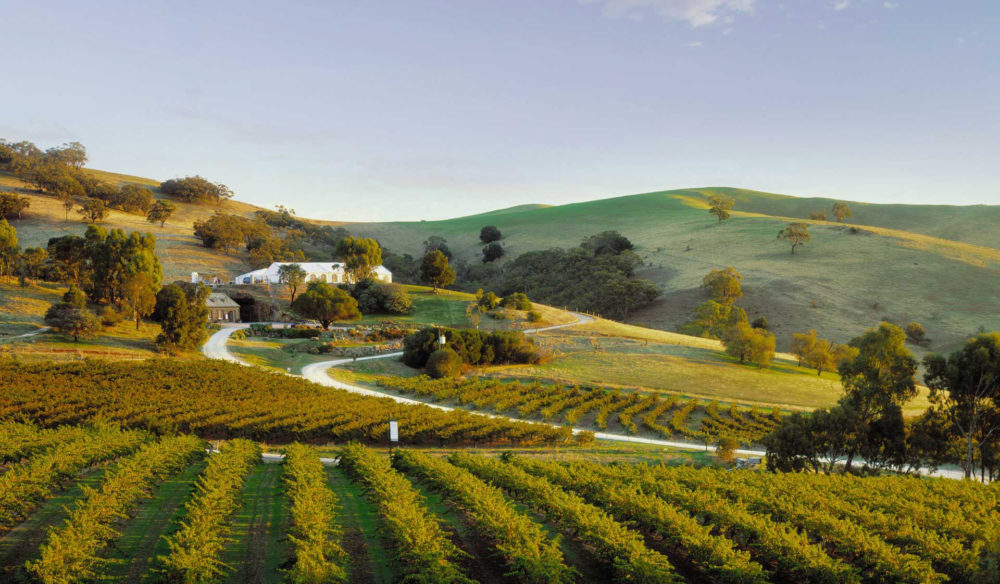 In the heart of South Australia's Clare Valley wine region, rolling hills, twisted green vines, dusty ground and all, the pretty town of Clare looks as though it was plucked straight from the Tuscan countryside. Famous mainly for Riesling and Shiraz, Clare is the first stop for wine lovers wanting a taste of these popular drops.

The Riesling Trail begins here; a winding 25km road from Clare to Auburn that's one of Australia's most rewarding walking and cycling tracks. Originally part of the Clare railway, the trail ambles past stunning vistas,19th Century cottages, vineyards and farmyards for the leisurely sampling of wines and local produce from close-by restaurants.

Of particular interest in the region are Sevenhill Cellars (the oldest winery in the Valley, founded by Jesuit priests in 1851), and Knappstein (left), which has recently taken on production of a local premium beer – a process you can peek in on.

A don't forget the local sheep station and guesthouse with beautiful heritage-listed buildings that once held the District Council Chambers. Clare is straight from the past, with restored shops and three great pubs that, in great Australian tradition, are all within walking distance of each other.

Where? // 136km (2hrs) north of Adelaide.

Did you know? // Clare Valley Gourmet Weekend, a celebration of world-renowned wines and food, happens every May and was the first festival of its kind in Australia.
#59 – Birdsville, QLD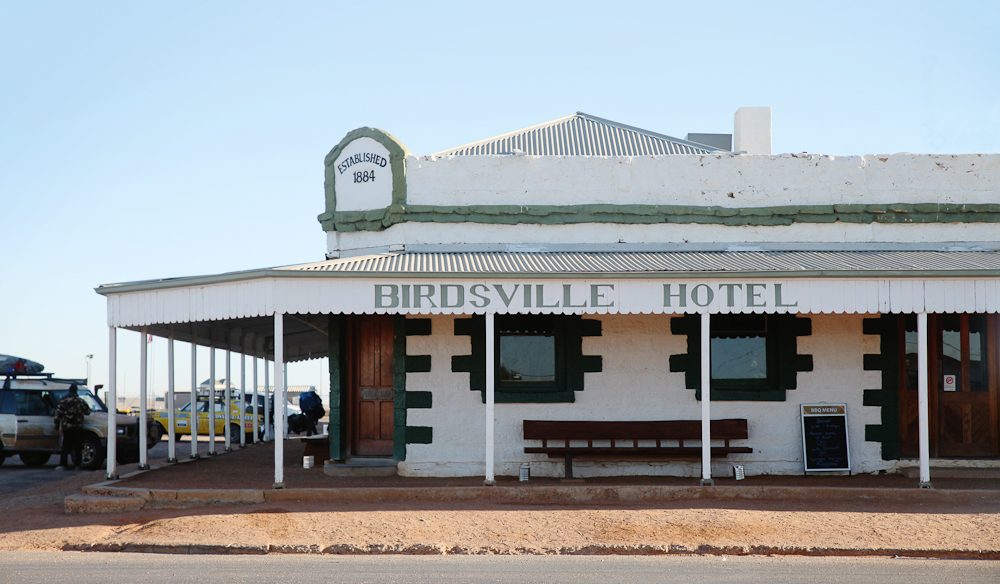 We do love a town with a pub that lets you park your airplane out the back. Perched only a couple of hundred dusty kilometres from the junction of three states (Qld, NT and SA) and the vastness of the heartless Simpson Desert lies Birdsville, one of the most isolated towns in Australia.

Getting yourself out there is done in one of two ways: by chartered plane over the outback; or by road, preferably 4WD, often including the Birdsville Track (immortalised in the 1954 film, The Back of Beyond, starring mailman Tom Kruse who used the Track to deliver mail each fortnight).

Each year in September, people stream from all over for the famous Birdsville Races, where horses (and once, thanks to equine flu, wheelie bins) are raced around a clay track, dust exploding all around in an outback version of the Melbourne Cup.

For those into a bit of human contact, there's also Fred Brophy's Boxing Tent, where anyone game (or daft) enough can put themselves forward to take a good, honest, Aussie pounding. During the Races, Birdsville's population leaps from 150 to more than 6000, so of course extra beer kegs are brought in amidst fears that the Birdsville Hotel will run out. It's the right thing to be worried about; the next pub is more than 200km away. (And do you think they'll have ice? Think again.)

Where? // As the crow flies, Alice Springs is the closest major town to Birdsville, at around 600km to the northwest (although actually driving from Alice to Birdsville is closer to 1200km and 16hrs). Brisbane is 1800km (22hrs) to the east, with Adelaide about 1500km (23hrs) to the south.

Did you know? // 2007 marked the first time humans ran in the Birdsville Races. Horse flu prevented the actual contenders from making their way to the town, so Birdsville held wheelie bin races instead.
#60 – Bermagui, NSW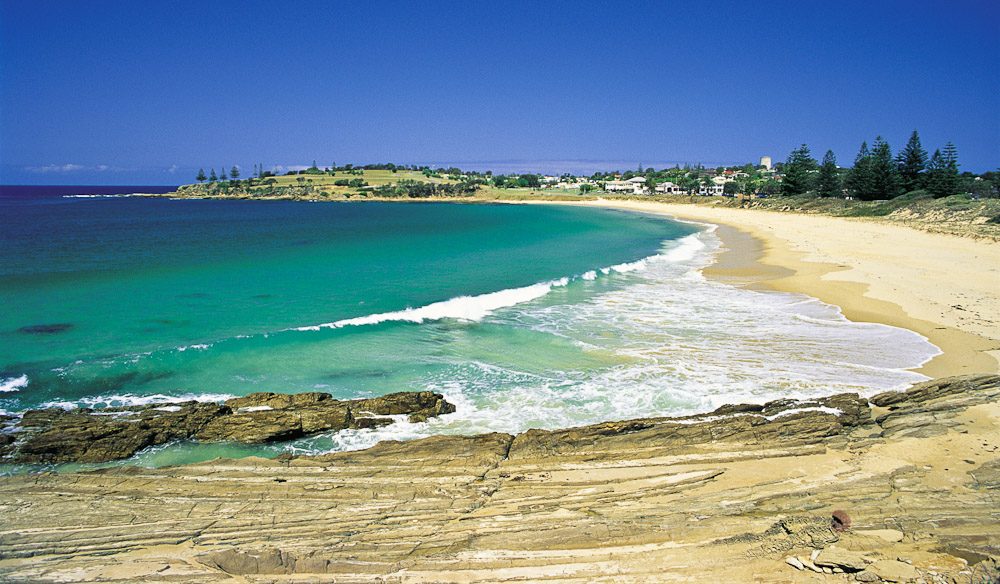 Bermagui is safely nestled in a weather-protected harbour on the NSW south coast and is full of gold, fish and mystery. Unlike some of the more crowded beaches in Australia, Bermagui's are clean, secluded, romantic, and did we mention clean? No cigarette butts and leftover picnics will be found on these beautiful sandy shores.

Most famous for its deep-sea fishing, there's also a surprising amount of (very) game fish – yellow fin tuna, marlin – that come in close to shore during spring. Bermagui is also home to the Montreal Goldfields, the only goldmine in Australia (and one of only two in the world) that's right by the sea.
"The closest land in Australia to the Continental Shelf, which makes this stunning, preserved village game fishing HQ." – Ken Boundy
Tall trees and bush conceal the once barren ground where thousands of gold diggers lived and prospered, and a boardwalk now spans the original shafts, showing visitors what life was like here in the 1880s. The area is also famous for the notorious Bermagui Mystery, in which five men disappeared in 1880, never to be seen again. At the time the story rivalled the trial of Ned Kelly for headlines, and to this day no-one knows what happened to the men.

Where? // 378km (5hrs) south of Sydney.

Did you know? // Bermagui isn't just famous for fishing; it has a great literature history as well. Crime writer Arthur Upfield, best known for his character Detective Napoleon Bonaparte, based his 1939 novel The Mystery of Swordfish Reef on the town, and prolific US wild west author Zane Grey immortalised the area in a fishing book in 1937.
100 Best Towns in Australia – 61 to 70
#61 – Richmond, TAS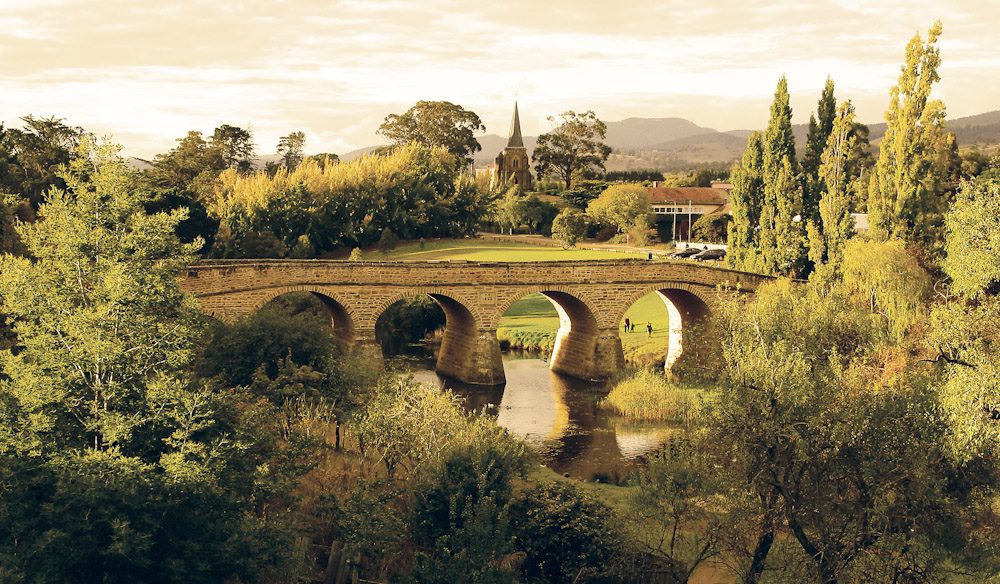 With rolling hills, Georgian-style buildings and cobblestone streets, Richmond, in southern Tasmania, looks like a quaint English village from the 1800s. Set by the banks of the Coal River, Richmond can be reached by driving over the Richmond Bridge – but be sure to hop out of your car and marvel at this historic masterpiece from every angle after you do.

Built by convicts in 1823, the bridge is the oldest still in use in Australia and has had a murky past. There are many stories of it being haunted by disgruntled ghosts, including Grover, an overseer who was murdered by convicts for being particularly heartless with them.

Other than Australia's oldest bridge, Richmond is home to Australia's oldest Catholic Church and gaol. Both the church and gaol are still in use (although not for prisoners; it's used as a museum instead). There's also the surprisingly terrific Old Hobart Town, a model village depicting the capital in the 1820s, reconstructed from antique city plans.

Forty-five of Richmond's buildings have been listed on the Register of the National Estate and many of the Georgian buildings have turned into guesthouses, restaurants and shops showing an inside look as to what living in the 19th Century was like for colonial Australians.

Where? // 27km (30min) northeast of Hobart in the stunning Coal River region.

Did you know? // Convict Ikey Solomon was an inmate at the Richmond Gaol in 1832, before being moved to Port Arthur two years later. It's widely believed that Charles Dickens used Solomon's story as inspiration for the immortal character of Fagin in Oliver Twist.
#62 – Coral Bay, WA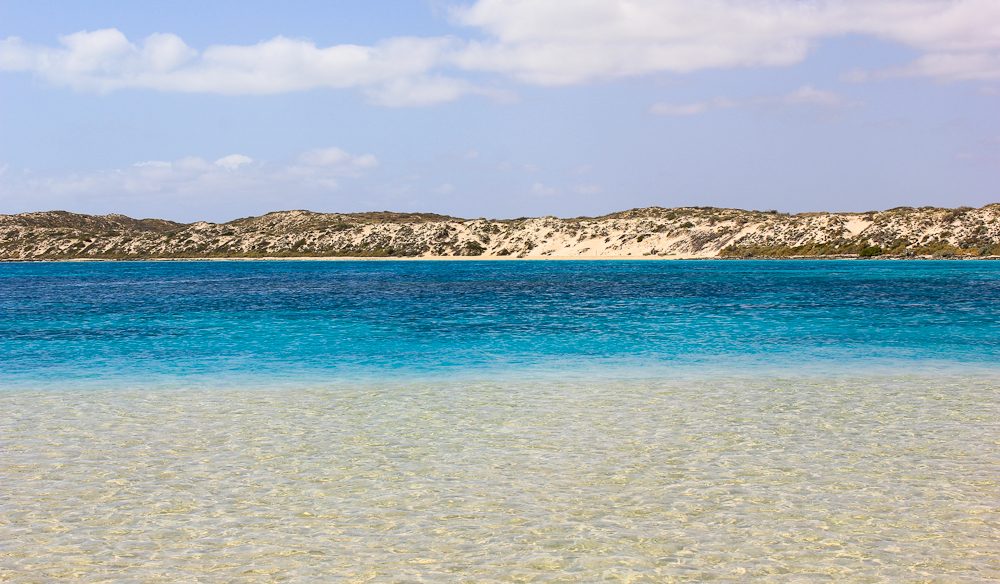 Just north of the Tropic of Capricorn, blessed by warmer water throughout the year, WA's Coral Bay is a resort town for people striving to avoid the crowds.

It's quiet, with a few caravan parks, holiday homes and convenience stores to save visitors the 2hr drive to Exmouth for a packet of chips. And, like Exmouth, Coral Bay provides access to Ningaloo Reef and all its wonders.
"Standing knee deep in the Indian Ocean, surrounded by metre-long fish, turtles and coral, watching the sun dip below the window sill of the Earth . . . sunsets simply don't get any better." – MyPOWER Team
Drawing visitors from all over the world from April to July to see its famous whale sharks, there are plenty of other tours on offer for people who suffer from hydrophobia (or simply can't be bothered to jump in for a swim), like glass bottom boating and fishing for marlin, mahi mahi, Spanish mackerel and sailfish.

As AT panellist Fleur Bainger says, "A short thong walk from anywhere in town gets you to the coral-fringed, glaringly white beach, which is more than enough reason to rate it. You can park your car and not use it for a week, and within a day you'll know half of the 150 people who live there. That's before you hop on a boat and meet the whale sharks, manta rays, turtles and fish that inhabit the offshore marine park. It's joy."

Where? // 1130km (14hrs) north of Perth.

Did you know? // Usually, the name of a hotel is named after the area. But the town's name, Coral Bay, was established after the success of a local hotel, The Coral Bay Hotel.
#63 – Denmark, WA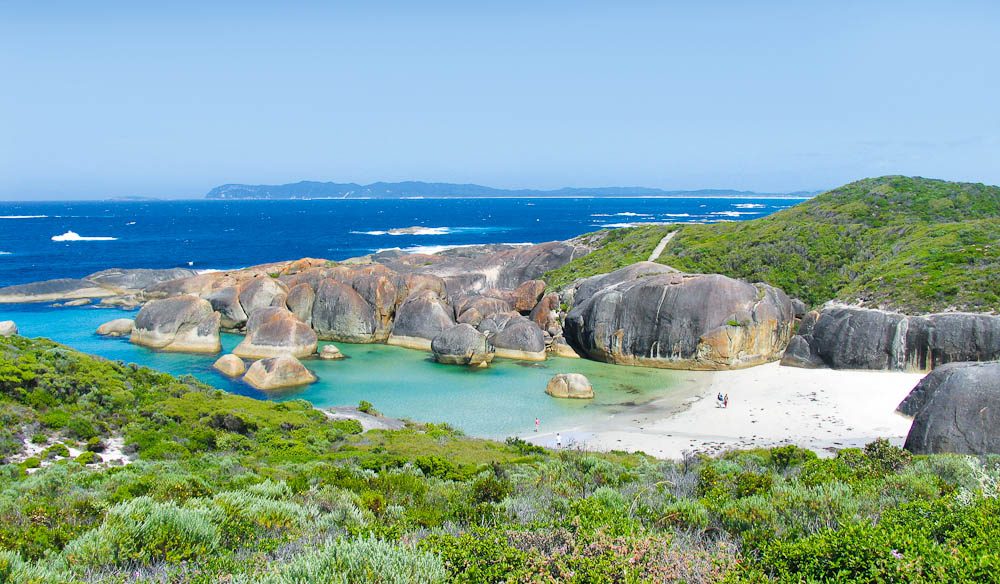 Denmark, where the forest meets the sea in southwest WA, is quietly establishing a quality wine region to challenge Margaret River. Parts of the legendary Bibbulmun Track pass through, and there's the wonder of The Valley of the Giants, with its Tree-Top Walk 40m above the forest floor, through a canopy of 400-year-old trees.
"Australia's Garden of Eden – idyllic, tranquil and abundant. Shhh!" – Ken Boundy
Just up the road is Dinosaur World, a favourite with kids and home to the only T-Rex in Australia. Nearby is peaceful Greens Pool (right), a mirror-smooth waterhole perfect for swimming and snorkelling.

During low tide, retreating waves leave a ripple effect in the damp sands of Lights Beach, another popular swimming spot. And Denmark's Visitor Centre is an attraction itself, hiding within it Bert Bolle's remarkable Guinness Record-holding world's largest barometer.

Where? // 421km (5hrs) southeast of Perth.

Did you know? // The Bert Bolle Barometer wasn't built so it could be a "Big" anything. It's a water barometer, not a mercury barometer, so it needs to stand 12m high in order for it operate.
#64 – Atherton, QLD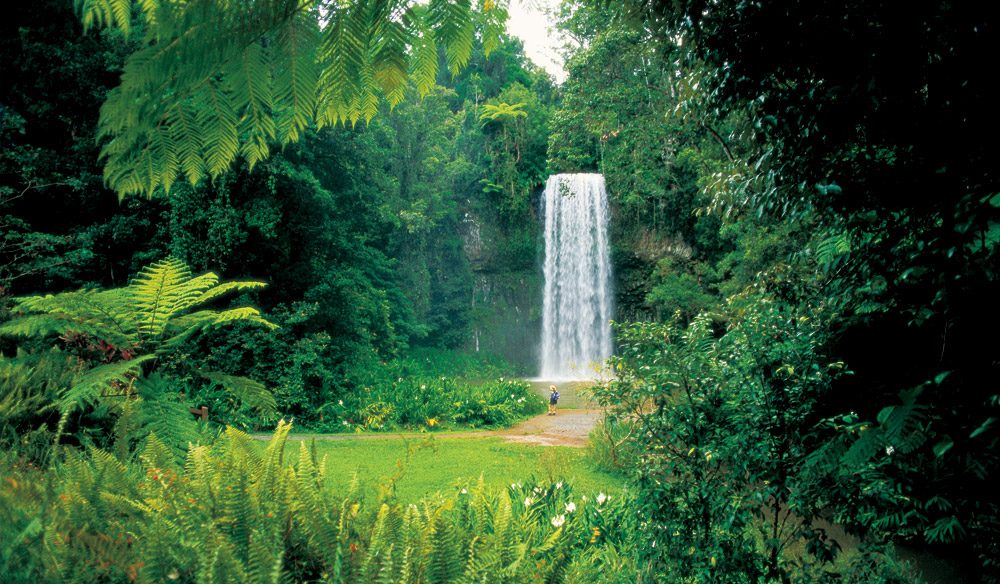 Deep in the Atherton Tablelands in northern Queensland, where heritage-listed rainforests grow, waterfalls thunder and cassowaries try to swoop but really just run around, lies fertile Atherton and its hulking neighbours, the Seven Sisters, relics of ancient extinct volcanoes.

With the Sisters perpetually in the background, the wide main street of Atherton is framed with palms, and there's a relaxed, tropical feel in the air. With a long, proud history of farming since the 1870s, Atherton was home to almost 1100 Chinese immigrants in the 19th Century and the village where they once lived is now an archaeological site and museum.

The dormant cone of Halloran Hill offers the best views over the town and the Tablelands with the volcanic ranges afar, while the crater at the foot of Halloran is filled by rare, dense, vine-tangled Mabi Forest. Nearby is the man-made Crystal Caves, filled with all manner of sparkly minerals, as well as the world's largest amethyst geode.

It won't fit on any pendant or ring; chiming in at upwards of two tons, it's protected from would-be robbers by its weight alone.

Where? // 80kms (80mins) southwest of Cairns.

Did you know? // The corrugated iron and wood temple in Atherton's Chinatown is the only temple outside of China dedicated to Hou Wang, and is the last of its kind in Australia.
#65 – Picnic Bay, QLD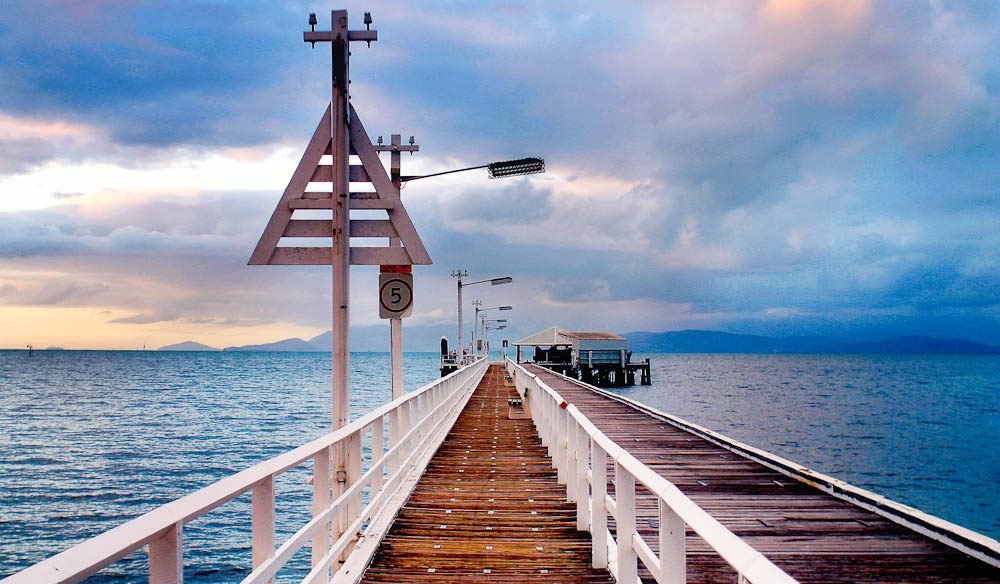 It's the sunniest city on the Qld coast (averaging more than 320 days of sunshine a year), it's surrounded by water and it's on an island that's 54 percent national park. Sounds like heaven. Well, heaven is floating just off Townsville on Magnetic Island.

AT's Great Barrier Reef expert, Fiona Harper, is building a home there and has this to say: "One of the few islands within the Marine Park where you can purchase free-hold land, the most incredible thing about Magnetic Island is that you're living in a national park, on an island less than two hours from a city."

With fewer than 3000 residents on the whole island, Picnic Bay was once a popular picnic spot for European tourists (hence the name). But a place with this much history, great fishing and mountainous terrain was always going to be a holiday destination, so the town's first resort was built in 1890 and a regular ferry service to the island was established from Townsville in 1901.

Today, a trek and a hike lead to the remains of a WWII military base, The Forts, with gun emplacements, command post and observation post all free to explore. And, with 360-degree views of the surrounding bays out to the ocean, you'd be insane not to. Mt Cook rises 497m from the centre of the island and is surrounded by massive granite boulders, tall hoop pines and patches of rainforest – a haven for Australian wildlife both recognisable and rare.

Where? // 10km north of Townsville.

Did you know? // The island's name came about because Captain Cook believed its large rocky outcrops were messing with the compass on the Endeavour as he sailed past in 1770. The area has since been studied using various instruments to explain what may have caused this effect, but nothing has been discovered.
#66 – 1770, QLD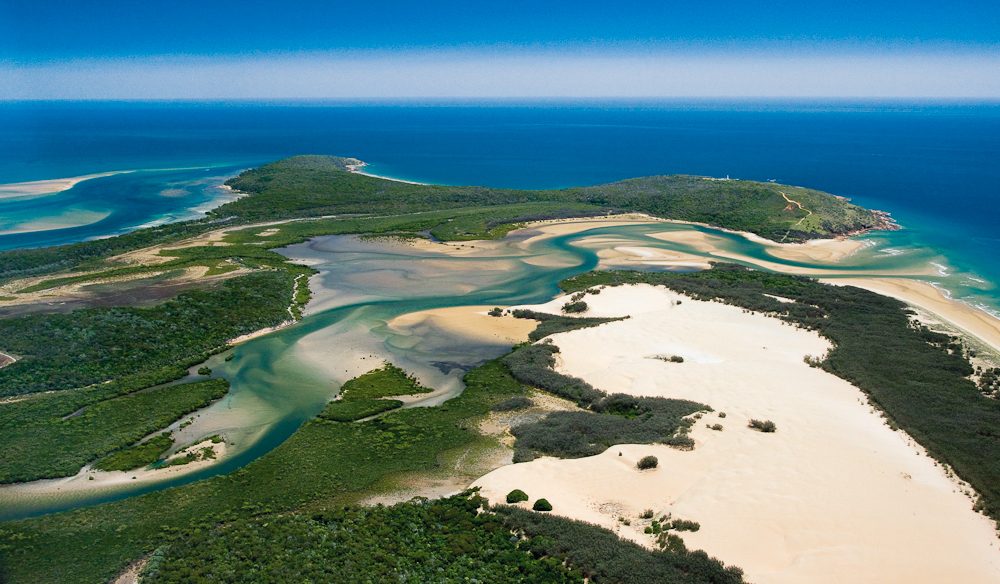 An environmentalist's dream on the Qld coast between Bundaberg and Gladstone, Seventeen Seventy sits perched north of Agnes Water along Captain Cook Drive, the state's northernmost surfing beach.

Part of a (for now) largely untouched natural region, it's a stepping off point to the Great Barrier Reef and is surrounded by four national parks. The town is renowned for its great fishing (charters can be hired from Seventeen Seventy Marina), but if you don't manage to catch dinner you can always dine in one of the town's two restaurants or pick up supplies at the general store. But be warned; there's not much else in town (largely untouched, remember?).

For a truly historic experience here, plan your trip early and stay at Heritage Cottage. The first building erected on the headland, the cottage sits atop cliffs with sweeping views of the Pacific.

If Heritage is booked, there's a variety of other offerings, from camping to luxury serviced villas. The coastline drive from Brisbane is the best way to begin your Seventeen Seventy experience, but fly or drive, this little secret is definitely worth a visit. But hurry, before the secret's out.

Where? // 130km (2hrs) southeast of Gladstone, the same northwest of Bundaberg.

Did you know? // Considered the "Birthplace of Qld", the little town was named after the year in which Captain Cook first stepped ashore in the Endeavour.
#67 – Mollymook, NSW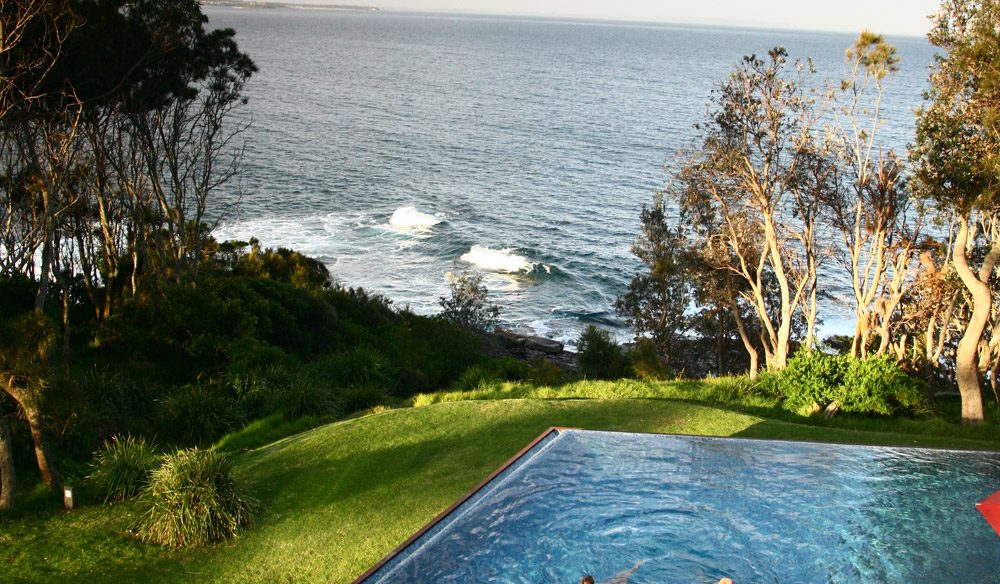 Dolphins surf at Mollymook on the NSW south coast, their seemingly synchronised performances like a benediction as the rising sun sparkles off teal-coloured waters, while early rising joggers trace lines across the gorgeous curve of white sandy beach.

Surfers visit religiously. State and national surf lifesaving competitions have been held here numerous times. Two extremely pretty Golf Courses grace Mollymook (one of which may soon be overhauled as part of a $77m development, the largest in the Shoalhaven district).

The smaller nine-hole course on the southern headland, with its undulating tree-lined fairways, affords beautiful views of the beach, especially from its clubrooms, where floor-to-ceiling windows take in the southern stretch of pristine sand and surf – while the longer championship 18-hole Hilltop Course is the more challenging and satisfying of the two.

On the north head is Bannisters Point Lodge, a boutique hotel where comfort, luxury and aesthetic perfection are complemented by big, blue, Pacific vistas and a poolside decking ideal for cocktail consumption. Senses are further satisfied at Breakers Cafe, Mollymook Shores Restaurant and the aforementioned Mollymook Golf Club, where aqua-based culinary delights accompany joy-inducing views of the beach.

The busy fishing harbour of Ulladulla is a short drive south, with historic Milton just 5km to the northwest.

Where? // 225km (3hrs 20min) south of Sydney, 200km (3hrs) west of Canberra.

Did you know? // It's thought that the name Mollymook is a variation on "mollymawk", the slang name sailors use for a type of albatross (from the Dutch mallemugge, meaning "foolish gull").
#68 – Rutherglen, VIC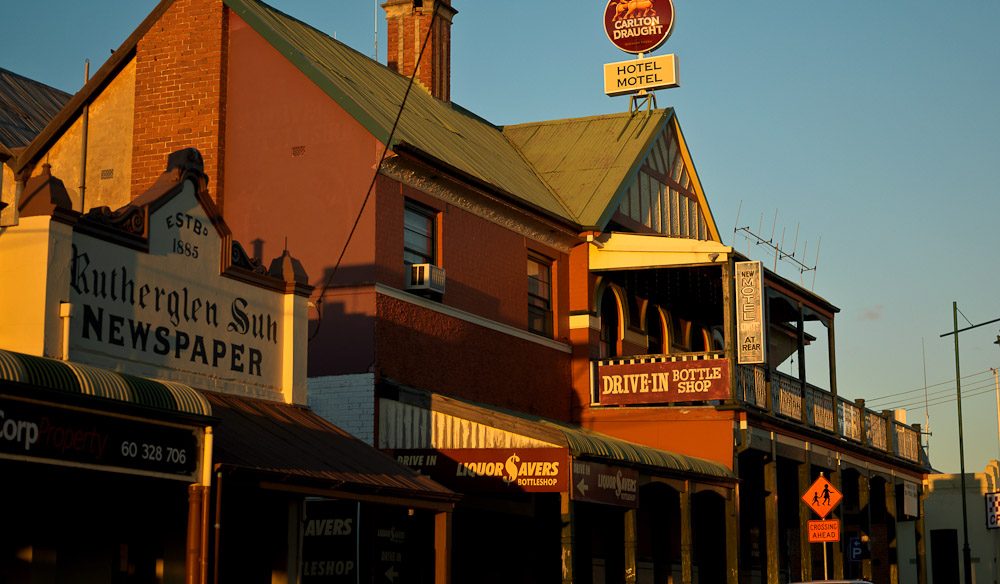 Hidden in northeast Victoria just ten kilometres shy of the Murray River border with NSW, Rutherglen is a wine buffs' paradise. Famous for producing some of the world's best Tokays and Muscats ("The world's richest wine"), Rutherglen was once a gold rush town, but soon gave over to the grape, and has done since the 1850s – in fact, at one stage Rutherglen was producing a quarter of Australia's wine.

Its scenic wine circuit can be enjoyed via limo – a door-to-door experience to the more than 25 wine cellars in the region – or, for the average Joe, there's a cycling track along the Muscat Trail that traces the banks of the Murray, before curving back inland through the vineyards. All but one winemaking house in the region are still owned and run by the fourth, fifth and sixth generation members of the original families.

Names like Chambers, Rosewood, Campbells, All Saints and Stanton & Killeen have been making wine for more than 150 years, with their legacies passed on within each family.

The town's ghostly gold rush past can be explored via the Rutherglen Heritage Walk through town. Its old-country nature is reflected in the timeless streetscape, with classic two-storey Aussie pubs, verandah-lined shops housing antiques, collectibles and bric-a-brac and Australia's most-awarded pie shop: Parker Pies.

Where? // 300km (3hrs 20mins) northeast of Melbourne.

Did you know? // It's said that Rutherglen was named over a few beers. One David Hamilton declared to bar owner John Wallace that he'd shout a round if he was able to name the town after his hometown in Scotland. "Right you are, Davie," Wallace replied. "Rutherglen it shall be."
#69 – Coober Pedy, SA
The Opal Capital of the World has a varying population from around 2000 to 4000, with 45 different nationalities. Far removed from the rest of mainstream Australia, the wealth brought in during the mining boom has allowed residents to build luxurious underground dwellings complete with swimming pools and entertainment rooms, and four out of five residents live underground.

The stark landscape surrounding Coober Pedy, including the 40km or so in every direction that's dotted with shafts and mullock heaps from opal workings, as well as the moonlike Breakaways and not-too-distant Stuart Ranges, has formed the backdrop for films like Mad Max III, Priscilla, Pitch Black and Red Planet.

And the cultural mishmash in town means only one thing: great food. There are a ton of different dining experiences to tickle your tastebuds, and to work off those extra pounds you can have a swing of an iron on Coober Pedy's grassless golf course.

Or, if you're not so skilled with a golf club, check out the underground catacomb Anglican Church, The Big Winch Lookout and the Old Timers Mine to get a real understanding of just how different the locals here live.

Where? // 846km (10hrs) northwest of Adelaide, 690km (8hrs) south of Alice Springs.

Did you know? // Golf is played during the night at Coober Pedy, with a glowing ball to avoid the heat in the day.
#70 – Karumba, QLD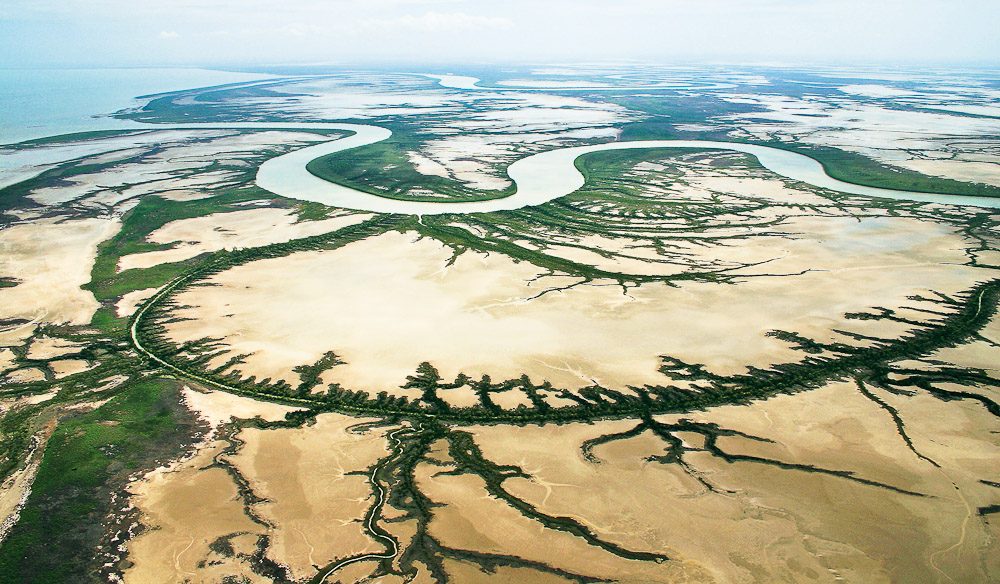 Surrounded by wetlands at the mouth of the Norman River in northern Qld, Karumba is a small town in the Gulf of Carpentaria where fishing is a way of life.

Originally a telegraph station until the 1930s when it became a stopover for flying boats on their way to London, Karumba became even more popular in the '60s when vast quantities of prawns and barramundi were discovered in the river.
"Worth driving five hours out of your way (or riding your pushie for a week) for fishing, fresh prawns, grabbing a beer and watching the sunset, or just being awestruck at the uncertain distinction between land and sea as the mudflats stretch for kilometres." – MyPOWER Team
It's not uncommon to see a cattle herd on the road and cranes and other waterbirds feeding beside it, due to the 30km of surrounding wetlands. Being the only beach on the Gulf accessible by sealed road, Karumba is popular for fishermen hoping to land "the big one".

During September and October Karumba is visited in the early hours by the unbelievable cloud phenomenon of Morning Glory; this tubular cloud rolls out from the horizon, across the ocean and chases the night away, bringing dawn with it.

Where? // 750kms (9hrs) due west of Cairns.

Did you know? // Just visible from Karumba is tiny Sweers Island, thought to be partially responsible for the naming of Australia as a single continent. In 1802 it was uncertain whether ours was one giant landmass or two smaller ones (proposed names: New Holland and New South Wales). Explorer Matthew Flinders learned the truth when he viewed the continent from Sweers, and subsequently pushed for the single name "Australia".
100 Best Towns in Australia – 71 to 80
#71 – Nguiu Settlement, NT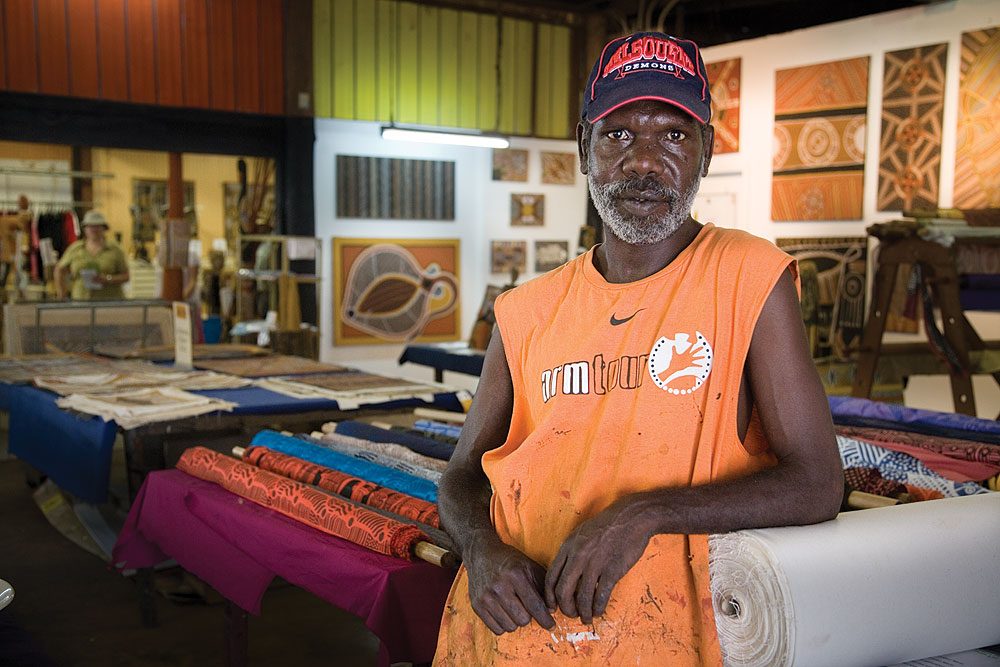 The Tiwi people have lived on Bathurst and Melville Islands for more than 10,000 years and their separation from the mainland has created a unique culture, music and artworks.

North of Darwin lie a collection of islands that's home to a people with a language and traditions vastly different to mainland Australia.

The Tiwi people have lived on Bathurst and Melville Islands for more than 10,000 years and their separation from the mainland has created a unique culture, music and artworks. There are no didgeridoos or boomerangs here; instead they make music with clapping sticks, and are producing an entirely different style of art than we've come to expect from the Aboriginal arts movement.

Guides tell the history of the Tiwi Dreamtime as they show off the islands through the Patakijiyali museum's artefacts and photos in the Nguiu settlement on Bathurst Island. Amazing artwork on Tiwi myths, culture, flora and fauna is produced in the local art centre, and Tiwi guides talk of traditional materials created from the plants, as well as the history of the islands.

The Morning Tea Ladies sit and chat away with visitors about life as they weave baskets, enjoy damper and tea and show off their individual totem dances. A permit is needed to go to the Tiwi Islands to be able to explore the town, beaches, bush and freshwater holes.

A favourite pastime in Nguiu is Aussie Rules football, which is often played fast, furious and barefoot. The Grand Final attracts a big crowd of supporters who cheer even-handedly for both teams.

Where? // On Bathurst Island, 80km north of Darwin in the Arafura Sea.

Did you know? // The fictional "Mission Island" in Australia the Movie is actually Bathurst Island, and Nguiu was the first place in Australia to experience a foreign invasion when it was bombed in February 1942, moments before Darwin was attacked.
#72 – Tamborine Mountain, QLD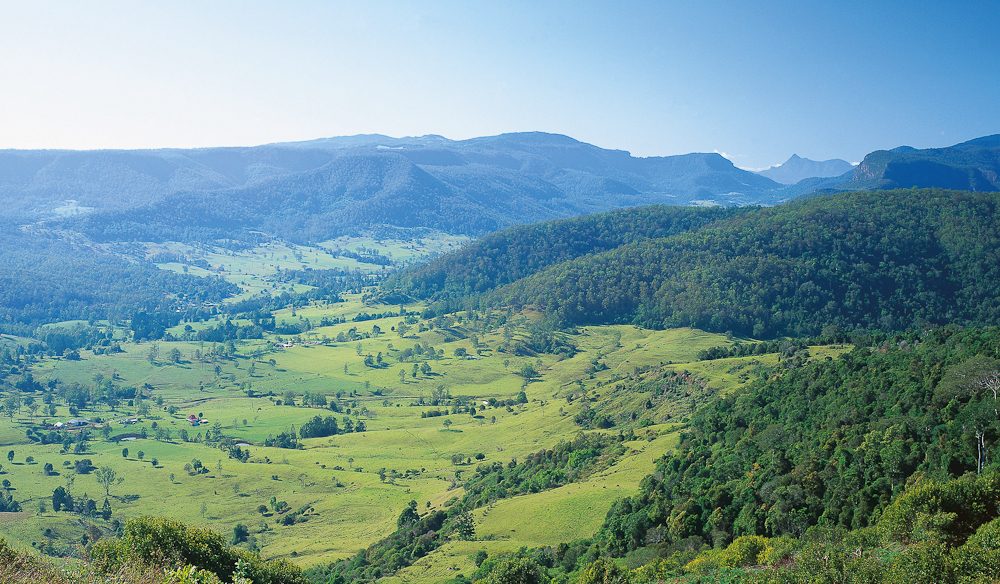 A cool escape from the hot and frenetic Gold Coast, Tamborine Mountain is a set of three towns, Mt Tamborine, North Tamborine and Eagle Heights. It's a quaint little oasis perched 560m above sea level on the top of the ranges, from where it can look down its nose on its rowdy neighbour, the GC.

The first national park in Qld was established here in 1908 and has managed to preserve much of the lush subtropical rainforest. This attracts a large group of natural history enthusiasts enjoying the excellent bush walks. There are also a number of very upmarket rainforest retreats perfect for romantic escapes (AT's pick is Songbirds).

Mt Tamborine is usually known for its Devonshire teas and doilies, however it's also blossoming as a gastronomic destination. The well-known Witches Chase Cheese Company has recently moved in with the Mt Tamborine Brewery in North Tamborine. The Tamborine Mountain Distillery regularly wins awards for their absinthe and spirits and all visitors leave with a well-oiled grin. There are also several wineries on and around the mountain.

The "Gallery Walk" along Long Rd in Eagle Heights is a quirky, made-for-tourists strip, but it's neither offensive nor boring – a good example is the German Cuckoo Clock shop. (Try saying that after visiting the distillery.)

Where? // 30km (40mins) northwest of the GC, 75kms (1.5hrs) south of Brisbane.

Did you know? // Tamborine is definitely not famous for tambourines. The name is an adaptation of the local Aboriginal word for the wild lime trees that flourish in the rainforest.
#73 – Mt Gambier, SA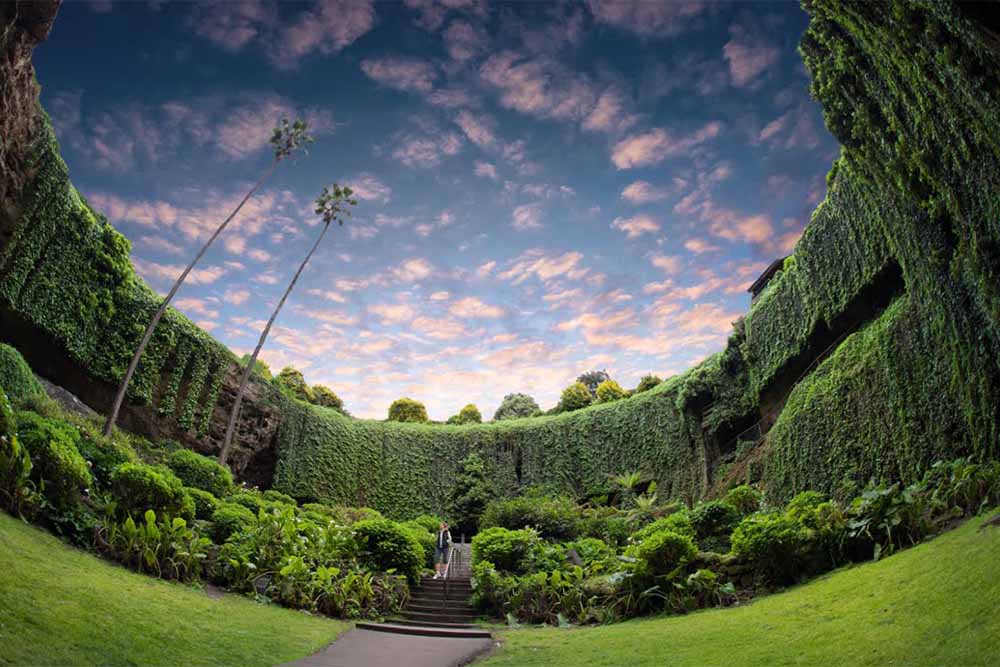 A thriving town set in an ancient landscape of lakes, craters and mysterious underground waterways, Mt Gambier is a playground of natural formations dotted with historic buildings.

The most famous is Blue Lake, the clear waters of which are filtered through subterranean limestone. Each year in November its colour changes from sombre blue/grey to brilliant turquoise, before resuming its winter hue by March.

The abundance of underground water in the region makes for lush and vibrant surrounds, with beautiful parks and gardens, great wine, fantastic local produce (particularly dairy) and natural experiences. Diving under Engelbrecht Cave in a guided tour is amazing; the underwater limestone, while an important product to many industries, has formed elaborate caves and crevices, begging to be checked out.

A little easier to visit, Umpherston Sinkhole (pictured), created from a collapsed chamber and landscaped by James Umpherston in the late 1880s, is very peaceful and often full of possums. And for accommodation with a difference, Mt Gambier Gaol offers budget overnight stays; if this is too much, just take the tour.

Where? // 449km (5.5hrs) southeast of Adelaide, and around the same distance due west of Melbourne.

Did you know? // Blue Lake is the only lake in the world that changes from a sombre blue/grey colour to brilliant turquoise each summer.
#74 – Kuranda, QLD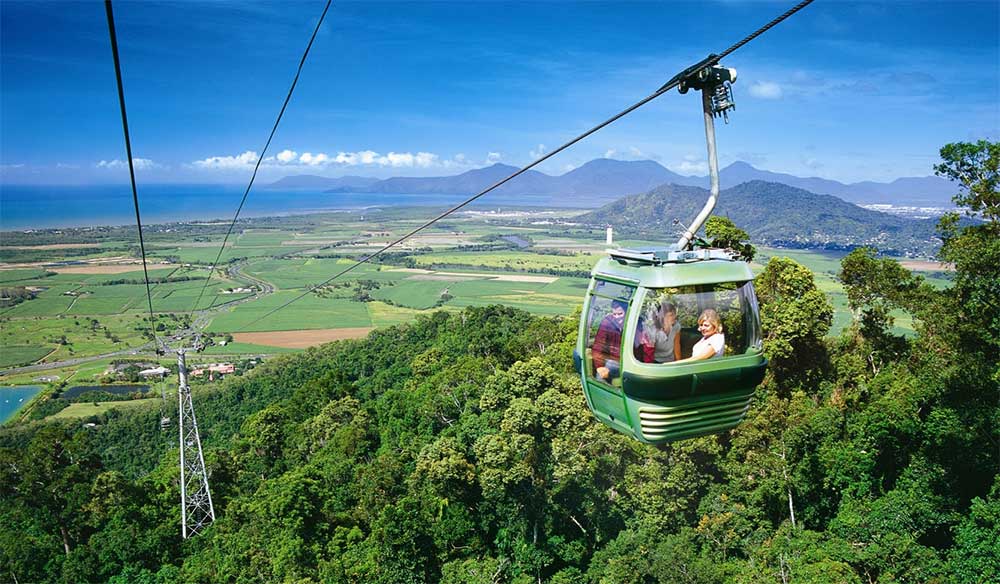 The problem for most people with Kuranda is that there's too much to do and not enough time. Just north of Cairns, this is a place for embracing nature in all its fine and wild forms.

Locals think of Kuranda as a village, evolved from a background of markets. Hit the shopping today and you'll find the original markets of yesteryear now standing as cultural stores of gems, art and just about everything you can think of. There's a Butterfly Sanctuary, Koala Gardens, Bat World sanctuary and even a Venom Zoo, just to name a few.

World Heritage rainforest surrounds mountainous Kuranda, but this heavily protected area isn't entirely impossible to penetrate. The Skyrail Rainforest Cableway – spanning 7.5km over the rainforest – is one way; the Kuranda Scenic Railway is quite another.

Constructed between 1882 and 1891, with hundreds of men employed and many lives lost, this working monument runs up the side of the mountain and through the ancient rainforest. The fascinating 1hr 45min trip from Cairns to the original Kuranda Railway Station, rising up 328m from sea level is one heck of a scenic ride.

Where? // 29km (30min) northwest of Cairns.

Did you know? // Yet another way to explore the deep rainforest surrounding Kuranda is to throw caution to the wind and take a 6WD amphibious Army Duck ride through it.
#75 – Dorrigo, NSW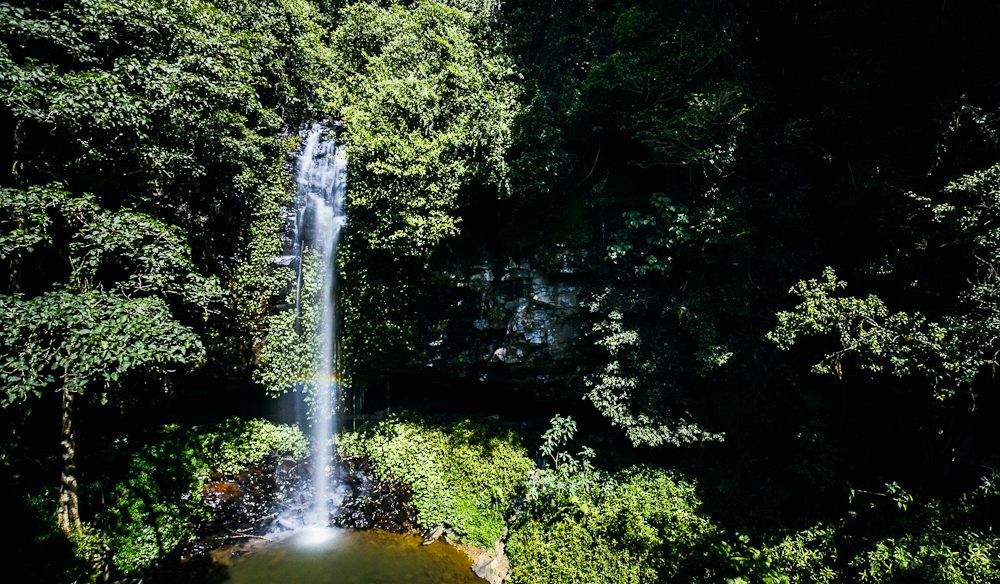 Often likened to the English countryside with its rolling, lush green hills, the Dorrigo Plateau's natural beauty makes it a top contender on our list. Known as the "spirit place, the road home" to local Aboriginals, the Dorrigo Plateau climbs skywards into the clouds from the Coffs Coast – an impressive 1500m into misty rainforests and towering waterfalls and gorges.

Dorrigo itself is the gateway to the parks, the beach and, of course, the rainforest. Resembling a natural cathedral full of saturated greens and light diffused by leaves, mist and clouds, the world heritage-listed Gondwana Rainforest takes on an otherworldly atmosphere in the early mornings when a cacophony of birdsong fills the heights.

The drought-proof town with the highest rainfall in NSW is less than 2.5km away from rainforest with bush and skywalks starting right at your doorstep. It's home to many tree-changers, and locals joke that people "come for the day, come to stay"; many short-term visitors find themselves settling in the enchanted place.

And they look after their pretty little forest hamlet very well: in 2008, Dorrigo was awarded NSW Tidy Town of the Year. The 1100 people-strong town set itself apart with 150,000 volunteer hours put into landcare, regeneration and environmental initiatives, showing true bush spirit.

Where? // 30km due west from the Coffs Coast, 550km (7hrs) north of Sydney.

Did you know? // The Dorrigo Plateau was in the running as a site for our national capital due to its steady supply of water and proximity to Sydney and Brisbane. It missed out due to a lack of expansion capacity and more difficult access.
#76 – Walhalla, VIC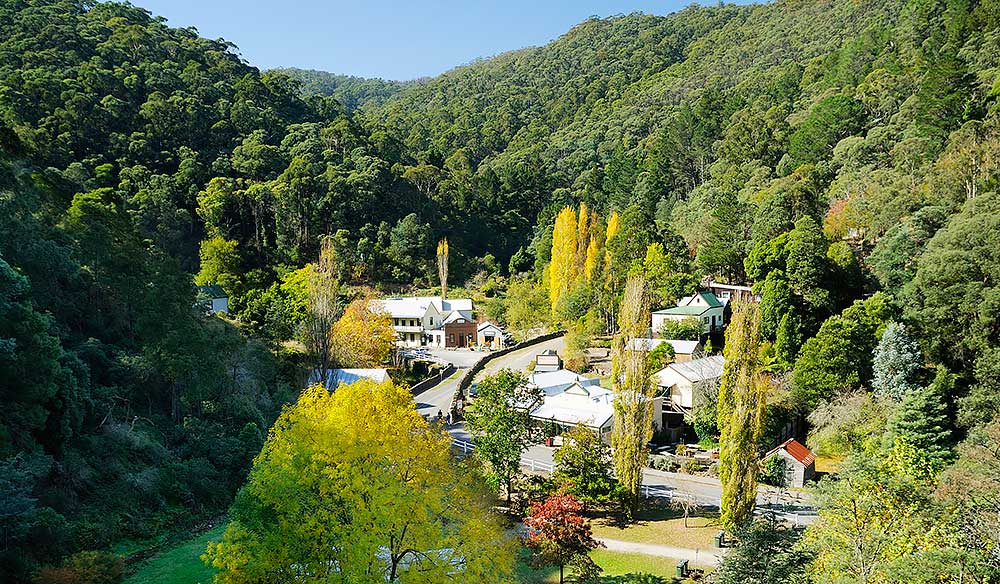 It's almost impossible to picture this gold rush outpost as it once was, home to thousands living in houses clinging to surrounding cliffs that are now covered in forest. Hidden in a ravine high in the Victorian Alps lies Walhalla, a small town with a very small population (under 20).

It's almost impossible to picture this gold rush outpost as it once was, home to thousands living in houses clinging to surrounding cliffs that are now covered in forest.

Springing into existence in 1863 when gold fever gripped the area, Walhalla serviced one of the richest gold mines in Australia, with more than 72 tons of gold held in the Bank of Victoria's vault on its main street. The gold mines were abandoned in 1914 and, very much as though the miners simply dropped their tools and walked out, much has been left to rust, never to be used again. Of the 72km of mines, a small section is open for tours.

There's a general store (doubling as a post office), an info centre and a museum with photos of dirty-faced miners peering out. The only other remnants of this era are the pioneer buildings – the prize of which is the brilliantly restored and maintained Star Hotel – and the well-stocked, steep, hillside cemetery.

Where? // 180km (2.5hrs) east of Melbourne.

Did you know? // It takes a 45min trek to reach Walhalla's cricket ground, on a plateau overlooking town. Australian captain Warwick Armstrong once bet that he could hit a ball onto the roof of the local hotel, which is just over 200m away. He couldn't and was out for a duck.
#77 – Mildura, VIC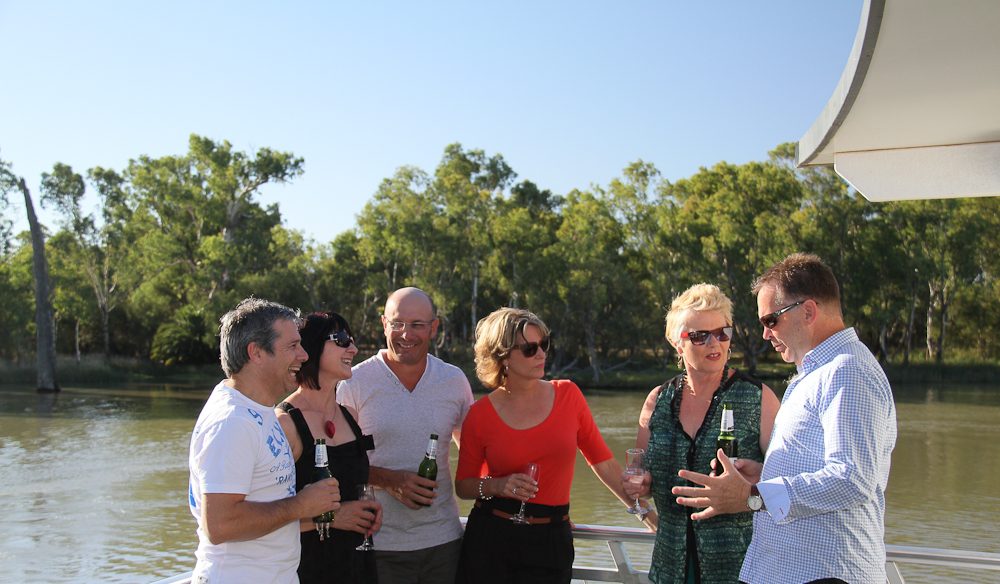 We love Mildura because its relative isolation has bred an independence among the town's passionate locals. With a population of 30,000-plus, Mildura is one of the biggest on our Top 100. It's also very isolated – ten minutes out of town and you're in the outback – and in fact it's closer to Adelaide than its state capital of Melbourne.

We love Mildura because its relative isolation has bred an independence among the town's passionate locals. Mildura was founded in 1886 by the Chaffey brothers, pioneering Californian irrigators. With irrigation comes grapes, fruit and wine. With grapes, fruit and wine comes backbreaking work. With wine and hard work come Italian immigrants. And that's what Mildura got. And that Italian heritage, with its passion for food, lives on today.

The town is home to Stefano De Pieri's world famous restaurant at the Grand Hotel (good luck getting a table) and the quality of food for a regional town is remarkable. And this is a town of remarkable things. The 14 perfectly manicured local grass courts once held a Davis Cup match.

Want a beer? Mildura has its own brewery. And that's why we love it. It's not the beautiful wide thoroughfare and the sensibly named streets (8th Street is right after 7th). It's the locals. They have an incredible sense of community and put on more events per capita than pretty much any town we know of. If you don't believe us – jump on the net and search for "What's on in Mildura". The list will print off around three pages.

Where? // 550km (7hrs) northwest of Melbourne, 420km (5.5hrs) northeast of Adelaide.

Did you know? // William Chaffey, one of the original founders, went bankrupt in 1896. Rather than pull an Allan Bond, Chaffey stayed, refinanced, finished his projects and eventually paid off all his debts. His vision and principles made him Mildura royalty, and he became the town's first mayor.
#78 – Berry, NSW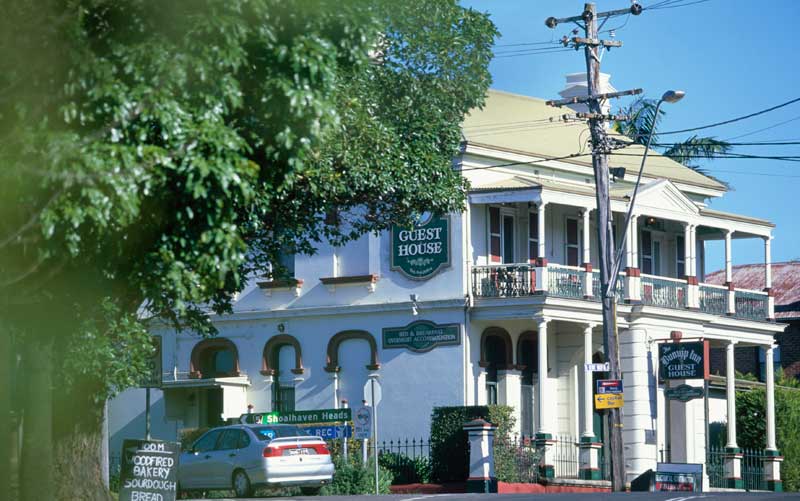 Driving through the pretty NSW south coast town of Berry is like meandering through a life-size version of a child's drawing, all steep rounded hills, squat trees with fat cows idling beneath, and winding paths leading to cottages with emerging puffs of white smoke.

Once a destination predominantly for retirees, today it has grown into a popular weekend getaway spot for Sydneysiders looking for peace and a bit of charming antiquity.

Contrasting colours of maroons, yellows and pinks adorn the walls of its heritage buildings. A close community vibe permeates its streets. Dotted with cafes, antique and boutique stores – the town's main attractions – it's impossible to drive through without stopping for a little poke around.

Can't find any hidden homeware gems at Haven and Space? Try the hand-knitted creations at Sew & Tell, or rummage around in your own future with a palm reading at the Global Contact Bookstore.

The Famous Berry Donut Van, a local favourite for years, can be detected a mile away from the fresh tang of its hot wares, and the town's main pub – the Berry Hotel – is as good as they come. And if you can time your visit to this peaceful dairy region on the first Sunday of the month, you'll be right on time for its top-notch Country Fair.

Where? // An easy 2hrs (143km) drive south of Sydney.

Did you know? // Berry looks like fruit-picking country, but that's not where the town's name comes from. Established as Broughton Creek in 1825, the town took on the name of pioneer Alexander Berry in 1889.
#79 – Eumundi, QLD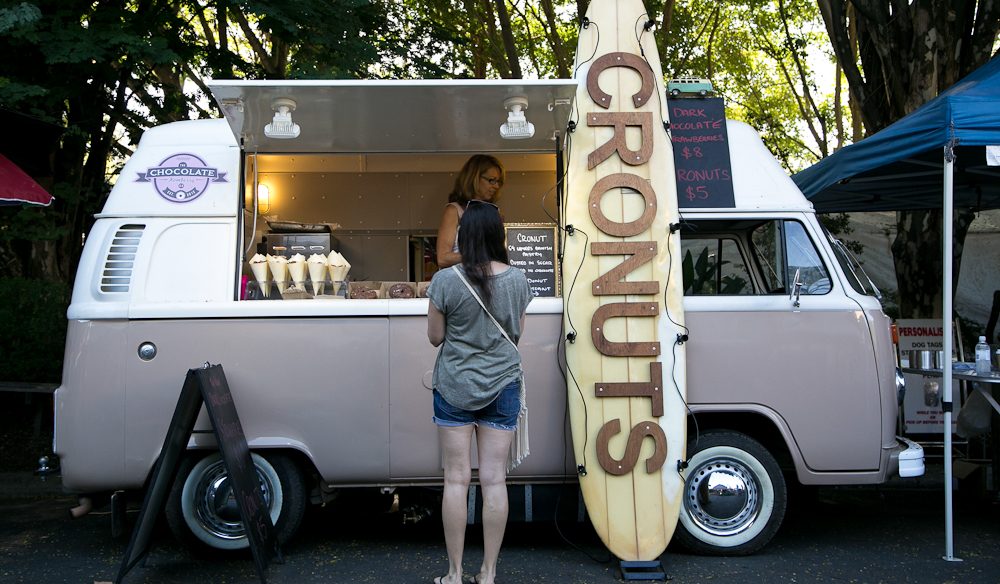 Eumundi, in the Sunshine Coast hinterland, is a scattered blend of what the old dairy town use to be and what it is today.Intertwined with one another are heritage buildings and new boutique stores, but our main spotlight is on the internationally recognised Eumundi Markets that run every Wednesday and Sunday.

Under the town's gorgeous fig trees that tower above more than 500 market stalls, the sounds of live music and street theatre echo throughout, as visitors saunter past local artworks, tarot readers and booths to tempt their tastebuds with international and local cuisines. Celebrating their 40th birthday in 2019, March 21 saw a massive party hit the streets to mark the milestone.
"Great food, great people watching and fabulous shopping." – Sally Obermeder
It's like no other market in the country, and not just because of its enormity; there's an immense community feel as most local businesses also gather to the markets to help out. A cruise through to the neighbouring town of Montville via the Hinterland Drive will uncover local wineries and breweries of the region. But there's also the option to stay in town and head to famous Joe's Waterhole for a beer and to be entertained by live music shows.

Where? // In the Sunshine Coast hinterland, 140km (1hr 25min) north of Brisbane.

Did you know? // Eumundi is one of two owns in Queensland to have fig trees planted as "Memorial Trees" by the Women's Patriotic Committee after WWI. Each tree has its own white picket fence and marble plaque to mark the memory of 20 local servicemen who lost their lives.
#80 – Exmouth, WA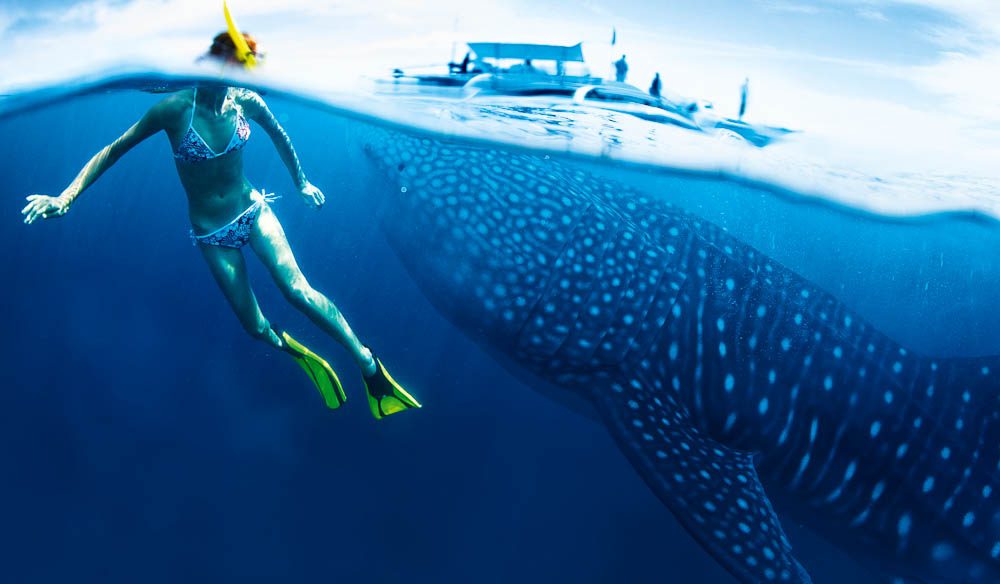 More than 1200km north of Perth and the same south of Broome, Exmouth is miles away from anywhere and everywhere. Originally established in 1964 to support a US Navy communications base, Exmouth has turned into a popular port town – mainly because, just a short swim away, is the remarkable Ningaloo Reef, one of the largest fringing reefs in the world, filled with fish, coral and turtles of all kinds.

Fishing is obviously a good choice here, and there are many big fish around, but none match the whale sharks that visit offshore from Exmouth every April to July (although, of course, you're not allowed to fish for those).

One of the very few places in the world where you can swim with the world's largest fish, the whale sharks are attracted to the masses of spawning coral. While they can be up to 18m long, they come with their own scuba diver bodyguards for their protection, not yours.

During different seasons, you can also swim with manta rays and see humpback whales migrating from Antarctica. Exmouth is also on the doorstep of the Cape Range National Park, which is full of rocky limestone ranges, deep canyons, lagoons and unspoiled beaches perfect for exploring.

Where? // 155km (2hrs) north of Coral Bay, or 1270km (15.5hrs) north of Perth.

Did you know? // There's a monument in Exmouth looking over the ocean that commemorates Operation Potshot, during which US Submarines used the area as a refuelling base from 1942, until the base was destroyed in 1945 by a cyclone.
100 Best Towns in Australia – 81 to 90
#81 – Dunkeld, VIC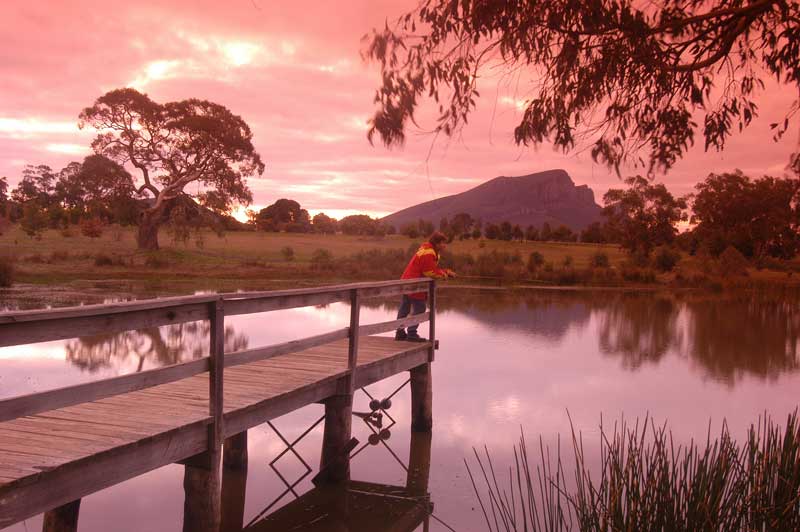 On the southern end of the Grampians National Park in Victoria, in the foothills of the majestic Mt Sturgeon and Mt Abrupt, is humble Dunkeld – a town that has become an essential gastronomic pilgrimage stop for foodies everywhere, thanks to the award-winning Royal Mail Hotel.
The modern menu and the large wine cellar, coupled with amazing views of the Grampians, all serve to make the Royal Mail one of the most popular destinations in the region.
Worth an hour's drive in itself to visit the Royal Mail. But as a stop-off to the volcanic Grampians range, it's unbeatable." – Justin Wastnage
Fruit and veggies are grown in the Hotel gardens and orchards, fish come fresh from the property's dam and the rest is sourced from local farms and wineries to produce one of the most varied wine lists in Australia, with more than 1500 wines on offer. Just a short walk through town, past the shops and the museum and along a creek, is the Dunkeld Arboretum, a growing collection of trees from all around the world.
There are lots of bushwalks through the Grampian National Park or, for the less adventurous, a walk along the Royal Mail's boardwalk past the creek where wallabies can be seen early each morning.
Where? // 253kms (3hrs) west of Melbourne.
Did you know? // Before Dan Hunter was head chef at the Royal Mail, he was head chef at Mugaritz, a Michelin two star eatery in Spain, which ranked fourth in UK Restaurant magazine's Top 50 in '08.
#82 – Parachilna, SA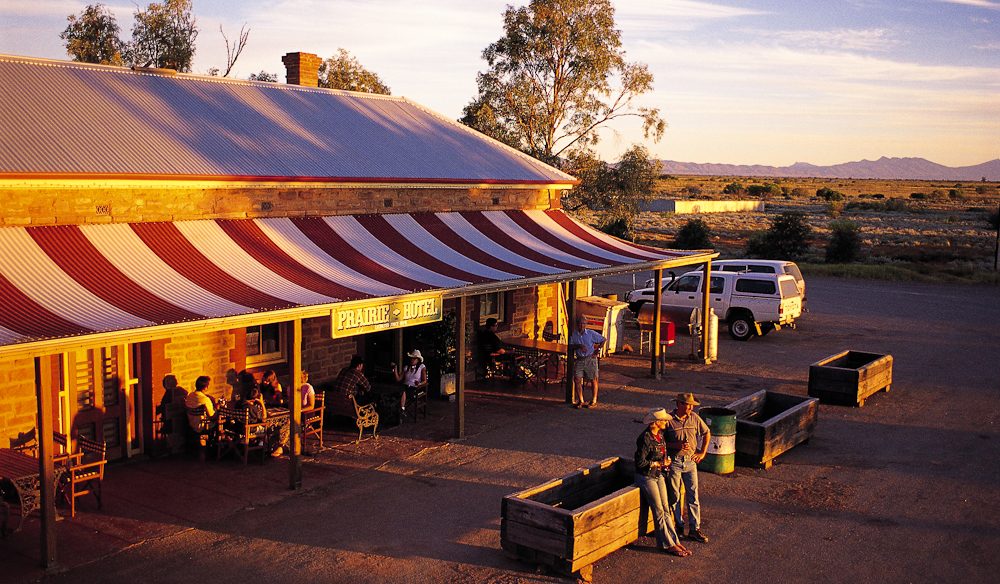 This town with a population of seven is little more than a few guesthouses, a train station and a pub on the edge of the Flinders Ranges in outback SA.
This town with a population of seven is little more than a few guesthouses, a train station and a pub on the edge of the Flinders Ranges in outback SA. Parachilna would be a blink-and-miss-it town, were it not for the iconic Prairie Hotel offering up some unusual pub grub. There's no chicken schnitzel here; instead, you can order up a Feral Mixed Grill of camel, wallaby, roo and goat on mashed potatoes and gravy.
If that doesn't take your fancy, there's always emu and damper, as well as normal rabbit, beef and sheep – as well as native fruits for dessert. Food is served in the restaurant, but many enjoy sitting on the balcony enjoying a cold beer with the flat red desert plains stretching off into the distant Flinders Ranges.
"The feral mixed grill at the Prairie Hotel is an outback classic." – Lee Atkinson
Another spectacle is the coal train that's so long it takes a full five minutes to pass through town on it's way to Port Augusta every night, making the town shake and rumble as it passes. Just a 30min drive from the striking Parachilna Gorge in the Flinders, Parachilna is a great place to start a journey into Australia's deep outback.
Where? // 470km (5hrs) north of Adelaide.
Did you know? // Popular with filmmakers, scenes from Gallipoli and Rabbit Proof Fence were filmed here, and the owner of the Prairie Hotel moonlights as a production liaison and location scout, also serving as second unit assistant director for Rabbit Proof Fence.
#83 – Sofala, NSW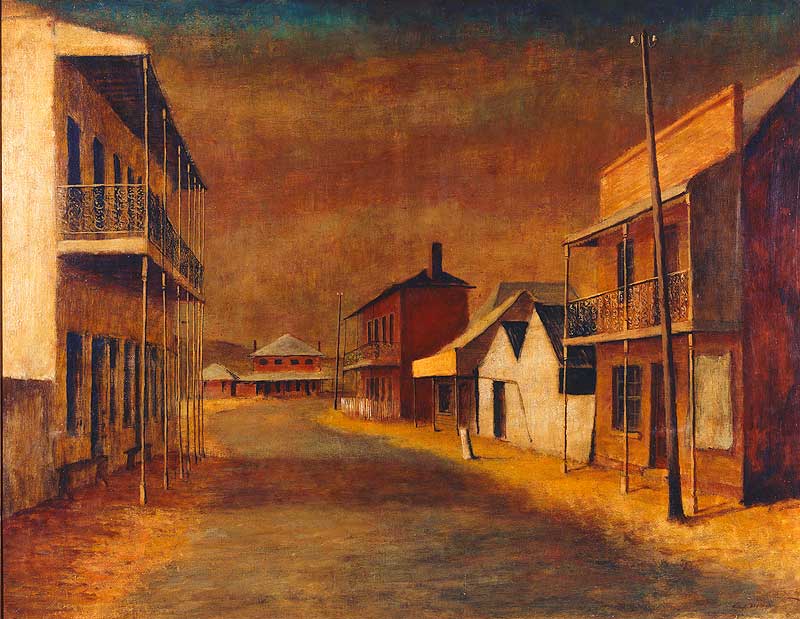 Sofala, the friendliest town you've (n)ever been to. In 1947, when Russell Drysdale finished a painting of the tiny town of Sofala (right) near Bathurst in northern NSW, he didn't expect it to win the Wynne prize that same year.
The old-fashioned buildings he depicted are washed with sunset colours of orange and brown along the sides of a narrow, dusty street. To this day the street looks much the same – give or take a few cars.
The peeling paint and crooked buildings lend Sofala a pioneering air and much is unchanged from more than 150 years ago. Gold was discovered in the local Turon River at the beginning of 1851 and, towards the end of the year, tens of thousands of people had rushed to Sofala to wallow in riches. Houses and shops popped up to support the miners and the gold lasted until 1948, making Sofala the oldest surviving gold town in Australia.
AT Reader Ross Johnson calls Sofala "The friendliest town I've ever been to. You can gold pan during the day, watch the stunning red sunset, and have a cold beer among the locals in the evenings."
There are also plenty of walks to take, with the most popular in the Upper Turon leading to old buildings, a museum and gold diggings in the surrounding bush. It's said that gold can still be found in the river, and panning is a popular pursuit for visitors who can also swim in the gold-flecked waters.
Where? // Around 241km (3hrs) northwest of Sydney.
Did you know? // Peter Weir, who directed such film greats as Gallipoli and Picnic at Hanging Rock, shot the very strange The Cars That Ate Paris, about a town that salvages car wrecks for money, in Sofala.
#84 – Tumut, NSW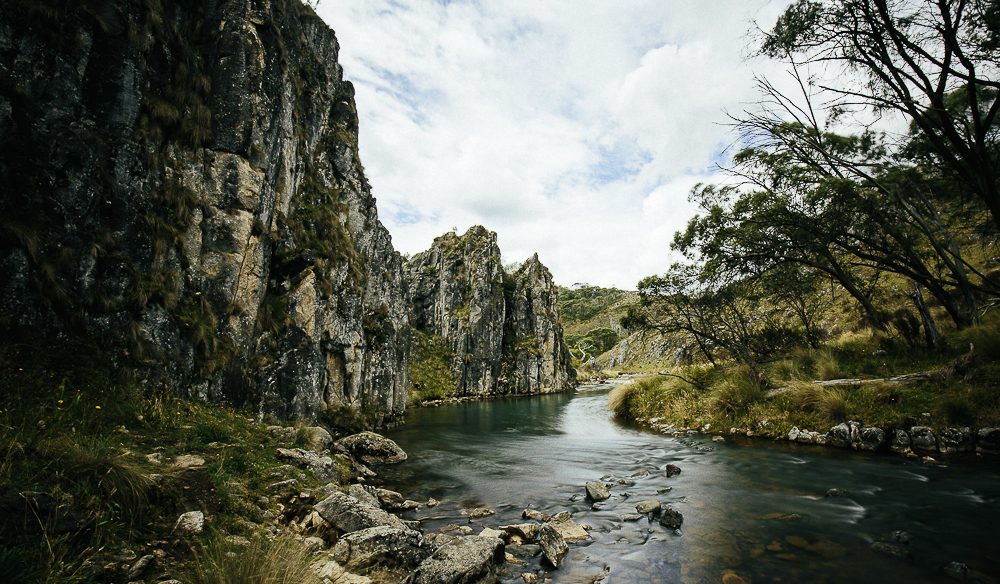 While Tumut, in the foothills of the NSW Snowy Mountains, is the same whichever way it's spelled, its seasons are vastly different: summer brings cool, clean and fast-moving waters perfect for trout fishing; green Kosciuszko National Park melts into the autumn colours Tumut is famous for; winter brings skiing enthusiasts as the Snowys are covered in a blanket of snow; and wildflowers jump into life on the edges of the Tumut River as spring emerges.
Tumut is encircled by popular walking tracks and, as AT panellist Peter Russell-Clarke adds, "The nearby Blowering Reservior (right), the end of the Snowy Scheme, abounds in brown and rainbow trout. Up the road is the apple capital of Oz, Batlow, so one doesn't only smile at cattle and sheep and trout."
"One of Australia's really beautiful towns. Surrounded by high rolling hills that underscore the true Australian landscape, Tumut is refreshed by its picture-postcard river." – Peter Russell-Clarke
During the 1850s rush, Tumut's population boomed with prospectors staying or passing through to mine for gold in the neighbouring towns.
Today, the only thing in Tumut with a booming population is the eccentric museum near the main road, which is home to 3000 novelty salt and pepper shakers.
Where? // 180km (1.5hrs) west of Canberra.
Did you know? // Tumut could have been Australia's capital. In 1908 it was one of the nine towns shortlisted for the honour.
#85 – Ross, TAS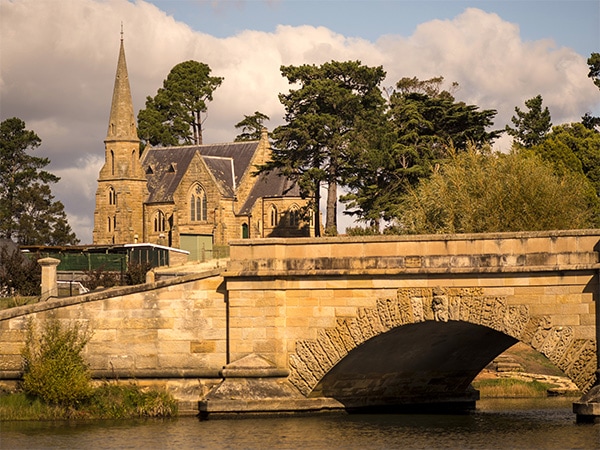 the main intersection of Ross, a convict-built town in central eastern Tasmania. Temptation comes in the form of the local pub. For those who drank a little too much last night, salvation is found in the church opposite. Damnation is embodied by the old town gaol, now a private residence. And the town hall represents recreation.
These four corners of Ross are just a small portion of the many 19th Century buildings scattered around town. There's the circa 1836 Royal Army Corps headquarters, the female convict factory site, as well as plenty of other sandstone colonial buildings along the old elm tree-lined streets.
The Ross Bakery has been operating for more than a century and offers visitors a taste of that wonderful Tasmanian speciality: the scallop pie. The most famous attraction is said to be the Ross Bridge, built by convicts in 1836.
It's the third oldest in Australia and the arches spanning the Macquarie River are covered in intricate carvings. In fact, when the bridge was finished the carvings were deemed of such high quality that they won the convicts who carved them their freedom.
Where? // 117km (1hr 40mins) north of Hobart, 78km (1hr) south of Launceston.
Did you know? // The Ross Bakery formed the inspiration for Studio Ghibli's cult anime film Kiki's Delivery Service, and every year Japanese fans make the pilgrimage to Tasmania to have their photo taken in front of it.
#86 – Augusta, WA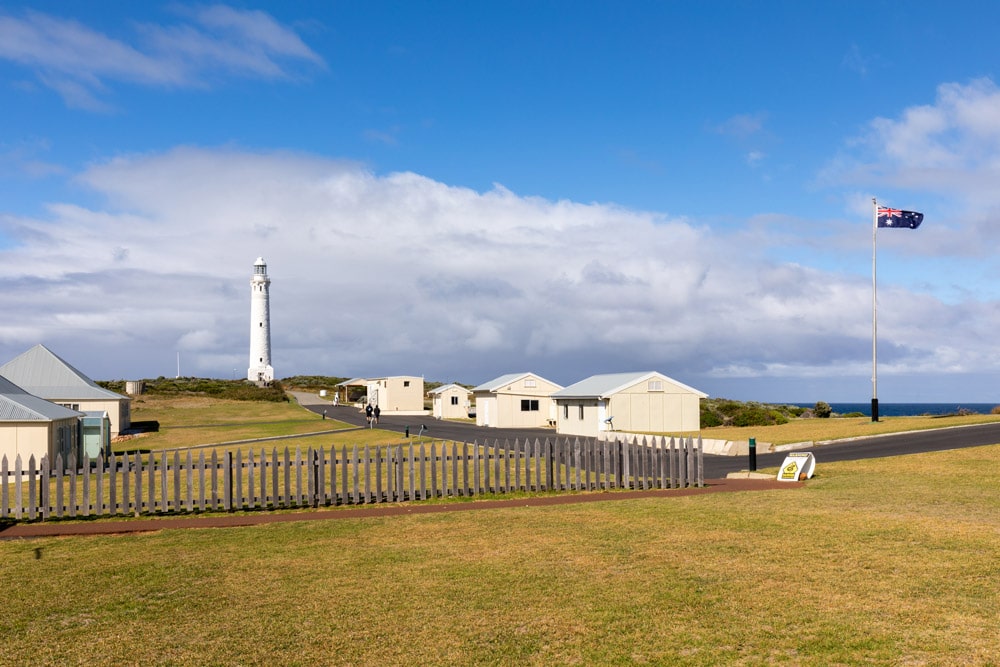 One of the few places in the world where you can watch the sun rise in one ocean and disappear into another, without having to travel an inch. One of the few places in the world where you can watch the sun rise in one ocean and disappear into another, without having to travel an inch.
Situated at the southwestern tip of WA with the Indian Ocean crashing on one side and the Southern Ocean smashing on the other, Augusta makes the Top 100 quite simply for its stunning natural beauty.
The type of place where you commonly find you're the only person surfing on the beach, the town was the third settlement in WA but, amazingly, remains largely untouched – and often overlooked. A thriving community with a fascinating history museum, Augusta forms the coolest, most southerly region of the Margaret River Valley, and as a result is home to some world famous wines.
South Augusta is also the southernmost tip of WA, called Cape Leeuwin, and is the point at which the Indian meets the Southern – and the Cape Leeuwin Lighthouse stands to mark the spot. Opened in 1896, the landmark tower is still serving as an important navigational and weather facility worldwide – definitely worth a visit.
The dilemma: to visit in summer for the warmth and waves? Or in winter to watch the whales migrate? Not to worry, though; the great wine is all year round . . .
Where? // 318km (5hrs) south of Perth.
Did you know? // In 1986, a 114-strong school of whales beached themselves at Augusta, with hundreds of people pouring in from the southwest to mount a rescue effort. After three solid days, 96 of the whales were returned safely to the ocean.
#87 – Kingscote, SA
The main town on Kangaroo Island, Kingscote was the first settlement in SA in 1836. The main town on Kangaroo Island, Kingscote was the first settlement in SA in 1836. On a boat-studded harbour overlooking the Bay of Shoals down to the beaches of Nepean Bay, the small township is home to great galleries, boutique shopping and delectable eateries.
AT reader Debra Wedmaier reckons KI is the best gourmet region in Australia, and that Kingscote is a top place for its pelican feeding. "Living on the Sunshine Coast, I've seen Pelicans being fed many times, but never like this," she says.
Every day visitors share the jetty space with the birds while locals carry out the feeding and an informal info session. You'll need an empty suitcase to carry all the fantastic KI produce, like the delicious sauces, jams and pastes and the Emu Ridge distillery's famous eucalyptus drops.
Try the local lobster oil, drop a line off the jetty and stop in to the Island Pure Dairy to try the Haloumi Cheese. The local wine complements the great food and Debra suggests you pick up her personal favourite, the Island Sting Honey Liqueur.
Flinders Chase National Park is right on your doorstep, as are the dunes of Little Sahara – great for sliding down with the kids, all a stone's throw from Kingscote in one of Australia's most prized regions.
Where? // 186km southwest of Adelaide on KI (around 4hrs, including the ferry ride from Cape Jervis into Penneshaw).
Did you know? // Kingscote was first named Angas after the early settler, George Fife Angas (another of our Top 100 towns, Angaston, is named after him). An argument with another of the island's founders, Henry Kingscote, resulted in the town being renamed Kingscote.
#88 – William Creek, SA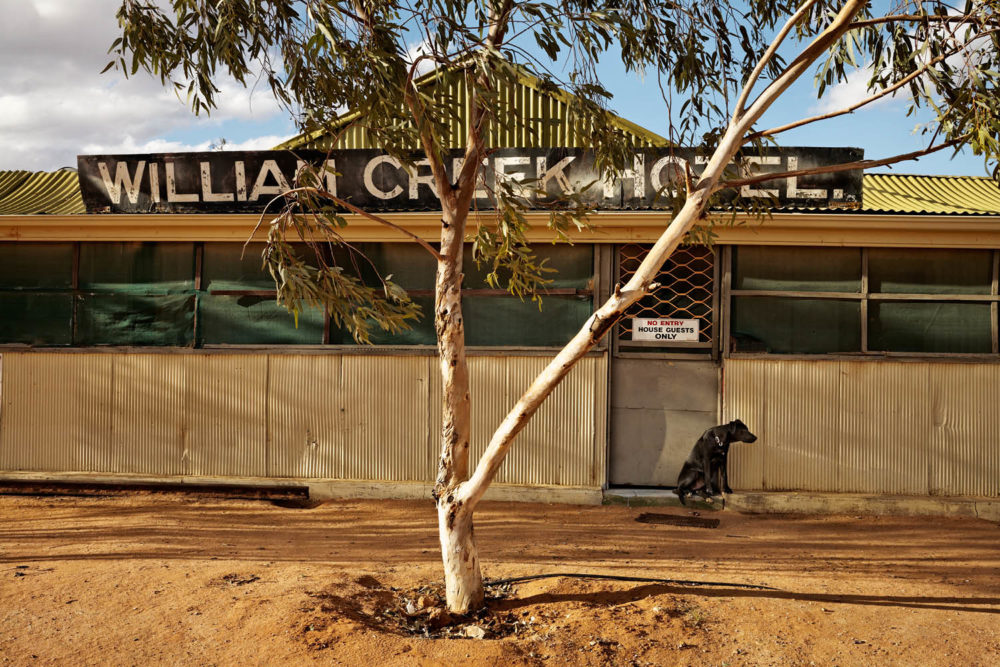 Dry, dusty and sparse – three words that are excellent for describing the outback. And the lengthy look down the Oodnadatta Track, which seems almost endless from William Creek in far northern South Australia, isn't too far from that description either.
With a population of three permanent residents and two workers, William Creek is officially the smallest town in South Australia. Despite that, it's situated smack in the middle of the world's largest working cattle property, Anna Creek Station, which is almost half the size of Tassie.
"William Creek has a pub, a parking meter for a Cessna and bits of Woomera rocket on the old Ghan railway platform. Utterly unique." – Peter Robinson
As original as a bush boozer can get, the William Creek Pub is like a life-size scrapbook. Thousands of mementos are nailed to the wall, from bras to business cards, drivers' licenses, passport photos (AT panellist Fleur Bainger's is up there, apparently) and anything else passers-by can use to mark the significance of their journey through town while enjoying a refreshing cold beer.
But it's not just a watering hole; it's a bush mechanics' outpost, a petrol station, a camping ground, a restaurant and a hotel. The town can be easily accessed by the town's only airstrip, while scenic flights are run during "winter" or any other times when there's water in nearby Lake Eyre.
Where? // 165km east of Coober Pedy, 1000km (14hrs) northwest of Adelaide, it really is in the middle of nowhere.
Did you know? // William Creek Pub is the only iron corrugated hotel left trading in South Australia.
#89 – Wisemans Ferry, NSW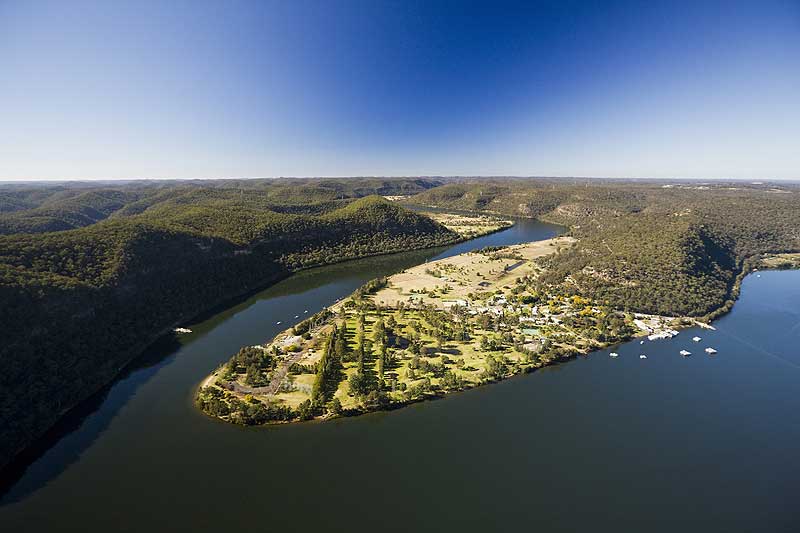 With 360-degree views of four national parks, how could this small historic town not be in our Top 100? With 360-degree views of four national parks, how could this small historic town not be in our Top 100?
On the edge of the Hawkesbury River north of Sydney, Wisemans Ferry is a popular destination for visitors escaping the hustle and bustle of the city. Established by convict Solomon Wiseman in 1817, the town is well known for its quaint ferry services that run across the river to St Albans, the Hunter Valley and Gosford.
Originally created to transport goods to Sydney and convicts working on the Great Northern Road, the ferry now caters to sightseers who cross the river.
The area could be mistaken for a fairytale hideaway, set around by the Dharug, Yengo, Cattai and Marramarra National Parks that offer plenty of activities, be it walking, riding or exploring the convict past of the region.
Carved out of solid rock by convicts between 1826-1836, the Great Northern Road can still be travelled on today and has a distinctive 19th Century feel to it. This feeling continues on Wisemans Ferry's main street, particularly in its Inn. Originally built by Solomon Wiseman in 1826, the sandstone building even has a convict ghost.
Where? // 75km (1hr 15mins) northwest of Sydney.
Did you know? // In the nearby Marramarra National Parks is the Maroota Historic Site (Devil's Rock), listed on the National Trust for its rock engravings. It contains more than 60 engravings, including one unique engraving of a sailing ship with a figure on it. Access, however, is restricted to Aboriginal and educational groups.
#90 – Halls Gap, VIC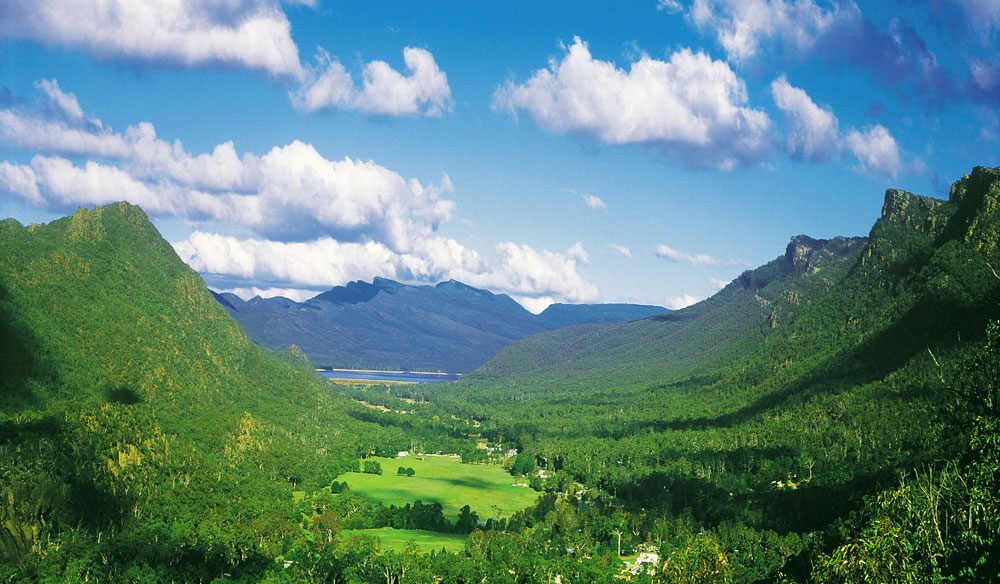 Aboriginals have called the extensive rugged ranges around Halls Gap in western Victoria home for at least 5000 years. Resting in the middle of the Grampians Geriwerd National Park and with views of some of the country's most dramatic scenery, Halls Gap is a town steeped in adventure and culture.
A short drive down the main road fetches you up at Brambuk, the longest-running Aboriginal centre in Australia, shared between the five local Aboriginal communities of the region.
There are amazing walks into the national park from here, where hidden caves filled with ancient art can be seen. The ranges flanking Halls Gap offer grand views of the town nestled in the centre of the valley, beside a deep lake with schools of fish waiting to be tempted by a dipping line or two. In spring, Halls Gap comes alive with colour from the thousands of wildflowers that grow in the Grampians.
AT Reader Steve Draper also recommends the Halls Gap YHA for its eco-credentials. "It's completely powered by solar panels and the hot water is provided using solar energy also. Rainwater is collected in several large tanks and used throughout the hostel and non-drinking water is recycled.
Buckets are even left in the bathrooms to encourage people to collect their shower water and pour it on the plants. You can't do much better than this when it comes to green travel!"
Where? // 262kms (3hrs) northwest of Melbourne.
Did you know? // One of the most important Aboriginal rock art sites is near Halls Gap. Known as Bunjil's Shelter, the artwork is of Bunjil the creator of the Earth.