A hhhhh, the great Australian beach holiday: if there's a better proposition anywhere in the world, we here at AT are yet to hear of it. The mere words send a warm, happy feeling radiating through our hard-working bodies and minds as we mentally conjure up our next coastal time-out. By nature of our sheer good luck (I mean, seriously – we live on the world's biggest island!) and our dogged determination to protect, nurture and celebrate our incredibly diverse coastal environments, we are spoilt rotten when it comes to choosing our own little patch of sand for our next eagerly anticipated beach holiday.
Will it be the wild yet serene southern beaches of Tasmania? The striking, never-ending stretches of brilliant white sand fringing coral reefs of WA's Coral Coast? Maybe you're keen to explore the ancient coastlines and indigenous culture of Arnhem Land, or the dramatically beautiful, winding coastal path of Victoria's Great Ocean Road. Then again, that nostalgic yearning for the peaceful, impossibly pretty NSW South Coast may be calling you; or perhaps it's the laidback fishing and crabbing paradise of South Australia's Yorke Peninsula, or Queensland's quintessential family holiday destination, the Gold Coast. And that's before you even start to consider our environmentally extraordinary islands; or the thousands of lesser-known but equally amazing beaches that families all around the country hang their most precious memories on, returning year after year and generation after generation.
Given all this, it's hardly surprising that we saw it fit to bring you this special issue on 101 Unforgettable Coastal Experiences around this magnificent country of ours. Research from Tourism Australia shows that Aussies recognise a home-grown beach holiday provides the ideal environment for families to spend quality time together, and for children to develop self-confidence, life skills and values. Our coastlines shine particularly brightly when it comes to the simple but oh-so-important elements of the perfect beach holiday: swimming in pure waters; paddling in rockpools; playing long games of beach cricket, or cooking our catch of the day on the barbecue. What better way to spend precious family time together than un-plugging, de-scheduling and simply enjoying the incredible natural playground of the Australian coast?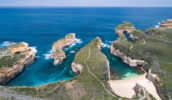 We hope these 101 suggestions inspire you to do just that.
1: Have a bash at beach cricket
2: Take a Great Ocean Road trip (Vic)
3: Play with wild dolphins
4: Find your family's perfect beach
5: Watch a breathtaking sunrise at Byron Bay (NSW)
6: Discover the underwater world of rockpools
7: Go coastal camping
8: Learn to surf
9: Spend a family fun day in St Kilda (Vic)
10: Marvel at the baby turtles on Heron Island (Qld)
11: Treat the kids to an incredible Kimberley cruise (WA)
12: Ride a horse into the ocean on Magnetic Island (Qld)
13: Find a classic Aussie beach house
14: Enter a fun ocean swim as a family
15: Munch popcorn under the stars at an outdoor cinema
16: Take a wild (life) ride around Bruny Island (Tas)
17: Capture your holiday memories
18: Strap on some snorkelling gear and see a whole new world
19: Go bareboating in the Whitsundays (Qld)
20: Chill out with the 'surfing kangaroos' at Pebbly Beach (NSW)
21: Eat at your local beach club
22: Conquer a new water sport
23: Polish your sandcastle-building skills (Qld)
24: Try barefoot bowling in the sea breeze
25: Discover our own Garden of Eden (NSW)
26: Get a real Taste of Tasmania
27: Float in a huge salt bath, right next to the sea (SA)
28: Ride camels along the beach in Broome (WA)
29: Discover Norfolk Island, one of our most under-rated family holiday destinations
30: Visit the Kangaroo Island, the island with it all
31: Visit the remote Tiwi Islands (NT)
32: Swim with whale sharks at Ningaloo Reef (WA)
33: Sample the best of the Mornington Peninsula's markets (VIC)
34: Take the dining room outside onto the beach
35: Cage dive with sharks at Port Lincoln (SA)
36: Visit a beach made entirely of shells (WA)
37: Put your feet up at a 'something for everyone' resort or hotel
38: See our surf lifesaving national heroes in action
39: Inspire the next generation of eco-warriors
40: Enjoy a stunning sunset over dinner at Darwin Ski Club (NT)
41:Visit the harbour (almost) at the bottom of Australia in Strahan (Tas)
42: Eat an Aussie classic on the beach
43: Watch the world's best surfers at Bells Beach (Vic)
44: Blow the budget on a luxury beachhouse
45: Plan your holiday around a beachside festival
46: Go river drift snorkelling in an ancient rainforest (Qld)
47: Play with baby animals at Narnu Farm (SA)
48: See an extraordinary bubblegum-pink lake (WA)
49: Swim with sea lions at Baird Bay (SA)
50: Stay on an island of a different kind
51: Get tangled up in a kite festival
52: Visit one of our incredible national parks
53: Discover the back story at a quirky seaside museum
54: Discover the joy of ocean pools (NSW)
55: Sleep in an historic lighthouse (NSW)
56: Sleep in a penitentiary (Tas)
57: Sleep on a working station (WA)
58: Sleep on the Great Barrier Reef (Qld)
59: Explore the Hawkesbury by houseboat (NSW)
60: Conquer the top of the continent at Cape York (Qld)
61: Admire the iconic Brighton Beach huts (Vic)
62: Learn to fly (jetpack style)
63: Marvel at our pure white sand
64: Get some culture with your coastline (NSW, WA)
65: Follow the aquaculture trail (SA)
66: Discover magical Margaret River on horseback (WA)
67: Hit the sand dunes at Stockton (NSW)
68: Go where you're (almost) guaranteed a catch (NSW)
69: Do a 'Big Things' tour
70: Visit Angourie's famous Blue Pool (NSW)
71: Go rambling on a great coastal walk
72: Enjoy river, reef and rainforest (Qld)
73: Hit Tasmania's coastal foodie haunts
74: Discover the other side to the Gold Coast (Qld)
75: Explore a moonscape on Earth at The Pinnacles (WA)
76: Cool off under the waterfall at Waterfall Beach, Denmark (WA)
77: Join the Junior Eco Rangers on Fraser Island (Qld)
78: Go on a quintessential 'shack holiday' on Yorke Peninsula (SA)
79: Spoil yourself with a fabulous group getaway
80: Catch the Sunlander… before it's too late! (Qld)
81: Catch and cook your own dinner
82: Take it easy at a caravan park
83: Drive the Coorong (SA)
84: Catch a horse-drawn tram to Granite Island (SA)
85: Dig the Tropic of Capricorn (Qld)
86: See one of Australia's many shipwrecks…
87: See the hunting grounds of Australia's only pirate (WA)
88: Make like James Bond underwater (NSW)
89: Take a short cruise
90: Get to know our colonial history at Cooktown (Qld)
91: Take the kids under the sea at an aquarium
92: Canoe through the Noosa Everglades (Qld)
93: See Aboriginal art in Esperance (WA)
94: Share a day in the life of the Yolngu people (NT)
95: Follow in ancient footsteps along the rainforest and reef (QLD)
96: Go on a bush tucker tour (WA)
97: Go on a coastal safari (NT)
98: Keep Dad and the kids happy at a family-friendly beer garden
99: Experience island life in the heart of Sydney Harbour
100: Get up close and personal with penguins on Phillip Island (Vic)
101: Be entranced by the majesty of whales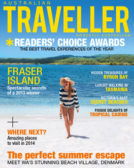 Enjoy this article?
You can find it in Issue 54 along with
loads of other great stories and tips.