From its hinterland wilderness to the pretty beaches, the Tweed region thrums with life. Nestled between Byron Bay to its south and the Gold Coast to the north, this border region is a true back to nature escape.
Keep a permanent beach-hairdo down at the coast. Wake early for a surf where you may spot a green turtle catching a wave with you, and stay up late with a beachside cocktail.
Take a scenic drive away from the twin towns of Tweed Heads up into the valley. Creative types here are a dime a dozen, inspired by the spectacular volcanic landscapes, rainforest walks and 'good vibes only' attitudes of fellow locals.
Later, let the Tweed River guide your journey. Hire a boat to cruise to the peaceful junction town of Tumbulgum, stopping for a cold one at a friendly riverside pub that dates back over a century. Later, drive to one of the area's village markets and overload your esky with tropical goodies.
Best places to visit in the Tweed
Tweed Coast
Cabarita and Kingscliff might be the most famous stretches of sand on this 37-kilometre coastline, but relaxed beach villages like Hastings Point, Pottsville and Casuarina are also stunning options for beach babes.
Tweed River
Starting from the 'twin towns' of laidback Tweed Heads and the Sunshine State's Coolangatta, the river winds its way up to the historic town of Tumbulgum.
Tweed Valley
Up in the green hinterland, the artistic towns of Murwillumbah, Tyalgum and Uki pop up in an almost organic fashion, among the lush hills, farms and rainforest of the valley.
Top things to do in the Tweed
Markets & shopping
In the hinterland and need fresh veggies? Murwillumbah Farmers Markets are on every Wednesday. You can find artisans at Tyalgum Village Market and Uki Craft & Produce Markets, or make your way to the eclectic La Markette Lane for permanent stores, bookshops and vintage shops.
Down on the coast, check out the Kingscliff Beachside Markets and Tweed Heads Markets. Alternatively, at Tropical Fruit World you can taste Mother Nature's treats on a tour.
And your next 'I found this in a hidden, little op shop' holiday story is just around the corner at quirky nautical-themed Chinderah Bay Antiques and 20th Century Antiques and Collectables in Coolangatta.
Arts & culture
Those seeking inspiration should start at the free-of-charge Tweed Regional Gallery & Margaret Olley Art Centre. Get behind the canvas on the annual Murwillumbah Art Trail, stopping at a swathe of open studios. At South Tweed Heads, the Minjungbal Aboriginal Cultural Centre paints a picture of Aboriginal history and culture, with tours onsite.
Itching to take some of this creative energy home? Buy directly from the artists at the M|Arts Precinct.
Nature & beaches
Grab a board at Cabarita and Kingscliff beaches. If you don't see a turtle while surfing, you're sure to spot one in the waters of the Cook Island Aquatic Reserve. Simply strap on a snorkel or a scuba tank to get closer…
Make the trip to less briny climes with Tweed River Boat Hire, cruising upriver for adventure. On dry land, walk among the ancient Gondwana Rainforest of the Wollumbin National Park.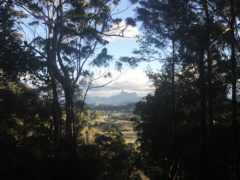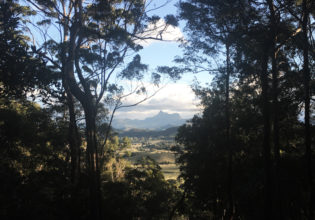 With a secluded retreat designed for maximum relaxation, a fantastic regional art gallery and next-level produce enriched by volca...
Best accommodation in the Tweed
Camping & caravan parks
If you're part of the sun-chasing caravan convoy that hits the highways every summer, you may be in desperate need of a restful stop once you get to the north. But don't fret. Down by the river mouth, there's plenty of cushy options for campers and caravaners.
Tweed Holiday Parks has seven locations dotted around Tweed Heads on Terranora Creek, Fingal Head, Pottsville, Kingscliff and more. Each has accessible cabins, set up tents and powered or unpowered sites for camping and caravans.
Move over Wet 'N Wild: at Big 4 Tweed Billabong, not only are there kid-friendly activities like trampolines, playgrounds and go-karting – there's also the rather cool Green Cauldron Waterpark.
Hotels & motels
The five-star Peppers Salt Resort & Spa has a family-friendly lagoon pool in which to do your laps, or simply walk down to Kingscliff Beach close by.
Nearby, the four-star Mantra on Salt Beach is also fabulous for kids and is a hop, skip and jump to the sand.
Unique accommodation
For a romantic getaway look no further than the couples only Crystal Creek Rainforest Retreat. A luxurious lodge deep in the bush, you and boo can expect a loved up natural stay.
Live your best #instaglamour life at Halcyon House, Cabarita Beach. It's a seriously chic, fifties-style boutique hotel, with the award-winning and hatted Paper Daisy restaurant attached.
The Hideaway, also in Cabarita on the Tweed Coast, offers a unique glamping experience on the site of the old Cabarita Beach Caravan Park. There are 23 tents to choose from, each offering a touch of opulence to the camping summers you remember from your youth.
Where to eat & drink in the Tweed
Snag a bacon and egg roti-bread breakfast roll with applesauce, before washing it down with an espresso, at the seasonal Tweed Heads Hymn Cafe. At Casuarina, Tucker dishes up experimental brunches like kimchi and fermented sambal scramble, as well as achingly wholesome homemade granola, served with chia coyo and nashi pear compote.
We suggest a spirited kayak session to prep your stomach for a midday date at Taverna. Not only is the white-blue faded washes of this Greek restaurant achingly charming, but its careful recreation of Aegean dishes using local produce (hello ​​Byron Bay haloumi dressed with bush honey!) will have you coming back for a long dinner as well.
Drive up to Murwillumbah to Mavis's Kitchen for a delicately presented lunch, dressed in wildflowers. You'll be eating on the same grounds much of the food is grown on, hidden away in the hinterland countryside.
Step into those date-night heels for drinking a goji-berry infused martini at Paper Daisy Restaurant. The Halcyon's restaurant requires bookings for its most lauded dinner menu, which includes items such as tuna and spiced yuzu tart. If there are no bookings available, ex-Paper Daisy chef, Ben Devlin, has also opened Pipit. The best of Northern Rivers produce is used at this minimalist Pottsville restaurant, and sustainable seafood, wild edibles and wood fire methods define the menu.
Getting to the Tweed
The Tweed region is in far north NSW, right on the Queensland border. It encompasses the towns of Tweed Heads, Kingscliff and Murwillumbah, and the villages of Tyalgum and Uki. Get here by driving the hour and 65 kilometres from the Gold Coast, or the 50 minutes and 60 kilometres from Byron Bay. It's the classic add on from any Pacific east coast summer road trip. Alternatively, you can fly into the Gold Coast Airport or the Ballina Byron Gateway Airport.
Best time to visit the Tweed
The high summer season is the traditional 'best' time to head to the sub-tropical Tweed. Temperatures are high (averaging up to 30°C), and so are the number of school holidaymakers. If you want a quieter time of it, try winter. The air still feels balmy to chilled southern bones (the thermostat is around 20°C), and it's quieter. Plus, did we mention the Taste Tweed Food Festival is on?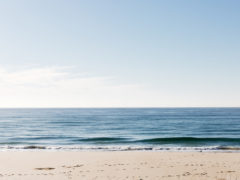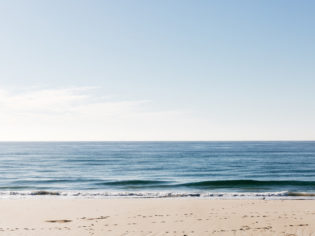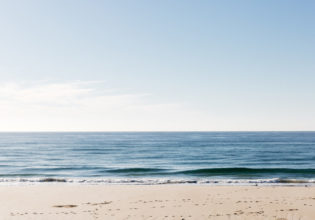 Heading south, David Levell takes in the beauty and simplicity that is the NSW coast. (more…)...
Tours & packages for the Tweed
Get the best from the great outdoors, with a cruise on the family-owned Tweed Eco-Cruises. They offer everything nautical, with activities ranging from crab-fishing expeditions, barbeque days on their pontoon and listening to Aboriginal history at Fingal.
Once you've read the list of tour activities over at Watersports Guru, we promise fingers will stay permanently wrinkled. Down at Cudgen Creek, the team has turtle snorkelling trips at Cook Island, kayaking hire, paddleboard lessons, whale watching trips and a chance to meditate in the mangroves.