For generations, families in New South Wales and southern Queensland have holidayed in the sleepy coastal town of Yamba.
With a usual population of 7000, come Boxing Day each year it increases dramatically, as those in the know fill the town's holiday home rentals, B&Bs, resorts, motels and caravan parks.
Where is it
Bordered by national park, the Clarence River and no fewer than four beaches, the natural beauty of Yamba is something to behold. On the north coast of NSW, 670 kilometres from Sydney, and 300 kilometres from Brisbane, it's an accessible spot for those looking for a relaxed place to unwind.
The natural environment of Yamba and its surrounds provides a long list of things to see and do; its famed beaches are all within an easy walk of each other, and further afield is Angourie, renowned for having some of the best surf breaks in the nation. In fact, Angourie was declared Australia's second national surfing reserve in 2007, an 'iconic place of intrinsic environmental, heritage, sporting and cultural value' according to the National Surfing Reserves website.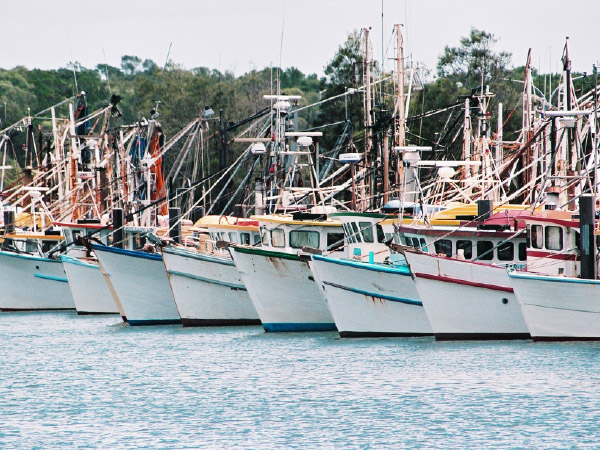 But perhaps Yamba is best known for its prawns, and they were definitely high on our list to try as soon as possible after arriving. Driving into town from the highway takes you past the marina where a fleet of trawlers sits in readiness for the next nighttime sortie out to sea to haul in their delicious catch. We purchased our first taste of the famous crustaceans from the Clarence River Fishermen's Co-Operative in Iluka.
Where to eat
Iluka
Just a stone's throw from Yamba, Iluka sits on the opposite side of the mouth of the Clarence, and can be reached by water or road. The local ferry service operates seven days a week and takes about 30 minutes to slowly cruise from wharf to wharf; locals putt across in tinnies or kayaks; while driving necessitates a diversion back to the highway and 39 kilometres of road to double back to the coast on the opposite side of the river. We'd received a tip-off about the Iluka co-op from a local couple who had relocated from Victoria several years earlier, seeking warm weather and a low-key lifestyle. We were not disappointed – they may have been the sweetest, best-tasting prawns I've ever eaten.
Yamba River Markets
Clarence Coast folk are serious about their high-quality local produce. We arrived in town the day before the monthly Yamba River Markets, and headed there early the next morning to grab breakfast and coffee before stocking up on fresh food supplies for the week ahead. After waiting in line for coffee, I was surprised to be charged Melbourne prices from a van parked on the grass next to the river in a small town.
Held on the fourth Sunday of the month, the markets are a ritual for locals and visitors alike. Much more than just a growers' market showcasing locally produced fruit, vegetables, meat, preserves and such, there are vendors selling prepared foods for the hungry crowds, alongside clothing, homewares, plants and more.
Stalls include the Byron hinterland-based Yummo Bratwurst, which serves up German-style pork and veal bratwurst, unsmoked or smoked in all its most popular forms including the cheese kransky. If you want to go all out try a chilli cheese kransky, topped with grilled onion, sauerkraut, and German curry ketchup – a popular tomato sauce spiced up with ingredients like mustard, pepper, paprika, chilli and cloves.
Yamba Farmers' Markets
Mid-week shopping is taken care of each Wednesday at the Yamba Farmers' Market, a small affair conducted in the Whiting Beach car park. Get in early (it opens at 7am) for your pick of fresh-from-the-farm fruit and veg, herbs, Dorper lamb, rare-breed pork and artisan bread.
Irons and Craig
During our stay we made several visits to Irons and Craig, a smart eatery that turns out high-quality food and fantastic coffee during the day, with cocktails, beer, wine and bar food served on Friday and Saturday evenings.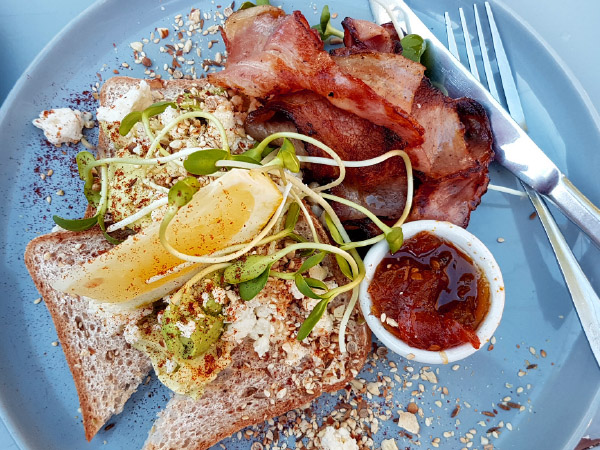 Stop by for a coffee and house-made sourdough doughnut served through the takeout window or sit down for a signature breakfast of twice-cooked pork belly served on sourdough toast with poached eggs, creamed spinach and hollandaise. Owned by returned locals David and Antony, this relaxed cafe has a house blend that's roasted especially for them at the Botero roastery in nearby Maclean; full-bodied and smooth, this is my kind of coffee.
Leche
Possibly our favourite breakfast in Yamba was at Leche. This Mexican-style hole-in-the-wall boasts such exciting menu options as 'huevos rancheros', and warm fruit crumble with coconut granola and labne. But the winner for me was the buckwheat crêpe with ricotta, fresh fruit, maple syrup and praline.
The 'order at the counter and pay upfront' model makes it a bit more casual than some of the other diners around town, but serving good coffee alongside its great menu, Leche should be on the must-do list for all visitors to Yamba.
Pacific Hotel
No stay here is complete without calling in at the Pacific Hotel. Perched on the cliff overlooking Main Beach, the Pacific Hotel was built in 1934 and claims to be the best-sited hotel in Australia. It's hard to argue with that; the spectacular ocean views and proximity to the town centre lend it huge appeal, as does its affordable accommodation and bistro serving an interesting, well-priced menu.
Barbaresco
On our final night we scooted down the road to Angourie, to try yet another local recommendation, Barbaresco. This restaurant excels at cleverly turning the simple into the surprisingly good. Everything is done well and makes the most of what it has to work with; the understated room is fitted out simply but stylishly, excellent ingredients speak for themselves on the plate, and the wine list is well considered. We loved the delicate beef carpaccio with truffle aioli, pine nuts and shaved Parmesan, but we were most impressed with our starter of capsicum coulis, chickpea panelle and lemon oil topped with what else but chargrilled Yamba prawns. A fitting finale in this food haven skilfully masquerading as a summer hotspot.
What to do
The natural environment of Yamba and its surrounds provides a long list of things to see and do. Head first for Turners Beach; framed by a long break wall to one side and a coastal cliff on the other, the beach is patrolled during summer months and is a popular spot for fishing.
Climbing over a rock verge and steps carved into the cliff face leads to the landmark Pilot Station Lighthouse and its commanding position overlooking Clarence Head. A few hundred metres further around the coast brings you to Main Beach, home to the Surf Life Saving Club and Yamba's ocean pool.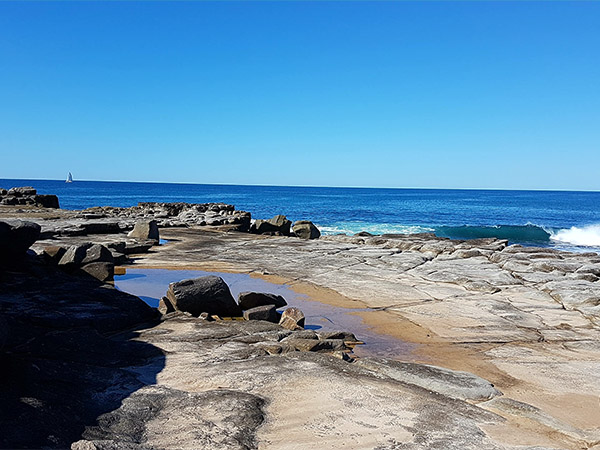 At low tide a careful walk over rocks at the water's edge leads around to Convent Beach and South Head Park. Crossing the park takes you to Pippi Beach, Yamba's longest and most exposed stretch of sand.
The cute, one-screen Yamba cinema also has three movies on rotation every week, and at $8 per screening, you'll have something left over for the candy bar.
Where to stay
Accommodation options range from camping to hotels and include a vast number of holiday rental properties; you are going to want to book early, especially for peak season.
Both the Sands Resort and Angourie Resort (2.5 kilometres from Yamba) are welcoming options.
Getting there
There are up to 18 flights a week from Sydney to Grafton with Rex. From other capital cities and for greater airline choice, fly to Gold Coast airport and take a scenic two-hour drive south to Yamba.