We celebrate the arrival of a new 'British' pub, The Duke of Clarence, in Sydney's CBD – but just how authentic is it? Words by unashamed Brit, Daniel Down, with additional drinking and eating by his fellow countryman, James Brown.
A Sunday roast does not a British pub make. Yes, you'll find drinking dens across Sydney claiming to channel the Land of Hope and Glory, but some are so old that they're more early colonial era-style rather than something plucked straight from ancient London, while others simply have a fish finger sandwich on the menu and claim to be the Queen's favourite drinking hole.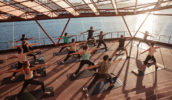 There are some well-known gems of course, like the Lord Dudley Hotel in Woollahra, but with Irish pubs vastly outnumbering their English counterparts and homogenising the global pub scene like a game of alcohol-fuelled Risk, it's about time the good ol' British boozer made a comeback.
Yes, the Irish variety has its place (mostly in Ireland), and I have a penchant for the classic Australian pub, with their ice-cold lagers, verandahs and Victorian-tiled walls to keep the place cool (and presumably so the blood can be easily washed away come closing). But, being a British citizen, I do miss room-temperature ales, beer-soaked carpets, cigarette-stained wallpaper, the solitary fruit machine (not two-thirds of the place given over to pokies and horse racing), and cosy corners to set the world to rights with a scotch egg or a packet of crisps (yes crisps, not chips).
Thankfully, hospitality duo Mikey Enright and Julian Train have taken a punt on that rarest of things: a traditional British pub outside of the UK (the Costa del Sol notwithstanding); opening one in Sydney's CBD last December.
I met the announcement of this new 18th-century-styled London tavern off Clarence Street with a sense of nostalgic excitement. This needed to be examined, and I finally found the time to head there with my friend James, ex-Londoner and frequenter of fine drinking establishments.
Tucked away down a laneway, and wedged into a corner like it's been there for centuries, is the suitably posh-monikered Duke of Clarence with leadlight windows, lantern-style streetlights and a pub sign hanging over the paved alleyway; you're transported to the rabbit warren of the old City of London. So far so good.
Inside it's eminently cosy, with dark timber floorboards, stained-glass partitions, and a row of stools on Victorian tiling perched before a wood panel-clad bar. Cosy nooks of red leather booths and weathered tables are festooned by an eclectic mix of ornately framed portraits, still lifes and seascapes.
At one end, an inviting library beckons, with sofas set in front of a fireplace and surrounded by tall shelves of old leather-bound tomes, a portrait of an overweight aristocrat surveying it all with a reserved air of approval. Indeed, most of the furniture, panelling and stained glass is over 100 years old has been sourced from old English pubs and churches, and shipped over at the bequest of local design firm Steel + Stitch in collaboration with renowned UK set designer Sara Mathers of Moulin Rouge! and Oliver Twist fame. And like any good costume drama, I can't tell the difference.
We're greeted, shown to our seats and handed menus – it's all very civilised. Too civilised ("what is this, The Ritz?" says a disgruntled James); I'd prefer to just walk up to the bar and see what's on tap. However, the service is swift and efficient, and we're impressed with the level of care that's been taken to give the menu an English bent, with a selection of beers that includes Old Speckled Hen, which promptly arrives perfectly poured in two pint glasses. There's also Fuller's London Pride and a Stowford Press cider alongside a cask ale from Western Australia, Young Henrys Newtowner, a Lord Nelson's pale ale and more. A good effort.
The food is similarly considered; with head chef David Penistone bringing British classics with a modern twist alongside some showcases for Australian ingredients. So we go for the Scotch egg, naturally, with a pork and veal mince, fennel, chilli and hot English mustard, followed by the potted blue swimmer crab, soda bread and butter with celery heart, fennel, lemon and creme fraiche. Both are delicious. It's a struggle not to order the sardines on toast, and there are pork bubbles (scratchings) on there too, but we wrap it up with two neat shots of Oban single malt.
When it's time to leave The Duke of Clarence, James and I decide that we'll make it our regular meet-up venue, and by doing so help complete the illusion of an old British pub by contributing a crucial ingredient: two regulars propping up the bar enjoying a couple of pints.