You've never seen Australia from this angle before…
Don't miss Girt by Sea, an exhibition of aerial photography that examines our wonderfully varied coastline, captured by two adventurer-photographers on an epic 31-day circumnavigation of Australia.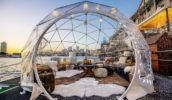 Perhaps unlike any other country on the planet, Australia is ringed by a vast, wild coastline that takes in tropical and temperate waters, such is the girth of this continent-sized land of ours. Presented by Canon and featuring breathtaking aerial images by Tony Hewitt and Denis Glennon AO, the new Sydney exhibition 'Girt by Sea' means you can now appreciate just how varied in texture and colour this border between land and sea really is. It's a collection of images to inspire; that show you where you could end up if you take the road less travelled.
The name 'Girt by Sea' stems from Hewitt's fascination with the expression from singing Advance Australia Fair at school assemblies. Years later, as an acclaimed photographer, it became the inspiration for an epic Australian adventure: to circumnavigate Australia's coastline by air in one 31-day trip, capturing it in stunning detail and bringing new meaning to those three words along the way. Tony shared his dream with close friend and accomplished photographer Denis Glennon, and the pair decided to make the dream a reality.
"I knew that only a privileged few had explored Australia's breathtaking coastline to any significant degree from the air. So, I got to wondering what an adventure it would be to experience all of it in one go; to capture and reveal its magical, ever-changing beauty," says Tony Hewitt.
The voyage around Australia began and ended at Jandakot Airport, Western Australia, taking an anti-clockwise path around the country. The aircraft tracked just off the coast and allowed both photographers to capture the view from the front and rear portside windows simultaneously. But there were challenges…
"We had to complete the trip in 31 days so planning had to account for the journey and photography time and we had to provide the pilots with the waypoints ahead of each leg," says Hewitt. "Planning can get you so far but we had to constantly account for variables such as tides, weather conditions and just the unexpected marvels that we would find when we were faced with a location for the first time."
'Girt by Sea' was opened last weekend by Australian Foreign Minister Julie Bishop and runs until 22 June, completely free of charge.
Details:
Location: Paddington Town Hall, 249 Oxford Street Paddington, NSW 2021
Exhibition dates: Saturday 16 June – Wednesday 27 June 10am-6pm
Entry is free of charge
Images are available for purchase framed and unframed online and at the venue.