Australian heritage history, picturesque natural beauty and one of the best food and wine scenes in the country, Mudgee practically has it all.
Stay in town to feel entrenched in the region's charming yesteryear vibe, or station yourself amongst the glorious rolling hillsides in one of the many romantic local B&Bs.
There's lots to cover in Mudgee so here's a helpful guide to get you started…
Getting to Mudgee
Mudgee is located 268km northwest of Sydney, approximately 3 and a half hours drive and arguably the perfect distance for a short weekend road trip along the scenic Great Western Highway. While on route be sure to stop in at the small towns of Gulgong and Rylestone, where many of the historic store edifices from Australia's pioneer days remain.
FlyPelican region airline caters well to the weekend escape crowds from Newcastle and Sydney, with departures to and from Mudgee Airport on Monday, Friday and Sunday.
Or if time is not of the essence and enjoying the scenery is, then catch a NSW TrainLink service to Lithgow and hop on one of the multiple bus services to Mudgee Station coach stop.
Things To Do in Mudgee
Local Heritage & attractions
You need to only stroll through the streets of Mudgee to get a sense of its colonial history thanks to the original facades from early settlement. Once you've taken shots in front of The Old Bank and the railway station, dive deeper into the natural beauty of the region with a kayak tour of the pristine waters of the Cudgegong River with Southern Cross Kayaking.
Wineries & local foodie experiences
The markets here are more than just a place to stock up on gourmet goodies, instead, they feel like such a community event that even visitors couldn't help but feel instantly like a local. There's a market somewhere in town each week but the third Saturday each month at St Mary's Catholic Church is the 'flagship', with clusters of proud farmers offering up the very best of their produce.
Mudgee's heritage energy and friendly townsfolk are reason enough for a visit but travellers all agree that the wineries here are what makes this place such a mecca for gourmands. Start your taste journey at Lowe Wines who specialise in the fast-growing niche of organic and biodynamic drops. Each February the vineyard hosts one of the premier events of the late summer season, 'Tunnel of Lowe', an indulgent dinner held beneath a thick canopy of vines.
Time your lunch with a visit to Robert Stein Vineyard, which was awarded Australia's Best Cellar Door in 2018. It's also home to Pipeclay Pumphouse, a renowned regional restaurant that lures foodies from across the country for a single meal.
Mudgee's multi-hued sunsets are legendary and there's no place to better enjoy them than with a glass of Shiraz and a cheeseboard at Logan Wines. The cellar door has one seriously architecturally inspiring glass box overlooking the vineyard, making it one of the best places to say goodbye to another perfect day.
Best Time To Visit Mudgee
Being an inland town, the mercury in Mudgee can raise into the very high 30s in the peak of summer (December through to the end of February). For this reason, locals recommend visiting in October when the temperatures start to warm but the room rates are still fairly reasonable.
Mudgee takes full advantage of the springtime cool change in March, kicking off a year of almost back-to-back events, such as the Food and Drink Trail, Hot Air Balloon Festival and Readers' Festival. The calendar peaks in September with the Mudgee Food and Wine Festival, a month-long epicurean feast that celebrates local growers and restaurants with private dinners, open-air markets, live music and more.
Choosing Where To Stay in Mudgee
Hotels and Resorts
While the sprawling vistas certainly add to the allure, Mudgee is actually best enjoyed when you take time to wander past the stores, alleys and historic buildings that make up the town. For this reason, Perry Street Hotel is an ideal base for urban explorers looking for a mix of convenience and luxurious contemporary styled rooms.
History mavens will get a kick out of Cobb & Co Boutique Hotel, a 160-year-old living relic from Mudgee's early settlement.
Evanslea Boutique Accommodation serves up the best of both worlds, located minutes form the centre of Mudgee but spread out on country cottages that feel a world away from it all.
B&B and Holiday Homes
Travellers wanting to really dive deep into Mudgee's authentic country town charm will love the wide array of B&B and guest houses to choose from. If you like your rooms to feel straight from Jane Austen then look no further than Forgendenny Guest House. Peppertree Hill Cottages caters to families after the flexibility of self-contained accommodation without sacrificing on the joys of a rustic homestead experience.
Luxury lovers will be relieved to read that the glamping trend has well and truly made its way to Mudgee. Sierra Escape's cosy eco-powered canvas abodes launched in 2017 to such acclaim that the venue has had to add two new tents to the collection. Complete with a relaxing bath, open campfire and 113 hectares of breathtaking rolling Mudgee hillsides to wake up to, it's enough to turn even the most extravagant traveller into an off-the-grid enthusiast.
Glenayr Farm offers a similar upmarket experience set among 320 acres of sheep farming property. Not only do you get to bed down for the night surrounded by the quintessential Australian landscape, but you'll also be nearby the famous wineries and restaurants.
The good news is even if you don't opt for a tent with all the trimmings, those spectacular views are one thing that Sierra shares with all the rest of the campsites on offer. Camp At Old Bara offers true blue Aussie bush camping on a picturesque private farm so there's just enough civilisation to cover off the essentials (yes, we're talking toilets).
It's also worth mentioning that Mudgee is a Recreational Vehicle friendly region so visitors can take comfort knowing that they'll be able to always find a safe spot to park and set up home. Nightingale Wines have their own RV and camp spot, making it a convenient stroll straight from their cellar door to your site.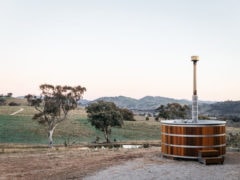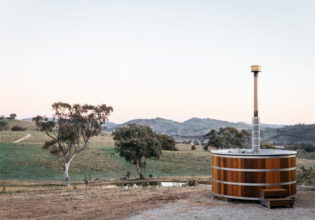 From luxury bell tents pitched on hillsides and farmlands to camping alongside the river, in the bush or closer to town – Mudgee...
Mudgee Tours and Packages
Let's be honest, wine tasting is just that little bit more fun when you don't have to use the spittoon (and definitely a little less awkward). The team at Mudgee Explorer Tours know this well and take small groups to 6 or 7 of the regions top wineries (from a selection of over 26 nearby growers).
Non-drinkers need not worry, Mudgee Explorer Tours also offer guided expeditions beneath the cool Ferntree Gully rainforest canopies, as well outings through Mudgee town passing many of the historic homes and sharing regional stories and culture.
But what is a visit to the country without having a go at saddling up and making out like an early-settler? Country Escape Tours cater for the wannabe-cowboys and girls in us all with their enthralling bush-bashing journeys across rushing rivers and through mysterious gumtree-filled woodlands.
Top Places To Eat in Mudgee
How much time do you have? How big is your stomach? These are the questions you have to ask yourself before embarking on a full-blown Mudgee taste tour of its best restaurants and bars. There's something in the water here that draws world-class restaurateurs and café owners and a weekend might not be enough time to experience it all. Begin the day with a smoked-ham jaffle at the hidden vine-covered oasis of Alby & Esther's café (also a romantic wine bar in the evenings).
If you're feeling adventurous, jump in the car and enjoy a scenic 40-minute drive to the sleepy town of Rylstone, home to 29 Nine 99, home to the most delicious yum cha this side of Shanghai.
No indulgent Mudgee journey is complete without dinner at The Zin House. Delicious farm-to-table food, intimate zen-like interiors and impeccable service are just some of the reasons this regional restaurant continues to garner accolades year after year.