Ravenswood in Queensland is an historic town founded on the gold boom of the late 1800s. I was out there to shoot 'star trails' – a combination of hundreds of individual photos.
One of the most critical factors is the need for a dark sky, so getting at least 100 kilometres from a city is important.
The first image I took was of the church (30 seconds at f/4.5 at 100 ISO) and then I waited a couple of hours to take just over 200 photos of the sky, one after the other (30 seconds at f/5.0 at 1000 ISO) to create this final image.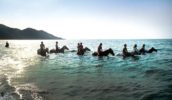 The camera was a Canon 5DMkIII with a Canon EF 16-35 f/2.8L MkII.
Cameron Laird,
Townsville, QLD
Calling all Australian Travellers
Want your photo to be published? Send us the best Australian travel image you've ever captured for your chance to win a great prize.In the first instance, email a low-res pic to: photo@australiantraveller.com. Our winner for each issue receives a major prize. Each runner-up receives a $100 gift voucher from Australia's first and finest photobook maker, Momento. Relive your travel adventures every day in a premium coffee-table book that you design using Momento's free software, before they print and handcraft it for you with tender loving care.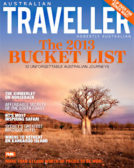 Enjoy this article?
You can find it in Issue 53 along with
loads of other great stories and tips.