Even if you're not a cyclist, what awaits you along this trail is bound to have you peddling your little heart out, and then eating and drinking the finest Victorian produce. Chanel Gallen goes for a 3-day gourmet cycle: Beechworth, Milawa, Myrtleford, Bright, Rutherglen… (photography by Rebecca Taylor).
How can you tell if someone's taken up cycling? Why, they'll tell you, of course. Just ask one of the fluro-wearing MAMLs (middle-aged men in lycra) who've taken over Saturday morning roads – they'll happily chat to you about clicks, cleats and the fact of the matter: cycling is the new golf.
It isn't just the weekend warrior crowd now into biking, though; cycling holidays, too, have become their own tour de force. The Into The Wild-ers started it – those folk who read the book and next thing you know had crammed their life into a backpack and set off on a mad bike ride between Asia and Africa – before backpackers got hooked on the Facebook boast-factor, high on cycle-camping their way around Europe.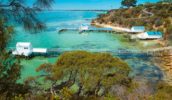 But it wasn't until more recently that some individuals with sense discovered that cycling the gorgeous countryside can indeed make for a delightful holiday, though it's really much better if you can finish each day with a nice glass of red and an equally nice bed; perhaps with a few excellent morsels of food scattered throughout each day to be enjoyed on top of that.
And it is here in the Victorian High Country, dear readers, that such genius has been put to work. Over the past couple of decades the area has been busy perfecting an abandoned railway line into the Murray to Mountains Rail Trail, a very pretty slice of countryside where cycling fanatics can begin at Wangaratta and finish, 100 kilometres later, in Bright, over the course of a single day if they so wish.
For the rest of us, however, the area now offers Pedal to Produce: a brilliant initiative centred around the idea of leisurely cycling between the bountiful farm gates, cellar doors and The Age Good Food Guide-rated restaurants you'll find along the track between villages. Key word in there: leisurely.
DAY 1: Beechworth to Milawa, Approx. 35–40 km
It's been decided, between my friend and I, that a mere weekend here would be doing ourselves a disservice, so we've committed ourselves to a three-day holiday (the 'three-day eating plan', we're calling it). Local cycling tour company Riding High has made the recommendation that we base ourselves in Beechworth, which is mightily well-placed near hero sections of the trail and, more to the point, a convenient place for their friendly staff to shuttle us and our happy stomachs back to, at the end of each day's ride. Though the last time I got on a bike was 10 years ago, and the words 'high country' aren't terribly encouraging when they meet with the word 'cycling' in my mind, I am suited and booted appropriately – right down to the padded cycling pants. (And what attractive pants they are.)
Beechworth is an old-world gem: beautiful colonial buildings preserved from the gold rush days line the main street. Don't be fooled by her 19th-century skin though; this little town is bustling with restaurants, bars and boutiques of the kind you'd expect to find in the belly of Sydney's Surry Hills. Check out Cellar Door Wine Store for a morning coffee hit, Bridge Road Brewers for beer tasting paddles and delicious traditional pizzas, or take a short trip out of town to The Plough Inn for a Chef's Tasting Menu with matching wine.
Most of the ride to today's destination, Milawa, is downhill, following the old railway line that was converted into a cycle path in the 1990s. Before long we're at one with the rolling hills, taking gulps of fresh mountain air and zooming past scatterings of sheep. We can't help but stop every few minutes to snap shots of mooing cows framed by green rolling hills. There isn't a large number of producers to call into on the way from Beechworth, but once we hit Milawa, we are spoilt for choice and boy have I worked up an appetite.
Family-owned Milawa Cheese Company has been hand-making cheese since 1988. Soft, hard, white and blue varieties are pressed into our hands to try, before the big cheese is brought out – The Markwood. Rich and creamy with a buttery flavour, it is as heavenly as the golden halo I can almost see encircling its top, and it's a cheese so special, we're told, that it's only sold on-site. The menu of cheese pizzas makes for an even more enticing prospect, but wine waits for no woman and Brown Brothers Vineyard, a two-minute cycle away, is calling. Here you can opt for a formal dining experience at Patricia's Table where the á la carte menu has been carefully paired to Brown Brother's range of wines, or share a charcuterie board packed full of local delicacies at relaxed lounge-style dining Epi.Curious.
Just around the corner (850 metres to be exact) is condiment king Milawa Mustards. There are 16 types of mustard to taste, from mild to 'Superfire' – the kind of condiment that sends immediate wasabi pangs of regret straight up my nostrils.
Sam Miranda vineyard is a four-kilometre stretch from Milawa, but well worth the extra pedal as we ride in the fading afternoon light. In cooler months, fire pits are lit outside where you can relax with a bottle of red as free-range hens cluck around you. Sam himself is on hand to pour the wine and, with a touch of pride, offers his explanation on what's so special about the region. "If you went to, say, the Hunter Valley, the local restaurants will always have varieties from other regions on hand. But here, it's all from what's grown in our own vineyards, or the neighbours'."
Blissfully full and properly relaxed, we're bundled, bikes and all, into the back of the Riding High minivan and delivered back to our Beechworth cottage. The sleep is deep.
DAY 2: Myrtleford to Bright, Approx. 30 km
Padded bicycle shorts might not be the most fashionable look going, but on day two I'm singing their praises (take note, dear friends). They're also generously stretchy; an extra appropriate benefit for today's section of the trail. The 30 kilometres between Myrtleford and Bright are considered a hero section of the Pedal to Produce, mainly due to the concentration of producers on offer, and it's easy to see why: by 11 o'clock we've stopped to sample honey-and-walnut-infused butter at The Butter Factory, wood-smoked seeds at Australian Pumpkin Seed Company and homemade ice-cream at Bright Berry Farms.
It's also a particularly picturesque part of the region. Rolling mountains, quaint vineyards and stretches of lush greenery as far as the eye can see invite inevitable comparisons with Tuscany, and as we direct our noble steeds towards Boynton's Feathertop Winery, then sit, sipping Mataro Grenache Durif against a postcard-perfect backdrop, the similarities are discussed with great seriousness, until – halfway through glass number two – it is decided. Here is prettier.
Proclaiming I couldn't possibly eat another thing, we roll past the Rail Trail Café and immediately succumb to chicken quesadillas – an odd, but marvelous addition to the day's menu. As the name would suggest, owners Jesse Rios and Lucy O'Dwyer have taken full advantage of the rail trail running past their establishment, with a 'drive-past' coffee cart that allows you to pull up and grab a coffee (or quesadilla) to go, without all that troublesome fuss of having to actually dismount.
Which is a good thing, because it means we cycle all the faster to Bright Brewery, where mulled cider completes the day of decadence. Brewer Jon Seltin releases a seasonal blend every few months, and the 'breaky beer' we – with some encouragement – order, makes for a surprisingly refreshing end to a day in the seat. If you're so inclined, its smokey flavour allegedly goes exceptionally well with bacon and eggs, too – although breakfast isn't exactly high on the priority list for the moment.
DAY 3: Rutherglen, Approx. 20 km
Rutherglen is one of the oldest wine regions in Australia, and pedalling one's way around its cellar doors is almost too easy – particularly with the allure of the region's new progressive lunch offering, which is as dangerously good as it sounds. Hop on your bike and cycle between four of the region's wineries – Cofield, Pfeiffer, Stanton & Killeen and Campbells Wines who, together with The Pickled Sisters Café, will each serve you a course, with a glass of wine to match, as you make your way along the route.
It is a fittingly relaxed last day of our tour. Open fires are lit, the sun makes intermittent appearances between clouds, and we alternate between sitting indoors by hearths and out in vineyard gardens, sampling things like mushroom and thyme paté with Cofield Sparkling Shiraz, and lemon and poppyseed ricotta cake with Campbells Rutherglen Topaque. As I suck the last bit of lemon curd icing from my fingers, I reflect that, despite the indulgence, I don't feel the slightest bit guilty. It is universally acknowledged that cycling between mouthfuls equates to negative calories, of course. No wonder the sport is taking off – it's the new golf, didn't you hear?
The details
Getting there: Beechworth makes for a great base, as it's only a short drive to various 'hero sections' of the rail trail. From Melbourne airport, Beechworth is a three-hour drive; from Albury airport it's 45 minutes. Hire a car to explore nearby towns like Myrtleford and Rutherglen.
Staying there:
• Heritage-listed, self-contained Four Seasons Cottage accommodates eight people comfortably for $175 per night.
• Alternatively, The Kilns near Bright offer luxury accommodation in restored tobacco kilns with a backdrop of Buffalo Mountain from $325 per night.
Playing there:
• If you're happy to DIY your trip, Myrtleford Cycle Centre will rent you a bike, helmet and puncture kit for $25 a day. Bargain.
• However, the second option, and the one we prefer, is to use one of the several cycle tour operators local to the area. We chose Riding High, who will drop bikes to your front door, tailor a cycling itinerary to suit your needs then meet you at the end of your day to transport you and your bikes back home, from $180 per day including bike hire.
Need to know:
• Pack padded cycling pants. Believe us, it's these that will make it possible to walk the next day, particularly if you're not a regular cyclist. Myrtleford Cycle Centre has a range of cycling gear and clothing to purchase.
• Wear layers that you can peel off. Most of the rail trail is downhill or flat, but even in winter months, you will warm up.
• There is no right or wrong time to Pedal to Produce – each season offers benefits (and different produce), but spring and autumn are its most popular seasons.
• You may want to organise your visit around one of the many cycling events the region holds. Get dressed in vintage attire for The Sweet Cycle in May; cycle between cellar doors for bites and matching wine at Tastes of Rutherglen in March; or roll gnocchi and indulge in authentic Italian food at La Dolce Vita Food & Wine Festival in November.
• Responsible drinking applies. The same laws for drivers apply to cyclists (on the road and rail trail) so you must be within the blood alcohol limit. However, if you've booked a transfer home with a cycling tour company, bottoms up! Besides, after a full day of cycling, eating and wine sampling, a long ride home isn't going to be high on your to-do list.
• For more information visit pedaltoproduce.com.au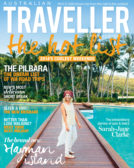 Enjoy this article?
You can find it in Issue 58 along with
loads of other great stories and tips.