Kakadu is an almost mystical travel destination. Australia's largest national park, with Jabiru at its heart, not only has an incredible level of biodiversity but also the highest concentrated areas of Aboriginal rock art sites in the world.
One of the most popular examples can be found at nearby Ubirr, a rock formation with sweeping views over Arnhem Land – especially popular and spectacular at sunset when tourists from all over the world perch on Ubirr's outcrop.
Jabiru itself is in the middle of nowhere, yet the 1100 people who call it home are right in the middle of everywhere when it comes to travelling Kakadu. It's also close to Yellow Waters, legendary for its birds and other wildlife, from wild horses to pigs to dingoes and crocs. Initially established to service the Ranger Uranium Mine in 1979, Jabiru has turned into a base for experiencing Australia's rich Indigenous history, and operators like Kakadu Animal Tracks have tapped into its potential by offering interpretative rock, animal tracks and bush tucker tours.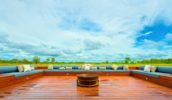 Where? // 250km (3hrs) southeast of Darwin.
Did you know? // Only about 400 people in Kakadu live outside of Jabiru. Half of these are Indigenous.
Return to: the 100 Best Towns in Australia