Hidden like a gem in the South Pacific, Norfolk Island is a dazzling utopia of turquoise lagoons, luscious trails that wind through majestic Norfolk Island Pines, and a slow-food movement that produces some of the most flavoursome culinary delights off the mainland. Add to that a fascinating history, rare birdlife and a gentler pace of life that will leave you rejuvenated beyond compare, and you'll be wondering why you haven't visited the Australian island sooner.
Top things to do on Norfolk Island
Attractions & activities
The Norfolk Island Golf Club is set within the Kingston and Arthurs Vale Historic Area (KAVHA), one of eleven former penal sites located around Australia that have been declared a World Heritage Site. Not only is it steeped in history, but this golf course is as picturesque as they come. After the game, set yourself up with a wine or beer and lunch at the onsite café, Aunt Mary's Kitchen, and marvel at the uninterrupted views of the Southern Ocean.
There are a number of attractions that invite visitors to delve into the fascinating history of Norfolk Island. Visit KAVHA, the heritage region on the south of the island, where all four of Norfolk Island's settlements – the Polynesians, the two Penal Settlements and the Pitcairn Island settlers – were established. The remnants of which still survive today as a living heritage site that reveals the multi-layered history of the island.
The Norfolk Museum is set within four historical buildings: the Pier Store, Commissariat Store, No. 10 Quality Row, and the HMS Sirius Museum – that houses artefacts inside the former Protestant Chapel (built in 1840) from the First Fleet flagship HMS Sirius that was wrecked off Kingston Reef in 1790.
Once you've brushed up on the history of the island it's time to marvel at the artistic feat of Fletcher's Mutiny Cyclorama: a 360-degree painting that depicts numerous scenes of the famous Bounty mutiny.
From history to food, stop by Hilli Goat farm for a tour of the clifftop home overlooking Anson Bay, meet the goats, learn about the cheese making process, sample the cheese and lotions, and enjoy a delectable tasting featuring dishes crafted with the farm-fresh produce. Alternatively, opt to visit Two Chimney Winery for a wine tasting accompanied by a sumptuous platter for lunch. Platters must be pre-booked.
Nature & beaches
Norfolk Island provides ample opportunities to explore its natural beauty. A colourful kaleidoscope of sea life awaits at Emily Bay Lagoon. Snorkel the sheltered reef off Lone Pine headland or swim with the kids in the calm waters – it is one of the safest beaches on the island, and has previously been named as one of TripAdvisor's Top 10 Beaches in Australia.
Anson Bay isn't recommended for swimming, but there is a winding track down to the beach that is not to be missed. Once you've worked up an appetite, return to the top to enjoy the views alongside a barbeque lunch.
The island is only 35 square kilometres in size but the National Park covers over five square kilometres of that land and provides visitors with over eight kilometres of walking tracks to traverse.
Take the 1.7-kilometre Bridle Track from the Captain Cook Monument along the coastline to the intersection of the Red Road Track. It's classed as an easy to moderate walk with some steep sections to tackle, but the views make it all worth it.
There are also a number of beautiful walks through the Botanic Gardens, some of which are suitable for wheelchairs and strollers. None of the walks are long or overly difficult, but we recommend the Samson Circuit and Rainforest Gully Circuit.
And no matter where you choose to walk, be sure to keep your eyes peeled for the rare Green Parrot. The precious bird can only be found on Norfolk Island and has been brought back from the brink of extinction through the island's conservation efforts.
But if you're just after the views minus the walk, drive up to the lookout at Mount Pitt for a 360-degree view of the whole island. Or make your way to the Puppies Point cliff top to admire the sunset and stay for the stars – Norfolk Island is a Gold Level Dark Sky Town.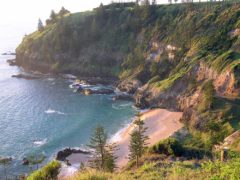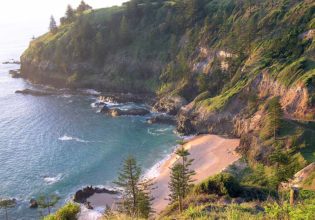 We uncover the best swimming spots along the 32-kilometre coastline of Norfolk Island. Norfolk Island remains one of Australia'...
Visiting Norfolk Island
Getting there
Just under 2000 people call this 35-square-kilometre Australian island home. English is predominantly spoken, but the local language is a mix of Tahitian and colonial English inherited from the island's bounty descendants.
Find Norfolk Island halfway between Australia and New Zealand in the middle of the South Pacific and 1677 kilometres north-east of Sydney. Australian travellers still require photo identification to enter.
There are regular 2.5-hour-flights to Norfolk Island from Sydney and Brisbane. It's possible to get to Norfolk Island via a cruise, although this is often weather dependent as a tender is required to transport passengers to shore.
Getting around
A hire car is recommended as there is no public transport on offer. And while the island is small in size the terrain is too hilly to get around on foot. There is one taxi service on the island and bicycles are available to hire. Check with your accommodation to see if they offer rental car packages.
Time & money
Norfolk Island uses Australian currency with one Commonwealth Bank branch and ATM available. Pick up a local sim to make use of the local phone network and mobile data, or tap into the wi-fi hotspots in town or in your accommodation. They are one hour ahead of Australian Eastern Standard Time (AEST) and daylight saving is observed on the island.
Shopping & amenities
Burnt Pine Shopping District is the epicentre of island activity – you'll find cafes, restaurants, the Visitor Information Centre, hospital and retailers. Supermarkets and selected retailers are open seven days a week, but most shops close Wednesday and Saturday afternoons and all day Sunday.
Best places to stay on Norfolk Island
Self-contained units, apartments, independent hotels and holiday homes to suit a variety of budgets make up the accommodation options on Norfolk Island.
Stay at one of the six exclusive self-contained villas at Shearwater Scenic Villas. Set on seven hectares of private peninsula, each villa boasts sweeping views of the coastline. Choose between a one-bedroom and two-bedroom villa or get in quick to book the three-bedroom villa with private swimming pool. Make use of the barbeque – cook your freshly-caught seafood or local produce from town – and dine al fresco of an evening.
The Tin Sheds are more luxurious than their name suggests. The five-star award-winning accommodation features three self-contained units with wraparound verandas and access to the property's Pleasure Centre – a heated swim spa pool, library, mini gym and therapy centre with infrared sauna and massage room. It is also only a few minutes' walk from Burnt Pine Shopping District and within easy driving distance from all the main island attractions.
The Cumberland Resort and Spa is another popular accommodation option located within walking distance to the shops, cafes and restaurants in town. The four-star resort offers two, three and five-bedroom villas with en suite spa bathrooms. Facilities include a heated swim spa pool and an onsite day spa.
Flanked by glorious old oak and banana trees, the Forrester Court Clifftop Cottage boasts secluded oceanfront views, a fully equipped gourmet kitchen, spacious terrace with barbeque, dining table and sun lounges. In addition to luxurious details like the espresso coffee machine and an oversized king bed – you'll quickly feel at home within this spacious, clifftop property.
Where to Eat & Drink on Norfolk Island
Norfolk Island's food philosophy can be summed up as grown consciously, ripened naturally, and consumed in season. Ninety-nine percent of its fresh food is grown in the rich volcanic soil of the island, the seafood is plucked fresh from the ocean, and locally-sourced meats, cheeses, coffee and honey also make an appearance.
Find the island's edible bounty overflowing from roadside stalls; at the Saturday Growers Market and the Sunday Art and Craft Market (keep your eye out for the guava chocolates, local bacon and Hilli Goat products); and in over 30 restaurants, cafes and takeaway shops.
Start your morning at The Olive Café with a barista-made Campos Coffee. Pick from the extensive selection of brunch options – including the daily specials. Return for lunch or stop by the Prinke Ecostore for an afternoon coffee. The Golden Orb Café is another popular spot for breakfast or lunch – check out their blackboard for daily specials.
Treat yourself to a decadent high tea luncheon at Forrester Court. Drink in the views of Cascade Bay from the clifftop setting as you sip on sparkling wine, enjoy a selection of savoury and sweet foods followed by a pot of T2 tea, and a tasting of locally-distilled liqueurs to conclude the experience.
The wood-fuelled Argentine Perilla grill is Homestead Restaurant's secret weapon. Seasonal produce, meat and seafood is cooked over embers to intensify the flavours and deliver a meal that truly sings on the palette. Be sure to order the restaurant's Forager sourdough – it is wood-fired and naturally fermented – to see for yourself why it has its own cult following.
Alternatively, dine at The Hilli Restaurant (no connection with Hilli Goat Farm) for lunch or dinner, indoors or al fresco. Save room for the Baileys crème brulee served with mixed berry compote and caramel popcorn for dessert.
Stop by Black Anchor Bar for pre-dinner drinks – think Irish whiskey tasting flights, a rotating list of international craft beers and an extensive list of cocktails. The Castaway Hotel's deck is also a beautiful spot to enjoy a sunset drink overlooking Mount Pitt. Their locally brewed ales and cider accompany the wood-fired pizzas and are likely to entice you to stay for a meal too.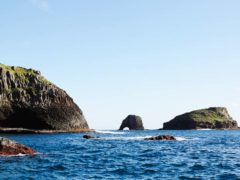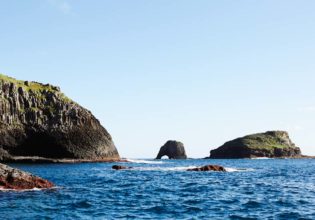 Slow food and great local produce, rich history, quirkiness and breathtaking natural beauty on one small island: Norfolk feels lik...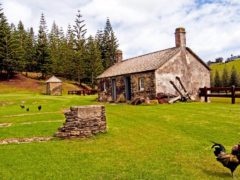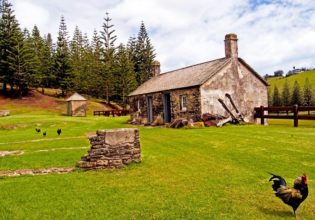 Visiting Norfolk Island is like meeting a long-lost relative (who just happens to be a phenomenal cook), says Nikki Wallman. Photo...
Tours & experiences for Norfolk Island
No matter your interests you will find a wealth of options to entertain on Norfolk Island – from fishing charters and bird watching tours to cheese tasting and ghost tours.
Join the Lantern Lit Ghost Tour through KAVHA at night to hear spine-tingling tales from the past, brought to life as you walk the historic streets with your knowledgeable guide.
Cheese-lovers need to book the Mootineers Cheese Tour to taste the feta, haloumi, creamy blues, camemberts and cheddars produced on the island by John Christian with the milk from his small herd of cows.
Embark on a bird-finding tour with leading bird expert, Margaret Christian, on a half-day tour through reserves, National Parks and private properties to spot the native and endemic bird species of the island – and morning tea is included.
For the more adventurous, head for the ocean on a guided scuba dive experience, or a sea kayak tour navigating around some amazing rock formations.
Learn about the life and work of author Colleen McCullough on a tour of her home, or observe stunning constellations on a Stargazing Tour where you will understand why Norfolk Island was coveted Gold Level Dark Sky Town by the Australian Dark Sky Register.
Catch some of that famous seafood bounty on a half-day Norfolk Island Fishing charter or private charter on board the custom-made Noosa Cat. Or hop aboard a Glass Bottom Boat Tour to view the underwater marine life on a one hour cruise that will have you enjoying the eco systems below within minutes of leaving the shore.