Federal GC
If Federal was an actress, it would be Sigrid Thornton: pretty, established, with a familiarity you know and trust. Federal in the ACT is where I learned etiquette at the teat of my forefather (hence why it gets a gig over Royal Canberra) and is fun like a beer with a favourite uncle. With kangaroos.
Details // Red Hill, ACT, www.fgc.com.au, (02) 6281 3799.

Brookwater GC
If Brookwater was a former tennis player and model, it would be Anna Kournikova: jaw-droppingly desirable with a look in its eye that says you cannot afford me. (Though you can.) And while it's a shame to pick just one course from the great golf state of Qld – Coolum, Hope Island, Sanctuary Cove (Pines) and Lakelands are all tops – Brookwater is my pick of the litter. Long and lovely, tricky and tough, it's designed by Greg Norman, run by the clever people of Troon Golf (who rightly treat like a VIP anyone willing to shell out $100 to play), and sits among Springfield's sclerophyll forest like a bird-filled chunk of golfing goodness.
Details // Brookwater, Qld, (07) 3814 5500, www.brookwatergolf.com.
Barnbougle Dunes
If Barnbougle Dunes was an actress, it would be Angelina Jolie: wild, a bit different, gob-smackingly spectacular in the flesh, and with loads of interesting curves and bumps. The great green beast of Tassie's northeast is a classic links: sandy dunes; prevailing sea breezes; no trees. Created from a few unused hectares of farmland by a team that included 24-year-old entrepreneur Greg Ramsay, "dumb spud farmer" Richard Sattler, and esteemed course architects Mike Clayton and Tom Doak, Barnbougle is listed in the world's Top-50 courses, is Australia's No.1 public access course, has neither golf carts nor members hogging it to their chests like greedy toffs with a trunk full of jewels, and is perched on Bass Strait like a windy, duney piece of green-velvet golf heaven. Do you play golf? You have to play Barnbougle Dunes. It's an order. From God.
Details // Bridport, Tas, (03) 6356 0094.
It's perched on Bass Strait like a windy, duney piece of green-velvet golf heaven. Do you play golf? You have to play Barnbougle Dunes. It's an order. From God.

The National GC
If The National was an actress, it would be Cate Blanchett: beautiful, talented, sophisticated and multi-faceted. The National has three courses – Moonah (ranked 8th in Australia), Old (12th) and Ocean (47th) – and they're all superb. Its practice facilities could host the Institute of Sport. Its clubhouse is a huge cathedral of glass and stone wherein people with white shirts serve fine wine and food. It's on the water's edge of Mornington Peninsula, one of the great regions for the great game in Australia. Play it, however you can.
Details // Cape Schanck, Vic, www.nationalgolf.com.au, (03) 5988 6777.
Joondalup Golf Resort
If Joondalup was an actress, it would be Milla Jovovich in The Fifth Element: a beautiful roller-coaster possibly conceived by men on acid. Bunkers like giant moon craters with 20m walls and ladders. Sheer granite cliff faces lining greens. Cathedrals of rock. Deserts of sand. Lakes of fire. Hazards from which fire shoots out. Volcanoes spouting forth huge gobs of lava. Acid rain. You get the drift. It's a funky course, and though there is no fire or lava (who writes this stuff?), it's 27 holes of crazy golf action.
Details // Connolly, WA, www.joondalupresort.com.au, (08) 9400 8811.

The Cut, Port Bouvard
If The Cut was an actress, it would be Sharon Stone in Basic Instinct: beautiful, dangerous, untamed and a lesbian. Well, not a lesbian. But when the Freo Doctor roars up from the vast aqua nullius of the Southern Ocean, The Cut can come across a little dangerous, with a look in its eye that says, "Take me on – if you dare". It's a sensational track. Rolling bowls. Wind-polished hard fairways. Greens of truth and justice. The town of Mandurah might come across a little White Shoe Brigade, with its giant boats and McMansions, but The Cut is one of the best courses in the country (and, despite suggestions to the contrary, does not have a silent "n" in its name).
Details // Mandurah, WA, www.the-cut.com.au, (08) 9582 4420.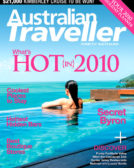 Enjoy this article?
You can find it in Issue 30 along with
loads of other great stories and tips.