Hint: Carnarvon is the last spot to stock up on meats and produce before prices skyrocket and availability plummets further north.
Must see: On Saturday mornings between May and October check out the Gascoyne Growers' Market, where local farmers and artisans come to sell their fresh produce, baked goods and great pickles and chutneys. (It's a great spot for breakfast, too.)
Traveller's tip: Coral Coast Tourist Park has the best location (the only park within walking distance of town) but other parks further out offer nicer facilities and sites.
I want comfort: The Best Western Hospitality Inn is comfortable and well-run.
Keep it basic: The Wintersun Caravan and Tourist Park is new, nicely laid out and has a great family vibe.
Day 3: Carnarvon to Exmouth
5 hours, 365 kilometres
The drive between Carnarvon and Exmouth is wonderfully flat, red and vast. Look out for alien-like termite nests that dot the landscape in huge numbers along Minilya-Exmouth Road before you hit Exmouth, which has two competing IGAs (with limited stock – take note!), a handful of restaurants and hotels, and some souvenir shops. It's here that boats heading out to dive with whale sharks depart between April and July, and humpback whales grace the waters between July and November. Grab lunch and supplies before heading 13 kilometres north to child-friendly Bundegi Beach, which marks the start of the Ningaloo Marine Park. If you're taking a whale shark tour, organise it in town for tomorrow.
Must see: If you're a diver, check out the Navy Pier – it has been named one of the world's top 10 on-shore dive sites.
Traveller's tip: You can snorkel sections of Ningaloo Reef (minus the crowds) at Bundegi Beach. It's also fairly common to spot breaching whales here between July and November, not far offshore.
I want comfort: If you can't justify splurging on Sal Salis but still want to be on the beach, try Novotel Ningaloo.
Keep it basic: Ningaloo Lighthouse Caravan Park is not only located on a picturesque peninsula, it's halfway between Exmouth and Turquoise Bay – a strategic choice for getting a jump start on the tourists when you want to visit Turquoise Bay in a couple of days
Day 4: Ningaloo Reef
Today's the day – get ready to swim with the whale sharks (and turtles, and manta rays, and more). Generally tour operators will pick you up from your accommodation in the morning and transfer you to the jetty where you'll board your boat for the day. Expect a morning of snorkelling followed by lunch, three or four afternoon swims (hopefully with whale sharks), then a return transfer to your accommodation. (See A close encounter with Ningaloo's whale sharks)
Must see: Take in the spectacular views of the reef from above as well, with Ningaloo Reef Air. Expect to see manta rays, dolphins, dugongs, sharks, and whale sharks when in season, as well as the stunning turquoise coastline.
Traveller's tip: Say yes when your tour guide offers you a wetsuit – not only because they offer protection from sunburn and stingers, but because they do a wonderful job of keeping you warm between swims on the boat.
Day 5: Exmouth to Coral Bay via Turquoise Bay
5 hours (total), 276 kilometres
Rise early(ish) to complete the one-hour drive to Turquoise Bay, a gem in the Cape Range National Park. Expect crystal clear water, whiter-than-white sand and, if you get here before 11am, total solitude. To experience the drift snorkel, park at the signposted 'Drift' carpark, walk left along the beach until the land turns, then swim out to the reef. The current will gently push you along the beach, allowing for some beautiful, and beautifully lazy snorkelling. (Take note of the sign when it's time to exit to avoid ending up in a rip.) Alternatively the 'Bay' car park offers calmer waters and snorkelling for beginners. From there, return to Exmouth and take the two-and-a-half-hour drive south to Coral Bay – a one-street, palm-fringed oasis surrounded by desert and a gorgeously long, child-friendly beach.
Must see: Walk to the left and around the cliffs before wading into the water to snorkel – like in Turquoise Bay, gentle currents carry swimmers back towards the centre of the beach.
Traveller's tip: Coral Resort Bakery is a true, old-school spot with – dare we say it – the best pies on the west coast. Reef and beef (that's beef and prawn) is the winner.
I want comfort: Ningaloo Reef Resort is comfortable, clean and right on the beach. All you need!
Keep it basic: Peoples Park Caravan Park is a bit more expensive than Bayview next door, but has better facilities and grounds. Call early to reserve an ocean-view spot, but anywhere on the tree-spotted, grassy grounds makes a decent place to stay.
Day 6: Coral Bay
Plonk yourself here for an extra day (or two). Aside from hitting the beach, you can take diving and boat tours or go quad biking on the sand dunes and beach. If you're self catering, plan ahead – there's no more than two caravan parks, a hotel, a backpackers' lodge and a handful of small shops.
Must see: Swim with manta rays with Ningaloo Marine Interactions all year round.
Traveller's tip: Walk to the right of Coral Bay's beach, to Skeleton Bay – a reef shark nursery where, if you wade in no further than your knees, you'll find yourself surrounded by (harmless) shark pups.
Day 7: Coral Bay to Shark Bay
7 hours, 556 kilometres
The drive to the sleepy town of Denham in Shark Bay is the longest of the trip, so stop off at Carnarvon for lunch. Afterwards, look for signs for the Hamelin Pool after taking the turnoff for the Shark Bay World Heritage Drive. This shallow bay is home to ancient structures made by cyanobacteria called 'stromatolites', which are considered living fossils. These particular stromatolites are over 3000 years old, form one of the only prospering communities left in the world today, and are quite pretty to see.
Must see: Stop at Shell Beach, a white strip formed entirely from tiny cockles, just south of Hamelin Pool.
Traveller's tip: Stock up on food again at Carnarvon because the supermarkets from here are again sparse.
I want comfort: Heritage Resort is smack bang in the centre of town but still has great views of the water. Rooms are nice and big.
Keep it basic: Denham Seaside Tourist Village has a spacious kitchen and is right on the beach with beautiful views of the sunset.
Day 8: Shark Bay
Come morning, head to the Monkey Mia Dolphin Resort (about 30 minutes from town) to take part in the daily dolphin feedings that occur on the shore. Park rangers explain the process at 7:45am, and up to three feedings take place between 8am and noon, depending on when and how many dolphins come in to shore for a snack. The interaction can be crowded early on (and can, to be honest, be a bit touristy – though great for kids), but after the initial feeding, the crowd thins out. Wander further down the beach and explore the shallows for photo-ops with starfish, seashells and red dunes, and keep an eye out for emus – they often come down to the sand for a bit of sun.
Must see: On the way back to Denham, check out the Little Lagoon, one of a few birridas in the region that opened up to the sea thousands of years ago.
Traveller's tip: Dolphins are visible up and down the beach before and after the feedings at Monkey Mia, so a walk away from the crowds can often yield your own sighting.
Day 9: Shark Bay to Kalbarri
4.5 hours, 375 kilometres
During the spring, scan the roadsides between Shark Bay and Kalbarri for blooming wildflowers – the area is known for them. En route to Kalbarri National Park from the town of Kalbarri, the Mushroom Rock Walk showcases stunning ancient rock formations as you wander down a gorge, while short walks further down the coast give way to not-to-be-missed gorges, Island Rock and Natural Bridge.
Must see: It would be very easy to spend days here but in a time crunch, spend half a day at the national park checking out The Loop walk (accessed via the quick Nature's Window walk).
Traveller's tip: Huge pelicans are fed every morning just outside of the Murchison River Caravan Park, and whale watching and river cruise tours leave from town daily. To cater your own seafood dinner, grab some fish at the Jetty Seafood Shack.
I want comfort: Kalbarri Edge Resort is lovely and modern (the wi-fi is fast, too). Upgrade from a studio to a two-bedroom apartment if you need a laundry.
Keep it basic: Murchison River Caravan Park is convenient to town and landscaped with beautiful flowering trees… though when we visited, the kitchen was patronised by roaches. Eat elsewhere!
Day 10: Kalbarri to Cervantes
4.5 hours, 378 kilometres
The town of Cervantes doesn't offer a lot in the way of entertainment, but it's the closest centre to bucket list item the Pinnacles, located in Nambung State Park. Stop at Geraldton on the way back for a quick refuel and lunch stop, then at tiny towns on the way like Green Head and Jurien Bay, which offer beautiful waterviews. Then head to Cervantes. The Pinnacles are best viewed in certain light, so drive to Nambung National Park around sunset or sunrise the next morning. Park and take a walk around the strange rock formations, and then do the drive around the park to understand the grand scale of things.
Must see: Playful sea lions rule the waters of the marine park here and daily tours are offered. During crayfish season (November–June), Cervantes and Jurien Bay are bustling with fishing industry insiders, and are great for a fresh helping of seafood.
Traveller's tip: Ask about wildflowers at Nambung National Park – guides will know where the blooms are prolific and if your timing is right.
I want comfort: Cervantes Windbreak Bed and Breakfast is spotless and exceptionally well-run, but you'll need to book in advance – there are only three rooms.
Keep it basic: Cervantes Pinnacles Caravan Park is the only one in town, and is just on the beach. It has a great little café, offering a decent breakfast.
Day 11: Cervantes to Perth
2 hours, 200 kilometres
Leave Cervantes for Perth early and stop at Yanchep National Park to see koalas relaxing in their eucalypt home along some good bush walking trails… or sleep in, and make your way back to the big smoke as slowly as you like.
Need to know
• Supplies north of Carnarvon become limited and more expensive, so if you're self catering, stock up on food beforehand.
• Pack snorkelling gear! But don't fret if you forget it – you can rent gear at several places (most notably at Exmouth Dive Centre). Many accommodation providers also have spare sets available for guests.
• It's recommended that you don't drive at night, to avoid collisions with the prolific wildlife. Some car rental companies will also make it a condition of lease that your hire car is not driven after sunset.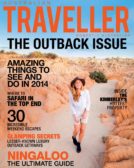 Enjoy this article?
You can find it in Issue 55 along with
loads of other great stories and tips.