100 Best Views In Australia #66 Point Lowly Lighthouse, SA
April 1, 2012
Where is it?
395km north of Adelaide, Port Bonython
How to see it for yourself?
Point Lowly Lighthouse is on a point jutting into the northern end of Spencer Gulf. Drive from Whyalla to Port Bonython, which takes about 20 minutes.
Why I love it
"I love to photograph this lighthouse because every shot has a different feeling depending on the time of day, as the light changes." – Jason Lloyd, photographer
AUTHOR
COMMENTS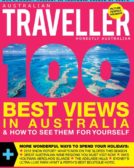 BUY THE ISSUE
This article appeared in Issue 44 of Australian Traveller.
The 2012 100 Edition
* 100 Best Views in Australia & how to see them for yourself
* 2012 Snow Report: What's new on the slopes this season
* Great Australian Wine Regions you must visit now
* WA's Houtman Abrolhos Islands
* Out & About Adelaide Hills
Plus
Ultra Luxe Park Hyatt, Perths Best Boutique Hotel reviewed


BUY THIS ISSUE