What you're about to read is the culmination a body of work that goes far beyond any 'normal' article.

This project involved not only the most industry involvement and expert opinion to have ever been included in an Australian Traveller project – some 12,000 nominations were accepted at the outset of this project – but a list that is, quite possibly, the most comprehensive, unbiased, well-considered gazetting of Australian holidays to have ever been published by the media. Big call, we know. But we'll let you make up your own mind…

Once we had a final shortlist (around 900 options) we asked 20 of Australia's most well-travelled – whose fair faces you have just become acquainted with – to give every holiday a score between one and 10 (meet the panel here).

Hundreds – quite literally – of hours later, this it is. The 100 greatest holidays of Australia, right across the country, from the humble beachside weekend to the grandest wilderness journey. We hope you enjoy it.
100 Best Holidays of Australia – 1 to 10
#1 – Cruise the Kimberley Coast, WA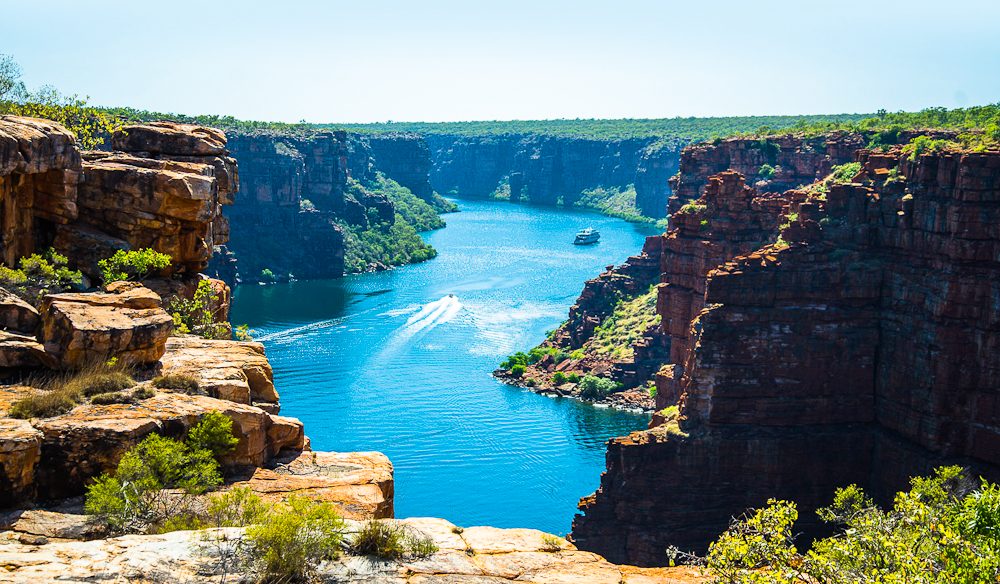 Score: 9.31
Here it is: the greatest holiday of them all. And for all the other amazing experiences on offer, we can't say we're surprised to see this come out on top. The Kimberley – bigger than the state of Victoria, among the oldest landscapes on Earth – is particularly talented at claiming the biggest of all superlatives, but there's really nothing that can do justice to her outstanding array of waterholes, beaches, bushland and wildlife.
What else could you want in a holiday destination, other than a way to get to it? Yes, she's remote, but she's definitely worth it. And there's no better way to see theKimberley and her 2500-odd islands than by sailing 'round her edges in one of the world-class adventure cruise ships on offer.
FIRST STEPS: There are several operators offering cruises around the Kimberley coastline, and really, it's hard to go wrong with a cruise operator here, regardless of who you choose. Still, it isn't a cheap holiday – the average per-night price is about $650 per person, not to mention the cost of flights to the region in the first place – and ship sizes vary greatly, from six-person boats to 100-person expedition ships.
Some of our favourite operators are: North Star Cruises (True North), National Geographic Orion, Great Escape Charter Company, Kimberley Quest and Aurora Expeditions. Also check out the next edition of Australian Traveller – featuring a special of epic proportions on exploring the Kimberley by road, air and sea.
#2 – road trip Tasmania's east coast, TAS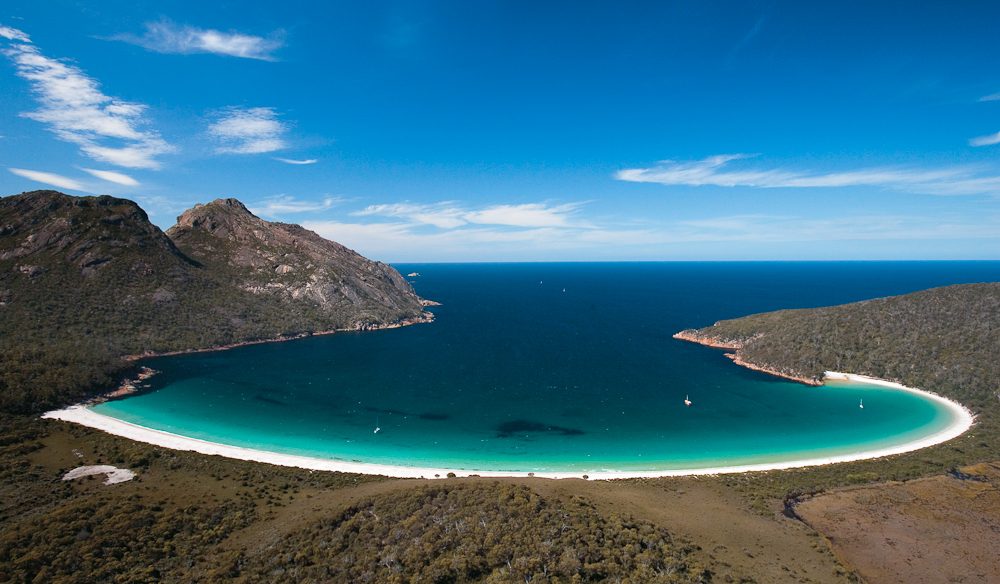 Score: 9.1
Who'd have predicted that the drive up the east coast of Tassie, from Hobart to the Bay of Fires, would beat all our iconic road trips – including the world-famous Great Ocean Road, the wildly isolated Nullarbor – to take the #2 spot? What can we say – you'll understand when you get there.
Maria Island, the Freycinet Peninsula, Wineglass Bay, and holiday mini-mecca Bicheno are all waiting to be uncovered on this trip, but they're not the only highlights. Tellingly, the area's most luxurious stay also came in at #5, while the Freycinet Experience was voted Australia's best walking holiday, at #13 on this list. Basically, we all need to move here.
A five-second itinerary
Day 1 – Hobart to Orford: When you arrive at Orford, catch the ferry to car-free Maria Island. Spend the afternoon wandering, taking in her natural beauty.
Day 2 – Orford to Swansea: Stop at Freycinet Peninsula on the way to hike or abseil the picturesque Hazards, swim those ridiculous beaches and gorge on oysters.
Day 3 – Stay put: You haven't swum with Wineglass Bay's dolphins yet (or eaten enough oysters).
Day 4 – Swansea to St Helens: Pull in at pretty seaside town Bicheno on the way. Just north of town, directly in front of Diamond Island Resort, is also a view of the area so good it was voted #22nd best view in the country in a previous AT list (so you know it's good).
Day 5 – St Helens to Bay of Fires: Call work and explain: you're going to need another week's leave…
#3 – Do 'The Big Lap'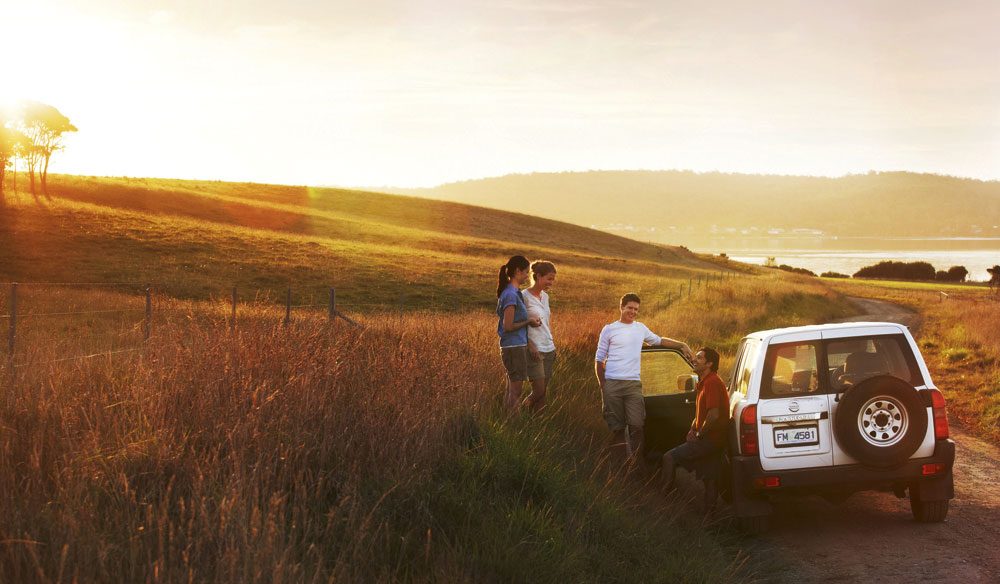 Score: 9.05
To be honest, we were stunned when this didn't come out as #1 – after all, the Big Lap is not just one great experience but a patchwork of the many and varied spanning this great continent of ours. And who has not fantasised about undertaking this great journey (if indeed you haven't already)?
In any case, we're thrilled to see it in the top three. It doesn't matter whether you edge the coastline or dive into the interior; road tripping your way 'round our incredible country is not just a holiday, it's a lifetime highlight.
Don't wait: Finding the months (years?) required to take this journey isn't easy, but at least you can find solidarity in numbers. According to a 2014 Hotels.com survey, almost a third of Australians have taken a sabbatical or extended career break in order to travel – and no, not between uni semesters. Most were well over the age of 30 when they did so.
#4 – see Kakadu

Image: Inspiring Journeys
Score: 8.92
Back in 2006, when we published the world-first list of 100 Things To Do In Australia Before You Die, Kakadu was #1. Many years later, we're happy to say that it's still as magical as it was, even if the Kimberley has seduced us all since then.
Just as we said back then, there are really two ways you need to see it: in the wet (December to March), when the incredible colours (and even more incredible weather) make for an empirical overload; and in the dry, when you can swim the waterholes (like this one, known as the top pool of Gunlom Falls), walk the walks and sleep under the stars sans fear of a tent flood.
"Kakadu has a sense of quiet spirituality about it. Dotted with Aboriginal artworks, sweeping plains and soaring escarpments, it's dramatic, huge and endlessly fascinating." – Jen Pinkerton
#5 – book into Saffire Freycinet, TAS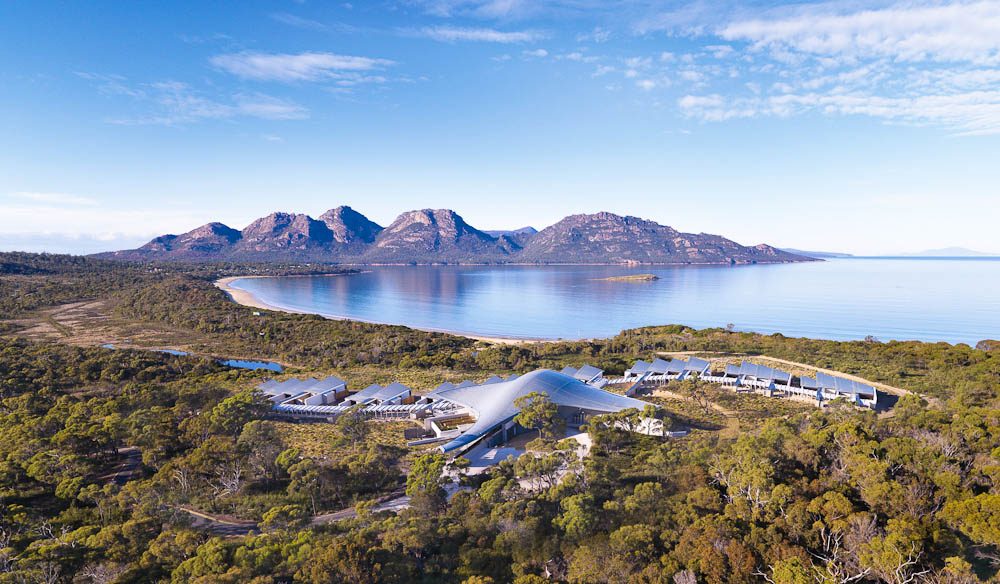 Score: 8.91
There was much debate in the office about whether this deserved its own 'spot' in the list; it is, after all, a stop along the East Coast Escape (see #3) and the location is an integral part of its appeal. But it takes something extra to be voted the top luxury lodge in Australia – especially by a panel who've been to them all, and more than once – and Saffire Freycinet really does have a unique appeal.
"It feels like home… but home, if home was perfect," Craig Tansley muses. "There's something so comfortable about it… yet so effortlessly stylish at the same time. That's what makes it so unique." Or, as Catriona Rowntree puts it, it's "the ultimate gift certificate." Speaking of which, our birthday is coming up.
More info: Saffire Freycinet
#6 – a foodie break in Margaret River, WA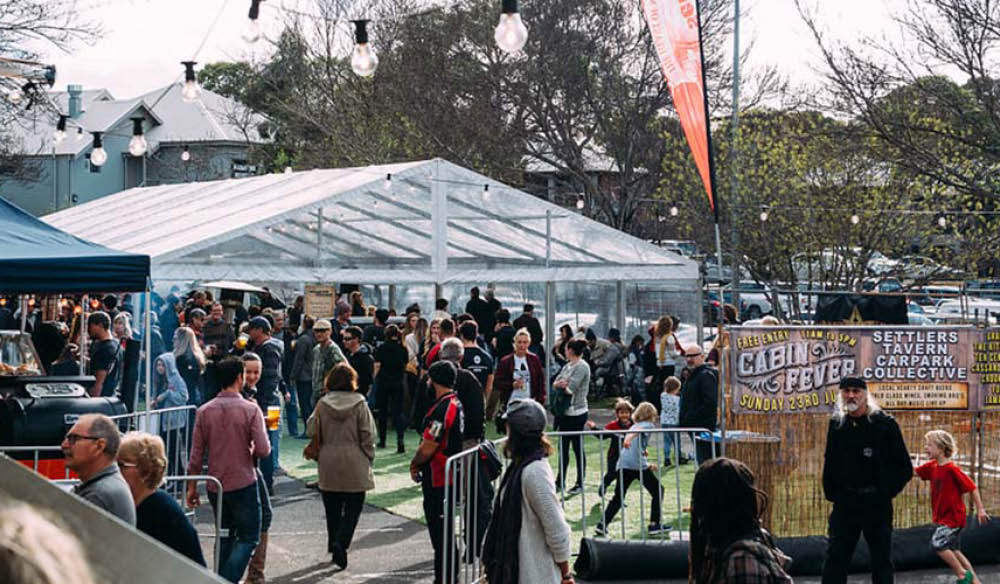 Score: 8.9
"Plenty of other wine regions claim to have it all," says Daniel Scott, "but Margaret River really does." Ah yes, Mr Scott, we agree. Gorgeous countryside, where vines are strung out between karri forests, and a craggy coastline of vanilla coloured beaches and ancient limestone caves rolls into turquoise sea; and some of the country's best chefs, who throw together meals of sublime delicacy and freshness from locally-sourced produce.
"It's not good," finishes Daniel, "it's the best for a gourmet break." Hear hear.
Best-kept secrets of the Margaret River region – Kerry Heaney spills the beans…
• For absolute beach front views with breakfast, head to the laid back White Elephant Café, perched on the edge of Gnarabup Beach. A great spot to check out the surf.
• Relax under the grapevines or cosy up by the fire at Swings Taphouse & Kitchen and try the share plates of fresh, sustainable, local produce.
• Fermoy Estate at Wilyabrup produces top quality, award-winning wines. The on-site Pukara Estate Tasting Room also offers tastings of the region's distinctive olive oils.
• Stay in a bungalow-style villa at the superb Pullman Resort Bunker Bay, and explore Cape Naturaliste next door.
• Don't miss sunset at Sugarloaf. Follow the narrow road down off Cape Naturaliste Road – it won't disappoint.
More info: Margaret River
#7 – escape to Lord Howe Island, NSW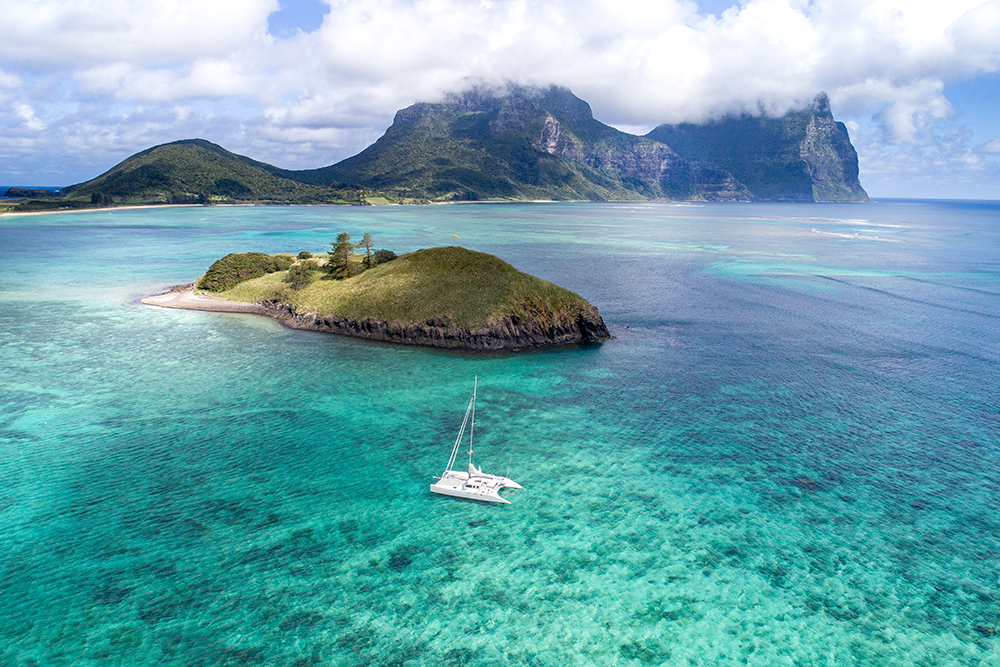 Score: 8.89
In 2012, the youngest American to have ever visited every country in the world, Lee Abbamonte, was asked to write an article reflecting on the highlights of our planet. "I don't know what paradise awaits in the next life," he wrote, "but I do know that paradise on Earth is located on Lord Howe Island."
This tiny utopian speck is just two hours by plane from Sydney or Brisbane, but a world away from life as you know it – and we really mean that. Pristine beaches, perfect wilderness, amazing snorkelling and some of the nicest people on Earth are only the beginning.
While you're there… There are two stays that really summarise LHI:
• Capella Lodge which, at $700 per person per night is not cheap, but worth doing once in your life; and
• The delightfully old-school Pinetrees, which has been a family-run business since the mid-1800s – just think about that for a minute – and feels a lot like the home you never knew you had (from $410 per person a night).
#8 – Great Ocean Road road trip, VIC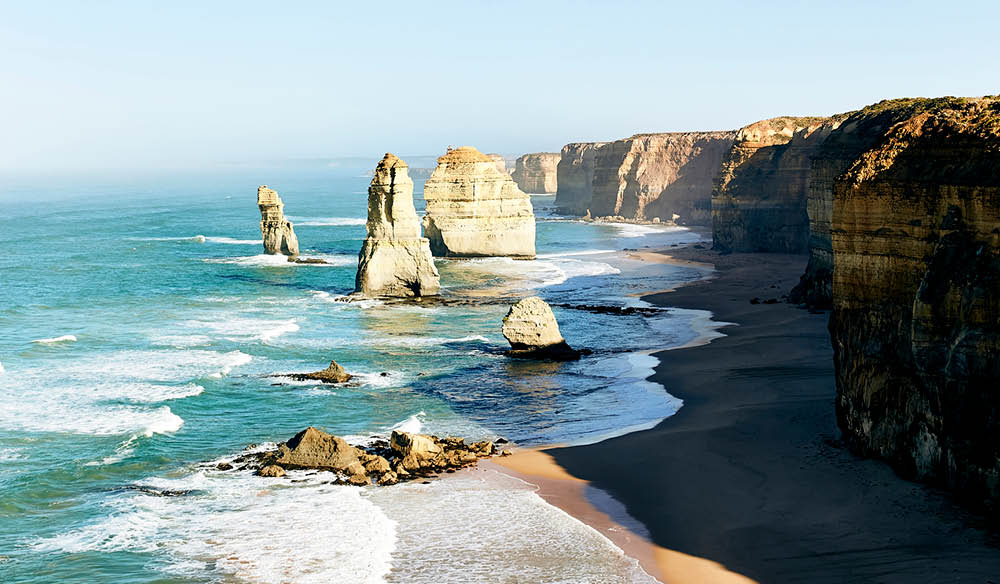 Score: 8.84
It's one of the most iconic experiences you'll find in Australia, but unlike so many world-famous attractions, the GOR hasn't fallen victim to its own popularity. Expect sweet little towns (like Port Campbell), 'appropriately developed' beach gems (like Lorne) and, as well as the magnificent apostles, the beauty of 'lesser' locations like Loch Ard Gorge.
Don't tell the tourists, but… Fifteen minutes off the great road itself, you'll find The Ridge Organic Food Store & Café. The food is the best in the region, and the views from their modern, wooden shack are equally good. You're welcome.
#9 – a Barossa Valley gourmet weekend, SA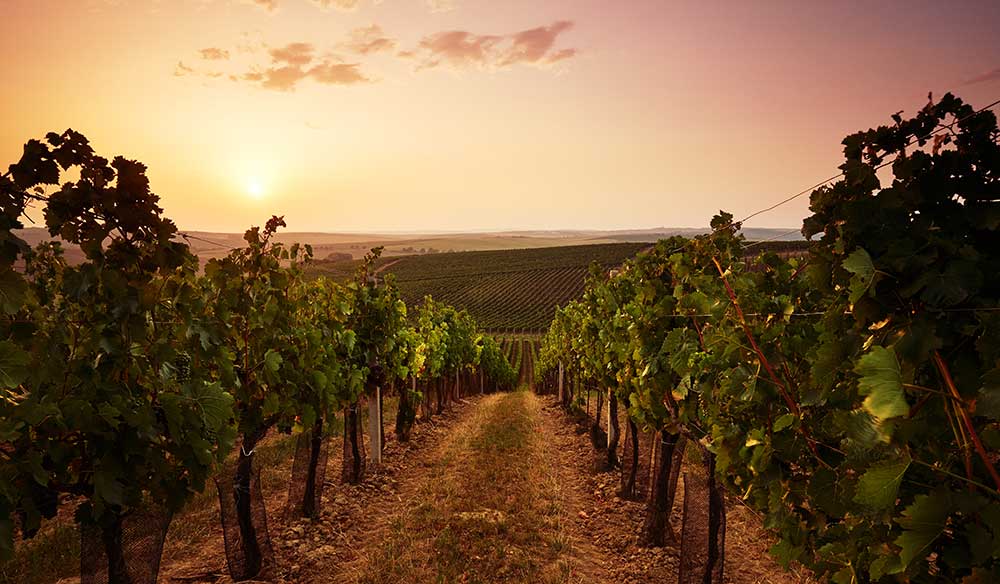 Score: 8.8
In a stellar wine state, filled with stellar wine regions, The Barossa stands out as a star. Panellist Christine Salins gets it right: "Where else in the world," she asks, "can you taste a 100-year-old tawny port, experience Lachlan Colwill's sublime food, cruise around vineyards in a 1962 Daimler used on royal visits, or meet the doyenne of Australian food, Maggie Beer, at her delightful Pheasant Farm?"
Yes, with its blend of heritage and contemporary, country rustic and city chic, casual and luxury, European and quintessentially Australian, a gourmet break here ticks all the boxes.
More info: South Australia
#10 – Stay at qualia just once in your life, QLD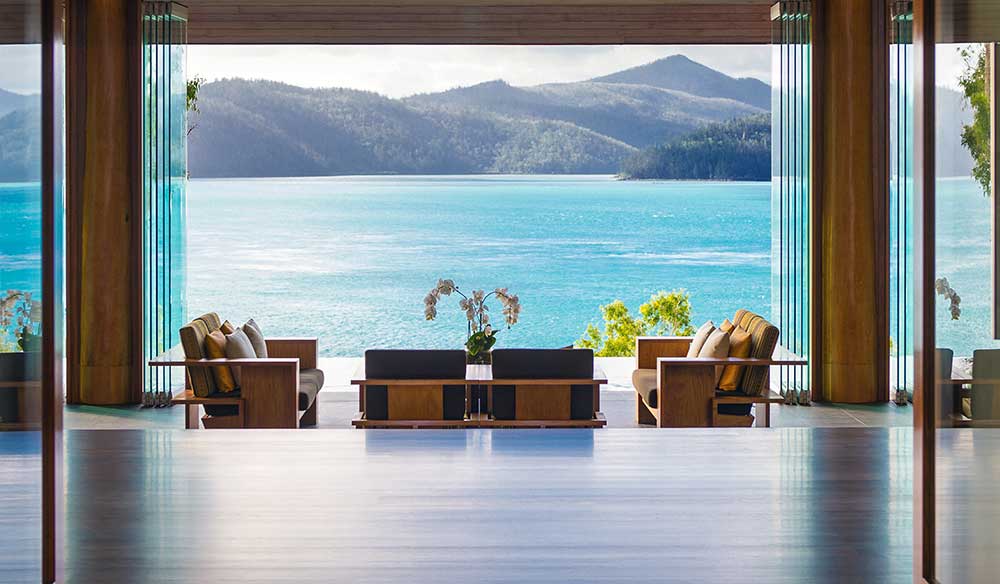 Score: 8.79
We don't really even need to explain the magic of qualia: this picture tells you all you need to know, doesn't it? Assuming, that is, you don't already know quite a bit about qualia – quite a feat, that'd be, considering that most of Earth is lusting after a stay here.
Voted the World's Best Resort in a 2012 survey of some 45,000 people, it's Australian island luxury at its absolute finest. From $975 per night including breakfast; from $1225 per night including breakfast and dinner.
More info: qualia.com.au
100 Best Holidays of Australia – 11 to 20
#11 – stay at Lizard Island, QLD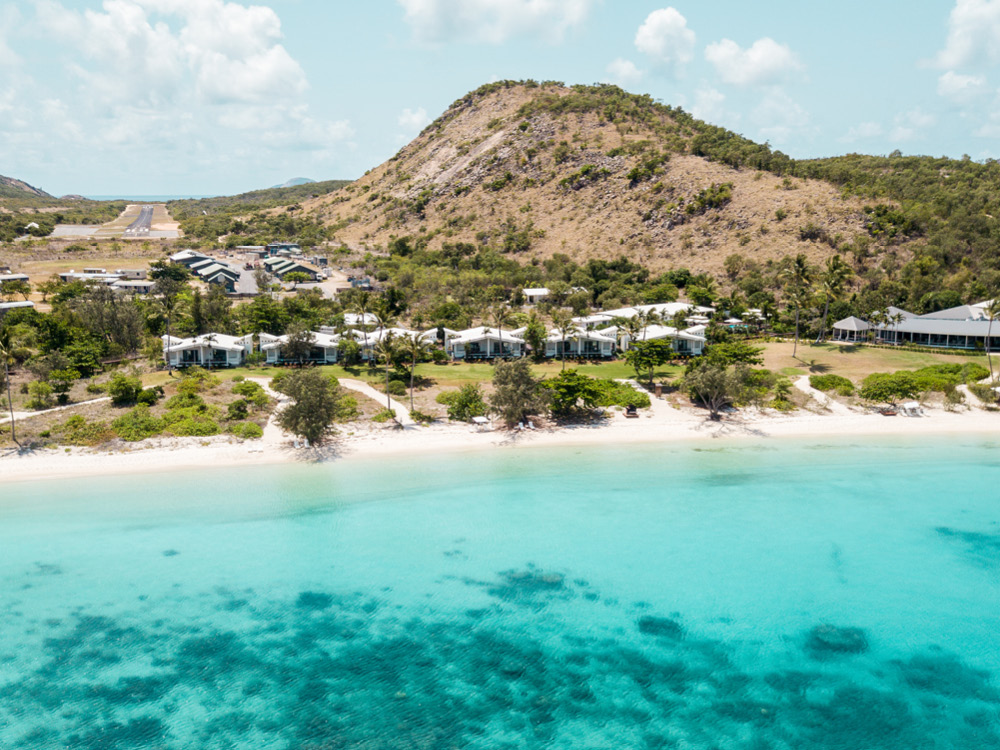 Score: 8.78

Lizard Island picked up its moniker after Captain James Cook sniffed, post-visit, that lizards were the only wildlife he encountered on the island. Alas, the good captain clearly had limited imagination… and no access to a snorkel.

North of Cairns, smack bang on the Great Barrier Reef, Lizard Island is a marine wonderland with abundant white sand beaches, many offering off-shore snorkelling and tropical fish, and a resort so speccy that it's attracted the likes of rock royalty, Hollywood royalty and… well, actual royalty. One for the dream list. From $1519 per night, including meals and beverages.

More info: Lizard Island
#12 – swim the 'Other Reef', Ningaloo, WA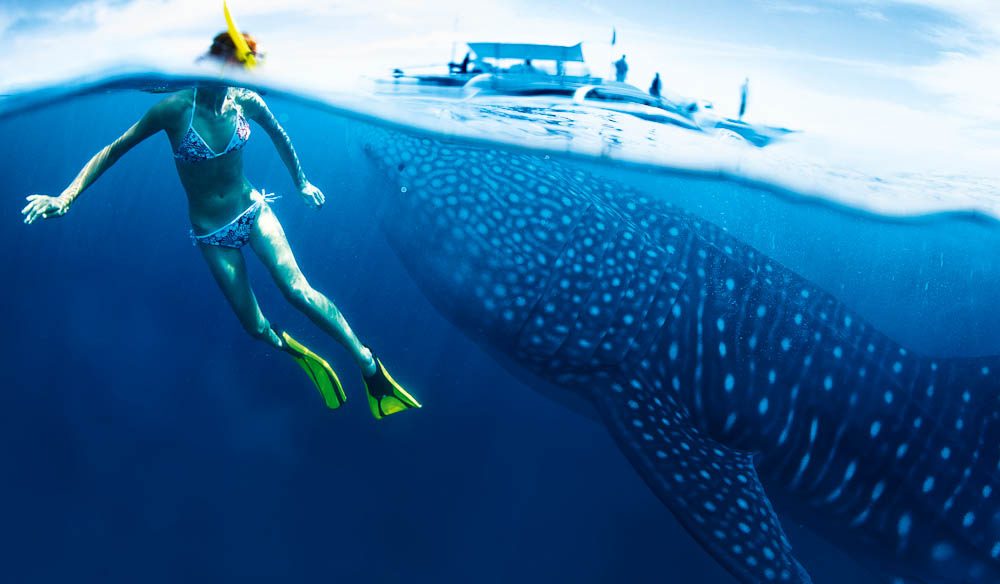 Score: 8.75

Australia has The Reef – there's no denying that – but then there's The Other Reef. Which is 'better'? We were happy to keep mum on the topic, but the panel was not – and in a major upset by 0.01 of a point, they've deemed Ningaloo and her whale sharks the better holiday. But why? It's a tough one to answer, but we'll try.

Ningaloo is one of the few places in the world where you can simply wade into the water and begin snorkelling (though interestingly, so is the GBR's Lizard Island, see #11), its red sand environs are stunning, and the experience of swimming with those whale sharks is pretty damn spesh. While you're there, stay on a multi-day catamaran cruise if you can, or at luxe glamping spot Sal Salis.

From $395 per person to swim with whale sharks.
#13 – walk the Freycinet Experience, TAS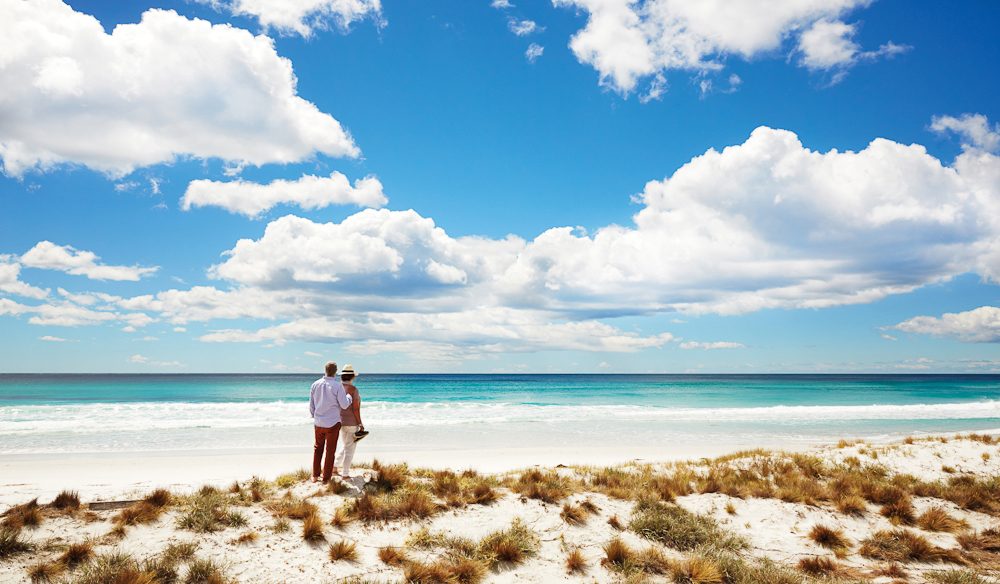 Score: 8.75

Another upset! Then again, though the Freycinet Experience is arguably the least well-known of the seven Great Walks of Australia, that's part of its charm. Created by Joan Masterland (founder of Tassie's iconic Cradle Mountain Huts walk on the Overland Track) 22 years ago, the four-day experience, which winds through some of the most pristine environment in the world, including Wineglass Bay, is not only still owned by its creator, it's still run with the same principles.

Only one walk runs per week, only 10 people per walk (with two guides, two lodge coordinators and a boat driver to accompany them) and you'll walk unmarked trails that aren't open to the public, from the south to the north of the Freycinet Peninsula. With shimmering white and azure beaches, verdant forest, and the possibility of both Tasmanian devil and humpback whale sightings, it's solar powered luxury at its finest. From $2350 per person, including accommodation, food and wine.

More info: Freycinet Experience
#14 – dive the Great Barrier Reef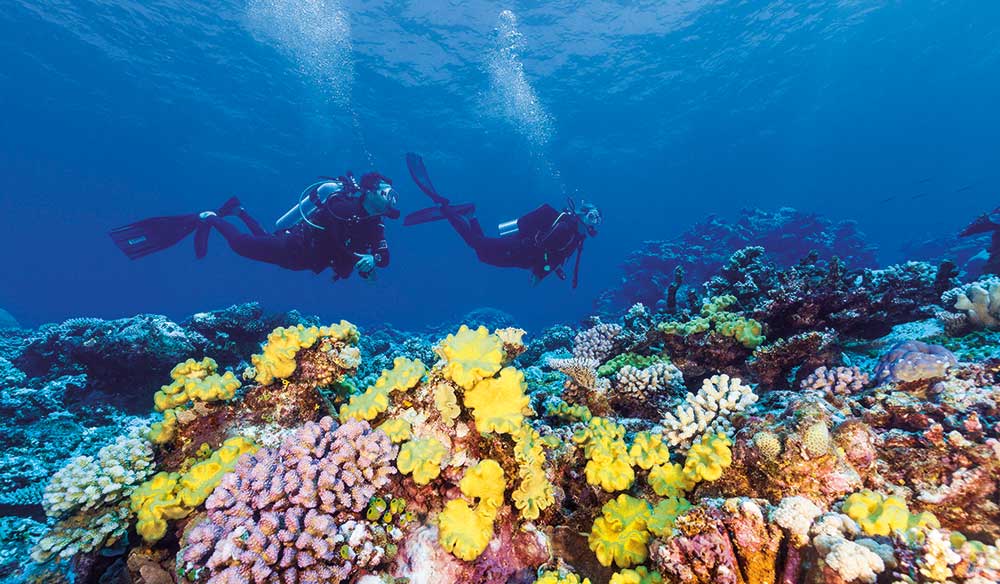 Score: 8.74

It might have come in at 14th place, but there's no denying that when it comes to beloved environmental icons, the Great Barrier Reef is number one. Here is a marine bio-diversity delight like no other, so large that you can access it from as far south as Rockhampton and as north as Cape York.

No matter how many photos you've seen, or documentaries watched, there is nothing like entering the other world beneath that turquoise surface. If diving's not your thing, a scenic flight, snorkel or cruise will also do wonderful things for the soul.

What a dive
We asked marine conservationist Inger Vandyke to share her GBR diving bucket list.

• Feed the fat, friendly potato cod, and marvel at the endless coral at COD HOLE, via an overnight diving expedition from Cairns or Lizard Island.

• One of Australia's largest congregations of manta rays is on LADY ELLIOT ISLAND – some measure up to four metres! Get there by light plane from Bundaberg or Hervey Bay, or fly from Brisbane or the Gold Coast.

• The entire Great Barrier Reef erupts into life with SPAWNING CORAL, on the weekend after the full moon in November each year. It's an amazing phenomenon.

• Historical ship-wreck YONGALA has become the adopted home of hugely colourful marine life. Get there by boat from Townsville or Alva Beach.

• Watch sea turtles lay eggs in sandy nests, or see hatchlings forge their first paths to the ocean on HERON ISLAND from November to March. Get there by boat or light plane from Gladstone.
#15 – trip to 'the tip' Cairns to Cape York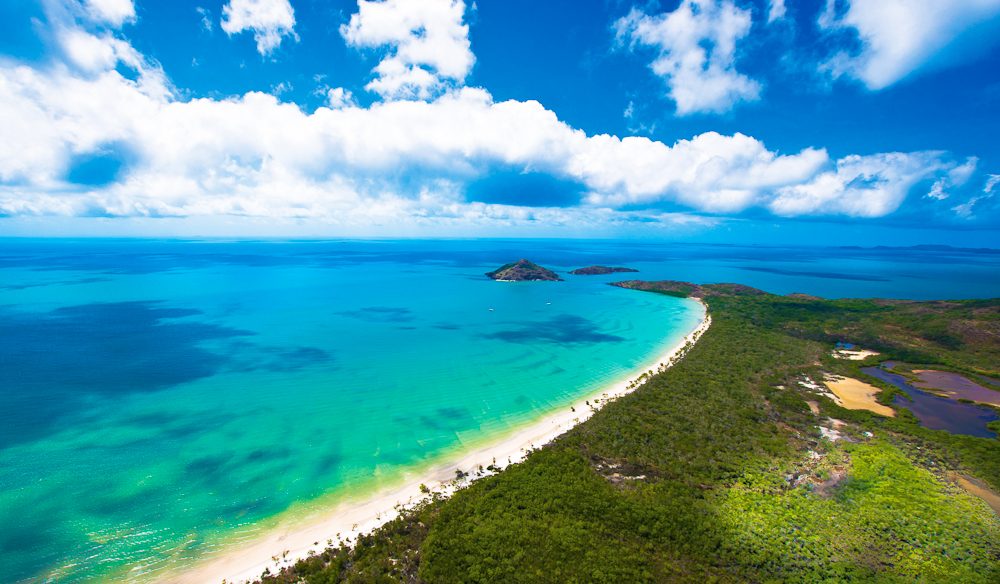 Score: 8.73

A journey this adventurous – not to mention this iconic – was always going to feature on this list… but to take the #2 road trip spot? "Doing the Cape is something every Aussie with a spirit of adventure dreams of doing," says Lee Atkinson, who, as Australia's foremost roadtripper, has criss-crossed the country hundreds of times.

It's wonderful, she says, not just because it's a pilgrimage of sorts, but because of what you'll uncover along the way. "Laura has some of the best Aboriginal rock art in the world and Cooktown is the ultimate frontier tropical town." She adds, "These days, even if you don't have a 4WD you can get to Cooktown and Laura in a normal car."

More info: See 'A Trip to the Tip'
#16 – walk the Bay of Fires, TAS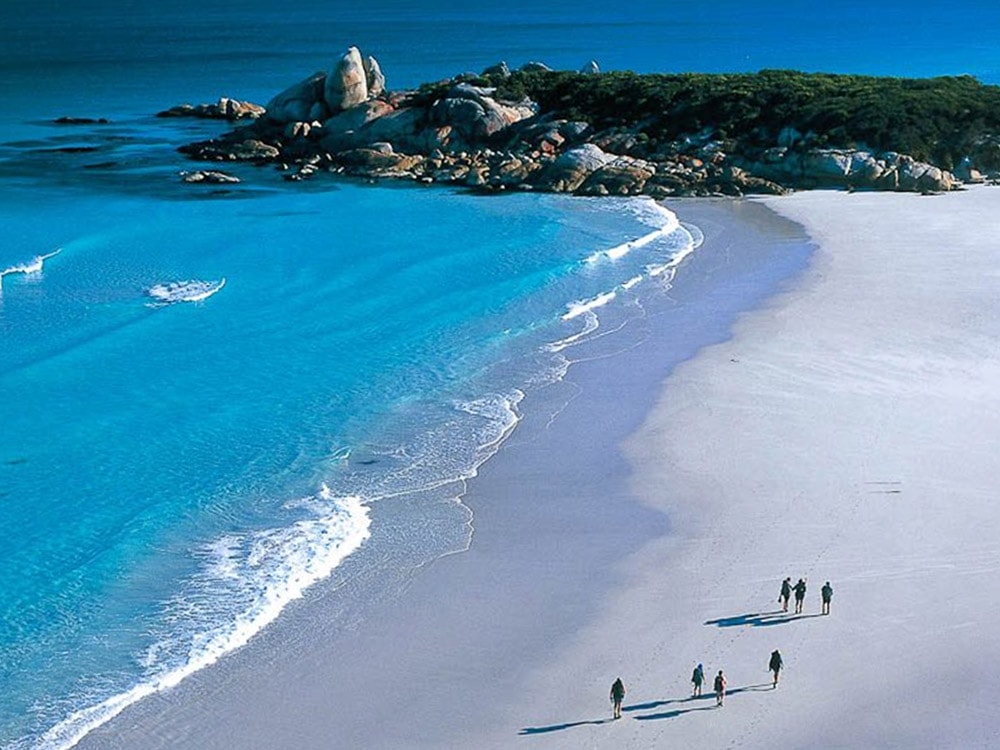 Score: 8.7

There seems to be a disproportionate number of Tasmanian entries in the top 20 of our list… or so you might think, until you've been personally converted! And the four-day Bay of Fires Lodge Walk, with its charming mix of tired feet and fine wine, will certainly do that.

Named after the numerous bonfires English explorer Tobias Furneaux saw when he sailed past the Tasmanian north-eastern coastline in 1773, the Bay of Fires was densely populated before colonial times but now is an empty stunningly beautiful area of inlets, lagoons, woodlands and white sandy beaches. From $2150 per person twin-share for a four-day guided tour including accommodation, transfers, meals.

More info: Bay of Fires Lodge Walk
#17 – cross the Savannah Way, Qld-NT-WA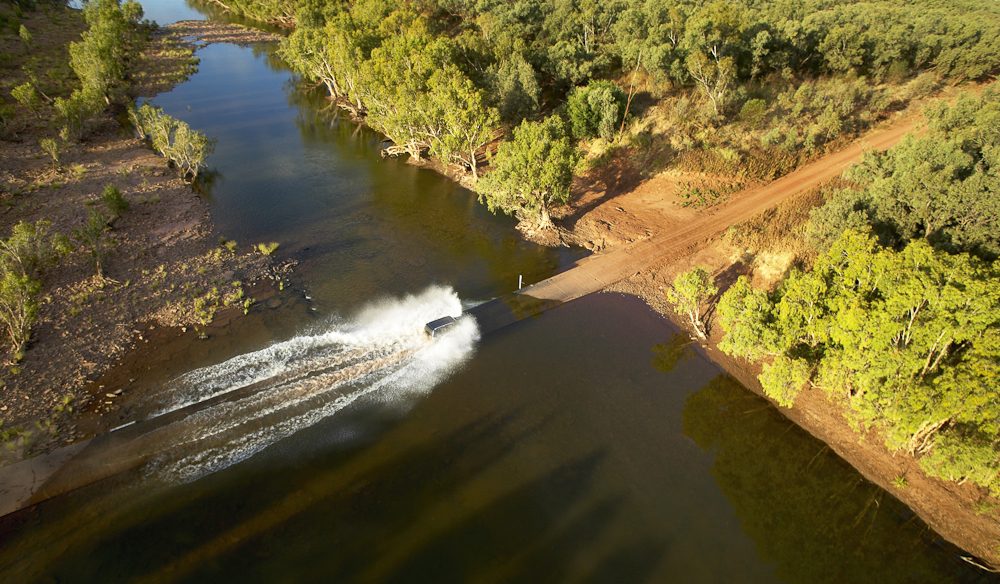 Score: 8.69

There are few places in the world where you can drive 3700 kilometres without ending up in the ocean or another country, but it's not just the distance that makes the Savannah Way epically justified at its place.

Featuring 15 national parks, five World Heritage areas and half our continent – yes, from the lush foodie Cairns Hinterland all the way to the unimaginable colours of Broome – this is one journey that really underlines the magnitude of our continent. "Until you go, you've no idea how off-the-scale this place is," agrees Catriona Rowntree. This is where, among the emptiness of the dry plains, the fullness of the wetlands and the colourful characters found along the way, you'll uncover a truly Australian adventure.
#18 – see the wet season in the Top End, NT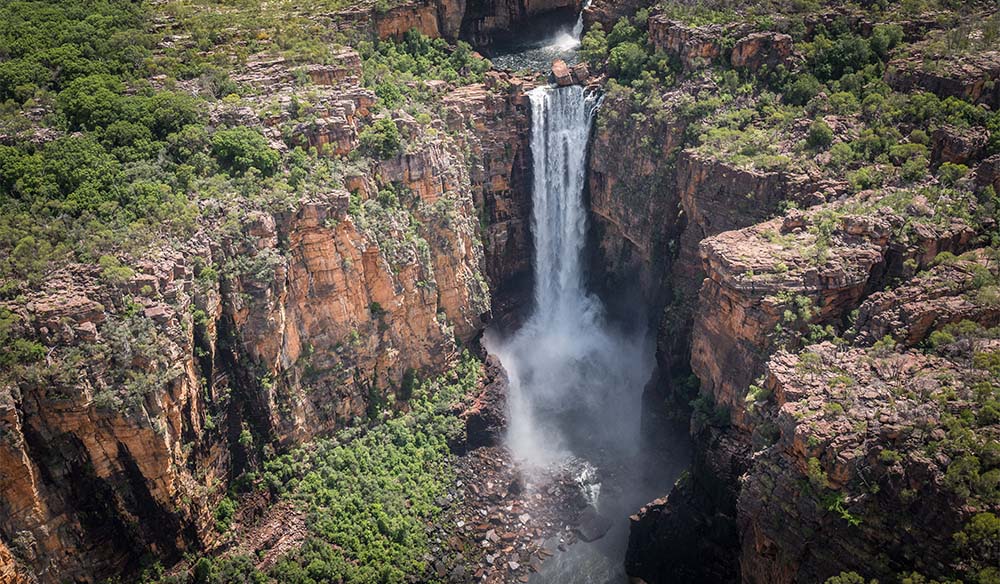 Score: 8.63

A few years ago, it wouldn't have been possible to have wet season travel in the top 100, but thankfully, more and more operators are offering trips to showcase the beauty of their area in the wet.

Full gorges, thunderous waterfalls, and verdant deserts, a trip to the Top End during wet season is a trip on steroids – everything's bigger, except the queues. "And the rates!" adds Jen Pinkerton. "It's all weather theatrics, mega-strength waterfalls and an abundance of wildlife."

More info: Tourism NT
#19 – Rowley Shoals, WA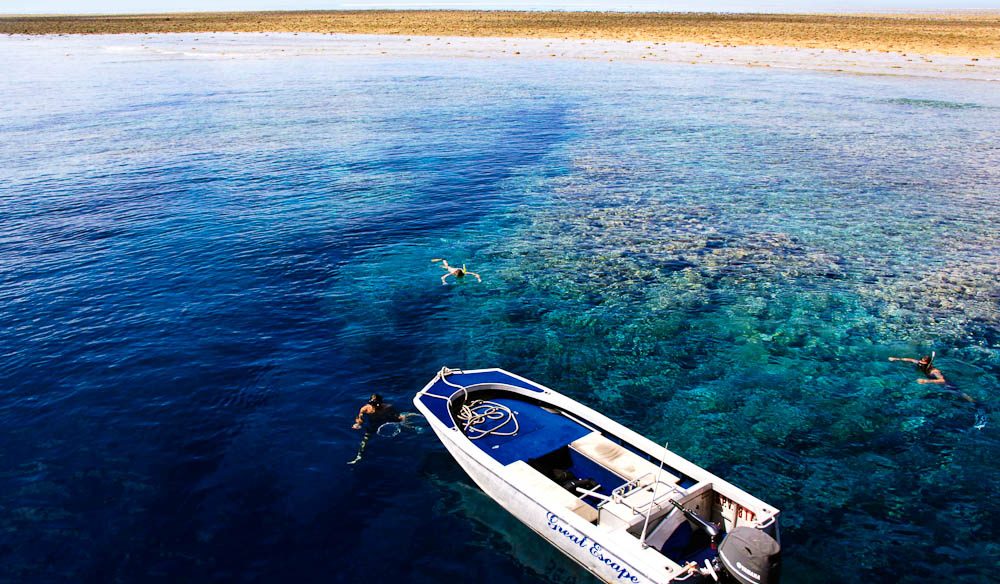 Score: 8.61

Another surprise so early on in the list – but a well deserved one. The Rowley Shoals Marine Park, found some 300 kilometres north-west from Broome, might be almost totally unknown (except to the lucky sandgropers among us), but the fact that each member of this panel has voted it so highly speaks volumes about its future popularity. The only way to get here is by boat, and there are no islands around – just you, three coral reefs, and all those fish.

"Crystalline waters, endless coral gardens and fish confetti sound amazing, but add the fact there's rarely another boat on the horizon in this marine wonderland and you'll get a gist of the magic of this remote place." – Fleur Bainger. More info: See Snorkel the world's best-kept secret
#20 – a weekend dining in Melbourne's restaurants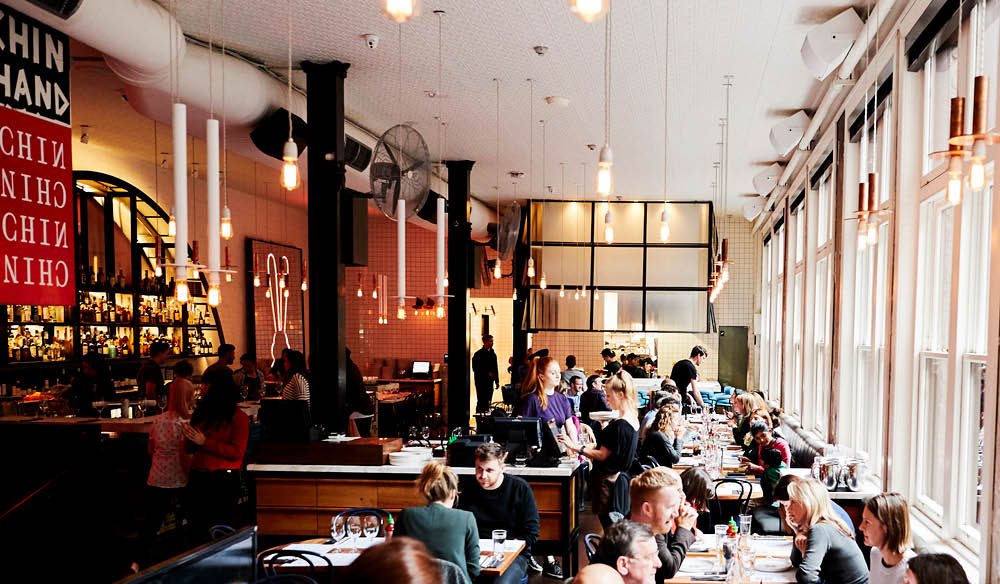 Score 8.6

The big names. The daring menus. The six-month-long waiting lists. Yes, Melbourne has some truly exceptional restaurant experiences on offer, but what we really love about this city is that you don't need to go high-end, to go high-end.

Good food is just about everywhere, as Tom Neal Tacker's awesome little itinerary demonstrates: "Start early Saturday morning at Queen Victoria Markets with a coffee at 'Bratwurst corner', then roam at will. Go by train to Box Hill for a simple lunch of dumplings and/or noodles and food shopping.

Dinner choices abound in and around Smith Street/Gertrude Street in Collingwood. Sunday morning, take a grazing stroll in South Melbourne Market or Footscray Markets and their surrounding cafés. It's possible to do both but exhausting. Hop on a tram back to the CBD and pick a smart city restaurant for dinner." Then do it all again in the morning.

More info: Visit Victoria
100 Best Holidays of Australia – 21 to 30
#21 – a beach break Byron-style, NSW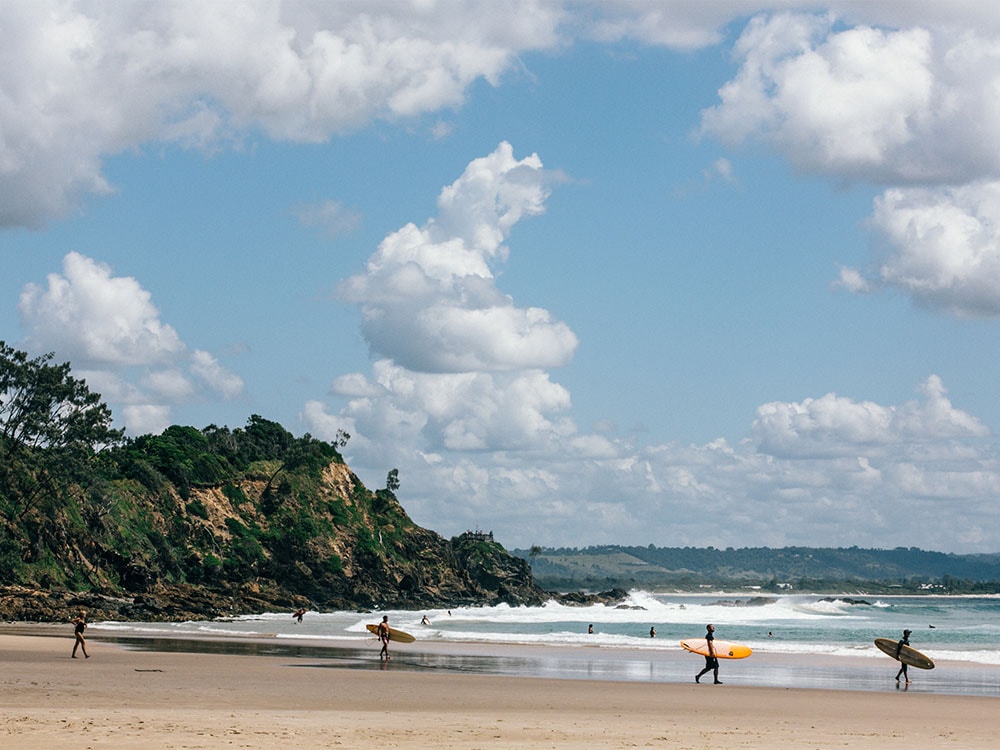 Score: 8.57

It doesn't matter if you're splurging on outrageous Wategos opulence or camping at Clarkes; Byron is blissful every which way.

Though 'the beach break' scored most highly of all Byron nominations (how could it not?), our panellists also rated eternally popular Bluesfest, hiding out at luxe retreat The Byron at Byron, and the town's beloved music festival Splendour in the Grass as great holiday experiences. "Constantly evolving," says Catriona Rowntree, "Byron thrills all." Indeed.

Licence to chill
Three bargain Byron beach shacks:

1. The Happy Shack: Hammocks, a mango tree, basic but airy wooden interiors. From $250 a night, eight people.

2. Susan's Beach House: Polished concrete, frangipani trees and a luxe daybed just outside of town. From $350 a night, six people.

3. Absolute Wategos: Daggy bedrooms, but plenty of space, light and panoramic verandah views. And beachfront! From $360 a night, six people.
#22 – hike the Overland Track, TAS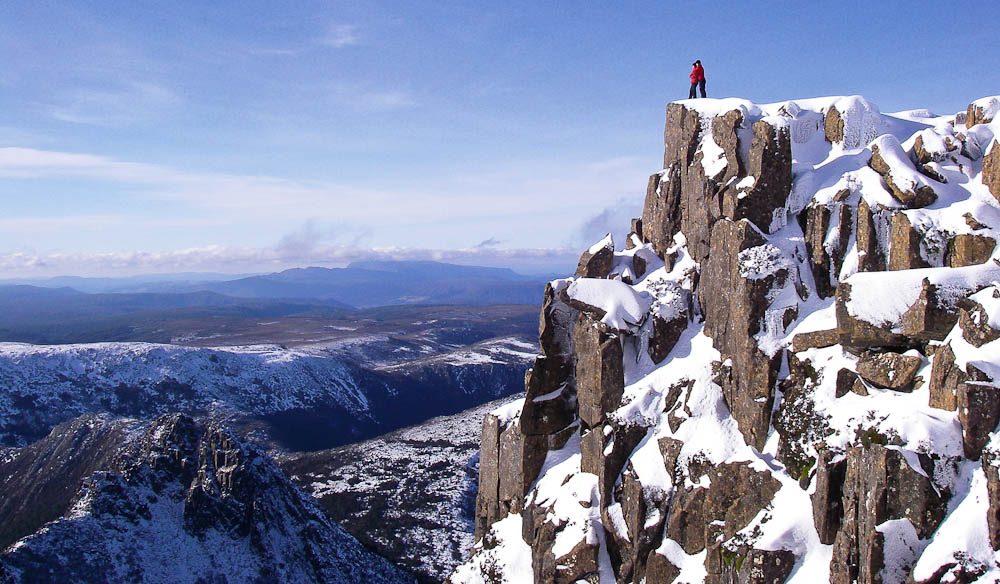 Score: 8.55

It's arguably Australia's most iconic walking track and, according to our panel, there's only one way to do it: via the Cradle Mountain Huts walking holiday.

Covering 65 kilometres over six days makes this a physical challenge (you'll sleep like the dead at night) but the World Heritage-listed landscape, alpine air and great company will go a long way towards keeping you engaged during daylight. (A fabulous meal and local wines each night don't hurt, either.) From $3050 per person with meals and wine.

More info: TAS Walking Co
#23 – a beachy road trip in WA's South West, WA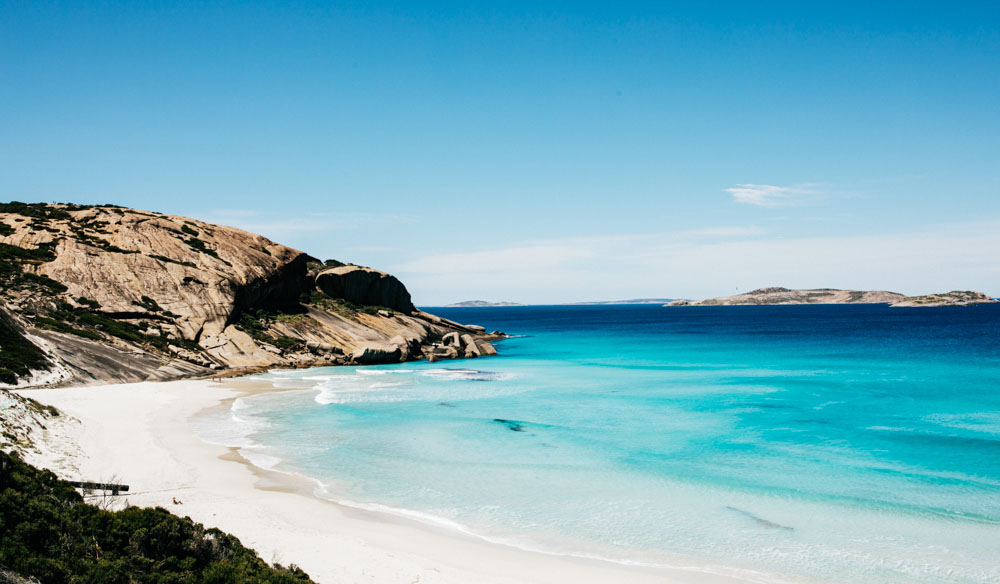 Score: 8.53

"This is a trip," says Fleur Bainger, "where the journey-destination balance is bang on." We know what she means – from the quiet beauty of Perth all the way to the Esperance coastline, you'll motor through tall tree forests; stop in at wave breaks rated by Kelly Slater; gaze out at a smooth-stone archipelago set in a turquoise ocean and be greeted by 'roos, lounging on the icy-white beaches. "Bliss!"

"An embarrassment of riches, boy these guys are spoilt with all they have to offer tourists." – Catriona Rowntree

More info: Western Australia
#24 – a foodie break in Adelaide Hills, SA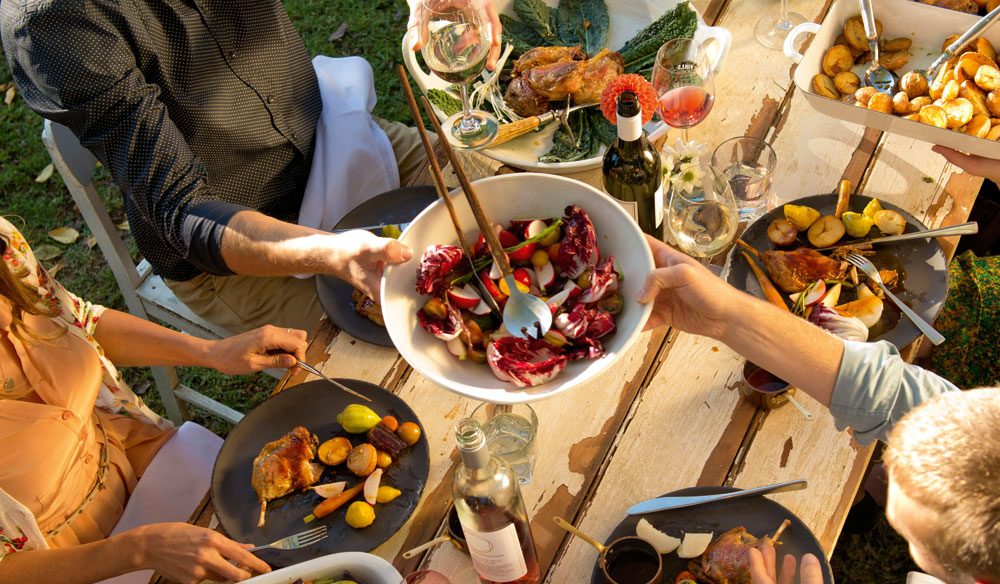 Score: 8.48

We were going to bang on about the Hills' proximity to the city, wonderful food and extremely photogenic good looks, but local (and panellist) Max Anderson summed it up for us: "This cool climate wine region is just 20 minutes from the city but a world away and a thousand metres up. Escape into the vales, valleys and villages for some 50 cellar doors plus a slew of farm gates.

Or make it easy and base yourself in historic Hahndorf, now something of a gourmet artisan hub. Nearby wineries like The Lane, Shaw+Smith and Hahndorf Hill serve up views to match the vintages."

More info: South Australia
#25 – trek Maria Island, TAS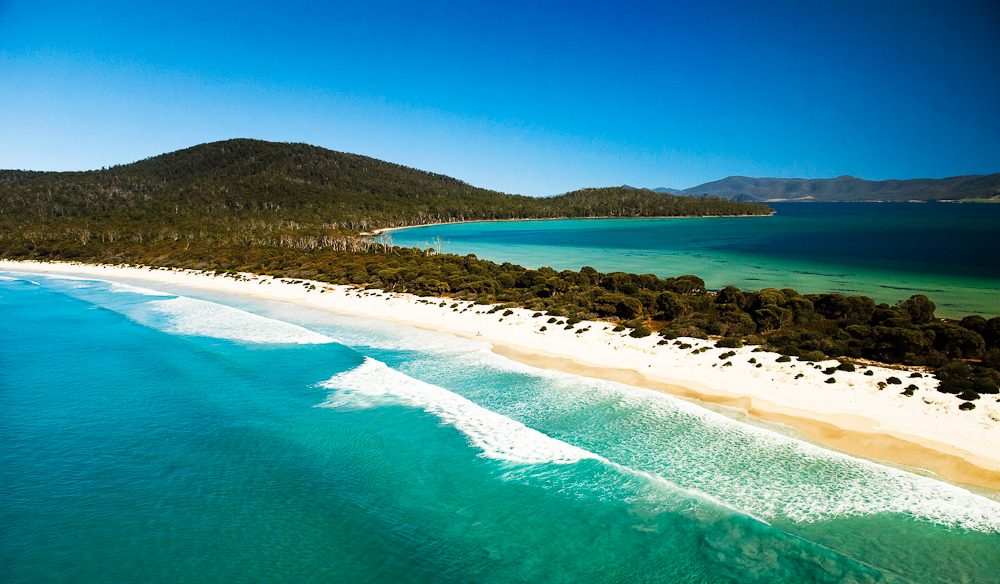 Score: 8.47

Yet another guided Tasmanian walk cracks the top 30 – the panel has well and truly spoken! But this, the award-winning Maria Island Walk, really is princess walking at its finest: superb food, an incredible wilderness landscape, and more so than some of Australia's other great walks, some truly fascinating history. Maria Island was home to some of Australia's earliest convicts (and even they took wry note of the island's beauty), and the stories you'll hear will boggle the mind.

Something to reflect on, perhaps, while you're reclining each evening in your plush glamping tent. From $2300 per person including meals and wines.

More info: Maria Island Walk
#26 – play castaway on Bedarra Island, QLD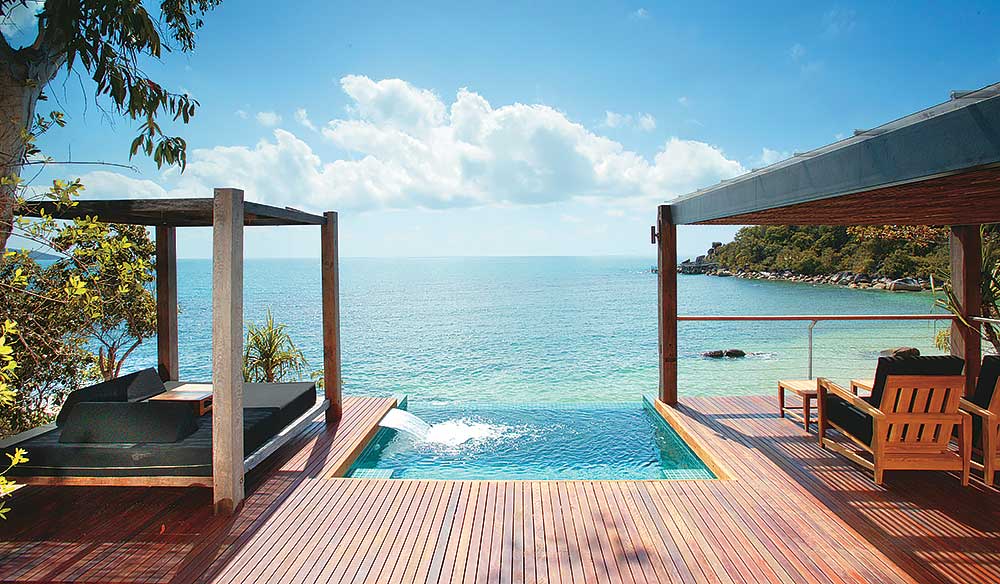 Score: 8.46

"For centuries, travellers have tried to replicate the Robinson Crusoe adventure – novelist Daniel Defoe has a lot to answer for!" says Fiona Harper. But Bedarra comes close, she says – "
it offers that tantalising 'sand between the toes' prospect".

After taking the brunt of Cyclone Yasi in 2011 the resort is now better than ever, undergoing two years of extensive renovations to reopen as Australia's most sustainable island resort. Expect a max of 14 guests at any one time, rain water showers and, as Ms Harper puts it, "carefree days ruled by the rising sun and falling tide". From $1090 per night (including meals and drinks).

Honourable mention: Bob Hawke, Pat Rafter, the Murdochs… Haggerstone Island and its four rooms is more treehouse than palace, but that hasn't stopped some of Australia's highest profiles from escaping there.

More info: Bedarra Island
#27 – make the Red Centre pilgrimage, NT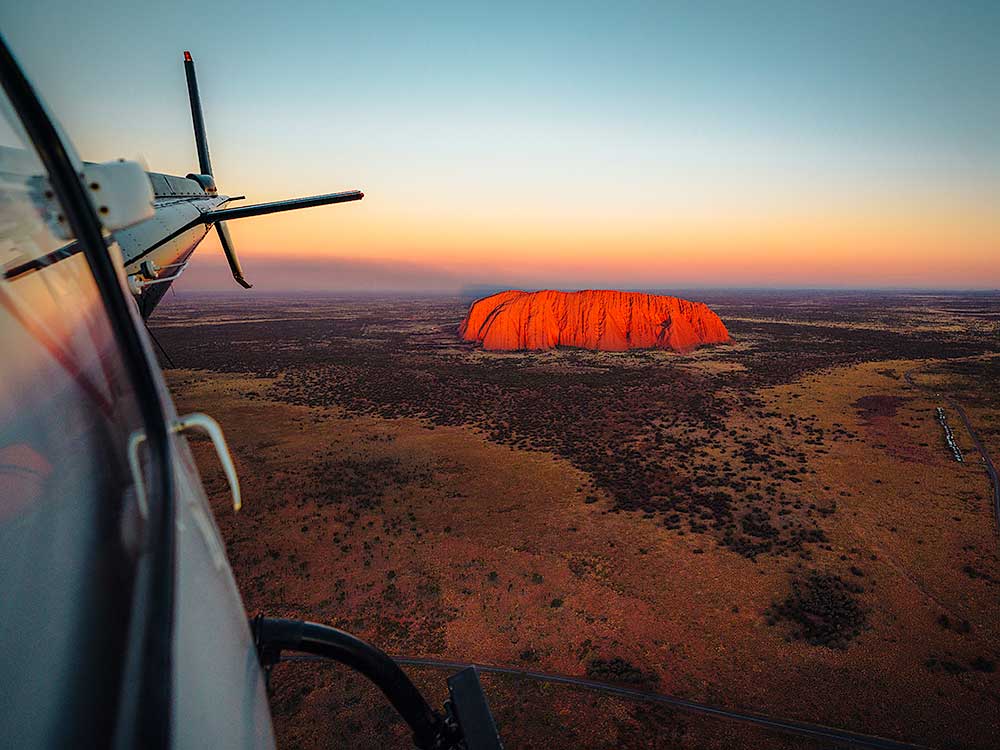 Score: 8.45

"Out here," says the latest campaign for Ayers Rock Resort, "you can touch the silence". Forgive us for borrowing words from an ad, but there's really no other way to put it. The specialness of our Red Centre can't be overstated.

And there's no better way to get there than by road trip. Whichever direction you're coming from, take your time, allowing the magic of the region to slowly seep into your bones. Kata Tjuta, Kings Canyon and the MacDonnell Ranges are equally as spell-binding as Uluru; be prepared. As Lee Atkinson says, "If you only ever go outback once in your life, this is the trip to do".

More info: Tourism NT
#28 – take a Hobart weekend, TAS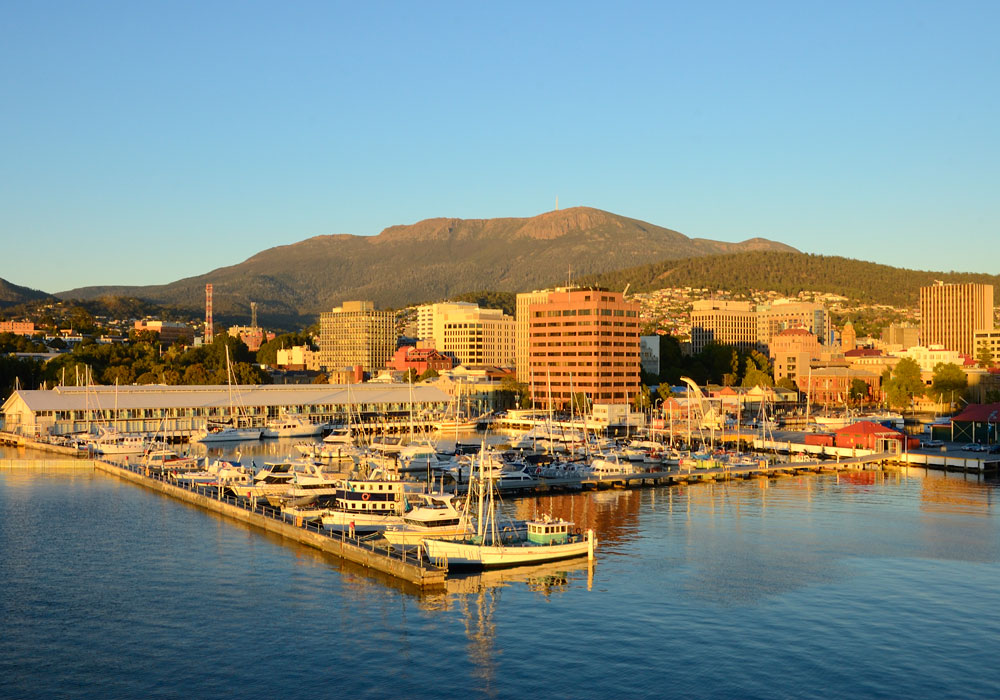 Score: 8.44

We're not surprised that a weekend holiday in Hobart has earned such a high score; the city has been sculpting a smorgasbord of artistic endeavours ripe for the exploring (and eating) for years now.

We reckon the frankly remarkable experience of MONA is chief on the to-do list, alongside the three-hatted sensory delight of Garagistes, but even the mountainous skyline is a pretty work of art.

A day in Hobart – according to Max Anderson: "Gorge yourself in any of the establishments in wonderful Salamanca Place, drinking in the maritime history as well as the champion pinots. You're moments from the shuttle ferry that will take you to Australia's greatest triumph since the Opera House, the mind-altering experience that is MONA. After going underground, treat yourself to sky-gazing on the lawns outside the Moo Brew Brewery or do the sensational The Source Restaurant."

More info: MONA
#29 – road trip the Great Alpine Road, VIC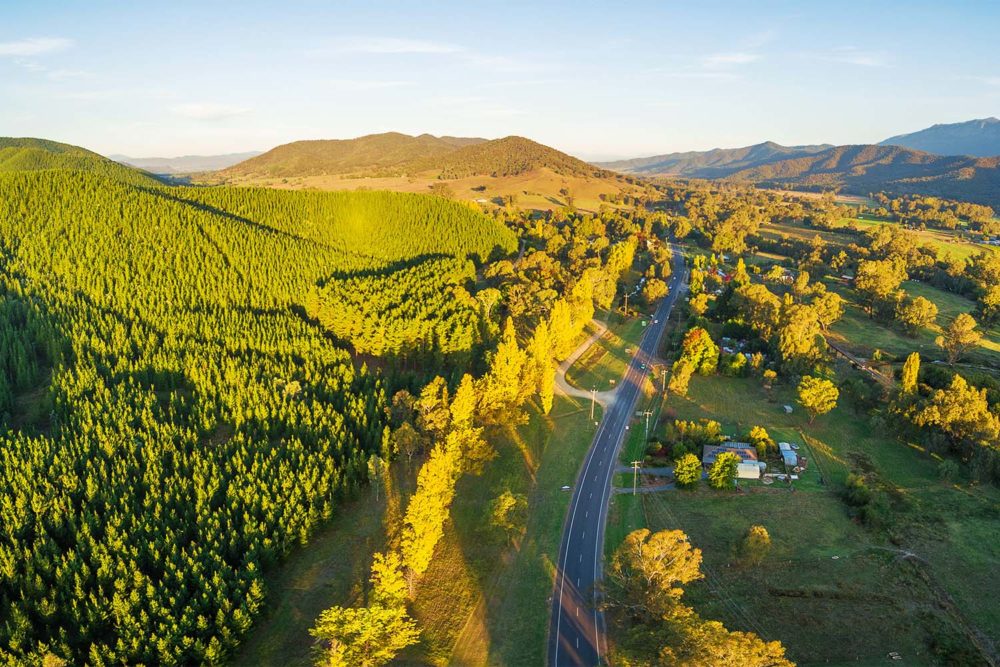 Score: 8.42

Ah, Victorian High Country – long overdue to take primary position as Australia's favourite food region. Roadtripping the Great Alpine Road can be done several which ways, but we like Tom Neal Tacker's suggestion: "idle a couple gourmet-filled days in the northern foothills around the Beechworth, Myrtleford and Yackandandah triangle before heading to Bright (via a side trip to Mount Beauty), then to Harrietville on the way to Mount Hotham and Dinner Plain.

Stay a night in Dinner Plain (dining options are pretty good) before heading south to Omeo and Bruthen to the Princes Highway." Belated apologies if your pants no longer fit.

More info: Visit Victoria
#30 – eat and drink your way across the Fleurieu Peninsula, SA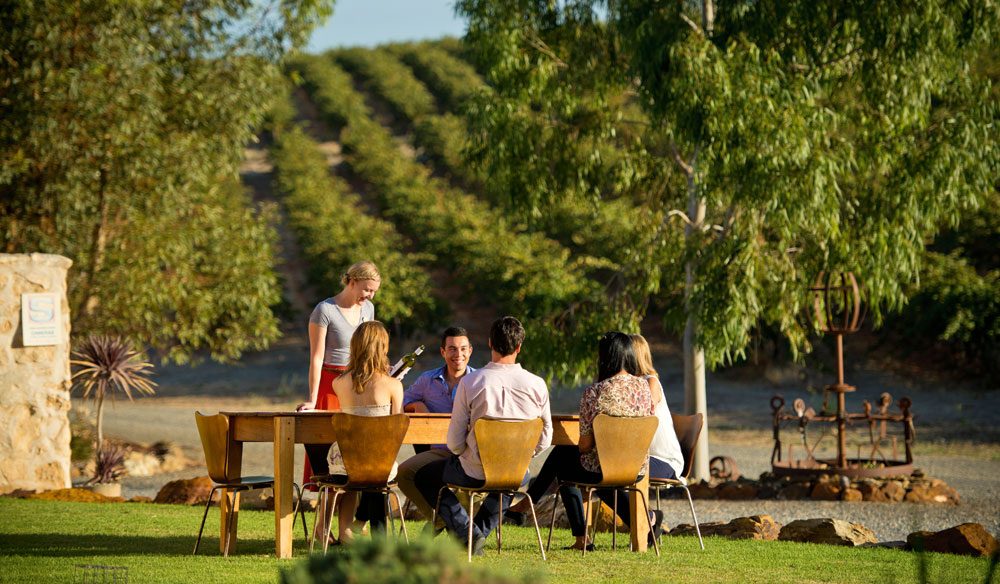 Score: 8.39

Australia's wine regions are, like Australia's wine, always improving, and the Fleurieu Peninsula cracks our top 30 thanks to its happily ameliorating culinary options. Just a short drive from Adelaide, this area has long been a producer of excellent and many varied wines, but now they are being beautifully matched with excellent and many varied meals, from McLaren Vale down to Victor Harbour and beyond.

"One of the world's great unsung wine regions, the 'Flerr-yerr' combines gorgeous grape country with sparkling coast and some Murray River country to boot. Boutique producers rub shoulders with big names, and getting lost in the leafy lanes inevitably yields some sort of comestible delight. The Star of Greece beach-side restaurant is a must-do
." – Max Anderson

More info: South Australia
100 Best Holidays of Australia – 31 to 40
#31 – Dolphin & Seal Watching on Kangaroo Island, SA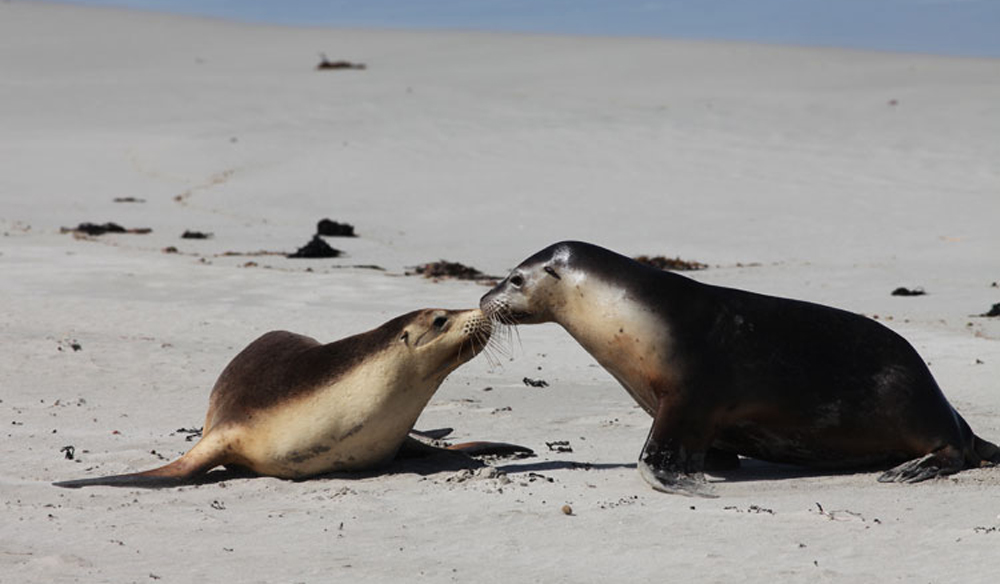 Score: 8.387

One of Australia's greatest concentrations of wildlife, Kangaroo Island may have gone through some recent nature-related tribulations yet still remains one of the country's best showcases of animals on both land and sea.

From the ability to encounter massive sea lions up close on the beach at Seal Bay Conservation Park in entirely natural surrounds, to the frequent sight of echidnas ambling along the roadside, to some of the best boutique dolphin cruises to encounter pods up close aboard smaller and more intimate vessels, KI delivers in spades. Add in its various locally-produced gourmet goods and other culinary delights, and Kangaroo Island truly earns the title "ultimate" in every sense of the term.

More info: tourkangarooisland.com.au
#32 – do The Great Ocean Walk, VIC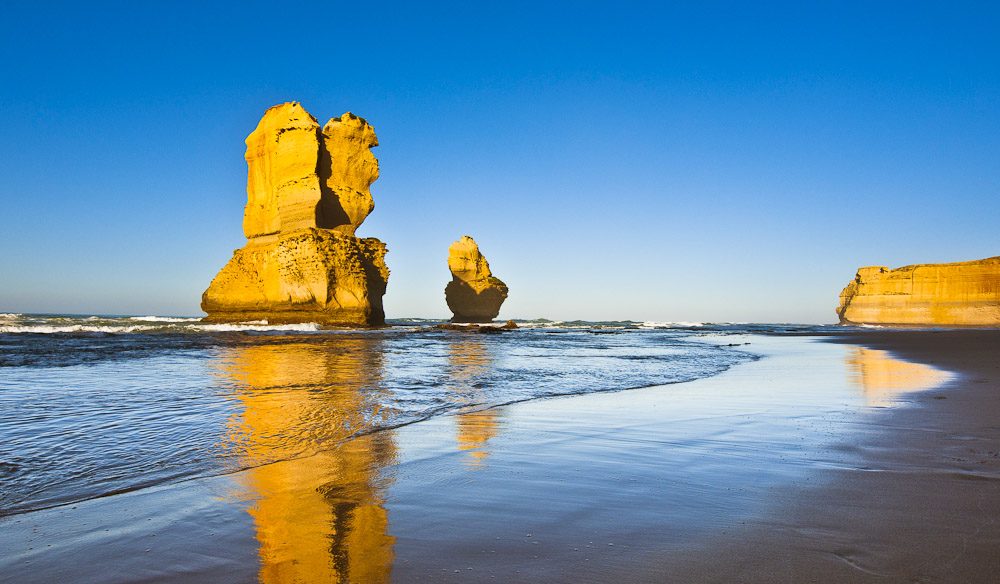 Score: 8.385

It's long been known that the Great Ocean Road is one of the world's finest drives, but parallel (though completely separate to) the road, lies 100 kilometres of seriously spectacular walking tracks.

If you're going to walk it, there's one experience that our panel rates more highly than the others: the four-day, 65-kilometre tour with Bothfeet, which visits many of the coastal cliff-tops, forests and beaches that the Great Ocean drive is famous for, comes with a guide, private chef and eco-luxury homestead to rest weary bones. From $1995 per person, including accommodation, meals, transfers and a scenic chopper ride.

More info: Aus Walking Co
#33 – explore Fraser Island, QLD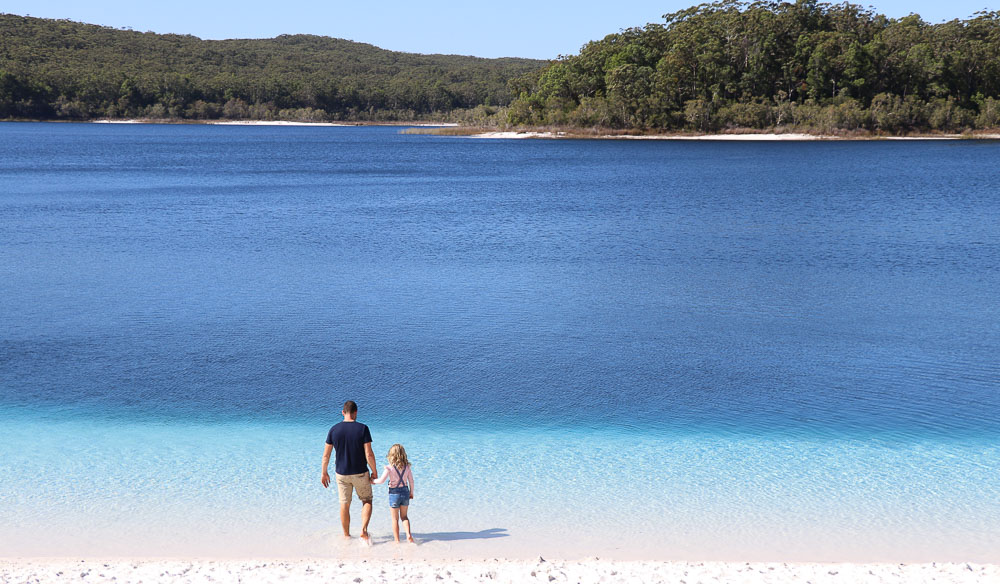 Score: 8.37

Fraser Island isn't just jaw-droppingly beautiful, with her many luminous lakes, sparklingly clean dunes and perfect forests – she's filled with enough history, both modern and ancient, and an array of flora, fauna and natural wonders large enough to capture the imagination of every inquisitive mind.

"A beach break here is a holiday where everyone gets to have a bit of fun," muses Peter Everitt. "Mum can relax at Kingfisher Bay while Dad goes four-wheel-driving and the kids can enjoy the Junior Eco Rangers Kids Club! It's gorgeous all year 'round and caters for every budget. What's not to love?" Indeed.

More info : Visit Fraser Coast
#34 – go barefoot on Kangaroo Island, SA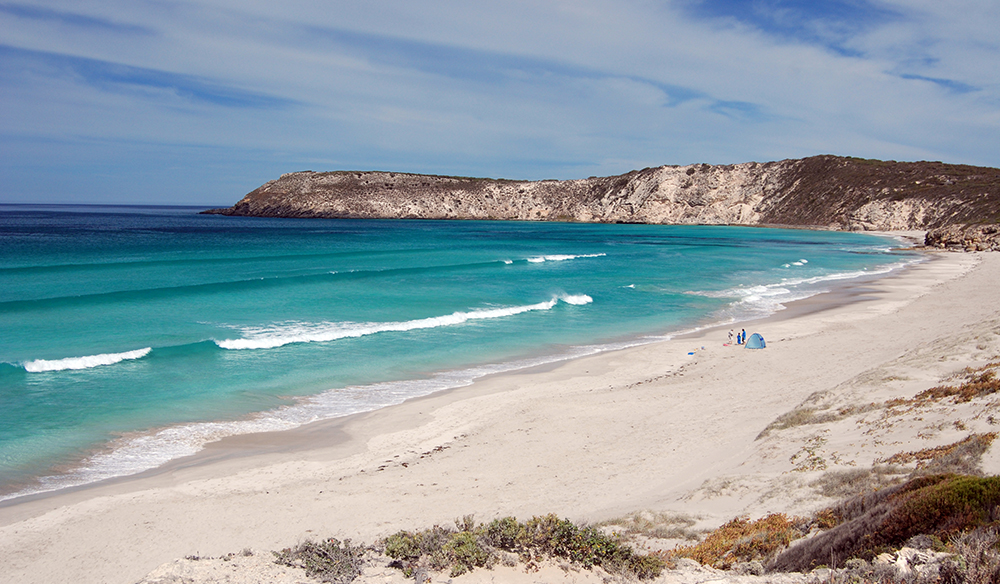 Score: 8.368

In addition to its commercial tourism experiences, KI is somewhere that can be perhaps best explored on foot. "The magnificent scenery, delicious local seafood and the native wildlife… I love Kangaroo Island," sighs Suzanne Medway. So do we.

As the third largest island of Australia, just a short splash from Adelaide, there would be few among us who didn't know of her charms, but you'd be hard pressed to find someone satisfied they'd spent enough time among them. Make sure you check out the beautiful beach at lesser-known Stokes Bay, hidden down a dirt road (from Emu Bay) next to charming locals' café, Rockpool (08 8559 2277, only open in summer months).

"Looking to check off your 'Aussie animal checklist' in 48 hours? This place is a one-stop shop." – Catriona Rowntree
#35 – chase Minke whales, Great Barrier Reef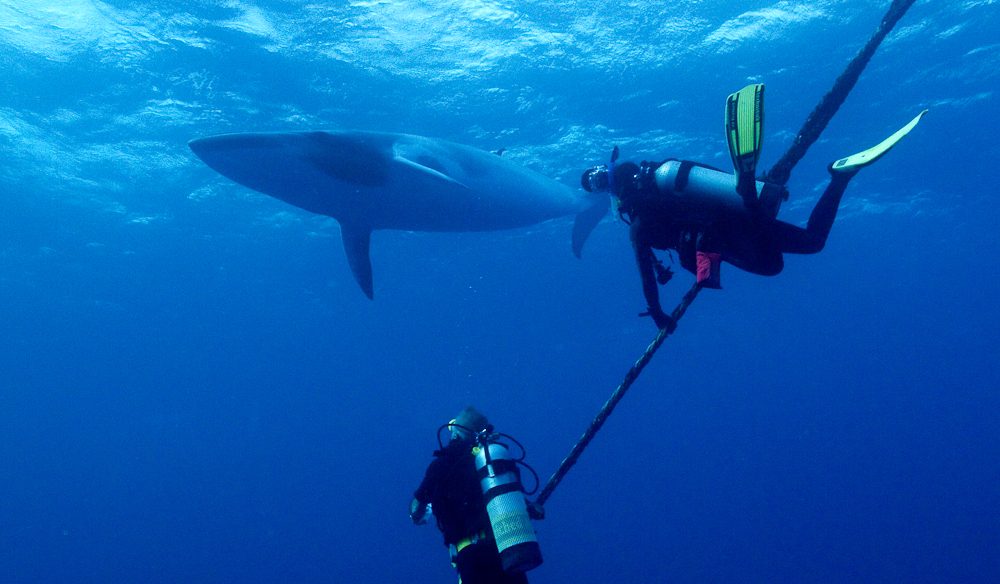 Score: 8.365

There's nowhere else in the world where dwarf minkes congregate like they do on the GBR – and certainly nowhere else in the world where you can swim with them. And there's definitely nothing else in the world quite like swimming eye to eye with them, says Inger Vandyke.

"From the moment you make eye contact," she says, "you switch from being in your world to being completely immersed in theirs. Swimming alongside them is a pivotal life experience, something that stays in your memory forever." See 3-night 'Cod Hole' expedition with Spirit Of Freedom.
#36 – spend a weekend at a hatted hideaway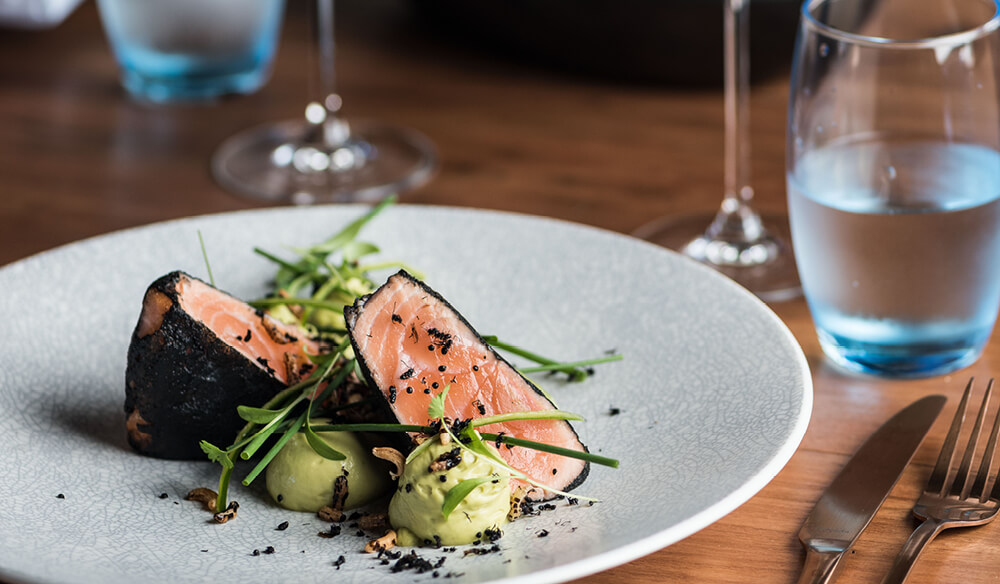 Score: 8.36

Brent Wallace summed this one up best for us: "what better way to enjoy Australia's culinary excellence," he asks, "than in the sumptuous surrounds of our country's finest inns? Gourmet hospitality at its finest, all wrapped up in wonderfully authentic and luxurious retreats." Concur.

The panel's top picks:

1. Spicers Clovelly Estate, Montville, Qld

2. The Royal Mail, Dunkeld, Vic

3. Spicers Peak Lodge, Scenic Rim, Qld

4. The Lake House, Daylesford, Vic

5. Spicers Tamarind Retreat, Maleny, Qld

6. Lilianfels, Leura, NSW

7. The Provenance, Beechworth, Vic

8. Jonah's Whale Beach, Sydney, NSW

9. Bells at Killcare, Central Coast, NSW

10. Muse Kitchen, Hunter Valley, NSW

11. Peats Bite, Berowra, NSW
#37 – go gourmet in the Clare Valley, SA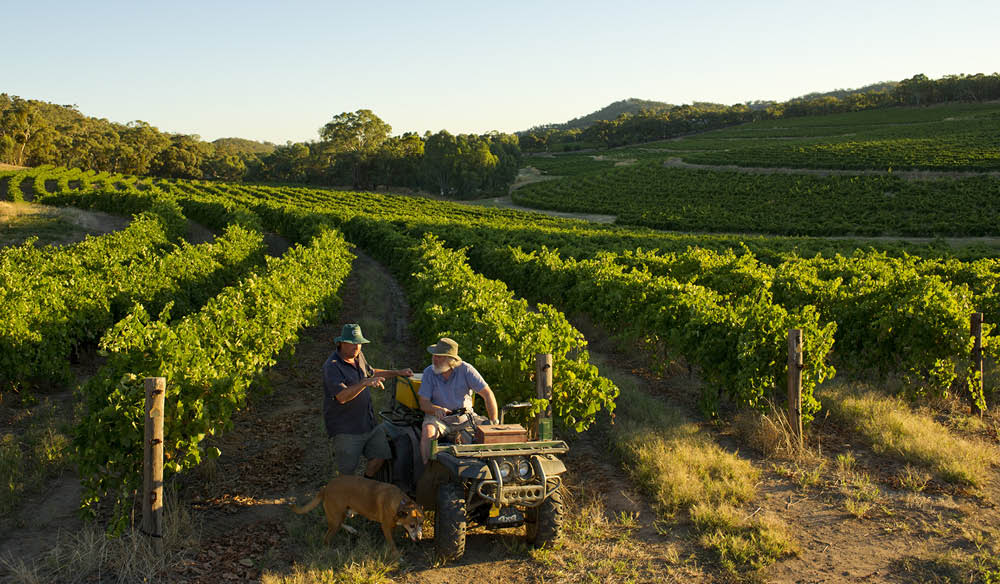 Score: 8.35

Yet another South Australian wine region takes its rightful place in the line up.

With its heritage towns, food trails, boutique wineries, lovely little museums and galleries and all that beautiful scenery, who are we to argue? Highlight tip: hire a bike and cycle the Riesling Trail for a day. It's as delightful as it sounds.

More info: clarevalley.com.au
#38 – explore Wilpena Pound, SA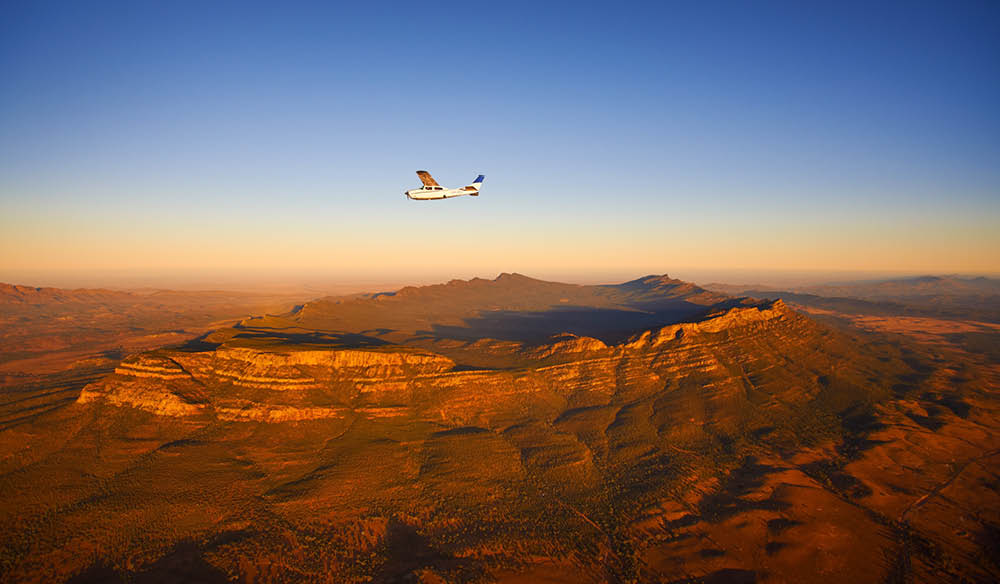 Score: 8.345
We've often wondered why amazing natural phenomenon Wilpena Pound isn't world famous, but we'll take it the way it is – blissfully untouched – any day.

Stay at either the fabulous Rawnsley Park Eco Villas, with the Pound as a backdrop, or at its foot at Wilpena Pound Resort (even better again, in one of their brand new safari tents) and let the eucalypts work their whispery magic. Don't leave without taking at least one bushwalk into the Pound, or a scenic flight over the top with Air Wilpena.

More info: southaustralia.com
#39 – stay at Longitude 131, NT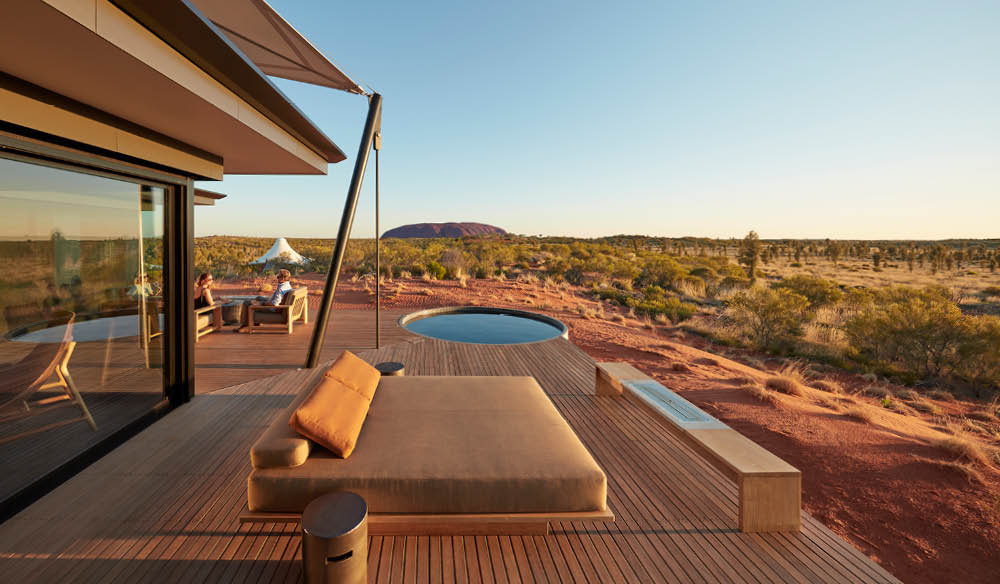 Score: 8.34

There are plenty of ways to experience Uluru, and none other involves spending $1000 a night – so why did the panel vote this in? "You can't get anything better than waking up in the highest of luxury with the world famous Uluru at the foot of your bed," says Peter Everitt.

"You cannot compare that to anywhere else, it's in a league of its own." Fair enough. From $1100 per person a night including meals, beverages, signature experiences and return transfers;

More info: longitude131.com.au
#40 – escape to 'your' weekender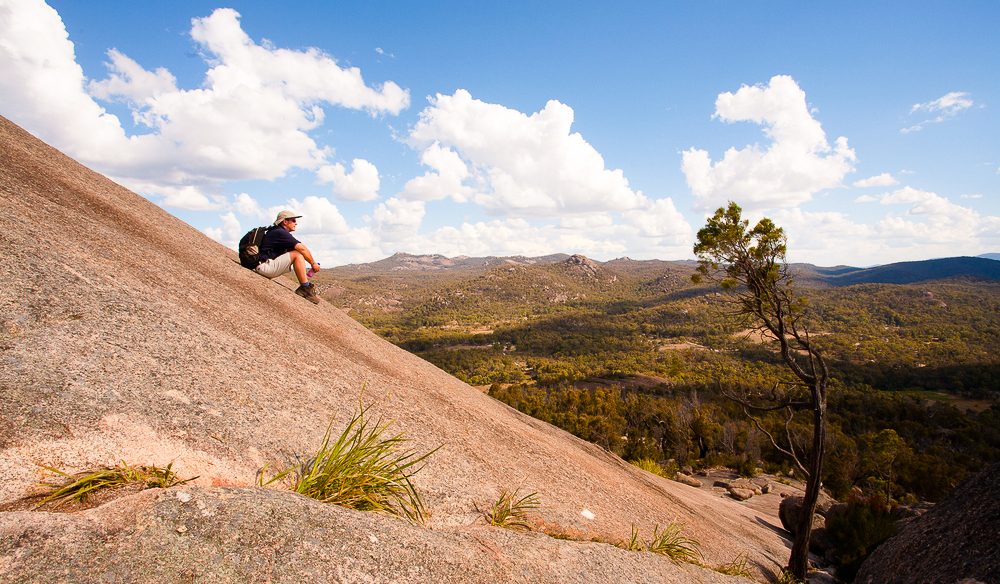 Score: 8.33

Everyone's got a personal favourite, but what we all have in common is this: that magic national park nearby, where you can head to for a day, a weekend, or a week and just relax. A little known fact: several national parks offer cottages or cabins, usually at reasonable rates – it's just a matter of making the enquiries. All the more reason to head there more often, no?

Crowd (free) favourites: National parks to visit this weekend –

"Freycinet" – Andrew Bain.
"Murramarang" – Brent Wallace.
"Lamington" – Christine Salins.
"Wilsons Prom – the best" – Craig Tansley.
"Crowdy Bay" – Daniel Scott.
"Two in the same vicinity: Beedelup and Gloucester" – Fiona Harper.
"The Great Otway for its trees, koalas and proximity to stunning coastline" – Fleur Bainger.
"Too many to mention, but Jervis Bay" – Inger Vandyke.
"Litchfield!" – Jen Pinkerton.
"Noosa – great walking, swimming, views and wildlife" – Kerry Heaney.
"Barrington Tops: sub-alpine wilderness just a few hours from Sydney. It even snows here in winter!" – Lee Atkinson.
"The Royal, so little time is wasted stressing out in traffic." – Louise Goldsbury.
"Blue Mountains" – Max Anderson.
"Ku-ring-gai Chase – Australia's second-oldest NP, and totally underrated" Georgia Rickard.
"Eungella, next to Mackay" – Peter Everett.
"Mornington Peninsula" – Suzanne Medway AM.
"I love all our national parks, but Tassie really is leading the world on how to respectfully combine eco-tourism into a park envionment. I applaud their forward thinking." – Catriona Rowntree.
100 Best Holidays of Australia – 41 to 50
#41 – Visit the ancient Tarkine forest, TAS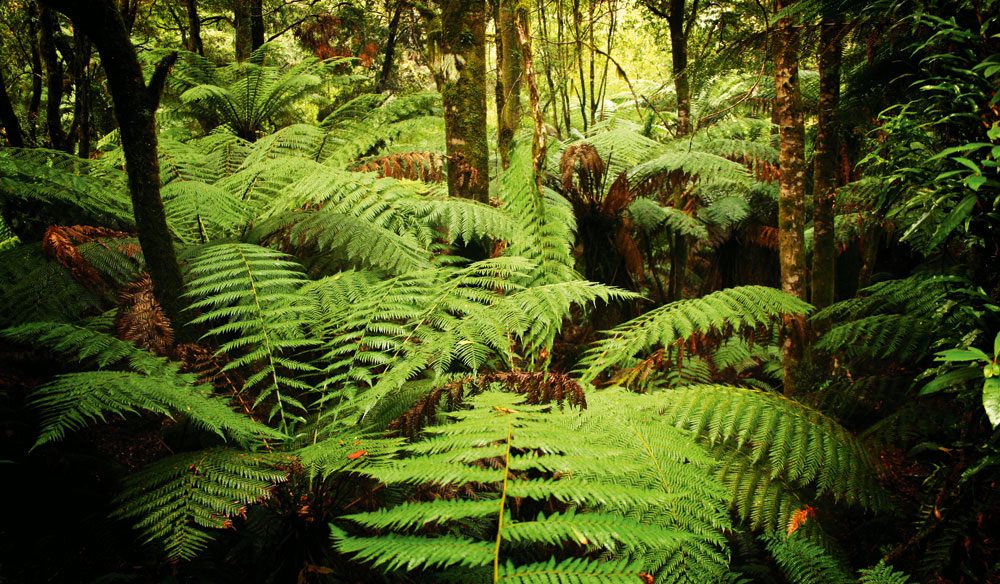 Score: 8.32

A vast, sadly unprotected wilderness, Tasmania's Tarkine is home to the world's second largest temperate rainforest (after British Columbia), as well as 56 endangered species, and one of the greatest concentration of Aboriginal sites in the world.

However you experience it, via one of the many forest walks, self-guided drives, or river cruises, or by staying at the heritage town of Corinna, "once you see this glory, you'll feel so proud to call yourself an Aussie," says Catriona Rowntree. You better get there quick.

More info: discoverthetarkine.com.au
#42 – stay at Berkeley River Lodge, WA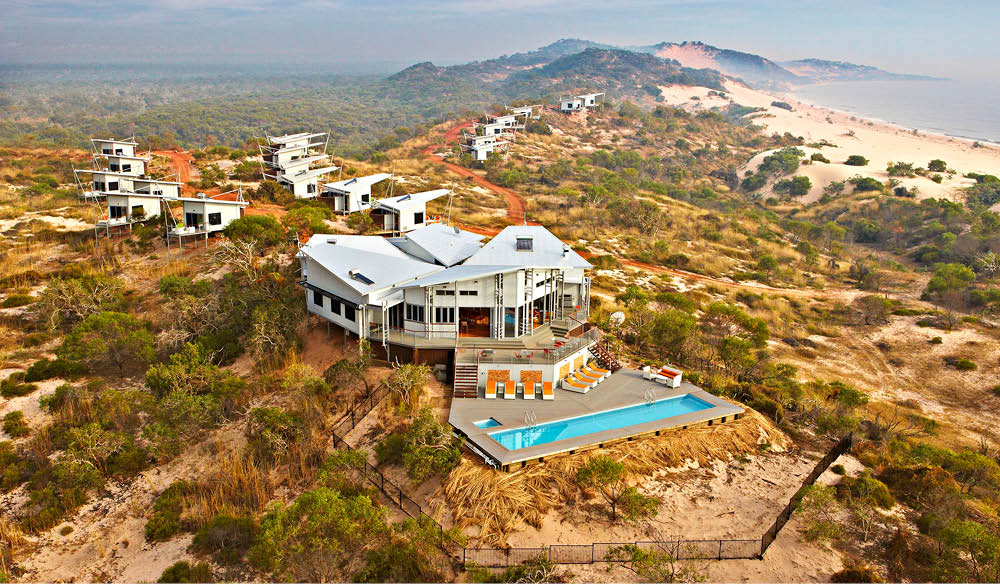 Score: 8.31

"Just getting to this luxury lodge in the Kimberley region – only accessible by the romance of a seaplane, no less – is part of the excitement," muses Keith Austin. "After that, it's wilderness, wildlife, adventure, great food and relaxation in equal measure." Sounds like a dream holiday recipe to us.

Better start saving for Berkeley River Lodge, then… From $3990 per person per three-night package, including transfers, meals, alcohol and more.

More info: berkeleyriver.com.au
#43 – summer at Lorne, VIC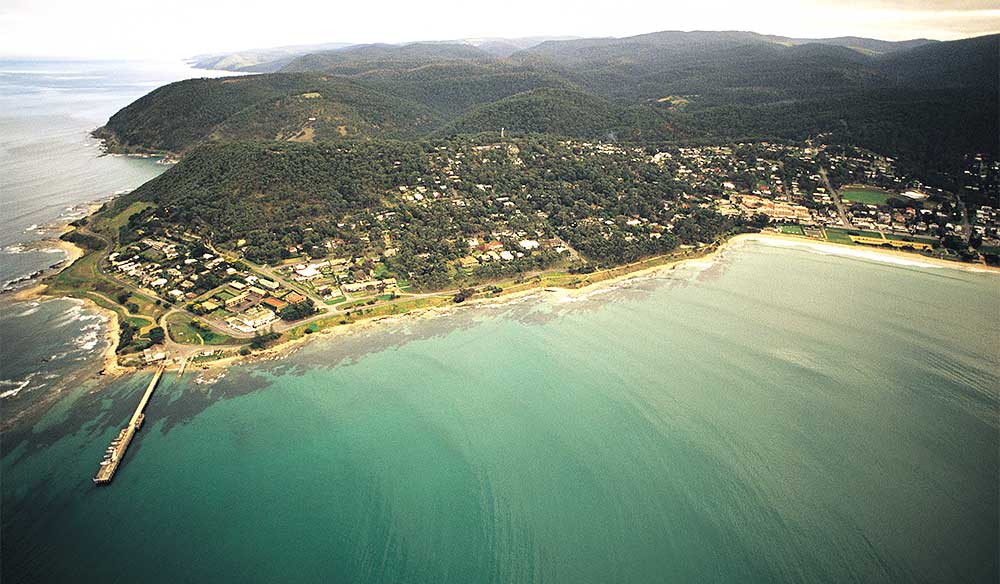 Score: 8.29

New South Wales has Byron Bay, Queensland has Noosa; but this pretty seaside spot, famous not only for its beaches and surf but its prime position on the Great Ocean Road, has a magic of its own. Make a point to explore the nearby rainforest, filled with lush green walking tracks and the cascading Erskine Falls before retiring with a coffee at one of many cute cafés.

Local's tips: stay on 50 acres at Allenvale, a collection of beautiful little beach cottages, three minutes from town. Great in winter, too. From $215 a night.
#44 – embrace that Aussie tradition: camping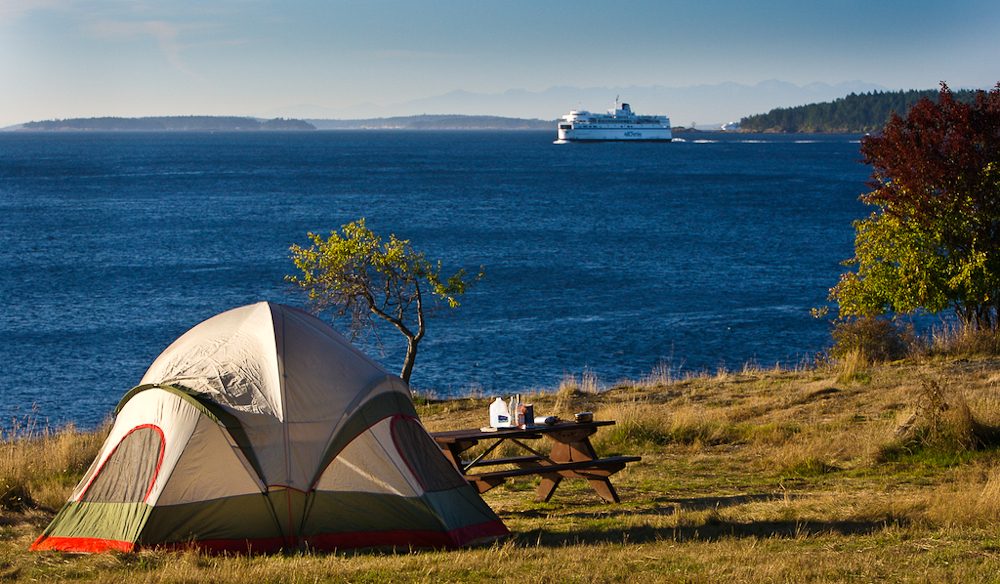 Score: 8.28

As Australian as Vegemite or ANZAC Day, there's just something about an Aussie camping trip, isn't there? The openness, not only of the spaces but of your new neighbour who's just offered you a stubbie; the easy mornings, lazy as a sunning goanna… "I do believe," reflects Georgia Rickard, "that you really can't claim to know Australia until you've been camping."

Stand-out camping regions: a panel-picked bucket list of camping winners

• Barrington Tops, NSW
• Bell Gorge, Kimberley, WA
• Dorrigo NP, NSW
• Exmouth, WA
• Fraser Island, Qld
• Karijini NP, WA
• Lady Musgrave Island, Qld
• North Durras, NSW
• Point Lookout, Stradbroke Island, Qld
• Prevelly, Margaret River, WA
• Wilsons Promontory NP, Vic
#45 – get wintery in Broome, WA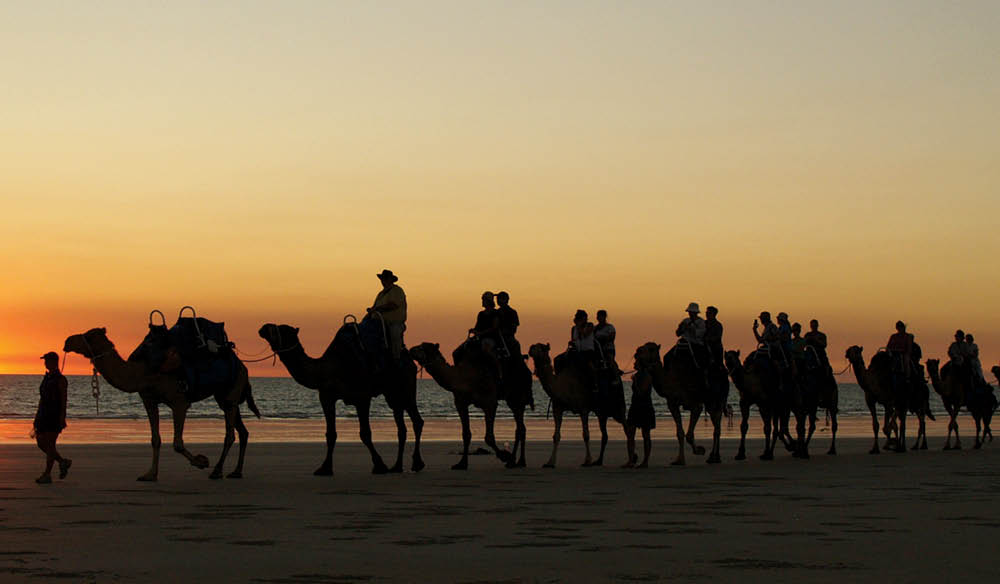 Score: 8.27

Just like the town itself, 'winter' here isn't quite like anywhere else in the world.

"There's nothing else like this town on the planet," agrees Catriona Rowntree. "I love it. It revels in its history, its natural beauty and is always looking forward." Don't forget the obligatory sundowner cocktail at Cable Beach Sunset Bar while you're here.

More info: visitbroome.com.au
#46 – Tackle the Gibb River Road, WA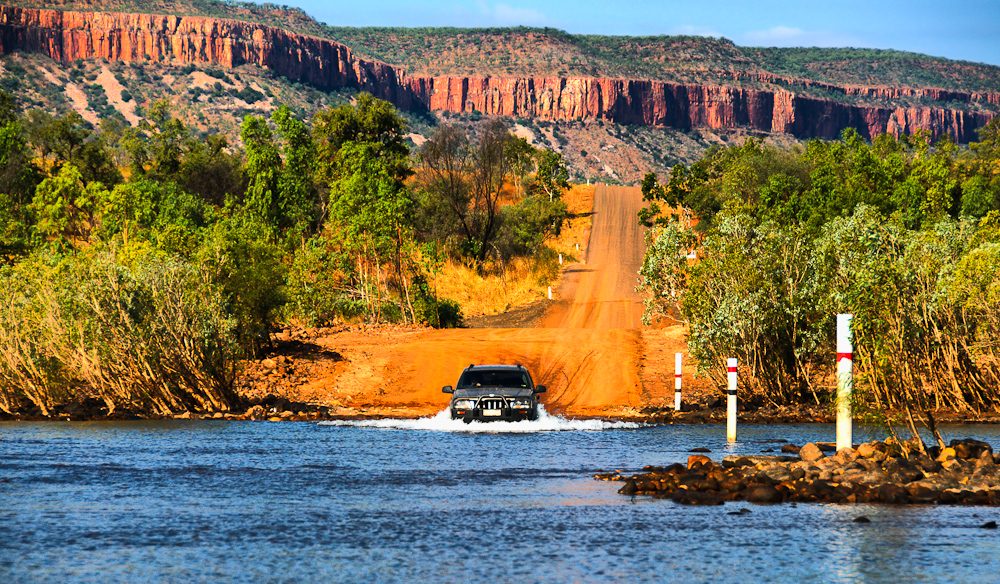 Score: 8.26

Two birds, one stone… right? From Broome, depart for the iconic Gibb River Road, a 4WD track slicing the line between Derby and Kununurra. Cool-as-silk waterholes, shimmering ochre gorges and all manner of local characters are just part of the appeal along this dusty strip of road.

"No matter how many weeks you spend here, you'll find yourself wishing you had more time to explore," says Georgia Rickard. "Upstream of every waterhole is another one; down every bush track is the next breathtaking view."

Yes, you can…

Nothing in the Kimberley is cheap, but a trip on the Gibb River Road offers a better priced ratio of accessibility to authenticity than many other Kimberley options (air safari, anyone?). There's also a surprising amount of accommodation on offer, much of it relatively affordable.

Stations such as Drysdale River Station and Ellenbrae offer clean, comfortable rooms for around $150 a night; if you're a camper there are sites everywhere, from roughly $10 per night and, as you'll need to pre-plan the trip's meals (there aren't exactly 7-11s floating around the place), you can avoid, to some extent, being sprung with extravagant food costs. Start planning!

More info: Western Australia
#47 – New Year's Eve in Sydney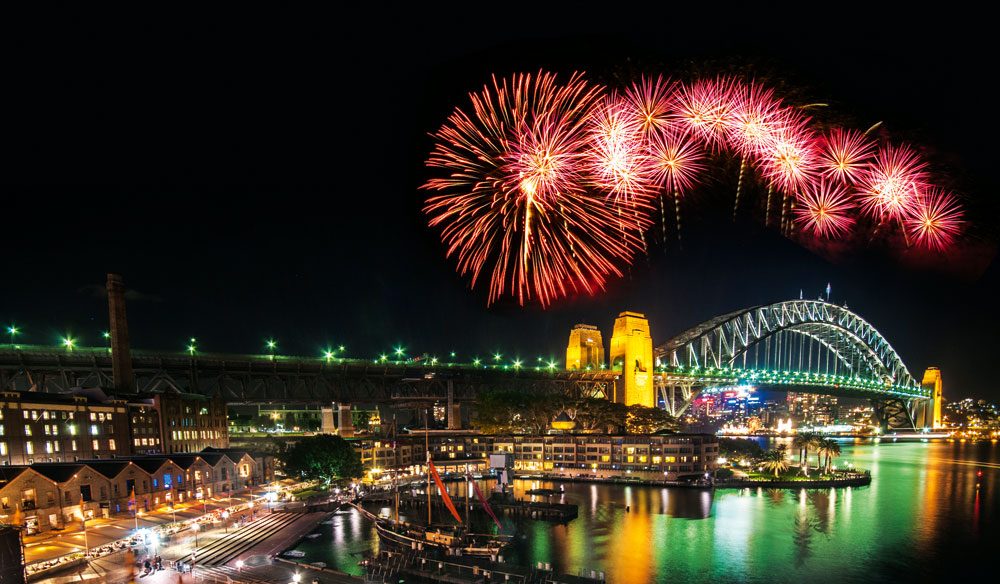 Score: 8.25

The best part about this amazing, world-famous, multi, multi-million dollar event? It's free. Get yourself to Sydney Harbour, and you've got yourself a front-row ticket to an event widely considered at the forefront of the global NYE bucket list.

Yes there are crowds, and yes getting back home afterwards can be hectic, yet there's a reason Sydney shines on the global stage at NYE each year. BYO picnic rug.

More info: sydneynewyearseve.com
#48 – Take Max Davidson's Arnhem Land Safari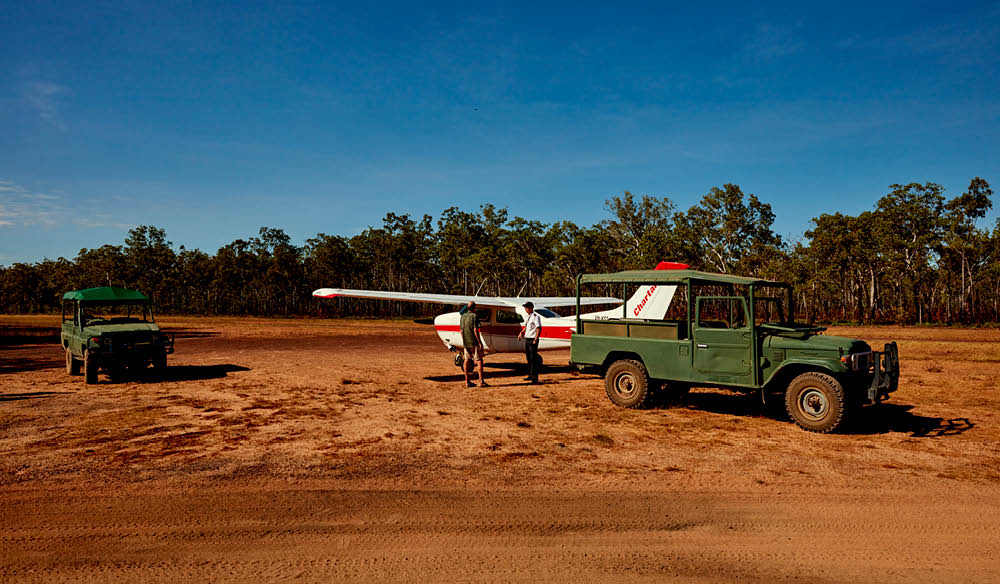 Score: 8.24

Founder Max Davidson originally came to Arnhem Land in search of buffalo; he fell, spellbound, in love with the land instead. For almost 40 years he's been running safaris here, sharing this special part of the world with like-minded (open-minded) travellers.

The rock art is a highlight, says Sue Gough Henly. "Even better, you discover it in a spectacular landscape with escarpments rising over wetlands teeming with birds, fish and crocs. It feels like a living museum in a tropical Garden of Eden." From $750 per person per night twin-share, including all meals, tours, activities and permits.

"A timeless land, A timeless culture, a timeless experience".
#49 – safari to the Cobourg, NT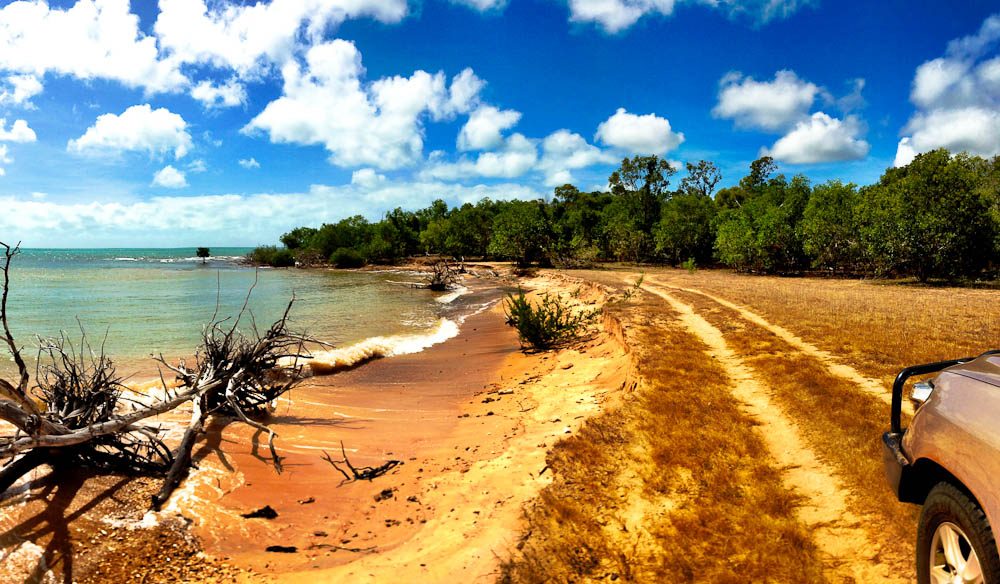 Score: 8.23

Like Max's Mount Borradaile trip, Venture North's five-day 4WD safari to the northern tip of the Northern Territory, the Cobourg Peninsula, is the only one of its kind.

Sacred land, prolific wilderness and the ever-constant presence of that ancient beast the crocodile make this a trip of a thousand memories. From $2890 per person.

More info: venturenorth.com.au
#50 – discover Indigenous rock art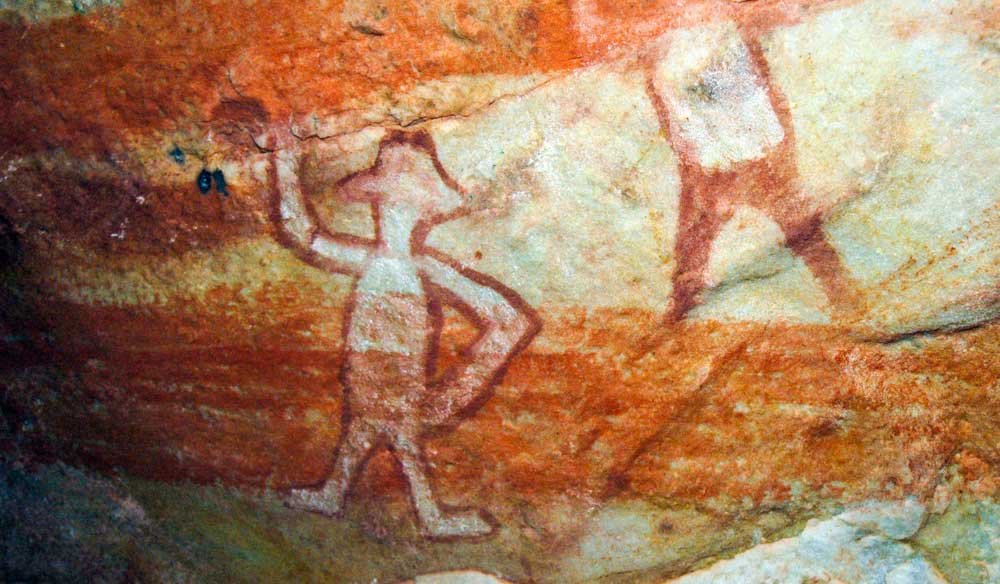 Score: 8.22

Defining a 'best' place to see our indigenous rock art? Impossible.For starters, art is incredibly subjective, but more to the point, seeing our rock art isn't about pretty pictures; it's about respect and understanding.

To confront such palpable evidence of the many cultures who lived here before us is a powerful, humbling experience. But it's also an incredibly rewarding one.

The best of the best:

• "The rock art at Laura in Cape York is extraordinary, and not at all touristy." – Lee Atkinson
• "You'll find awesome art off-the-beaten track in the outskirts of Canberra, at Namadgi National Park." – Jen Pinkerton
• "With World Heritage status and paintings up to 20,000 years old, it has to be Kakadu."– Kerry Heaney
• "Injalak Hill, at Arnhem Land's Oenpelli, offers the best ratio of accessibility-to-experience." – Georgia Rickard
100 Best Holidays of Australia – 51 to 60
#51 – a creative escape to Tiwi Islands, NT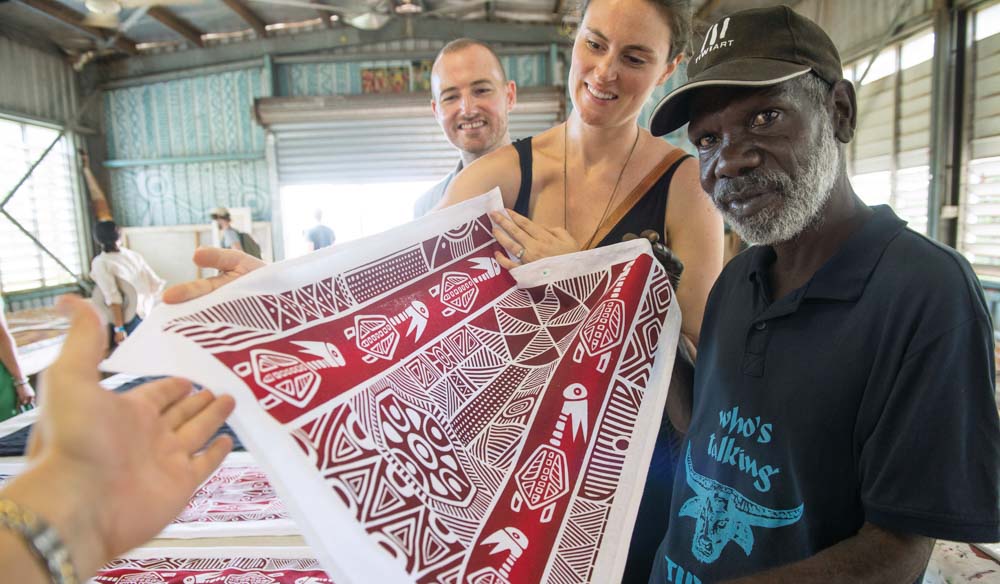 Score: 8.21

Early records from British explorers who came into contact with the Tiwi Islands suggest they witnessed a distinctive culture of patterned body paint, vivid dances and bright ochre burial poles. To this day, this arts and culture scene has mercifully survived and is the very essence of what makes the Tiwi Islands a must-see destination.

Although only 80 kilometres north of Darwin, Jen Pinkerton says "Tiwi is very much off-the-beaten track, and the centres themselves are tucked inside Aboriginal communities, so really, you're accessing something quite authentic". A permit is required to visit and you need to board a small plane or boat to get there but the trek is certainly worth it to experience one of the oldest surviving cultures in the world creatively through unique art.

Of the 11 islands, three host art and culture centres, which are "home to some serious artistic talent," according to Jen. Day trip with AAT Kings from $484 per adult including airfare or the Tiwi Art Network runs group tours of 4–8 people, price on application.

Must do: Sit down with the 'morning tea ladies' on Bathurst Island, a group of elders who'll serve damper and billy tea and teach you how to weave pandanus.
#52 – enjoy a Noosa beach holiday, QLD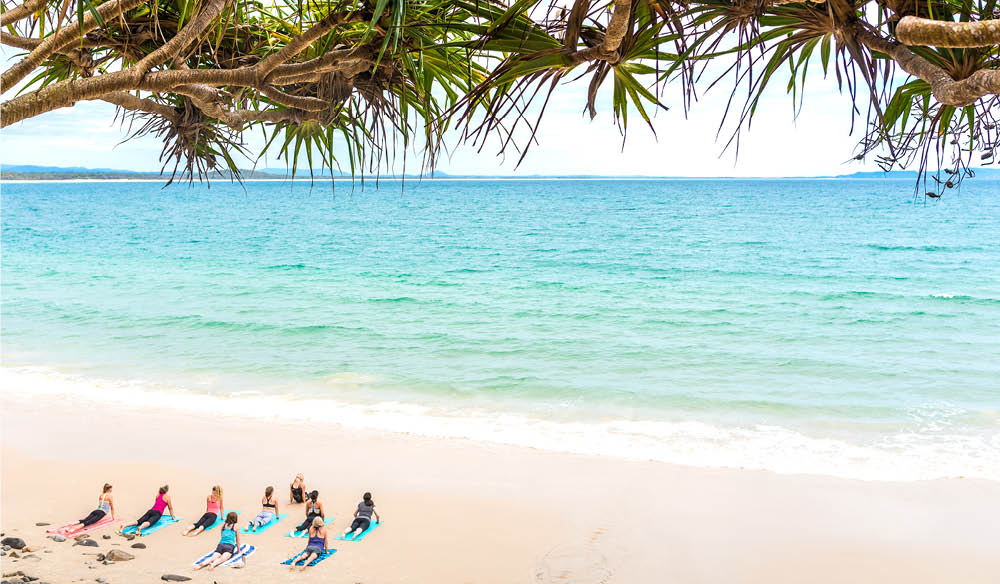 Score: 8.18

Noosa has a "hard-to-beat combo of subtropical beach perfection and foodie heaven in a natural paradise", according to Kerry Heaney, who wonders if life gets any better than watching the sun set on one of Noosa's many beaches, cocktail in hand, the promise of dinner ahead. "Not on my watch," she concludes.

One more reason to go: A spot of Noosa news: yet another brilliant Hastings Street renovation has seen a tired old stay transformed into a modern, bright, beachfront item on our to-stay list. From $175 a night, Seahaven is not crazy expensive, either.

More info: Visit Noosa
#53 – road trip the Legendary Pacific Coast, Sydney to Brisbane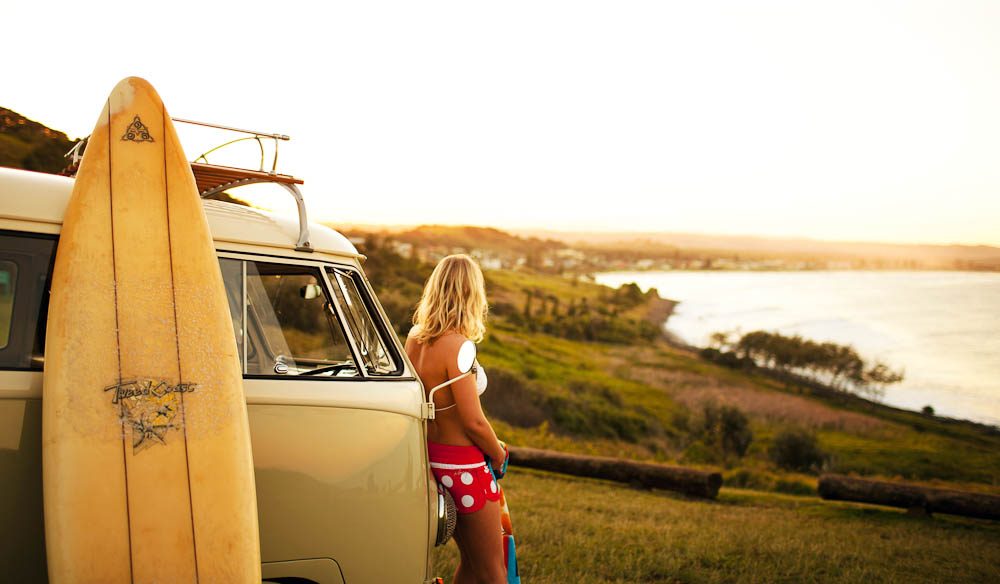 Score: 8.17

Legendary, indeed: many a New South Welshman will remember packing the family car as a kid for the road up to Coffs, or Byron, or the Gold Coast, and though there have been several (welcome) upgrades made since then, the joy of heading north along the coast hasn't changed a bit.

Take some wonderful detours through smaller beachside towns like Terrigal, Seal Rocks and Crescent Head; stop a while at Bellingen; pull in at Yamba or visit cutesy food town Bangalow.

Locals' secret: Just outside Coffs Harbour is local secret Santa Fe, an eclectic South American-inspired B&B with outdoor spa, local produce-filled meals and six acres of award-winning gardens. Ignore the basic website; it's great. From $195 a night.

More info: Legendary Pacific Coast via DNSW
#54 – holiday in Queensland's "triple threat"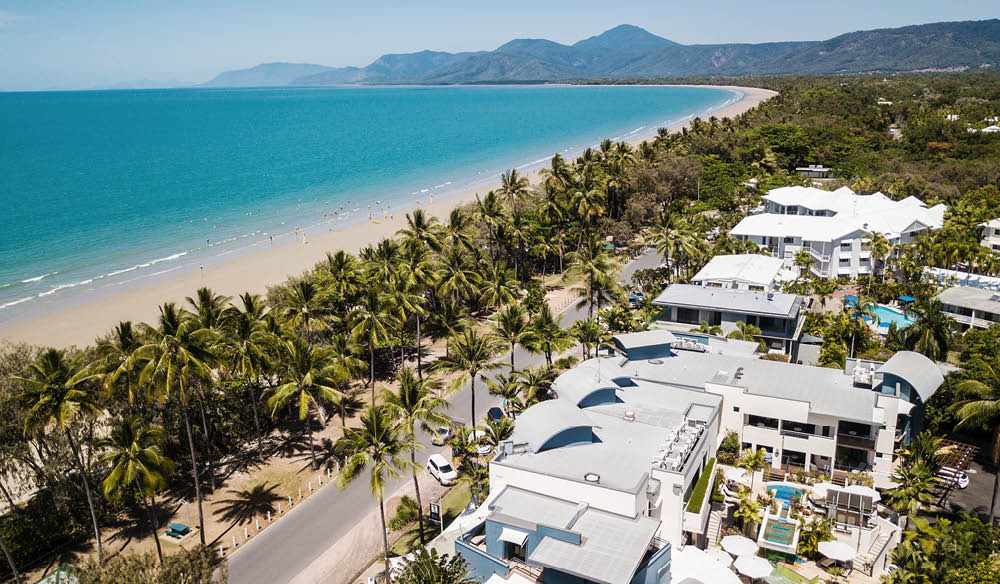 Score: 8.15

Talk about a love triangle – between the lively cultural city of Cairns, the laidback beachside village of Palm Cove and the trendy boutique town of Port Douglas, you'll find the holiday with it all.

There are endless things to do, with the reef (see #13) and the Daintree at your beck and call, but it's also the ideal setting to do not much at all – much like this young lass here, reclining as she is at local retreat Thala Beach Lodge. Tough for some.

More info: Tropical North Queensland
#55 – trip to the Cocos (Keeling) Islands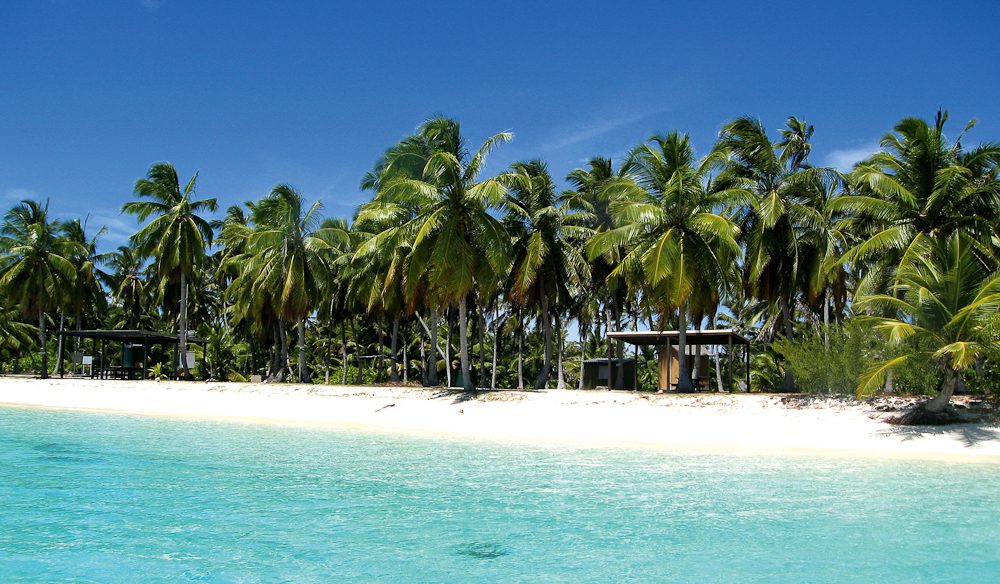 Score: 8.14

A necklace of coral atolls surrounding a pristine coral lagoon, Cocos (Keeling)Islands "is just like the Maldives, without mass tourism," says Inger Vandyke – "the closest thing to a tropical paradise that Australia can boast."

At 2750 kilometres north-west of Perth, getting there is a commitment, but you'll be well rewarded. Pristine coral, spectacular diving, prolific birdlife and of course, the requisite azure waters lapping palm-lined beaches. "The perfect place to put your feet in the sand with champagne in hand," she concludes.

To get here: Fly from Perth's international airport (no passport required) via a stopover at Christmas Island. It's about a six-hour journey – but just think how intrepid (and remote) you'll feel on the other side…

More info: Cocos Keeling Islands
#56 – cruise Arnhem Land, from Cairns to Darwin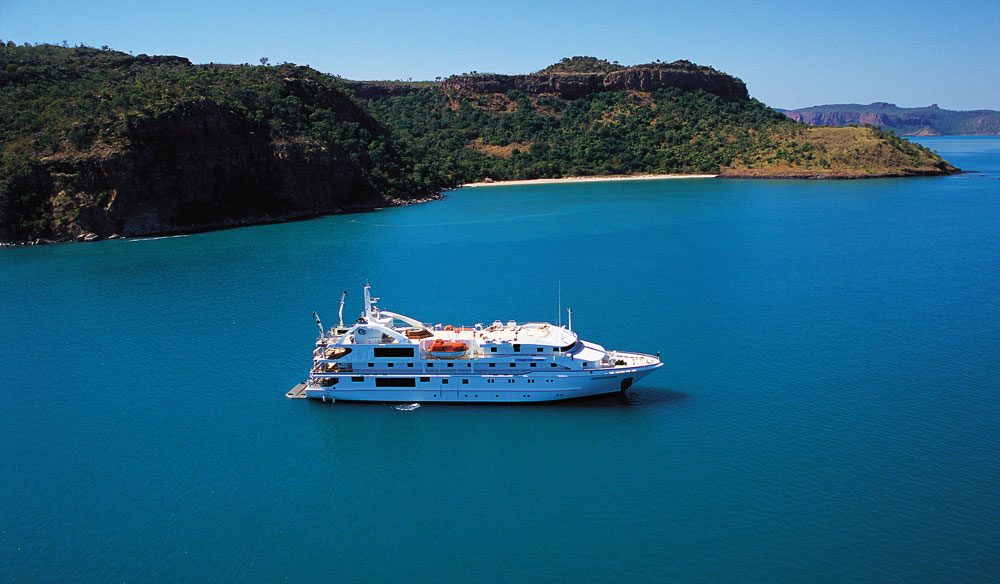 Score: 8.138

What a spectacular itinerary this is, taking in several of the top destinations on this very list: stunning Lizard Island (#11) Cape York (#15 and #92), Cobourg Peninsula (#49) and Tiwi Islands (#51).

In fact, it's a mystery why this cruise didn't score higher marks; lack of sea legs on the panel, perhaps? 11 days from $11,990 per person twin-share including accommodation, meals and shore excursions.

More: Coral Expeditions
#57 – follow the Larapinta Trail, NT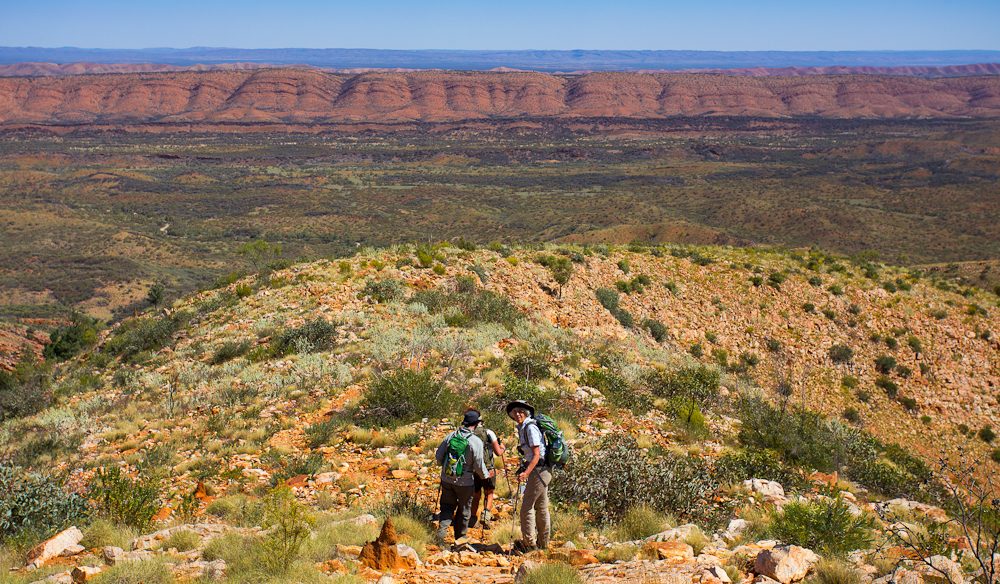 Score: 8.135

One of Australia's truly 'epic' walks clocks in here – a 72-kilometre trek along the Larapinta Trail, guided by adventure specialists World Expeditions. Catriona Rowntree can vouch for the operators: "Anything this company puts its name to, you just know will be great," she declares.

The location is pretty hard to beat, too: a six-day round trip from Alice Springs, the track – only completed in 2002 – follows the ridgelines of the West MacDonnell Ranges, taking in vast flood plains, rocky outcrops, deep gorges, waterholes and canyons along the way.

Don't worry, you'll still find time for excellent food and fireside wine beneath a wide outback sky. From $2195 per person, twin-share, including most meals, park fees, equipment and transfers.

More info: World Expeditions
#58 – a luxe weekend in spa country: Daylesford, VIC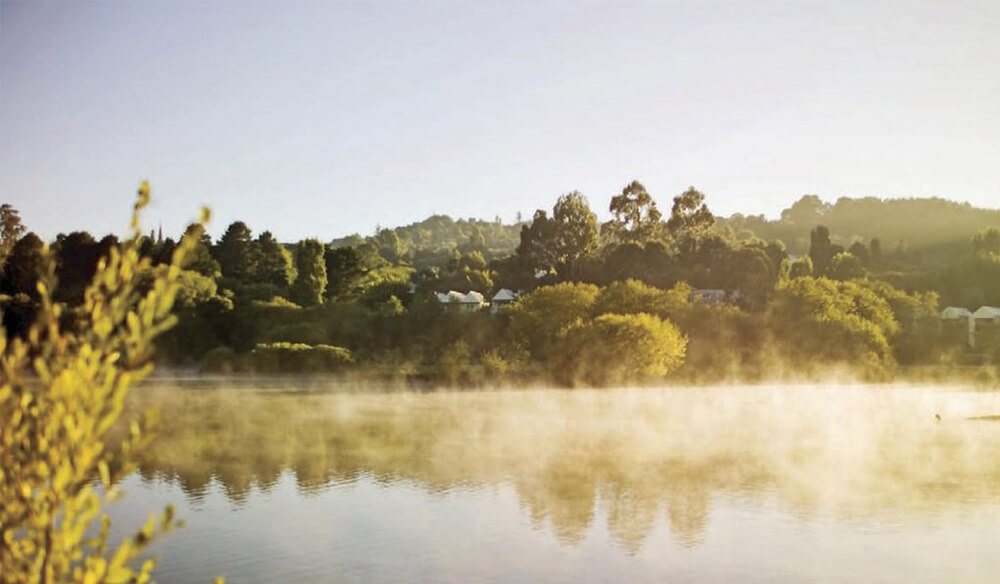 Score: 8.13

The third recipient of spot #56 is Daylesford, a town with two sides: the decadent spa scene, and the decadent food scene. You'll find both nestled amongst the higgledy piggledy, picket-fenced houses of this rustic, chic country town, which will leave you glowing for all the right reasons, says Georgia Rickard.

"Beautiful views, lovely people, gorgeous food, crispy clean air and of course, all those spas. Luxury on many levels."

Luxe for less: Save your pennies for more spa time by staying at one of the many sweet but reasonably priced holiday houses in the area.

More info: Visit Hepburn Shire
#59 – trek with an elder, WA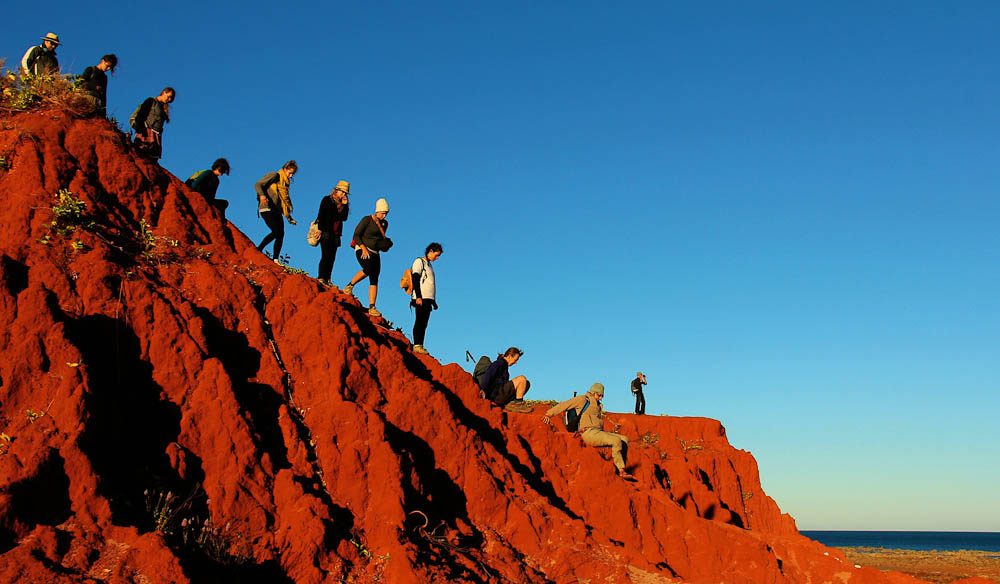 Score: 8.125

The Lurujarri Heritage Trail nine-day walk was initiated in 1987 by respected elder Paddy Roe as a means of encouraging members of the
Goolarabooloo community to walk their country again; in order to stay connected with their heritage and keep traditional skills alive.

Since then the walk has been made available to open-minded travellers so they, too, can experience the living country – long stretches of coast, reef, dunes, rugged bush, mangroves and salt plains. Passing indigenous midden-rich landscapes, the elders share Dreamtime stories, explain traditional tucker and medicines, and demonstrate how to make traditional tools.

"I see it as a way to pierce another reality, learn how to find food and be totally immersed in stories from the Dreamtime," Sue Gough Henly muses.
#60 – walk the Cape to Cape track, WA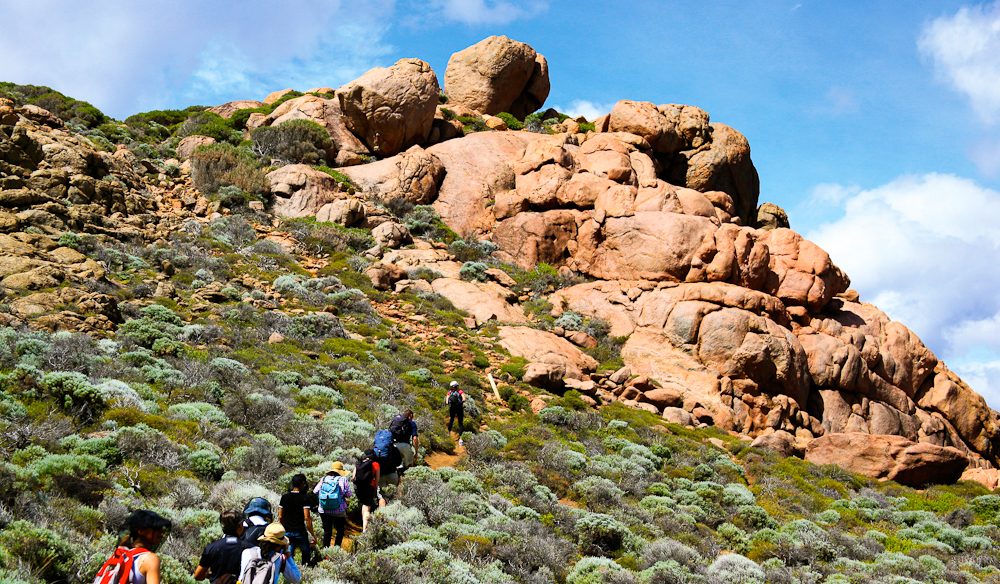 Score: 8.123

You simply can't go further west, which makes this stretch of coast the ultimate land of opportunity.

Over paths of coarsely crushed shells and 'round bends of turquoise, the walk takes in some of Australia's most treasured coastline along the Margaret River region (a big part of why 'a foodie escape' in this area came in at #6).

Fleur Bainger recommends walking any section of the 135 kilometres (many access points give you several options) in spring when cliff-top views reveal migrating whale pods and inland vistas are carpeted with wild, wild, wildflowers.

More info: Western Australia.
100 Best Holidays of Australia – 61 to 70
#61 – drive the Coral Coast, Perth to Exmouth


Score: 8.121

The Pinnacles. Kalbarri's wildflowers. Monkey Mia's dolphins. This trip is stuffed with highlights, though as Lee Atkinson points out, the road is one in itself: "The desert meets the sea on this drive.

The colours are astonishing: red, red dirt and turquoise seas, and every town has a different story." Of course, an absolute must on this journey is to swim with whale sharks, but we've already blabbed all about that (see #12). Be sure to set aside at least 10 days (and then some) to really take it all in.

See an itinerary jam packed with memorable experiences and must-do stops here: 'Road Trip: Perth to Ningaloo Reef' and visit Australia's Coral Coast
#62 – 'camp' at Kooljaman, WA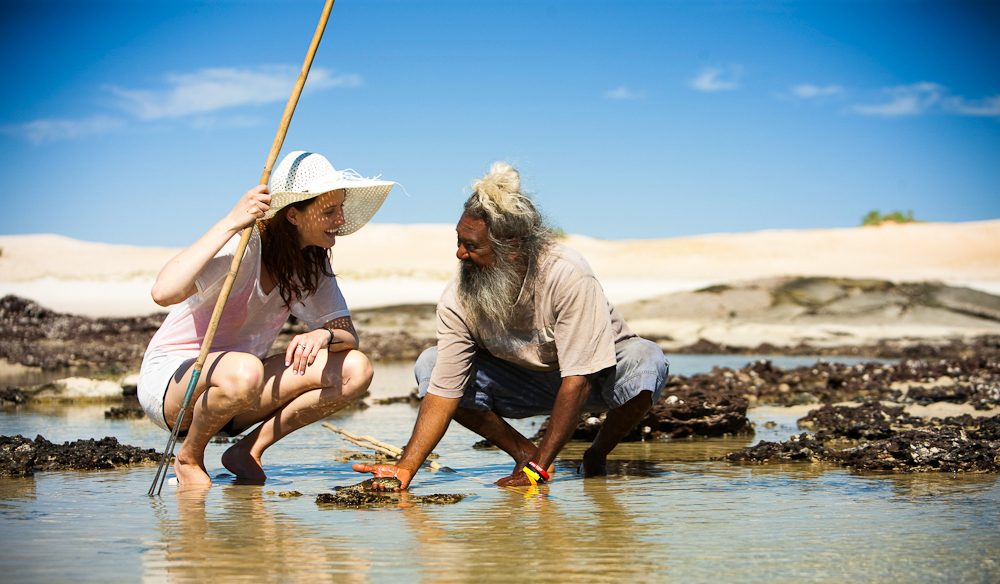 Score: 8.12

This layabout coastal Kimberley camp scored well because of its awesome red-rock-meets-turquoise-water hues, uninterrupted access to sunsets, and the opportunity to go face down with the fish – the sustainable activity of snorkelling just fits with this Aboriginal-owned low-impact resort.

And let's not forget Kooljaman's Bush Butler service – ready-to-sizzle gourmet barbies in the warm evenings should be for everyone. Have we convinced you yet?

More info: kooljaman.com.au
#63 – take a beach break, Sapphire Coast, NSW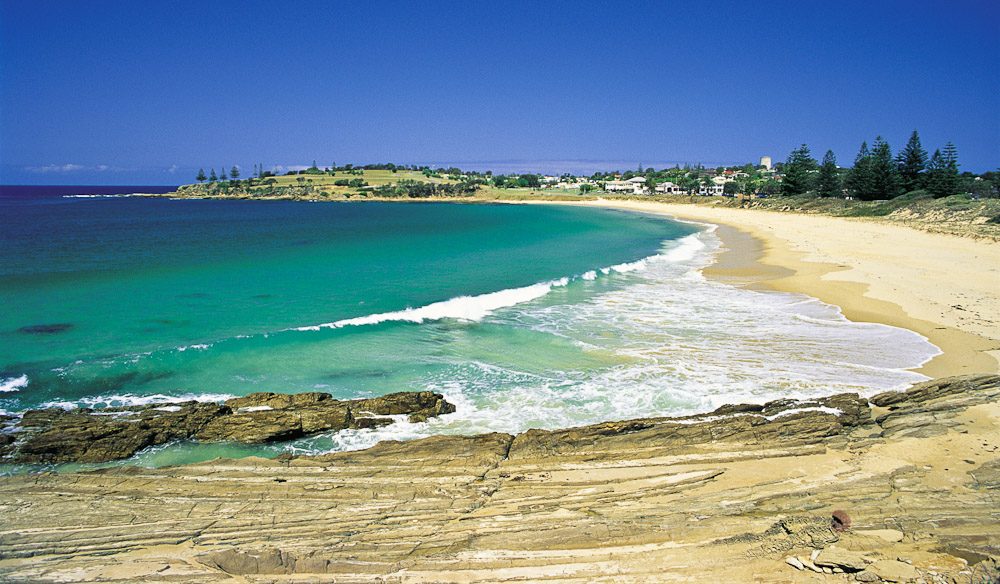 Score: 8.11

There goes ACT's monopoly on this area, the beaches and towns from Bermagui to Eden along the coast. A great confluence of ocean currents brings fish flapping in here, so you can get them by hook or from the fish 'n' chip shop cook.

Lakes and lagoons will have you up on your paddle boards, or dreamily kayaking, and lazing around afterwards in your little rented cottage. "I should be the PR girl for this region," reflects Catriona Rowntree. "I adore it. I found it late in life, but would be happy to take my family for holidays there forevermore."

More info: Sapphire Coast
#64 – stake your claim to Wilson's Prom, VIC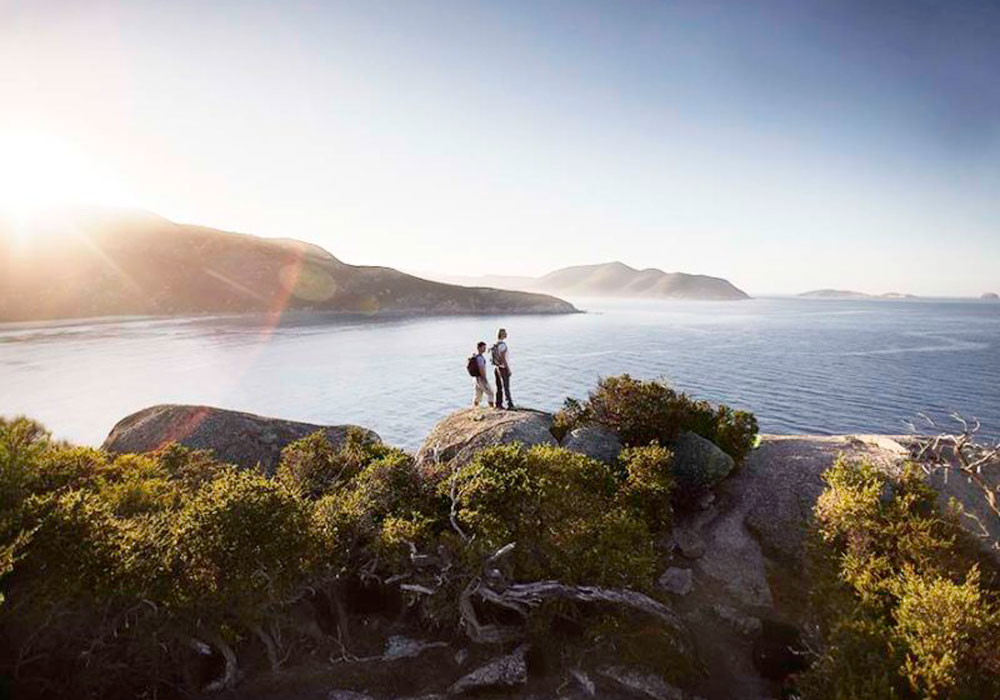 Score: 8.1

We want to become permanent residents of the Wilson's Promontory National Park. There, we said it. Any Victorian could tell you why – it's a place of soulful beauty, yes, but also a spot where you can be a kid again. (Who wouldn't love a place with a Squeaky Beach and long-nosed potoroos?)

Switch off your phone, shed your shoes and hide out in one of the many cosy cabins of Tidal River. A weekend here will make you feel human again.

More info: Visit Melbourne
#65 – indulge in the Yarra Valley, VIC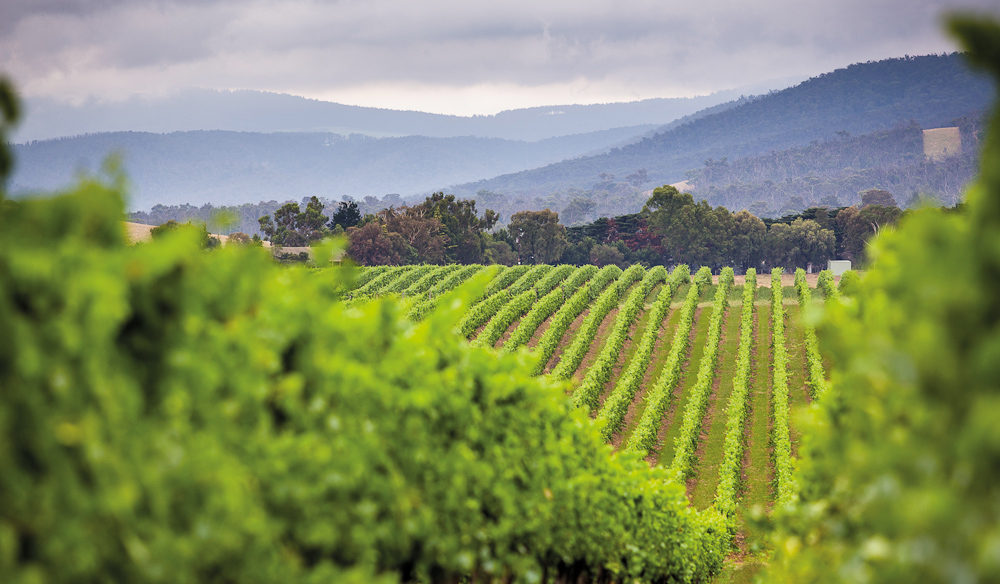 Score: 8.08

The menus! The markets! The merlots! And that's just starting in the middle of the foodie alphabet. Not only can you pick sun-warm strawberries in the fields, but cooking schools have pooled here: there are cafés acting like restaurants, and wineries acting as temptation.

Once you've sampled as many drops (and foodie shops) as your tastebuds can feasibly cope with, cosy up at Sanctuary Park Cottages: they're well reviewed, with plenty of options, and prices start at $185 per night. It goes with the sublime territory that you'll be wearing elastic by the time you leave, by the way. But we know you'll forgive us.

More info: Visit Yarra Valley
#66 – drive Central Arnhem Highway, NT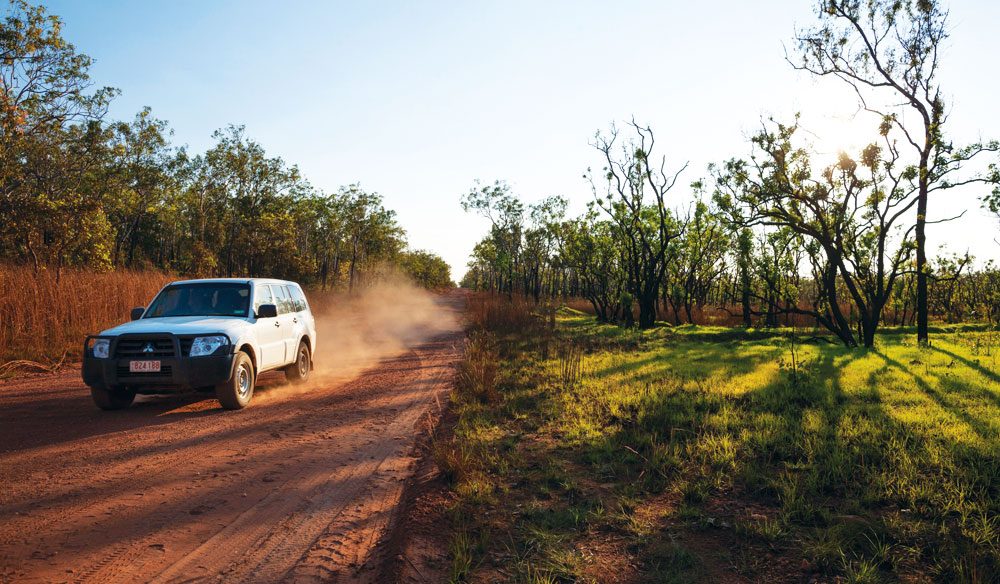 Score: 8.07

It's the road from Katherine to Gove, where the Gulf of Carpentaria meets the Arafura Sea. And if that sounds mysterious and magical, it doesn't begin to cover the colours of the landscape, the depth of meaning in the indigenous art, and the thrill of survival here. (A vast 710 kilometres and just one petrol station!)

If you don't know that such glorious isolation requires jerry cans of juice, take a 4WD tag-along tour with Great Divide Tours. And if you do, well, the road is yours. Tackle two major river crossings, detour to indigenous community Maningrida and take countless photos (mental or otherwise) of the unique, multi-coloured journey until you arrive at the eden that is Gove, on the far northeastern tip of the NT mainland.

Traditional owners, the Yolngu people are also exponents of the yidaki (didgeridoo).

More info: Great Divide Tours
#67 – go the Way of Warlu, WA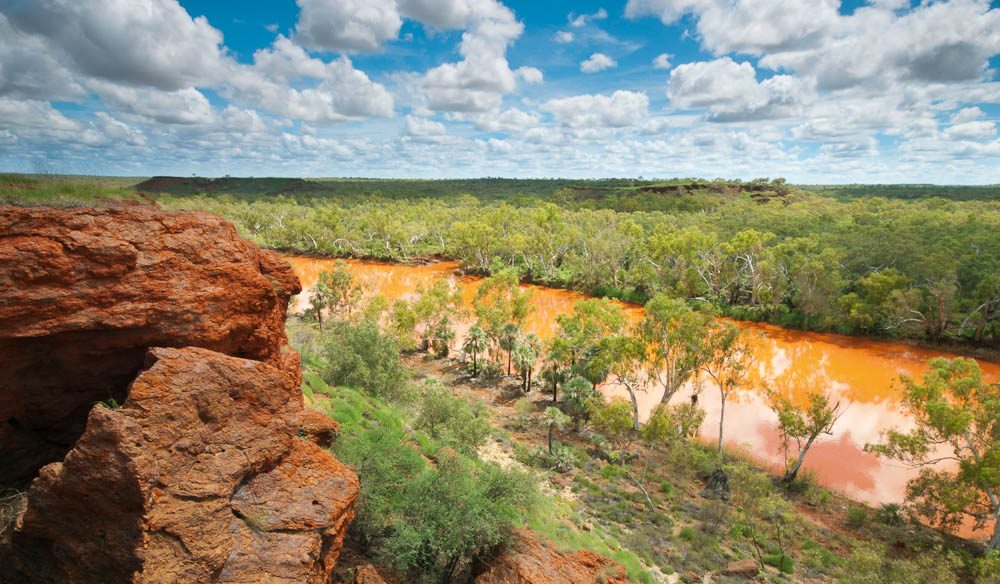 Score: 8.06

You know you're onto something when a Wall Street Journal travel journalist (and AT panellist) declares this the most moving trip he's ever done. Daniel Scott's exact words: "No journey I've done has felt as spiritual as this 2500-kilometre drive
(and that's saying something for an agnostic)."

Whatever your religious persuasion, we're confident you'll agree: this road trip, which follows the path of the Dreamtime sea serpent as it snakes its way up the coast from Exmouth to Broome, visits some of the continent's oldest parts. Swim waterholes, visit gorges and marvel at the greatness of it all.

Scott's highlight: "the chance to touch and feel the essence of rock in Karijini National Park which, at 2.7 billion years old, is more than half the age of the planet." We'll leave you with that thought.

More info: Australia's Northwest
#68 – uncork The Tamar Valley, TAS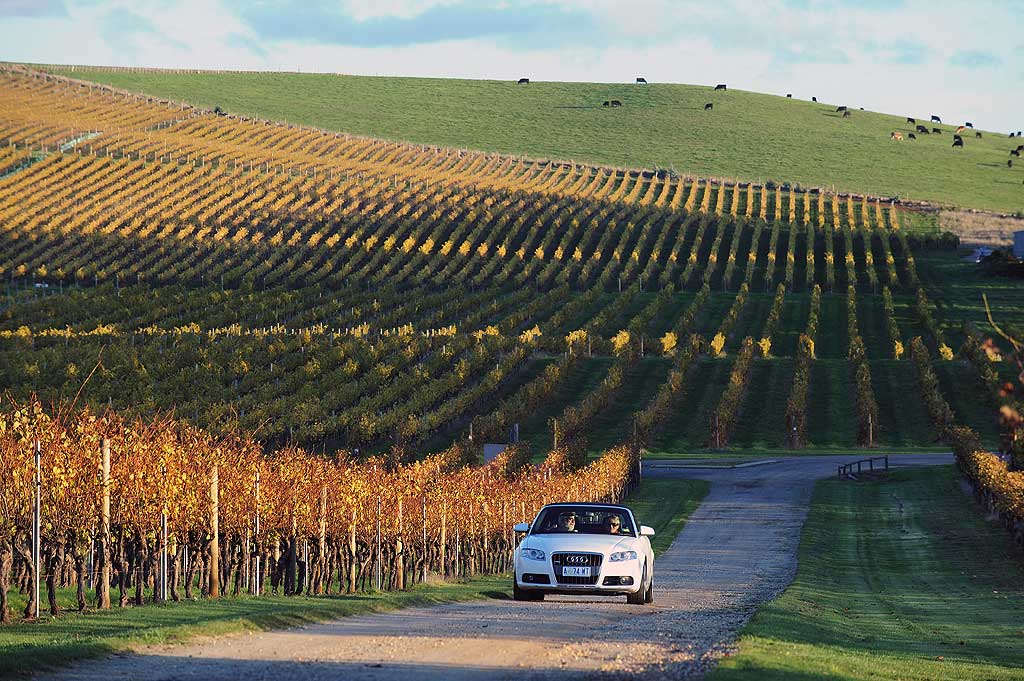 Score: 8.055

Ah, it seems someone already has, and has poured you a flight of flavours from the Tamar's famous pinot, to Velo Wines cabernet, to Holm Oak fortifieds… We don't need an English magazine to tell us this is one of the 10 best wine routes in the world, but thanks Essential Travel UK!

"The views are almost as good as the wines," says Georgia Rickard, without a hiccup, "and in autumn, the vineyards take on a golden glow, like a good riesling."

Stay in Launceston at Hatherley House (book ahead, Cinderella, at this two-room delight, to be able to sleep in The Ballroom); or branch off a little way (more of a twig) to the Esk Valley for a couple of nights at Red Feather Inn, built by famed colonial architect John Sprunt, and now styled French provincial. It has a cooking school to boot – so you'll leave with skills as well as a trunk full of wine.

More info: Discover Tasmania
#69 – Surf-and-Spa Safari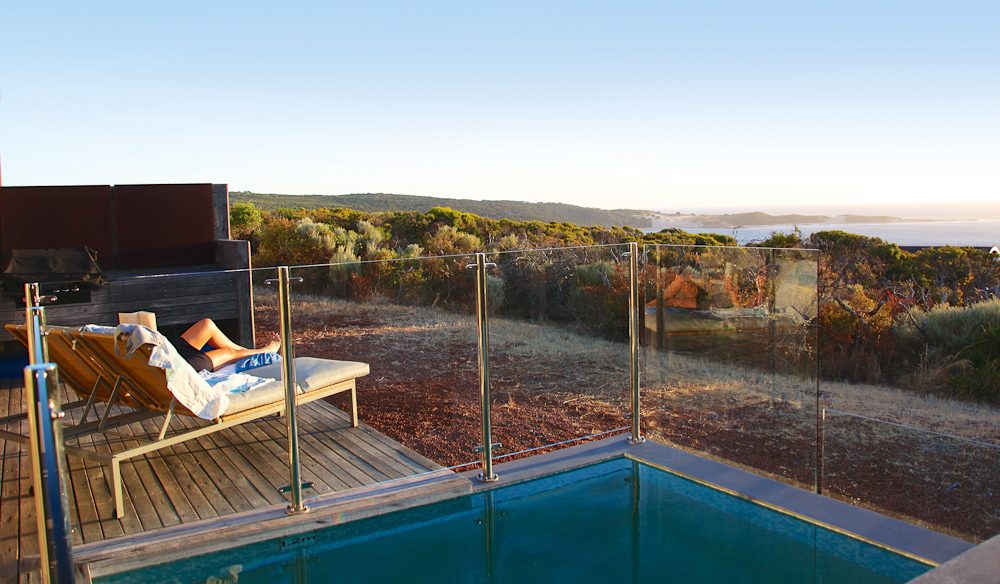 Score: 8.054

These have been popping up around the globe, but here in Australia – home to the world's best beaches – we reckon you'll find the best of these kinds of holidays going.

"The best fusion-holiday idea since luxury trekking," says Georgia Rickard, "with the same kind of formula – plenty of exercise, in a beautiful setting, with gorgeous people. Win-win-win."

Two divine set-ups come immediately to mind: Injidup Spa Retreat Surf Camp, in Margaret River; and Escape Haven women-only surf safaris at Byron Bay. Hang ten and, after a massage, hang loose.
#70 – make time for Mungo, NSW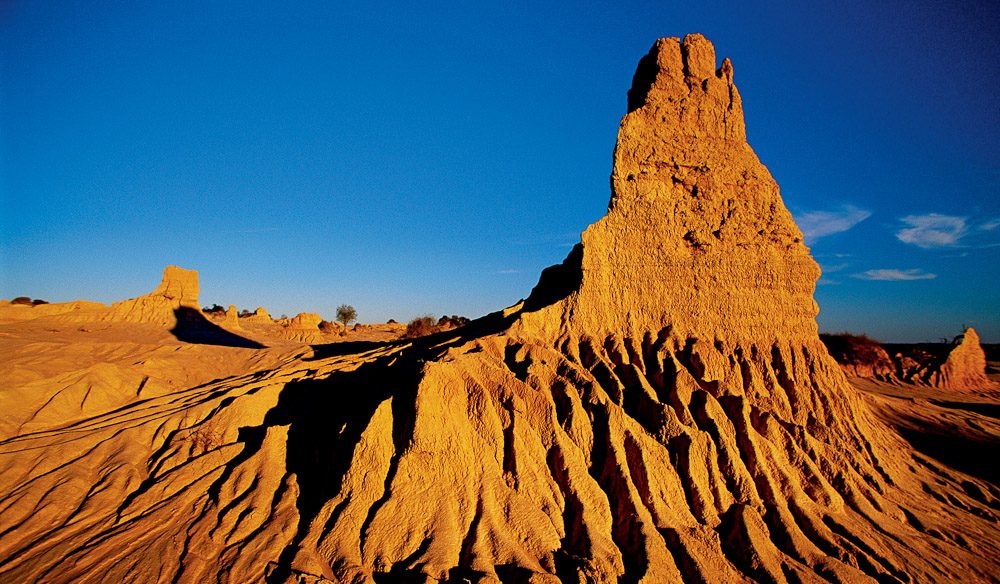 Score: 8.053

The lunette landscape known as the Walls of China exposes the strata of life on earth, including the remains of megafauna and human habitation from more than 45,000 years ago (remember Mungo Lady and Mungo Man?).

These rippling walls are just one highlight of the 70-kilometre road through Mungo National Park, which really is something to drive as the sun is rising. Book a tour with Harry Nanyga Tours or through the national park (03 5021 8900) for the best experience; there's a lot of history to learn.

More info: NSW National Parks and Wildlife
100 Best Holidays of Australia – 71 to 80
#71 – escape to El Questro Homestead, WA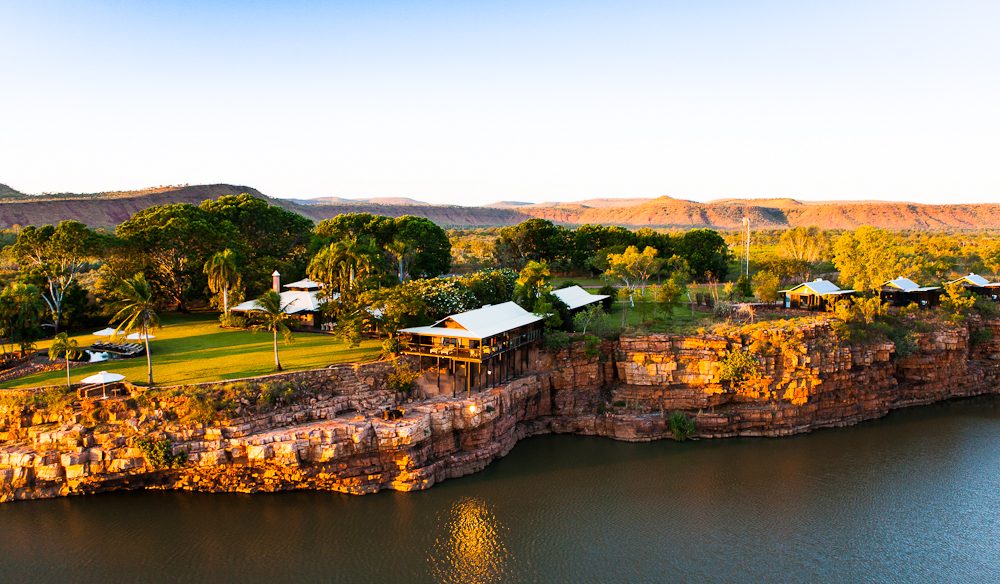 Score: 8.052

Wilderness and luxury: the exclusive El Questro Homestead in the Kimberley is the epitome of both. Located 110 kilometres west of Kununurra by road, guests travel 58 kilometres by highway and the rest on the famed 4WD adventure track, the Gibb River Road – but it's worth it.

In the middle of almost one million acres of wilderness park, the cliff-top El Questro Homestead – part of Luxury Lodges of Australia – has incredible vistas of the rugged Chamberlain River and Gorge and boasts beautifully elegant rooms and fantastic personalised tour experiences on offer – like a day soaking in the Zebedee Thermal Springs or a helicopter ride to a remote waterhole. From $1969 per night, twin-share including (exquisite) meals, beverages and guided tours on the property.

More info: El Questro
#72 – bareboat the Whitsundays, QLD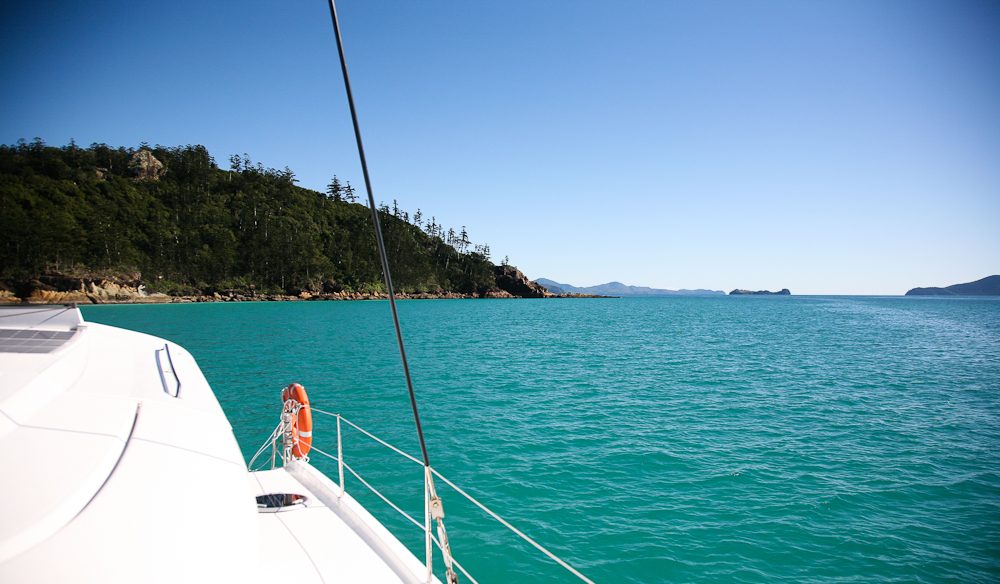 Score: 8.05

Ah, the Whitsundays – known as one of the best places in the world to sail, what with 300 days of sunshine a year, those famous azure waters and the many powdery white beaches dotted about the place.

Like most of us here at AT, you've probably fantasised about lacing up some boat shoes and setting sail, but for that one thing stopping you: you've never sailed before. No worries, you don't need to be a regular sea farer (or even own a boating licence) to spend endless days soaking up the Queensland sun, snorkelling, fishing, drinking champagne… all you need is common sense, an esky-full of champagne, and a place onboard for us to tag along. More info: Tourism Whitsundays.

Don't have a yacht? Sadly, neither do we, but there are six Whitsundays charter companies that do; one on Hamilton Island and five at Airlie Beach.

See our 'Sailing the Whitsundays' feature for more.
#73 – drive the Great Northern Crossing, WA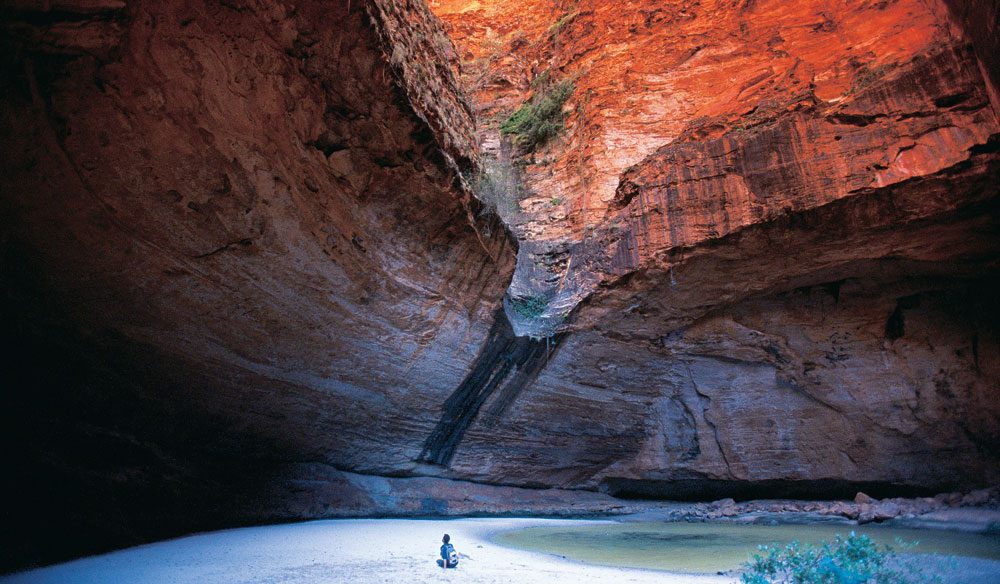 Score: 8.03

The sealed Great Northern Highway between Broome and Wyndham may not be as rugged – or as raved about – as its alternate cross-Kimberley route, the Gibb River Road, but it's certainly got its advantages (and not because it's smoother). There are plenty of worthy side trips, especially from Halls Creek, like the unusual limestone formation of the China Wall, Wolfe Creek Crater and the magnificent 350 million-year-old Bungle Bungles.

In parts, the highway is among the remotest sealed roads in the world. You can drive for hundreds of kilometres without seeing so much as a roadhouse but you'll pass through an ever changing landscape of dramatic mountain ranges, river crossings and the stark outback.

Mark this on your map: this is the interior of Tunnel Creek, a fairly incredible side trip (just near Fitzroy Crossing, on Fairfield Leopold Downs Road) with history to match. Aside from being part of WA's oldest cave systems, the cave was the hideout of brave aboriginal Jandamarra, who led an insurrection against European settlement.
#74 – swim with sea lions & dolphins, SA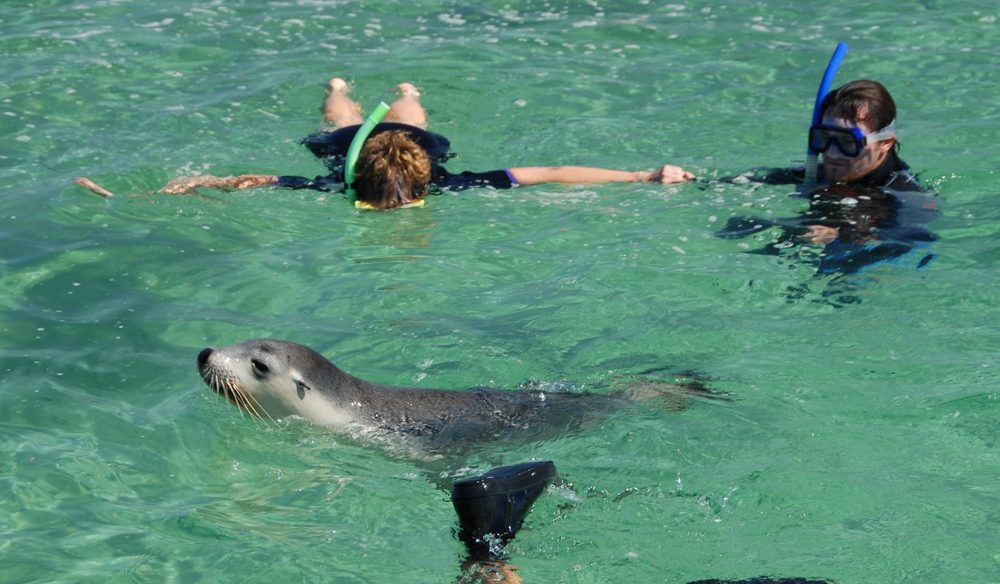 Score: 8.02
The loveable sea lions of Baird Bay share their home with bottlenose dolphins, so you're bound to bump into at least one of these curious creatures on a swimming adventure here. If you're lucky enough to see both, you may find them trying to upstage each other for your attention.

And you'll get a giggle out of sea lions attempting to mimic you, which they've been known to do. Seems they are more curious of us than we are of them! There's plenty more to do here besides – see #96. Baird Bay Ocean Eco Experience runs two tours a day from $150 per adult and $75 per child.

More info: bairdbay.com
#75 – roadtrip to the (almost) last town on earth, TAS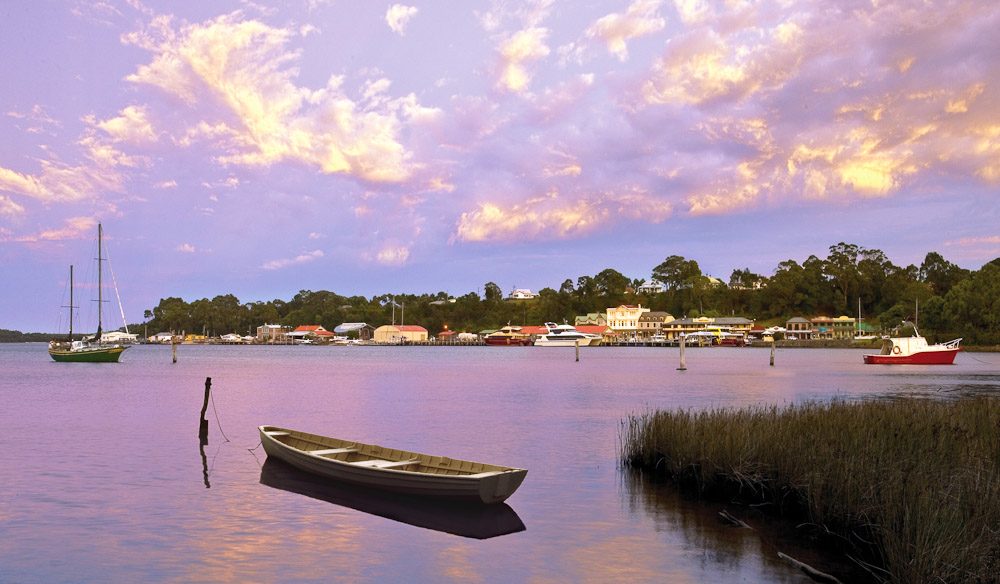 Score: 8.01

In 2010, Australian Traveller dubbed Strahan 'Australia's Most Interesting Town' for its convict, political and environmental history;­ and the electric currents of argument and outrage still crackle. But honestly, that's just a side note in the list of reasons to come to Strahan.

Sitting on the west coast of Tasmania, with a population of 637, the tiny town is definitely, incredibly, gobsmackingly – unfairly, even – beautiful; a chocolate-box melange of picture-perfect federation façades and quaint bobbing boats set upon the ridiculously huge Macquarie Harbour. Virginal rainforests, crisp air, river cruises, fantastic locals and the sheer blackness of the water of the Gordon River – Tasmania's south west is one of the world's wildest spots, and it'd be a crime to come to to the Apple Isle and not visit it.

More info: Discover Tasmania
#76 – get festive in Adelaide, SA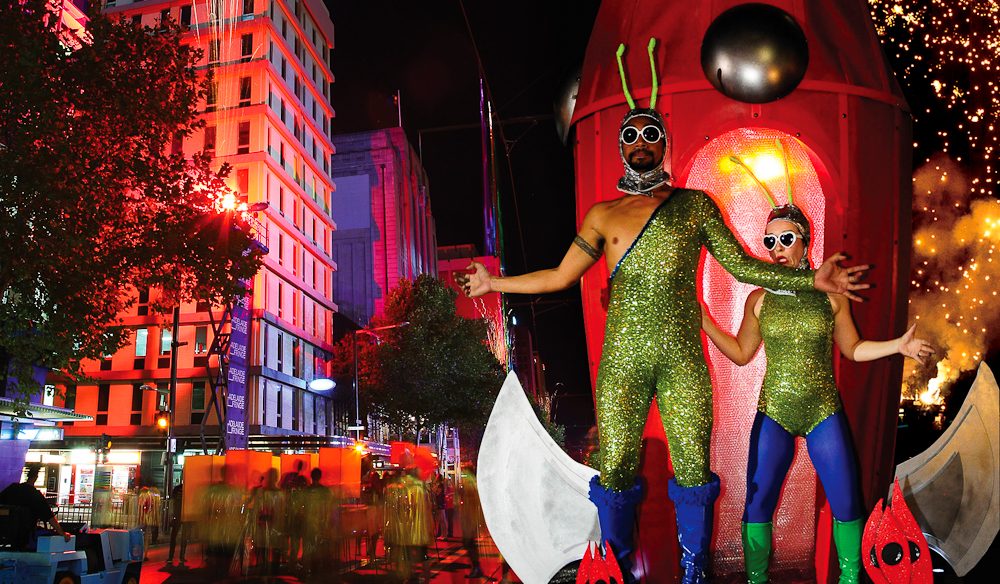 Score: 8

So far, the list has been notably lacking in festivals, which makes Adelaide's February-March duo, the Adelaide Fringe and the Adelaide Festival, all the more outstanding. Between them they have cabaret, comedy, circus, dance, film, theatre, puppetry, music, writing, visual art and design covered. Phew.

So which events to attend? "Reliable highlights include the louche and irreverent festival hubs, notably the Garden of Unearthly Delights and Gluttony (Adelaide Fringe) and the Festival Club (Adelaide Festival) for after-show revelry," tips Max Anderson. Schedule in a little sleep somewhere, too.

More info: see our 'Adelaide Fringe Survival Guide' and South Australia Tourism
#77 – take a wild journey with Rob Pennicott, TAS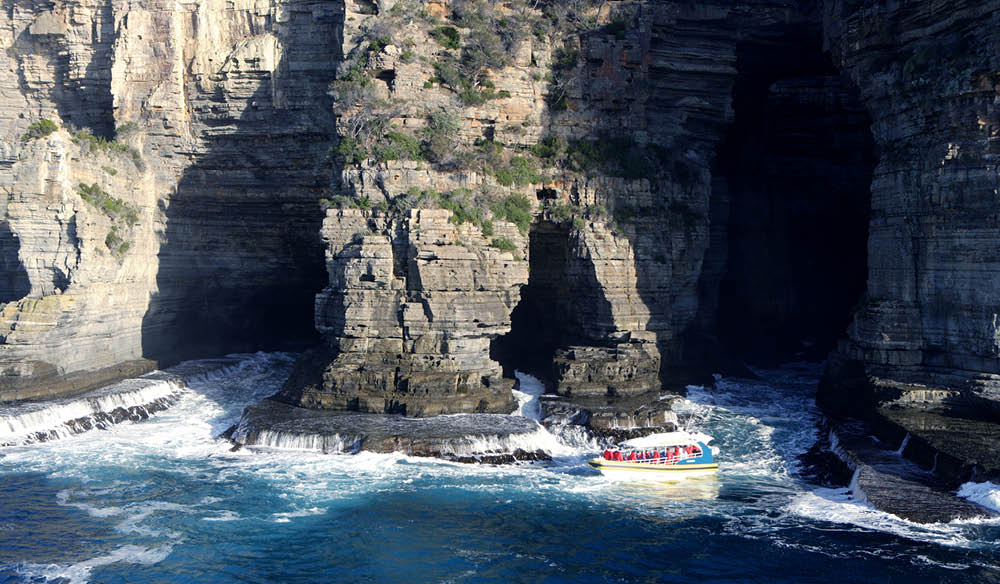 Score: 7.99

Plastered with awards for excellence in sustainable tourism and for, well, tourism generally, Rob and his company don't just talk the talk on its cruises of Bruny Island, Tasman Island and the Derwent River; they donate 25 per cent of all profits to environmental and humanitarian charities.

So you'll feel doubly good about trying their Tasmanian Seafood Seduction tour, which lets you catch and chow down on crayfish, abalone and oysters, while bobbing on the pristine waters around Bruny. The tours take place on specially designed boats that get you right up close to the spectacular wilderness action of Tasman Island, and fearlessly into the sea caves. Very James Bond.

More info: Pennicott Journeys
#78 – walk Thorsborne Trail, Hinchinbrook Island, QLD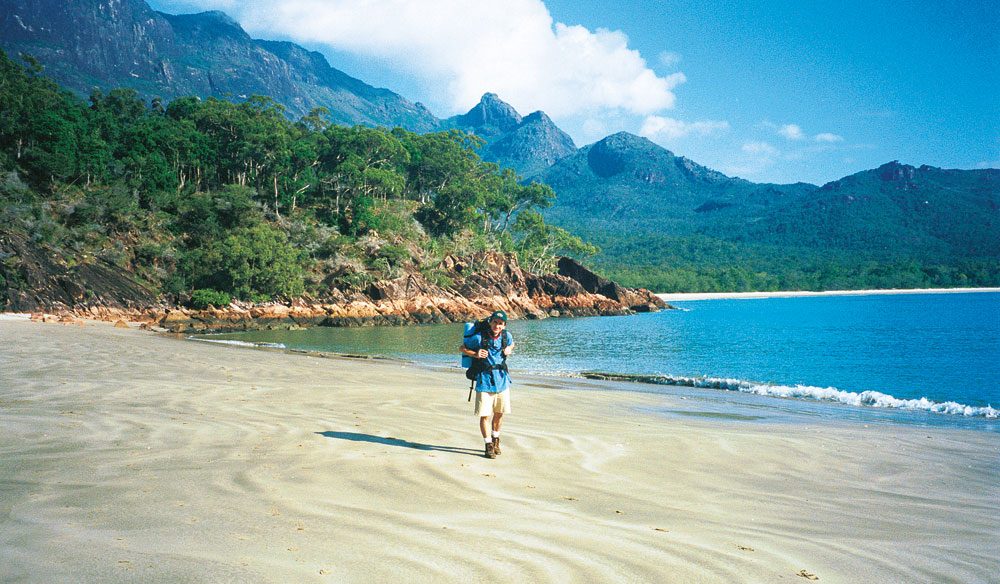 Score: 7.97

"This walk goes deep into Queensland's tropical wilderness, and the scenery is stunning," explains Peter Everitt. "It's definitely for more adventurous hikers, but the setting makes up for any blisters!" Although you can cover the 32 kilometres in four days, may we suggest you linger for seven.

Only 40 walkers are allowed on the trail at any one time, and you'll want to make the most of your permission to be here, sleeping in campsites near pristine beaches or beside magnificent mountain waterfalls… Plus, since you're bringing all your equipment (nifty little camp stoves, lightweight weatherproof tents) you'll want to give it a good run.

More info: Tourism Townsville
#79 – drive the Flinders Way, SA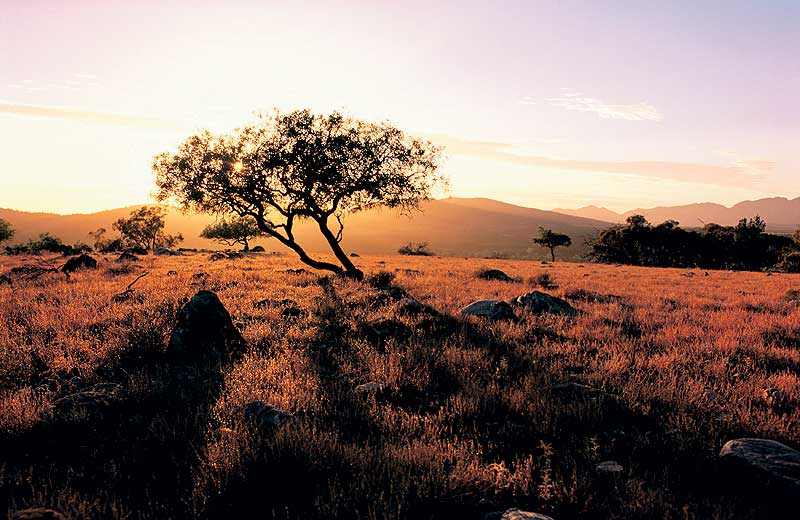 Score: 7.957

From Port Augusta, a reliable everyday two-wheel-drive can take you to some of Australia's most awe-inspiring scenery. You'll really get to know the country on this road that takes in Coober Pedy, Lake Eyre, and our most stunning best-kept secret: Wilpena Pound.

Six times the size of Uluru, the Pound is a massive natural amphitheatre, an ancient landform so breathtaking it's earned its own place on the list (see #38). Arkaroola Wilderness Sanctuary is another little-known treasure of the route: admire the blanket of outback stars at the three observatories, and switch saddles for a 4WD with eco tourism accredited Ridgetop Tours – a red, red ride into the rugged ranges. Whatever you do, make sure you also take some time to stop and sit quietly for a time.

Being here, away from hairdryers and reception and lattes, you'll realise just how far you are from home. Moments before you'll realise that you don't particularly mind.

More info: South Australia
#80 – munch up Mornington Peninsula, VIC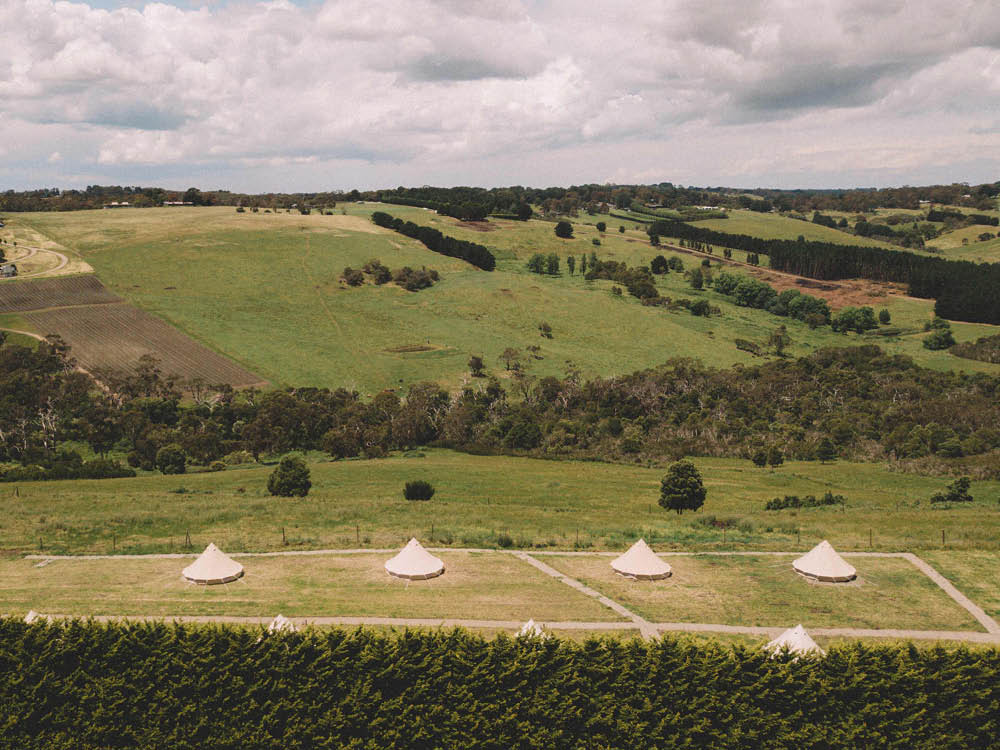 Score: 7.95

Some of the best things in life involve your palate, so it's little wonder that the Mornington Peninsula rates so highly with hedonists, tying in at #79. This is the place to hang around farm gates and gather for amazing beach picnics (oh yeah – the coast here is stunning, too); and enjoy the finest of fine dining.

From a vineyard-view table at Ten Minutes By Tractor, to Tutti Frutti Artisan Gelato, your tastebuds will have you slavering all over the ridge. So, take a hike, swim with dolphins, play a few rounds of golf – pack the big suitcase, even strap on the surfboard and ride a Bass Strait break… whatever you need to do to justify that extra bowl of wedges/brownie/second dinner.

More info: Mornington Peninsula
100 Best Holidays of Australia – 81 to 90
#81 – hide out in Sunshine Coast's Hinterland, QLD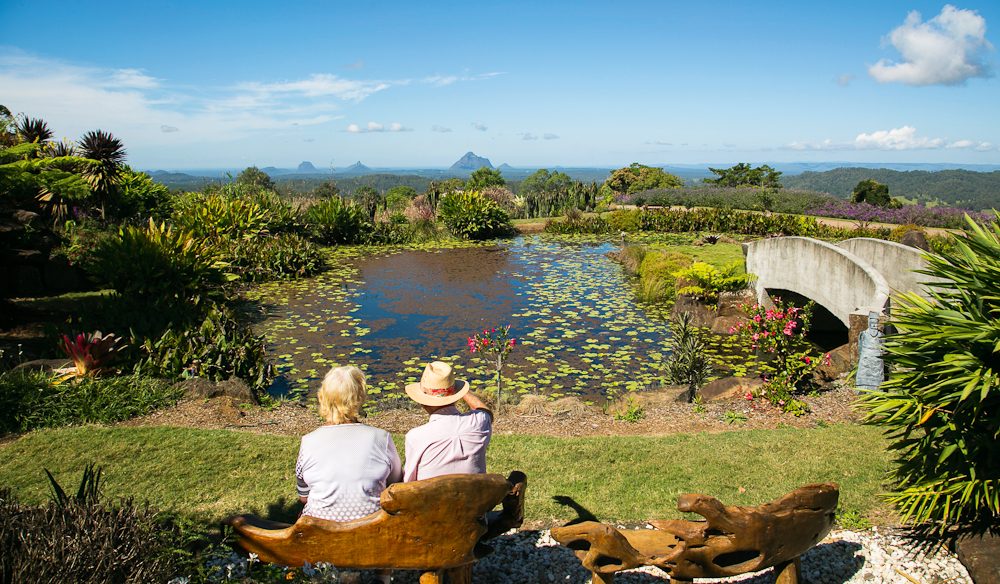 Score: 7.948

Luxe B&Bs have popped up everywhere amidst the canopy on these hills. "Heaven on a stick," is Catriona Rowntree's appropriate summation of the accommodations on offer.

From the Balinese-style tree houses of Maleny Tropical Retreat, to Spicers Clovelly Retreat, which recalls a European estate, and numerous farm stays, there is intriguing variety to keep you coming back in the Sunshine Coast's Hinterland.

You're rarely more than half-an-hour from the beaches – Noosa, Peregian, Mooloolaba – up here, but the arboreal life is cooler, verdant and peaceful. We think it's about time this area got some love, in fact – expect to hear more from it in future.

More info: Visit Sunshine Coast
#82 – explore Litchfield National Park, NT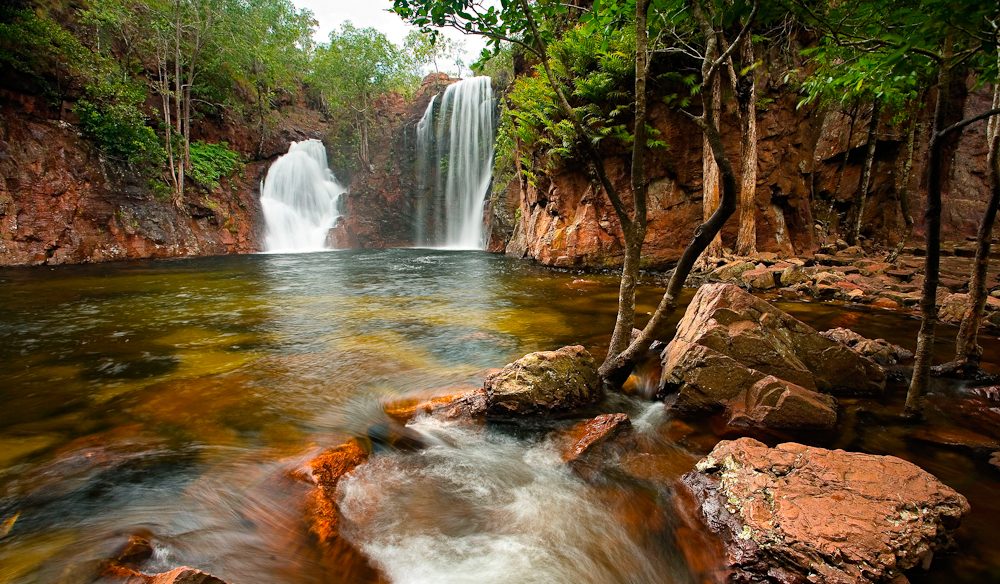 Score: 7.943

Between Darwin and Katherine, Litchfield is also midway between paradise and mystery. Once in your lifetime, you just must experience floating in the swimming hole under Florence Falls. Their spectacular double cascades are set in a monsoon forest and flow over the escarpment year-round.

But, apart from boasting one of the best waterfalls in the Northern Territory, Litchfield National Park features several other crystal clear waterholes, waterfalls and fascinating sandstone features, most of which are easily accessible via sealed roads and short walking tracks.

And another thing – no crocs. We knew you'd like that.
#83 – have a flutter at an outback race day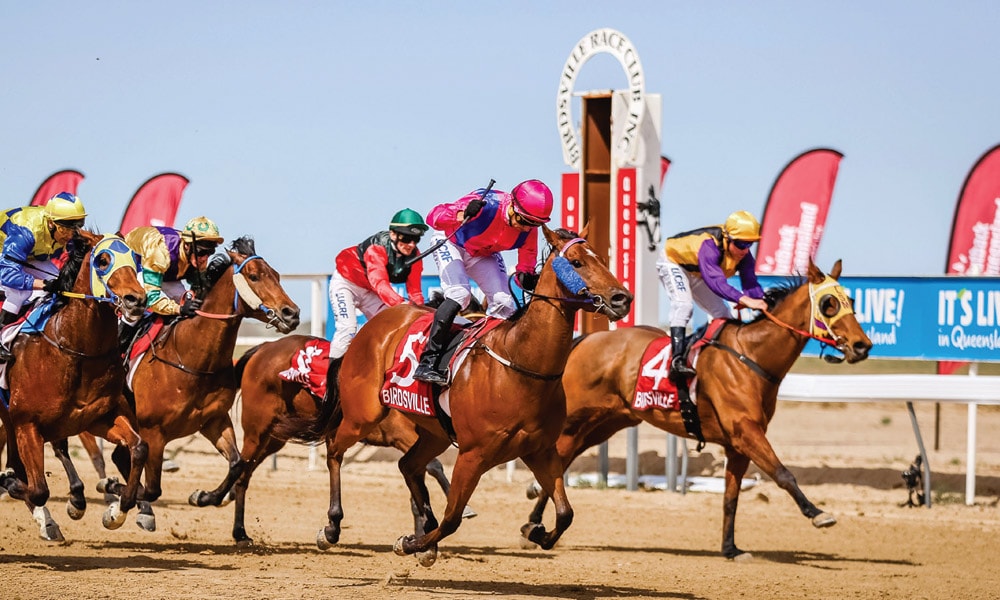 Score: 7.941

Buffed Blundstones, oft-tipped Akubras and the portable shade of parasols, outback races bring floods of people to towns such as Birdsville, Broome and Broken Hill. Little Louth in far-west New South Wales grows spectacularly from a population of 100 to more than 4000 when the races are on, and last year's meet raised more than $20,000 for the Royal Flying Doctor Service.

At Broome races, held on the red pindan soil the area is famous for, internationals mix with locals of all walks in a country picnic atmosphere – it's a thrilling experience.

But the Big Kahuna of outback racing is the Birdsville Races, and they take place on the first Saturday of every September in this tiny outback town.

Getting there (Birdsville is 700 kilometres south-west of Longreach, at the border of South Australia and Queensland) really is half the fun; Channel Country is pure outback. And, of course, the races themselves are a total blast, with over 6000 people flocking to the town for the weekend and some 80,000 stubbies knocked back – that's a lot of beer.

Says Craig Tansley, "Even if you've lived here all your life, you can't say you've experienced Australia 'til you've been to the outback during horse-race time." We're inclined to agree.
#84 – stay in luxury at One&Only Wolgan Valley, NSW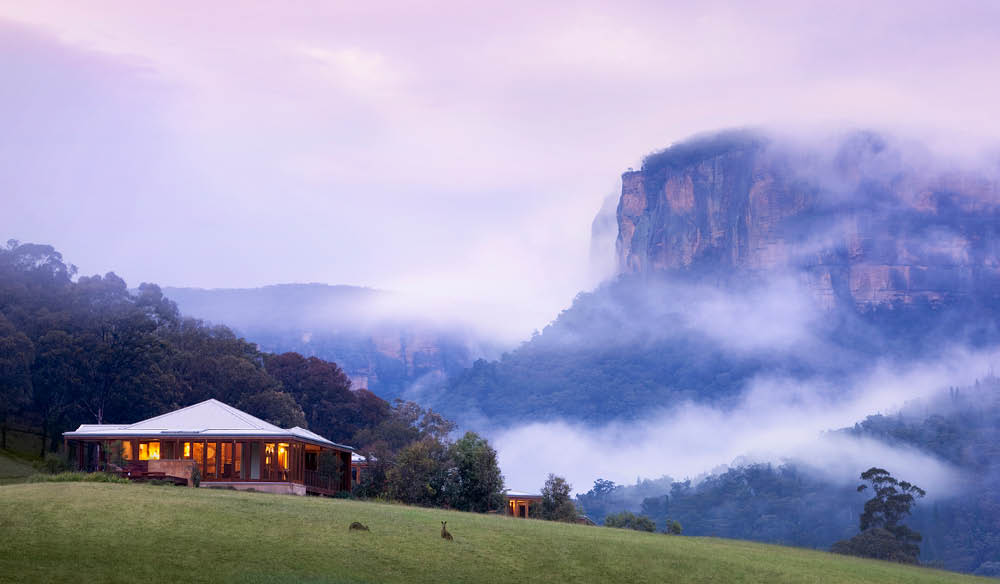 Score: 7.93

At the foot of Mount Wolgan, in the World Heritage-listed Blue Mountains and surrounded by national parks, this resort looks down a valley of rippling grasslands, bounding with quizzical kangaroos, bordered by towering escarpments, and illuminated every evening by spectacular sunsets.

Now consider this: it's also the first carbon-neutral hotel in the world, devoted to delivering luxury to its guests at no cost to the environment.

Forty freestanding suites, each with its own private pool, blend beautifully with the landscape; and the homestead, all timber and stunning artworks, incorporates magnificent kitchens, to cater to discerning palates. We've got to say, this is one to watch and is only going to get better.

More info: Emirates Wolgan Valley Resort
#85 – swim with Manta Rays, Lady Elliot Island, QLD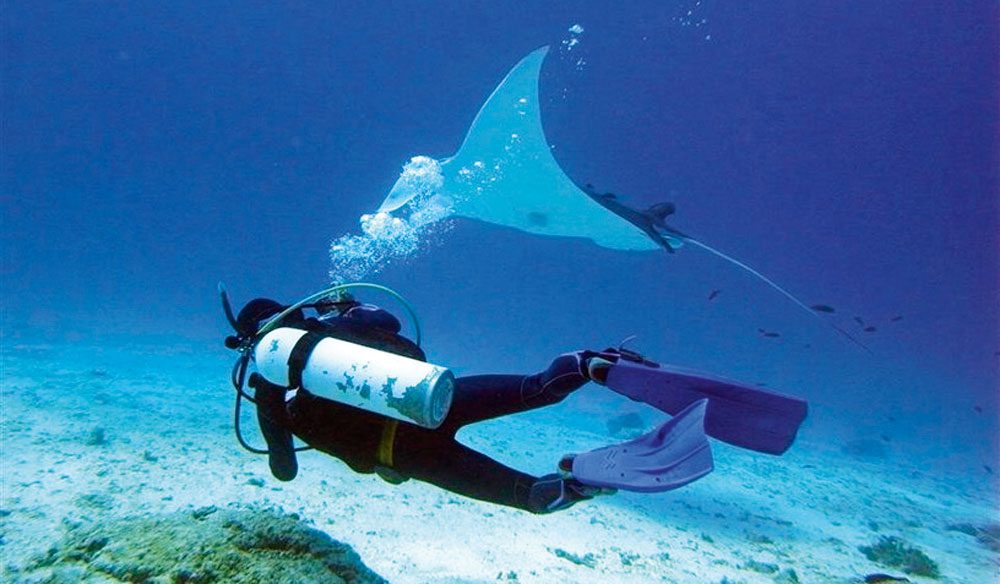 Score: 7.92

Money-can't-buy amazement meets old-fashioned fun. Lady Elliot Island, the southern-most coral cay of the Great Barrier Reef (accessible by air from Bundaberg or Hervey Bay) is set smack bang in the centre of marine national park.

Stay in unpretentious, comfortable accommodation, with table tennis, beach volleyball, quiz nights, star gazing and turtle watching laid on. And swim with giant manta rays.

Says Peter Everitt, "Lady Elliott Island is one of the only places on earth you can do this. Stunning beaches, crystal-clear water, and the surreal activity of experiencing the graceful manta rays in their natural environment – this is heaven."

More info: Lady Elliot Island
#86 – a beach break on The Shoalhaven Coast, NSW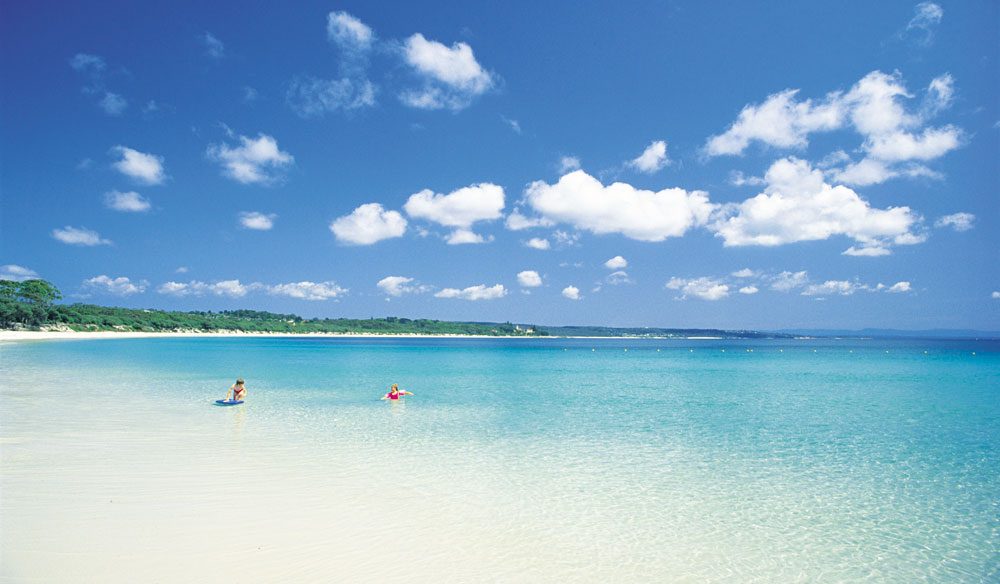 Score: 7.91

Why are we broadcasting this? From Wollongong down through South Durras, Batemans Bay, Huskisson and whiter-than-white Hyams Beach, this stretch of coast is still sleepy, despite the occasional mall, the sands are silky, the seals and pelicans are cheeky, and you can still find a spot, not hemmed in, on whichever beach you choose.

Like its southern sister the Sapphire Coast (see #63), the Shoalhaven is wonderfully relaxed – about everything, that is, except food (the produce scene here is really something).

Ah, we're feeling generous, sharing sandcastles and our fishing bucket, but not our bingo table at the bowlo – that would be going too far.

More info: Shoalhaven Tourism
#87 – spend a weekend on Rottnest Island, WA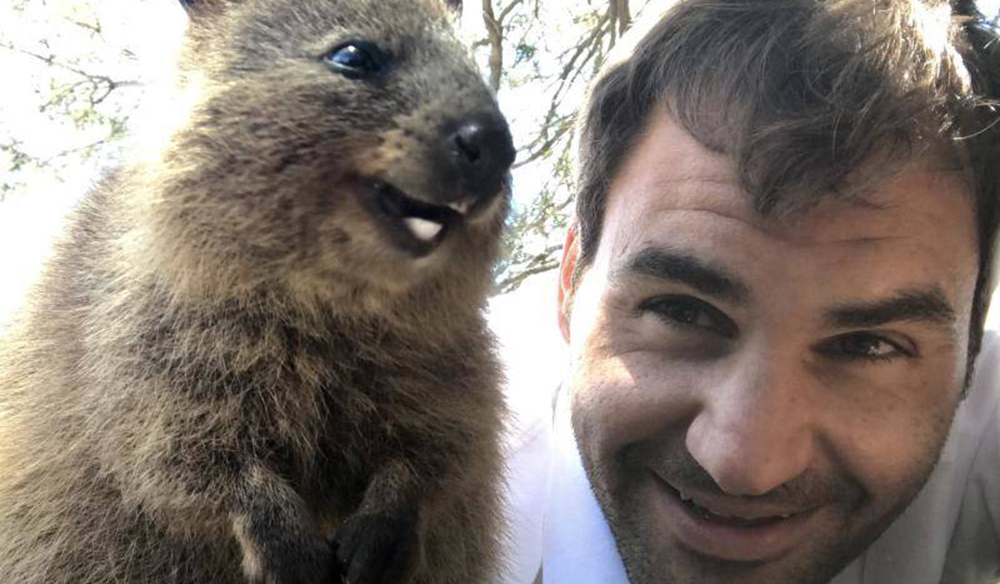 Score: 7.89

Ah, Rotto – she's a little bit heritage, a little bit rock n' roll, isn't she? A gorgeous little island, just 19 kilometres off the coast of Perth, she's (unfortunately) far too close to civilisation to maintain the exoticism that islands with half her looks, but twice her location get to enjoy – but no matter.

Rotto has a magic all of her own, with looks to match (just look at that picture). Come for a weekend and cycle along salt-bush-scented, sun-bleached trails to remote beaches and bays that invite snorkelling and picnics. Stay in heritage cottages, renovated to provide great family accommodation.

Let your hair down at the Hotel Rottnest, dancing to bands as different as Icehouse and Tame Impala, or slouch into film nights in the hall. There's plenty to do here, all tinged with that lovely laidback feel of a WA beach holiday.

More info: Rottnest Island
#88 – explore The Grampians, VIC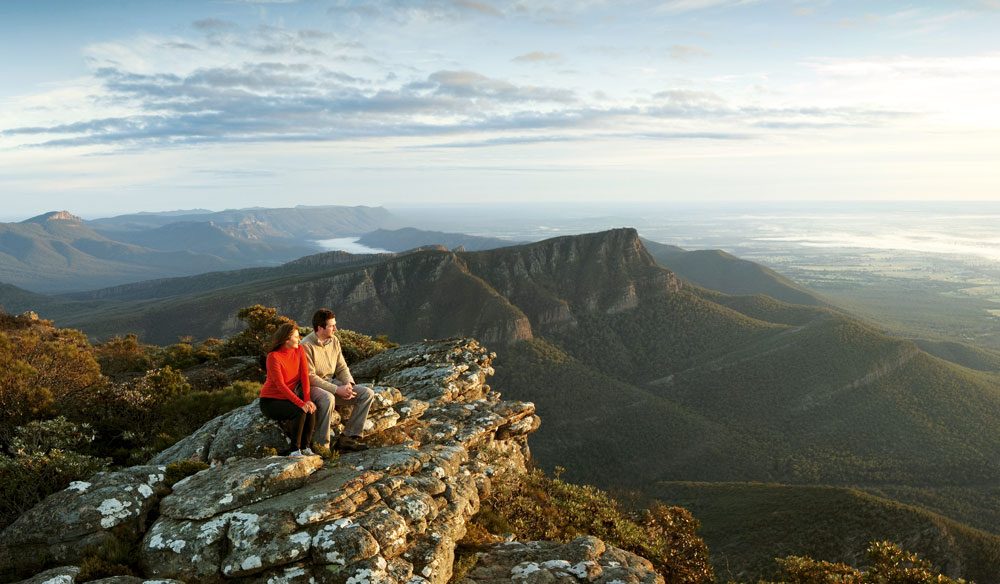 Score: 7.88

Paddy's Castle, The Balconies, The Chimney Pots, Venus Baths – crazy imaginations those early walkers had. These are the names of just a handful of the many tracks that clamber all over this sandstone range, which rolls and breaks like waves high above ferny gullies.

A walker's paradise in spring, summer and autumn, and snow-bunny playground in winter, The Grampians, known by indigenous people as Gariwerd, is culturally important as a rich gallery of Aboriginal rock art. Pause in wonder before Larngibunja (Cave of Fishes), or Ngamadjidj (Cave of Ghosts).

Stay in a luxe lodge and strike out each day, or camp as you tramp. And, of course, make a point of visiting Dunkheld, the tiny town at the foothills of the southern end of the Grampians National Park with the multi-award-winning Royal Mail Hotel (complete with new, well-received head chef Robin Wickens).
#89 – float in a houseboat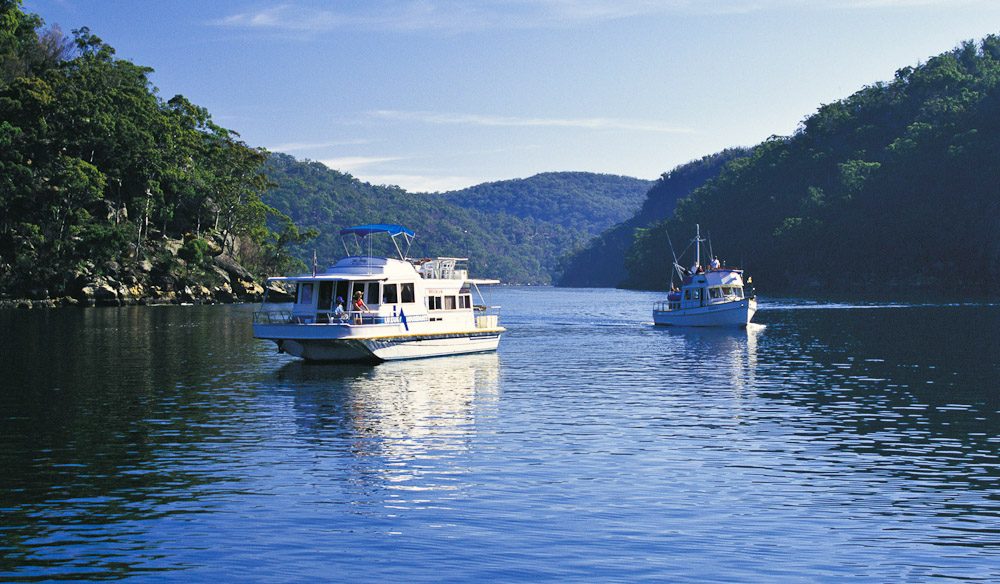 Score: 7.87

What could be more romantic than rocking on the river (Hawkesbury, Murray or Mary), or lapping a lake (Kununurra and Myall)? Perhaps bobbing around at Rainbow Beach or Walpole Inlet? The thing about a houseboat holiday is, it's a lot like hiring a holiday house for the week – and nothing like it at the same time.

The slap and trickle of water against the hull lulls you to sleep each night; watery, misty dawns will make an early bird of you; evenings eating your catch of the day, or rowing the dinghy over to a picturesque jetty restaurant are simply relaxing.

As time flows with the tide, you might even rediscover your moorings. (Sorry.)
#90 – thwock up to the Australian Open Tennis, VIC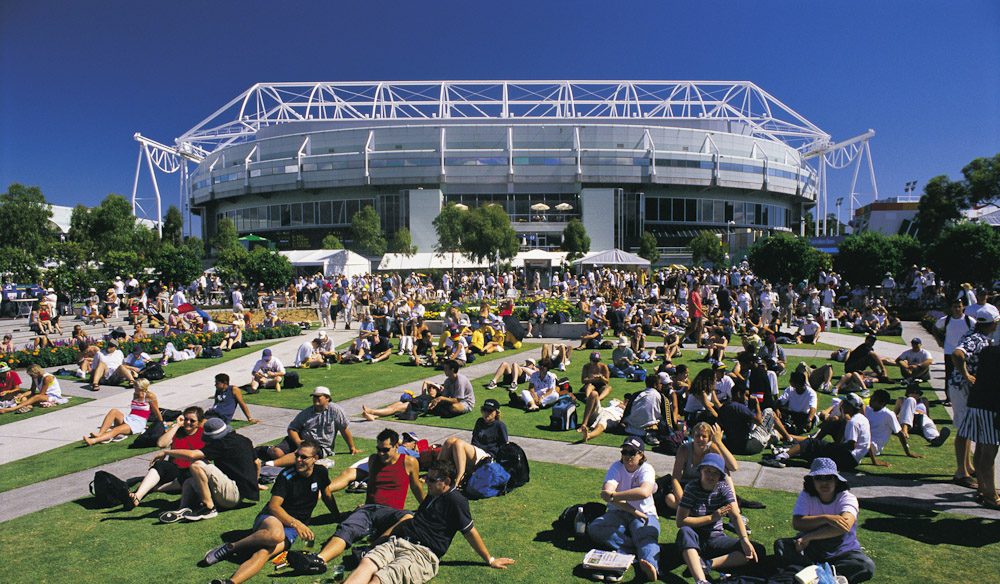 Score: 7.865

We all know that one person who, having been to the Australian Open once, just keeps on going back each year ("if you'd been, you'd understand why" is the kind of thing they sniff when you ask).

Melbourne is brilliant year round, as we all know (just re-read #20), but being in town during the Open adds an extra layer to the experience, especially during those days you've got tickets into the stadium.

For best results, book a hotel that lets you combine the best of Melbourne night life with daily walks to and from the Yarra-side Melbourne Park.

We like: The Lindrum, Adelphi Hotel and The Westin.
100 Best Holidays of Australia – 91 to 100
#91 – road trip from the Red Centre to the Top End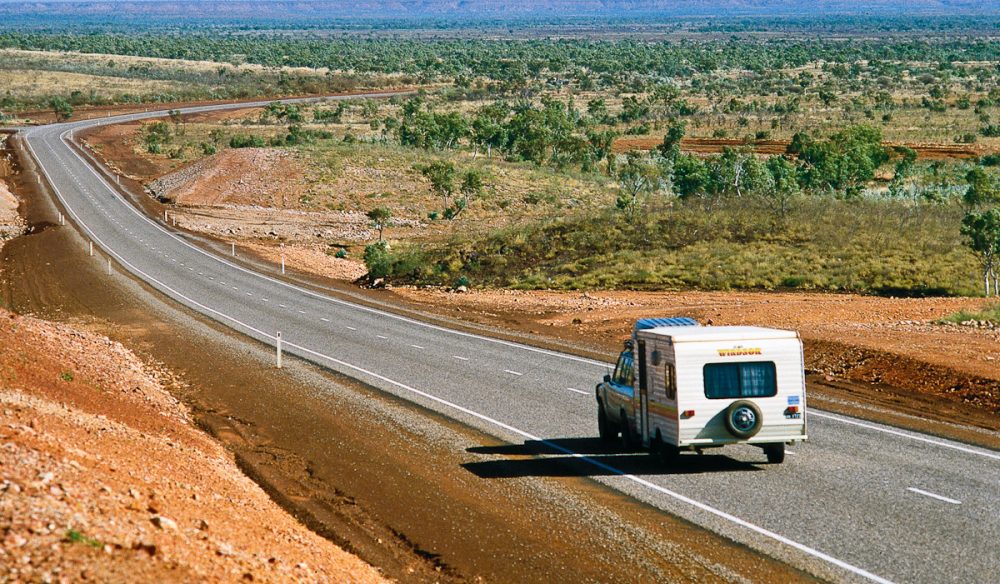 Score: 7.86

Yet another road trip – and why are we not surprised? This one, known as the Explorer's Way, follows in the footsteps of John McDouall Stuart, the first European to cross our vast continent in 1862. But his namesake, the Stuart Highway – which stretches from the SA border to Darwin – means we can now do it in comfort.

On a sealed road. With air-con. And what a journey it is, taking in our outback icons: Uluru, Alice Springs, Tennant Creek, the Devil's Marbles, Katherine and Nitmiluk National Park before ending in the tropical city of Darwin. This one's on our bucket list.

#92 – immerse yourself in Indigenous dance, QLD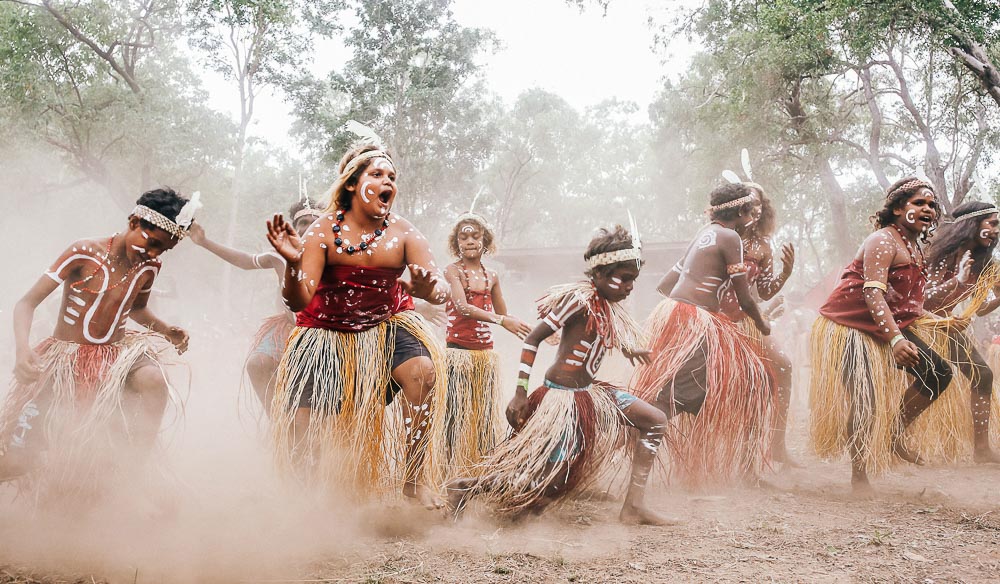 Score: 7.852

We really couldn't sum it up more appropriately than Fiona Harper who says the bi-annual Laura Dance Festival in Cape York, "is quite possibly the most significant cultural festival in Australia.

It's a foot-stomping, dust-raising melodic celebration of song, dance and stories shared by arguably the world's oldest surviving culture."

In fact, it made our ultimate Australian bucket list, and rightly so.

More info: Laura Dance Festival
#93 – take a long, cosy weekend at Leura, NSW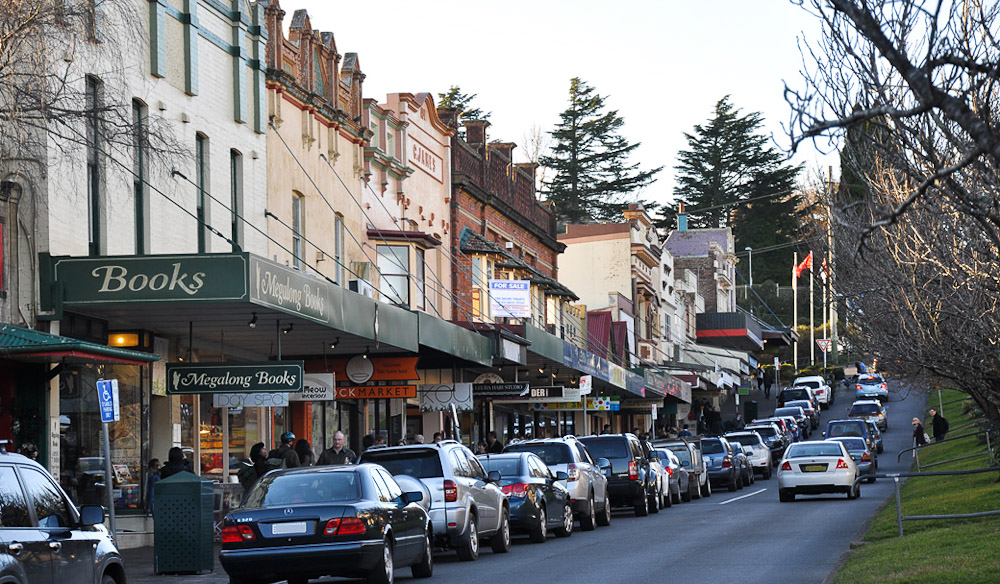 Score: 7.85

If you're after a quiet weekend in a charming town with spectacular scenery, cosy accommodation, and great food, Leura is your gal. This Blue Mountains heritage town blends European romanticism with the laid back vibe of the Australian bush.

Its tree-lined streets boast antique stores, art galleries, many cute cafés and divine restaurants; not to mention the famous Three Sisters, Wentworth Falls and endless scenic bush walks nearby, if you can drag yourself away from the fireplace. More info: Visit Blue Mountains

Tip: Head to the 1913 Solitary Restaurant and Café perched above the Leura Cascades for a scrumptious bite to eat with uninterrupted views all the way to the Southern Highlands.
#94 – stay the Scenic Rim's peak, QLD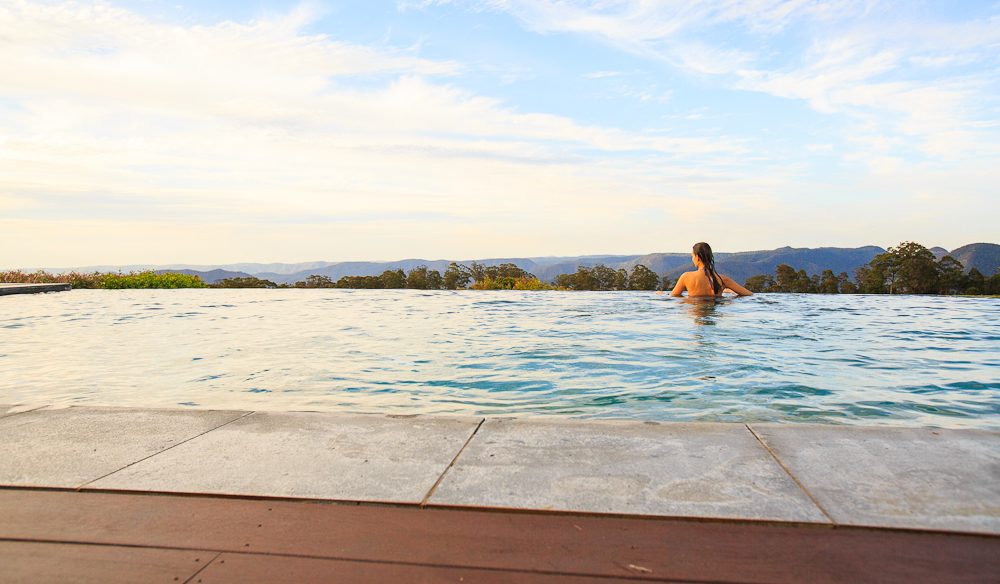 Score 7.846

Spicers Peak, with its fireplaces and trailing vines and gorgeous sunsets and crisp air, is something of a best-kept secret in Queensland's Scenic Rim. It's also one of Australia's luxury lodges, just like Saffire Freycinet (#5), qualia (#10), Lizard Island (#11), Southern Ocean Lodge (#31) and more – pretty good company, no?

Housing 10 luxurious suites and two private lodges, all absolutely lovely respites (some with in-room fireplaces), you basically want for nothing up here on the peak of the mountain. Unwind in the divine Anise Spa, go on one of the property's many rambling walks, and – of course – dine at on-site hatted restaurant, The Peak.

"Enjoying fresh pickings from the chef's garden is a foodie's delight", says Kerry Heaney, who indeed confesses herself to be exactly that. And she's right; it really is. From $499 per night for bed and breakfast.

More info: spicersgroup.com.au
#95 – cross barriers at Garma, NT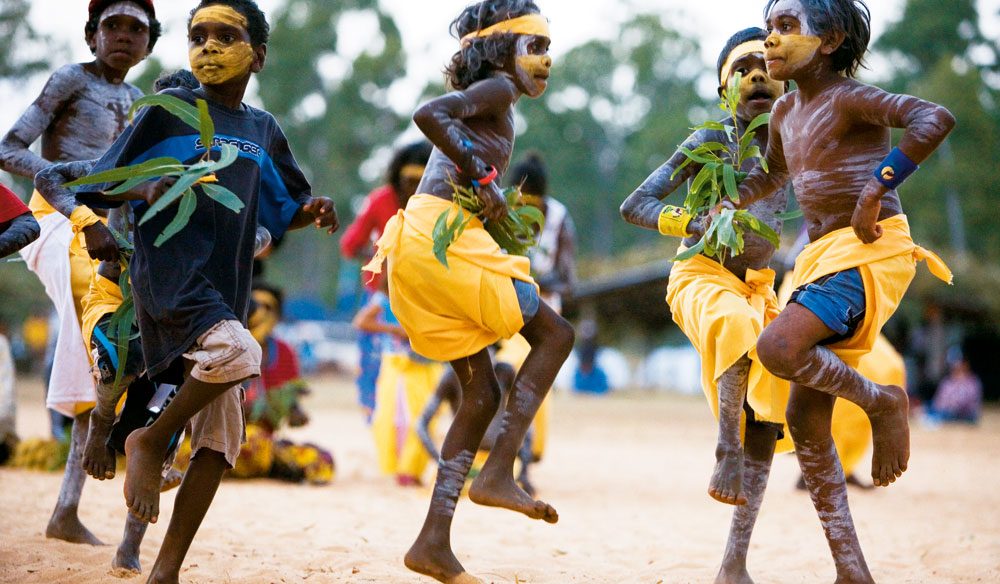 Score: 7.843

"Consider a world where modern Greeks knew next to nothing about Athenian literature, or English-speakers were only vaguely aware of Shakespearean drama. That is the position in which we stand with regard to northern dance," wrote Australian journalist Nicolas Rothwell.

His quote perfectly sums up the meaning of Garma: to restore and preserve the indigenous culture of the Yolngu people of north-east Arnhem Land.

The four-day event is considered one of the largest and most vibrant celebrations of indigenous culture through art, ancient story telling, dance and music and let us tell you, you won't leave here untouched.
#96 – a beach break on the Eyre Peninsula, SA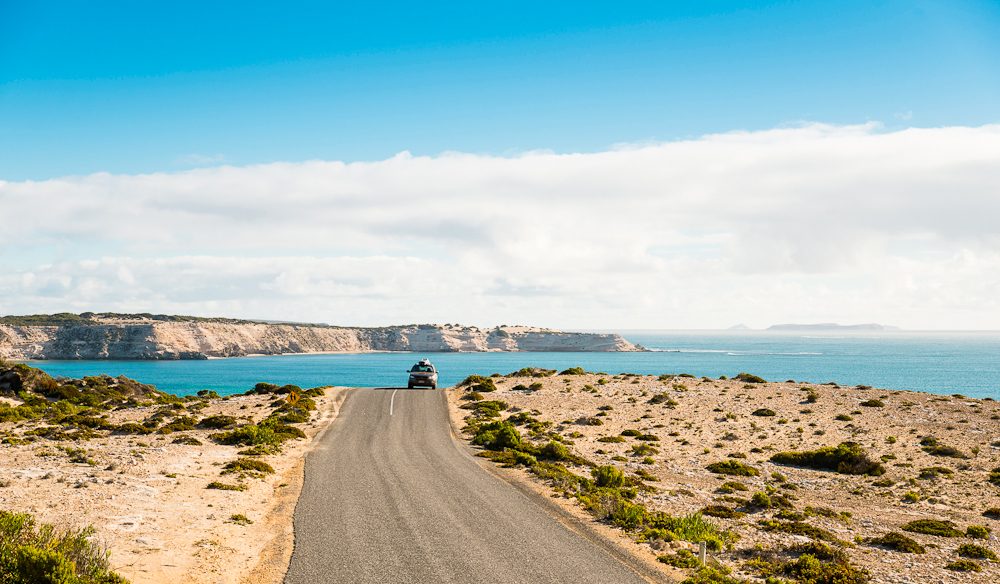 Score: 7.84

Flocking north for a beach break is so passe – especially with thousands of kilometres of coastline on SA's Eyre Peninsula (and no crowds).

Families can splash about by the jetties and sheltered swimming and fishing spots. Adventurers will get a kick out of the underwater life: giant cuttlefish at Whyalla, sea lions at Baird Bay, and sharks and tuna at Port Lincoln.

Surfers will love the remote surf beaches, home to heavy barrels, coral reefs and beach breaks. And what beach break is complete without some delicious sea food? "You'll find some of the freshest and tastiest seafood this side of the ocean here," confirms Keith Austin. Book us in.

More info: South Australia
#97 – get natural on Hayman Island, QLD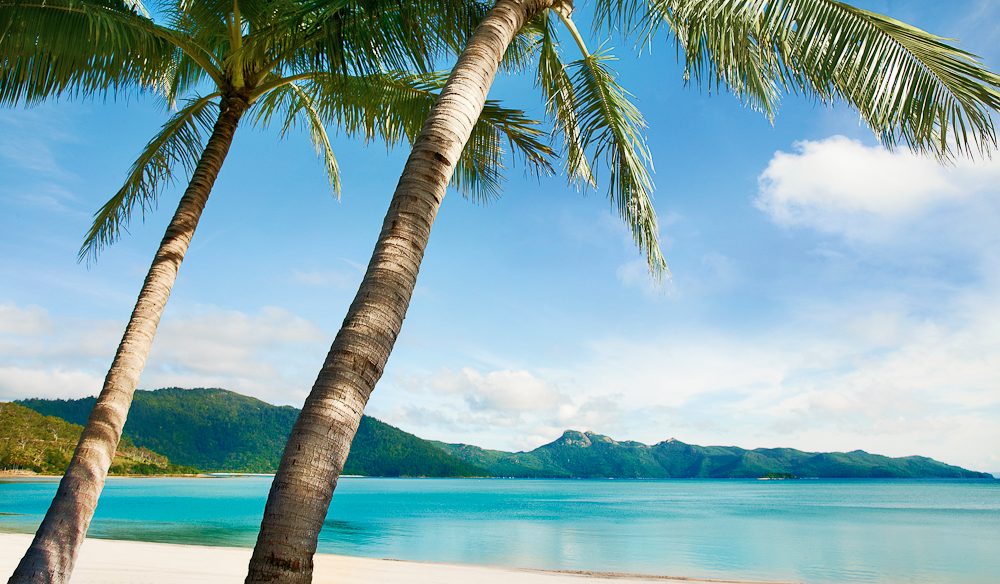 Score: 7.83

Offering front-row seats to the Great Barrier Reef, this stunning private island has long been a favourite amongst the who's who, attracting everyone from Rupert Murdoch to Elton John and Mariah Carey.

And it's sure to have only become better, if that's possible, now that its ~$135 million dollar refurbishment is complete and has been rebranded as the Intercontinental Hayman Island.

Brent Wallace certainly thinks so – "the re-brand will firmly place it once again on top of the world's 'It Lists'", he says. Can't wait. From $550 per room, per night.

More info: haymanisland.intercontinental.com
#98 – go on a Great White Shark expedition, SA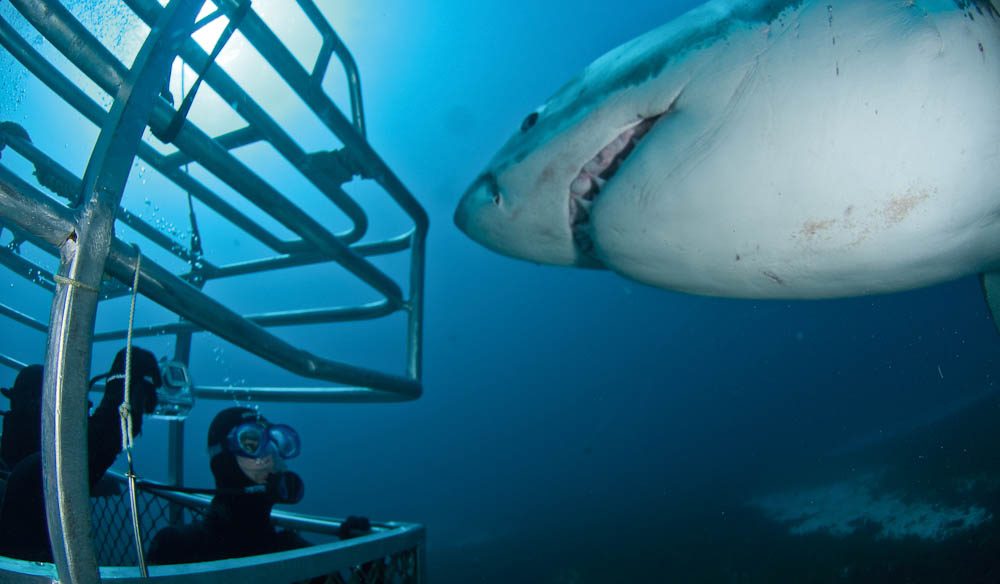 Score: 7.82

This is that bucket list item that you haven't had the nerve to tick off yet, but is an absolute once-in-a-lifetime opportunity.

"If you want to be amazed and terrified at the same time, then this is not to be missed", agrees Suzanne Medway AM. Rodney Fox Shark Expeditions in Port Lincoln were the first Australian operators to offer cage diving with sharks in 1976, so you know you're in good hands when you're staring into those beady eyes from the bottom of the ocean floor.

(Our palms are sweating as we write this.) From $995 per person, no diving experience is necessary.

Also see our article: 'The Great White Truth about Diving with Sharks'.

#99 – holiday on the Mid-North Coast, NSW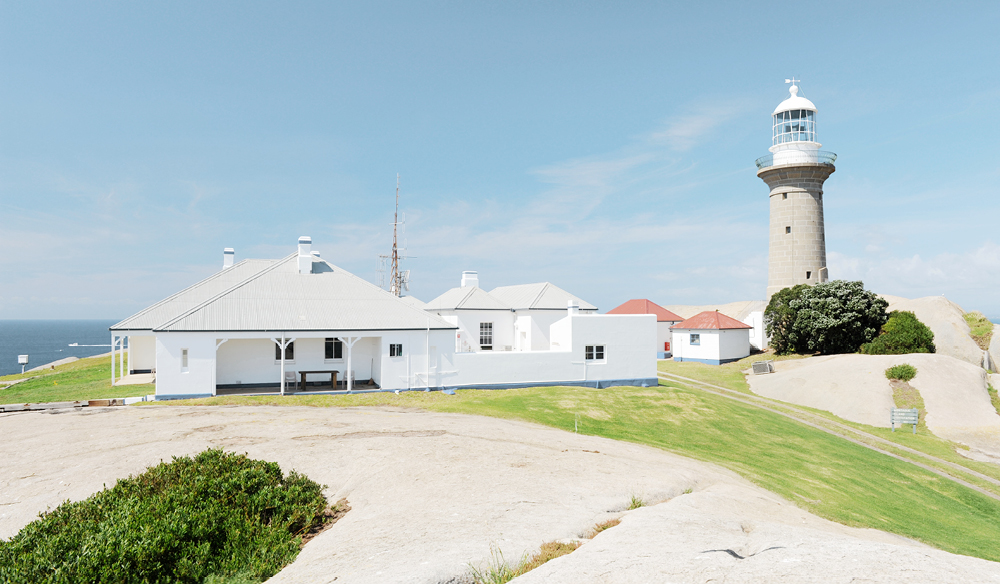 Score: 7.81

"You are a stranger only once," says the Visit NSW website about the beachside town of Seal Rocks on NSW's Mid-North Coast. And how true that is.

In fact, many of the small towns on this lovely stretch of coast – Forster, South West Rocks, Port Macquarie, Blueys Beach, Myalls Lake – have the same friendly, relaxed, laid-back holiday vibe.

It's the stuff nostalgic family beach holidays are made of – swimming, barbecues, bushwalking, fishing, surfing and devouring salty fish n' chips as the sun goes down.

More info: Visit NSW
#100 – stay at Bamurru Plains, NT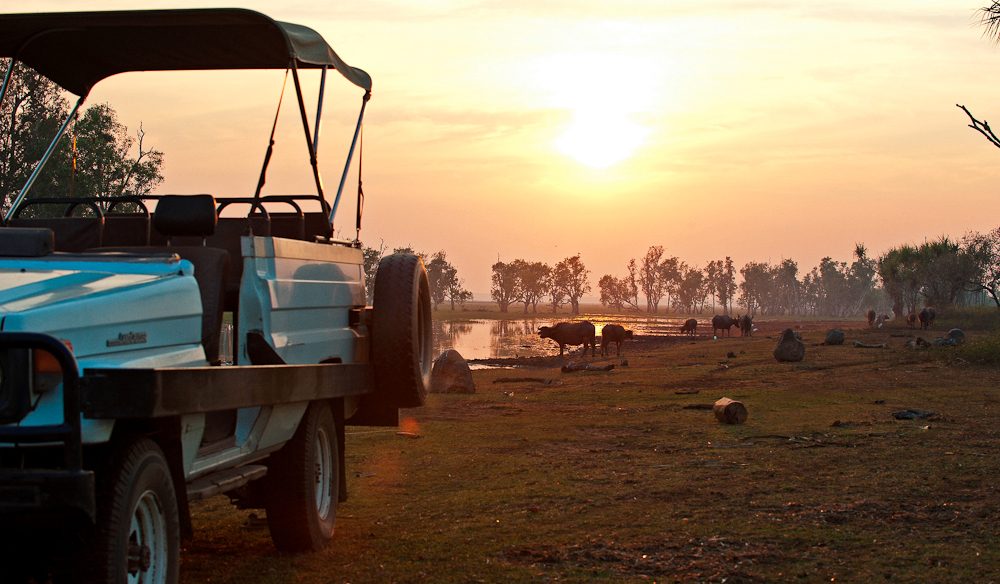 Score: 7.8

Bamurru Plains coined the term 'wild bush luxury' to describe their accommodation: a down-to-earth camp with a focus on the finer details like large soft bath towels, high-pressured shower, gourmet food, a wet-edge infinity pool.

But it's the gorgeous Top End environment that's hero and Bamurru makes the most of it with their selection of activities from gliding on the wetlands on an airboat, taking a 4WD safari around the floodplains and discovering nearby rock art galleries, to name a few.

At night, fall asleep to the sounds of the locals (the frogs and owls, that is).

More info: Luxury accommodation at Bamurru Plains