Rockhampton is a booming city with plenty of character. Part colonial, part country, and part contemporary, the 'Rocky' as the locals call it, is where contradictions live harmoniously in a stunning riverside setting.
Founded in 1858 on the land of the Darumbal people, Rockhampton quickly established itself as the administrative and commercial centre of Central Queensland. As a result of the region's gold rush roots, maritime past, and beef-rearing heyday, luxurious Victorian buildings line the city centre creating a postcard-worthy scene.
The beauty of Rockhampton doesn't end there. Stray away from the CBD perimeter, onto the riverbanks and into deep into the hinterlands, here nature will astound you and the wildlife will make you never want to leave.
Getting to Rockhampton
Rockhampton is easy to get to whether you're visiting from Australia or abroad. Flights to Rockhampton are available from most major cities including Brisbane, Sydney, Canberra, Melbourne and Adelaide.
Brisbane to Rockhampton flights take approximately 1 hour and 20 minutes compared to the 7-hour drive should you choose to hit the road. Queensland Rail also offers multiple train services – the Tilt Train, Spirit of Queensland, and Spirit of the Outback – arriving at Rockhampton Station.
Best Things to Do in Rockhampton
Water Activities
Rockhampton straddles the Fitzroy River, the largest on the Australian eastern seaboard. With a catchment area of 156,000 square kilometres, it's prime for Barramundi and King Threadfin fishing. Throw in a line yourself or join a fishing charter, Guided Fishing Down Under to fly in and boat out. When the heat dials up, refresh under the Kershaw Park Gardens waterfall or jump on a water jet at the Riverside precinct. Beyond the Capricorn region's capital, the coastal paradises of Yeppoon, Great Keppel Island and Pumpkin Island await with an abundance of opportunities to make a splash.
Natural Attractions
Rockhampton boasts a multitude of natural attractions to explore. By far one of the most unique places to see is Mount Archer National Park whose rich forestry and majestic highlands sets a dramatic backdrop to Rockhampton. To catch a glimpse of the rare black cockatoo, follow elevated boardwalk to Sleipner Lookout.
Further afield, the Capricorn Caves serves up a combo of ancient geology, adrenaline-charge adventure, and wondrous wildlife. Join a tour to abseil the limestone ridge, sight insectivorous bats, and visit a dig pit where palaeontologists are excavating fossil bones. Rather discover the highlights of town? The tropical Rockhampton weather means that Rockhampton Botanic Gardens almost always blooms with visitors.
Museums and Galleries
Transport yourself back to the 1850 at the Rockhampton Heritage Village as you wander through vintage cottages, woolsheds and blacksmiths. Double your dose of history at the Archer Park Rail Museum and ride the last of the region's 20th century Purrey Steam Trams. Art connoisseurs should stop by at Rockhampton Art Gallery. Established in 1967, it houses the finest mid-century and modern art in regional Queensland, including works by Australian artists Sidney Nolan and Arthur Boyd.
Markets and Culture
Start your Sunday morning by getting to know local growers and the wider Rockhampton community at Kern Arcade Car Park Markets. Pick up exotic fruits, freshly baked goods and artisan chutneys to feast on or save for later. From the heart of town, head to the Dreamtime Aboriginal Cultural Centre to immerse yourself in Aboriginal and Torres Strait Islander performance and tradition within its beautiful creekside grounds.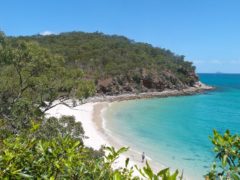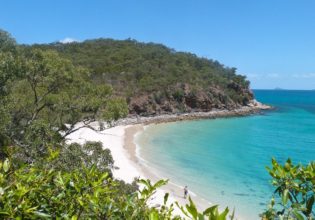 Get in before resort guests arrive Great Keppel Island, Qld While Great Keppel Island's resort is currently undergoing a maj...
Top Places to Stay in Rockhampton
Hotels
From luxury penthouses with mountain views to heritage buildings that ooze with character, Rockhampton hotels are diverse to suit all tastes. At Travelodge Hotel, Rockhampton, you don't have to fork out the big bucks for river view. Consider home comforts of the utmost importance? Stay at the Quest Rockhampton service apartments to feel like you've never left your zone. Alternatively, check in at Denison Boutique Hotel to soak up historic charm by the bucketload.
Motels
A myriad of affordable accommodation options are scattered around Rockhampton townships. Find convenience and comfort without the hefty night's stay at the Cosmopolitan Motel and Serviced Apartments. If old-world charm is what you're after, then rest your head at Australian icon, The Criterion with your choice of a pub-style room or a modern suite.
Caravans and Camping
Caravan and camping sites way to enjoy the best of town and save on Rockhampton accommodation. Southside Village is a zip away to town's attractions while Riverside Tourist Park's convenient bankside location makes it easy to explore Rockhampton landmarks by foot. Another tip is to scour Discovery Park Rockhampton listings for cabins, powered caravan and camping sites.
Top Places to Eat in Rockhampton
As the Beef Capital of Australia, travellers to Rockhampton can't deny themselves of the region's best export. The Ascot Stonegrill is one of the most highly-rated restaurants in Rockhampton to splurge on a steak. For a more low key meal, swing by one of Rockhampton's many historic pubs to sink your teeth in a traditional rump – The Ranch Bar and Grill and The Lionleigh are both highly recommended.
Tours and Packages Rockhampton
A self-guided CBD Heritage Walk down Quay Street is the best way to acquaint yourself with Rockhampton and to appreciate the old seamlessly collide with the new. Once you've gained your bearings, take yourself off the beaten track and discover lush farmland, tropical beaches and coastal forest of the greater Capricorn region with Rockhampton Tours.