Crossing the mighty Nullabor plain is more than just ticking an experience off the Australia bucket list. Vast and wild, the place of 'no trees' is home to ancient limestone cave systems, towering sea cliffs, shifting sand dunes and abandoned buildings that are all a testament to its prehistoric and human past. Like any road trip worth its salt, it's not about the destination. On the Nullarbor, it's all about how you get there.
Once you and your crew are road-ready, you'll set off and meet a veritable host of characters. From the feral camels, kangaroos and wombats who call this desert home, to the sunburnt holidaymakers, intrepid backpackers and regular truckies there's plenty of others travelling here. Stop for a coffee and chinwag at one of the many roadhouses, take a dip at the remote Cactus Beach, watch the rare whales play off the coast of the Bunda Cliffs and dream of it all in a swag by night, sleeping under the undiminished stars.
Driving the Nullarbor Plain
Tales of road trains and wind tunnels can make the idea of crossing this flat, desert landscape daunting. But trust us – with the right preparation, a spectacular and otherworldly adventure awaits. This vast and remote stretch of land can be navigated by taking a straightforwardly rather flat and famously straight, bitumen highway. But there's more to it than that.
When to go
Nullarbor novices would do best to cross the plain in the winter. Not only are the days significantly cooler, but it is also when you can watch the southern right whales that breed and birth here from the top of the Great Australian Bight. But while you might shudder at the idea of crossing in the heat, there are perks. Swims at secluded beaches to cool off for one, and undertaking one of Australia's most iconic road trips with a banging summer playlist coming out the stereo for another.
Towns & fuel
The drive between the South Australian town of Ceduna on the Eyre Peninsula and Norseman in Western Australia is around 13 hours and 1,200 kilometres, so you can bet you'll need to factor in a few fuel stops on the way. There are around 12 roadhouses where you can fill up including Penong, Nurdoo, Nullarbor (which has a famous Roadhouse rest stop), Mundrabilla, Cocklebiddy and Balladonia. There are also other roadhouses where you can pick up fuel.
Tips & rules
The first step to tackling the Nullabor, you'll want to get your car checked out before you leave. To cross, you'll also want to make sure you're prepped with supplies, including at least 10 litres of water per person, coolant, engine oil, a spare tyre … and that's just the start. Once you hit the road, travellers recommend that despite the temptation to make up hours, don't drive at night. The limit is 110 kilometres an hour, and coming across a big kangaroo or even a camel at those speeds is a disaster waiting to happen. Give way to road trains and oversize trucks.
If you really don't like the idea of driving, there's a pretty stunning alternative. A ride on the Indian Pacific will take you straight across by train.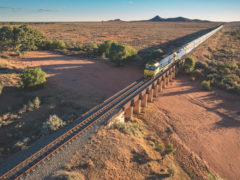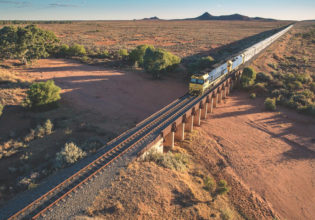 The Indian Pacific sounds like one of the world's most epic train journey, but what's it really like to spend 4 days crossing the ...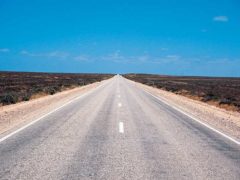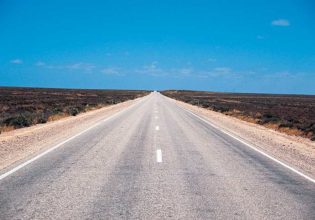 Australian Traveller drives the Nullarbor Crossing on one of Australia's greatest outback journeys. Crossing the Nullarbor Plai...
Nullarbor accommodation
Hotels & motels
You can find motels at most of the roadhouses, as well as caravan parks and spots to pitch your tent. Options include the iconic Nullarbor Roadhouse, which has motel rooms, a restaurant and caravan spots. Although these roadhouses can be considered on the pricier side, a night of sleep in a bed can be priceless for a tired out driver.
Camping & campgrounds
Many drivers instead opt to sleep in nature's hospitality, pitching a tent at an unpowered site or in the bush for a spot of free Nullarbor camping. For something a bit different (and if you have a car that can handle unsealed roads) Koonalda Homestead campsite in Nullarbor National Park is off the Eyre Highway. This old homestead with a train station and outbuildings, which you can stay in. For beach camping, Cactus Beach has the Point Sinclair Camping Ground for $15pp a night.
Highlights along the Nullarbor
Attractions
The first European to cross the Nullarbor, Edward John Eyre, was seriously short-sighted when he called it a place of "bad dreams". Instead, it's a place of wonders. As a karst region, its caves include the Koonalda Cave, where ancient Indigenous prehistoric art has been found that dates back over 20,000 years. While you can't visit, you can go to the Murrawijinie Cave to see the Indigenous ochre hand stencils at its entrance.
Step up to the 'edge of Australia' when you visit the Bunda Cliffs. Towering over the Great Southern Ocean, these limestone monuments are the world's longest uninterrupted line of sea cliffs. There are five main lookouts from which you can see whales in winter. Take the experience to a higher level, and charter a scenic flight with Chinta Air over here.
Tee-up time on the Nullarbor Links, the world's longest golf course. Starting at Kalgoorlie in WA, it stretches 1,365km to Ceduna in SA.
Tours & packages
If you want to sleep under the stars with a whole bunch of new mates, there's no better way to make the Nullarbor crossing than on the tour. The family-owned Xplore Eyre hosts small group and private tours, while Nullarbor Traveller runs multi-day camping tours. Both run between the Eyre Peninsula and the southwestern Australia region.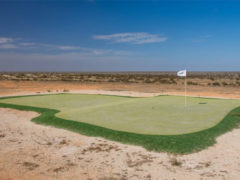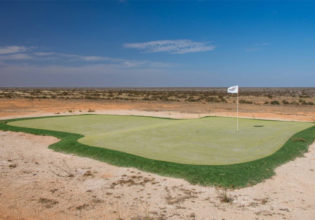 Not satisfied with cricket matches that take five days to complete? There is now a golf course that takes four days and 1365km ...
Restaurants & food along the Nullarbor
Start off your journey right at Ceduna Oyster Barn in South Australia, where you can gorge yourself on sashimi and freshly shucked oysters before you make the crossing. From then on out, food options can be limited as the roadhouse shops are known for being pricey. You're best to bring plenty of dried and canned food with you, which you can snack on to keep the costs of your road trip down. Unfortunately, any fresh food will be confiscated from you at the WA/SA border.
There are some dining options at the roadhouse restaurants, although they tend to be of the reheated variety. That being said, the Nullabor Roadhouse has a reputation for stellar feeds that include road trip classics such as burgers, hot chips and chicken schnitzel.