100 Best Views In Australia #23 Hamersley Dunes, WA
April 1, 2012
Where is it? In The Fitzgerald River National Park, 550km south-east of Perth between Albany and Esperance
How to see it for yourself?
Fitzgerald River National Park contains more than 1800 plant species, 62 unique to the park, and more animal species than any other park in Australia. There are entry points on both sides: from the western side via Bremer Bay, or the eastern side via Hopetoun. The central area of the park, however, is only accessible by 4WD or on foot.
Why I love it
"Fitzgerald River National Park has incredibly diverse scenery. The Hamersley Dunes are just like a white-sand Sahara. There's 4WD access and great fishing here, but the best catches are often what you capture through the lens." – Elisabeth Knowles, editor, Australian Traveller Image by Tourism Western Australia
AUTHOR
COMMENTS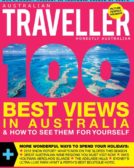 BUY THE ISSUE
This article appeared in Issue 44 of Australian Traveller.
The 2012 100 Edition
* 100 Best Views in Australia & how to see them for yourself
* 2012 Snow Report: What's new on the slopes this season
* Great Australian Wine Regions you must visit now
* WA's Houtman Abrolhos Islands
* Out & About Adelaide Hills
Plus
Ultra Luxe Park Hyatt, Perths Best Boutique Hotel reviewed


BUY THIS ISSUE