100 Best Views In Australia #46 Z Bend Lookout, WA
April 1, 2012
Where is it?
Murchison River gorge, Kalbarri National Park, 585km north of Perth
How to see it for yourself?
From the Kalbarri National Park car park, the lookout can be reached via a 500m walking track. Gazing down, the gorge walls plunge 150m to the river below, where river red gums create a  striking contrast against the earthy Tumblagooda sandstone. Kalbarri Tours offers tailor-made group charters to the gorge, as well as canoeing tours for more adventurous types.
Why I love it
"Named after the enormous Z bend created over time by the Murchison River, the lookout offers views that will spellbind visitors. There are these  dramatic sandstone cliff faces which plummet into the river as it meanders through Kalbarri. Abseiling provides a particularly thrilling view!" – Grace Pappelendam, Australia's Coral Coast
AUTHOR
COMMENTS
LOCATION
View on map
Murchison Region, WA
Home of the oldest dated rock formations on the planet, at Eranondoo Hill in the nearby Jack Hills.
THE DETAILS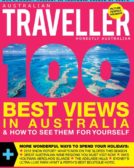 BUY THE ISSUE
This article appeared in Issue 44 of Australian Traveller.
The 2012 100 Edition
* 100 Best Views in Australia & how to see them for yourself
* 2012 Snow Report: What's new on the slopes this season
* Great Australian Wine Regions you must visit now
* WA's Houtman Abrolhos Islands
* Out & About Adelaide Hills
Plus
Ultra Luxe Park Hyatt, Perths Best Boutique Hotel reviewed


BUY THIS ISSUE