Closer to Bali than it is to Brisbane, Darwin is Australia's smallest capital and blends 56 nationalities, a perky pulse and a laid-back tropical air. Top End, indeed.
Why come here?
Imagine stepping off the plane and straight into a Spiegeltent. That's what entering Darwin is like. It's another world.
Not a glitzy one – though it has its moments, owing to the natural resources boom. It's a parallel universe: Australia, but not as most know it.
From the tropical weather (those ceiling fans rarely turn off) right down to the faces you'll see in its streets, this northern capital is exotic.
Thirty per cent of Darwinians were born overseas and ten per cent are Aboriginal, which brings depth, buzz and a slew of sensory benefits for visitors.
The city hosts incredible Asian food markets, galleries and museums walled with beautiful Indigenous art, and in the dry season (May to October), a continuous line-up of bumping cultural festivals.
And let's not forget what lies just beyond these tent doors. A measly three-and-a-half-hour drive lands you in Kakadu National Park.
A two-hour drive gets you to the feet of Litchfield National Park's waterfalls. And just 45-minutes on the road takes you to Berry Springs Nature Reserve, where you can duck dive through a chain of waterholes and surface underneath some surprised black cockatoos.
How to get there
Darwin is almost 4000 kilometres north-west of Sydney, a flight that takes around four hours. Air North, Jetstar, Qantas and Virgin Australia all fly to Darwin International Airport. You can also roll up by bus with Greyhound Australia, or take the Ghan train to Darwin from Port Augusta (SA) or Alice Springs (NT) with Great Southern Rail.
When to go
Tropical summer from October to April is traditionally the low season and, if you can't deal with mozzies, hot muggy weather and heavy storm clouds, it's best avoided.
However, the wet can also be a very rewarding time, with dramatic thunderstorms and waterholes filled to the brim, teeming with new life. If you do go, stay on sealed roads. You'll also need to check with individual operators regarding prices, as some have caught on to the wet season travel trend and are charging higher rates for specific activities.
Check out our intrepid writer's report from Kakadu in the Wet.
Whatever you do, AT advises you to be wary of November, as that's the time for so-called "mango madness" – a northern term for people going troppo due to excessive heat and humidity in the build-up to the wet.
The best time to go is the Southern Hemisphere's autumn, if you can stand the heat. Towards the end of the wet, you'll still be able to see everything in bloom and watch the wildlife, but the chances of swimming away in your own sweat rather than in a waterhole are greatly reduced. May and June would be a good time to go too, with crowds still down – provided you can snap up some bargains.
Where to stay in Darwin
The options are not exactly endless but there is a great variety of places to bed down in Darwin. From the incredibly well positioned Darwin Waterfront, to the more glitzy SKYCITY Casino, there are options for every group or individual traveller. Check out our comprehensive guide to where to stay in Darwin.
What Darwin is known for
Crocs, heat and tabloid journalism. Embrace all three.
Get too close to a croc at Crocosaurus Cove or just watch them jump on an Adelaide River cruise – there are no other places in Australia where you can experience the same thing.
And roll the dice on a copy of the NT News to peruse over your morning coffee. The paper's larrikin headlines are so revered – and outrageous – that late last year the publisher opened an online shop to fuel demand for merchandise bearing NT News wordplay.
What to do
There's a saying among locals: "If you don't like markets and sunsets, you won't like Darwin." But who among us – excepting those with an iron heart – does not go weak at the knees for a beachfront market laksa, or a sunset tinged with every shade of pink imaginable? Either way, Darwin trumps both categories.
Market madness
Mindil Beach Sunset Markets is the biggest bi-weekly event on Darwin's dry season market calendar.
Each Thursday and Sunday night, nearby parking space becomes highly coveted as locals and tourists pile in to sip fresh juices and deliberate over dinner and dessert options from the seemingly endless stretch of stalls, most offering South East Asian cuisine. If you'd rather sample more local fare, keep an eye out for the 'Aussie Burgers and Hotdogs' stall. It sells Barramundi, Crocodile and Buffalo burgers.
As well as its edible gems, Mindil markets feature rides for kids, street entertainers and large open-air corridors of art, craft and gift stalls. (Mindil Beach Sunset Markets: 25 April to 31 October 2013, Mindil Beach, between SKYCITY Casino and Darwin High School, Maria Liveris Dr, The Gardens, mindil.com.au).
Parap Markets is unbeatable for Saturday breakfast, brunch or lunch.
These are Darwin's longest-running markets and like Nightcliff Markets (below) they're open all year round.
The Cambodian pancake stall, set up opposite gift store 'Paraphernalia', is a savoury breakfast winner; as is the Lebanese food stall, 'The Cedar Tree', tucked inside the main square.
Try the latter's sambousik (savoury lamb puffs) and riz bi halib, (slow-cooked rice pudding with rose water and orange blossom). (Parap Markets: Saturdays 8am-2pm. Parap Village Shopping Precinct, Parap Rd, Parap, parapvillage.com.au).
Come Sunday morning, Nightcliff Markets host local musicians, food stalls and sellers of clothes, flowers, books and jewellery.
'Ken's Crepes' is well-heeled among locals. By 8:30am thick queues of feet await its delicate folds of Nutella, banana and honey, among other délicieux combinations. (Nightcliff Markets: Sundays 6am-2pm. Nightcliff Village Shops, Progress Dr, Nightcliff.).
For more, see our complete wrap up of Darwin's markets.
Other places to shop in Darwin
Bright prints on Marimekko-style fabrics teamed with Funkis clogs is the look du jour among fashion-conscious women of the tropics.
You'll find both at The Corner Store in Parap Village Shops, as well as carefully curated racks of artful fabric at Raw Cloth in Nightcliff – here ladies hum away on sewing machines at the back of the store, creating quite the homely vibe. (The Corner Store: 4/1 Vickers St, Parap, 08 8941 8943, thecornerstore.com.au; Raw Cloth: 3/60 Aralia St, Nightcliff, 08 8985 2305).
Sweet gifts – such as Moroccan tea cups, whimsical jewellery and clothes with a bohemian feel – abound at tiny Star Village Arcade store Frond and at Elevated on Cavanagh Street. (Frond: Shop 4 Star Village, 32 Smith St, 08 8981 9754, frondstore.wordpress.com; Elevated: upstairs cnr Knuckey and Cavenagh Sts, 08 8942 2858).
For Aboriginal art, take in the art precinct at Parap Village shops. Here you'll find Nomad Art, Outstation and small gallery Tiwi Art. (Nomad Art Project Space: 1/3 Vickers St, Parap, 08 8981 6382, nomadart.com.au; Outstation Gallery: 8 Parap Pl, Parap, 08 8981 4822, outstation.com.au; Tiwi Art: 3/3 Vickers St, Parap, 08 8941 3593, tiwiart.com).
Painterly sunsets
To drink up a slow Darwin sunset, claim a picnic spot at East Point Reserve in Fannie Bay. The reserve covers 2000 hectares of land, including Darwin Military Museum, making it the city's largest park. Dudley Point is a particularly excellent place in which to perch. (East Point Reserve: Alec Fong Lim Dr, East Point Reserve).
Alternately, meander along the Bicentennial Park paths parallel to the CBD's Esplanade. Along the way stop at the viewing platforms that look out across Darwin Harbour – perfect for an evening walk or run. (Bicentennial Park: opposite Holiday Inn Darwin, 122 The Esplanade).
Star-studded screenings
Each night during dry season, and twice on Friday and Saturdays, Darwin's Deckchair Cinema projects films under indigo skies. Sure, you can do this in other cities, but this is the best open-air movie venue we've ever visited, owing to its back wall of tall trees, its comfortable temperatures and waterfront location.
The films are a mix of art-house and mainstream releases and local eateries take turns catering from Wednesdays to Sundays.
Keep an eye out for nights opened with screenings of Northern Territory short films, and if you're visiting during the wet season, Deckchair Cinema runs weekend film sessions 'Flix in the Wet' until 24 March 2013 at Birch Carroll & Coyle Cinema on Mitchell Street. (Deckchair Cinema: 17 April to 17 November 2013. Adults $15 Kids $7. Jervois Rd, 08 8981 0700, deckchaircinema.com.au).
Wildlife for kids
If you're travelling with kids or teenagers, venture to Crocosaurus Cove.
Right in the middle of Mitchell St – hardly the city's crown jewel (it's brash, loud and touristy) – this aquarium keeps six enormous crocs in pools, while other tanks house stingrays, barramundi and turtles. If you're game, ride the 'Cage of Death' ($150 for one person, $110 each for two people), which lowers brave souls into croc-prowled waters. (Crocosaurus Cove: Adults $30 Kids $18. 58 Mitchell Street, 08 8981 7522, crocosauruscove.com).
On the tamer side, opt for a turtle-spotting tour of Darwin Harbour. Sea Darwin tours depart just before sunset from Stokes Wharf, and if you visit late in the dry season, you might be lucky and catch baby turtle hatching season. (Sea Darwin Turtle Tracks Tour: April to October 2013. Adults $230 Kids $155. Stokes Hill Wharf, 1300 065 022, seadarwin.com).
Where the locals buy coffee
Follow the scent of perfectly brewed beans to Ducks Nuts on Mitchell Street (next to the cinema), or the Melbourne laneway-esque Four Birds in Star Village Arcade, Smith Street Mall. (Ducks Nuts Bar & Grill: 76 Mitchell St, 08 8942 2122, ducksnuts.com.au; Four Birds: 2/32 Smith St, 0408 729 708).
On the battlefront
Darwin is absolutely littered with WWII history. No other place in Australia has this sheer, in-your-face, touchable war history.
The East Point Military Museum is where Darwin gets serious about its wartime history.
The curator of East Point deserves a medal. The commentary for the weapons displayed is typical Territorian – no fuss and highly amusing in the directness of the description of artefacts and objects.
The best is this final description of the Styr HBAR-T (a machine gun): "has more killing power than the Maxim or Bren even though it appears to be more like some kind of military fashion statement." That's Darwin directness to a tee; it does look more like an accessory than a killing machine.
The rest of the museum is a large block loaded with field and artillery guns, tanks, jeeps and the piece de resistance – Australia's own Gun of Navarone.
Well, almost. It's a replica of a 9.2inch gun that once stood guard over the harbour. (Irony of ironies, the original was sold for scrap in 1959 to the Japanese Fujita Salvage Company.)
Fannie Bay Gaol is between the East Point Military Museum and the Museum and Art Gallery of the NT. The goal has been well preserved and the extensive collection of buildings house excellent displays on life in tropical incarceration, although the place has a questionable record in the confinement stakes.
Legend has it that, during the bombing raids, all the prisoners were freed and military personnel moved in. Then, with the arrival of Tracy, the inmates were again freed to fend for themselves, with 98 percent returning when it became one of the few structures still standing. (I ask the lady at reception if this is true and she can neither confirm nor deny.)
Be blown away at MAGNT
The Museum and Art Gallery of the NT is a fabulous place with permanent exhibitions about the Darwin bombings, Cyclone Tracey, pioneers and explorers.
The two highlights have to be the Tracy exhibit and the extensive collection of superlative Aboriginal art. Standing in a darkened room listening to recordings of Tracy blow the house down is without doubt the most chilling experience. We nearly left after ten seconds, it's that frightening. You'll not ever, ever think of a cyclone as just a very windy day again.
The Tracy display actually starts in very Territorian style.
The First Nationers who faced Tracy believed it to be the Rainbow Serpent venting its anger at the people's neglect of their ritual responsibilities. This led to the development of at least two cyclone Dreaming dances and songs. Forming the opener of the Tracy display is a clear indication that, in the Territory, things may not be perfect but there's an intention to have things in the right order.
For a look at what Darwin was like before Tracy blew in head to Myilly Point, which overlooks both Cullen Bay to the south and Mindil Beach to the north.
Myilly hosts four excellent and surviving examples of typical pre-Tracy houses. On stilts, with louvered windows to stay cool, they were ideal for the tropics. Just not for cyclones. One of them, Burnett House, is the site of another Darwin institution, high tea on Sundays.
Where to cool off
Kids in tow? Head to the Darwin Waterfront precinct, which is almost always bustling with holidaymakers and families. The grassed area here is an ideal picnic spot that stretches between the recreation swimming lagoon (which has a man-made beach) and wave pool (it has a range of different waves up to 1.7m in height, and is suitable for the whole family – from boogie board riders to toddlers), so families can loll between swims and sandwiches.
Best places for wild swimming without the worry of box jellyfish or Darwin's favourite topic of conversation snacking take a drive out to Berry Springs. The most accessible wild swim in the Darwin region, Berry Springs lies just 115 kilometres from the city lights.
Its crystal clear waters house archerfish that shoot jets of water up into the air to catch prey. Navigate these springs with a snorkel. The lower pools carry a mysterious, almost eerie air. (dry season only)
Litchfield National Park Waterfalls are another top spot get wet in the wild. AAT Kings offer day trips to Litchfield National Park, 200km south of Darwin, where you can spend time wallowing in crystal-clear waterholes. You'll need to make your own way there by hire car but a local's secret is Walker Creek, a series of eight waterholes is so secluded that you'll often enjoy a pool all to yourself. There's a single campsite beside each waterhole, too. (dry season only)
Best Picnic Spots and Walking Tracks
Bicentennial Park
Great for: Waterfront picnics on the grasslands bordering The Esplanade.
Details: The Esplanade. darwin.nt.gov.au
Jingili Water Gardens
Great for: Family picnics spent firing up the BBQ and using the cycle paths.
Details: Turn off Trower Rd onto Freshwater Rd, Jingili. darwin.nt.gov.au
Fannie Bay
Great for: Exploring the mangroves along Fannie Bay to East Point.
Details: East Point Rd, Fannie Bay.
Holmes Jungle Nature Park 
Great for: Rambling through Monsoon forests filled with small reptiles and birds. Walk, cycle or horseride on trails.
Details: Off Vanderlin Drive.
Festival Territory
Darwin packs a lot of its festival action into the dry season and "build-up" (to the Wet Season). May to October is peak time, but there are plenty of quirky events all year-round.
For Dry Season action, the Top End's answer to the Melbourne Cup, the Darwin Cup (late July, early August), is fast becoming the race that stops (this part of) the nation.
Darwin Festival offers art, dance, comedy and indigenous culture that might not otherwise find its way to the city – check out the line-up and book ahead. The Darwin Fringe is also growing in popularity as the demand for non-mainstream mushrooms with the great north migration.
Greek Glenti celebrates one of Darwin's dominant immigrant cultures, a plate-smashing celebration of Hellenic dancing, music and most importantly cuisine centred on Bicentennial Park. Oh, did, we mention the food?
Beer Can Regatta is perhaps the most Australian event in the entire country.
Don't miss our full coverage of all the crazy events in the Northern Territory.
What you didn't know about Darwin
Darwin is definitely no ordinary capital city.
It took white pioneers four attempts – count them, four – to make a permanent settlement in the Top End, and even then it wasn't a raging success. Darwin and what we call the NT today was actually annexed by South Australia in the mid-1800s for its potential as an agricultural cash cow.
It was eventually handed back to the newly federated Commonwealth when the ugly duckling failed to turn into a swan.
Darwin originally went by the name of Palmerston until it was renamed after the naturalist Charles Darwin in 1911 by his former shipmate Captain John Stokes.
Stokes sailed here in 1839 and found the plethora of wildlife, specifically that of the feathered variety, would have amazed his scientist friend. One hundred years after the renaming, there's still immense diversity among Darwin fauna.
Ocean swimming is out of the question with lethal bull sharks and box jellyfish patrolling the harbour.
On a more relaxing note, the city's trees house over 400 species of birds, and a stroll through the Casuarina Coastal Reserve or George Brown Botanic Gardens will put you on deck with Red-headed honeyeaters, Azure kingfishers and a bevy of eagles and kites.
But this cornucopia of natural history has an intriguing white settlement story, too.
Take Channel Island for instance. Forty-four kilometres from Darwin CBD, the Territory's first quarantine facility was built here, and in 1930 it added a leprosarium. Lepers, many of whom were Indigenous, were subsequently isolated from society and island-interned until the mid-1950s.
Particularly intrepid travellers can hunt down what little remains of the Channel Island leper colony, but it's well off the beaten track and you may encounter a rogue croc among the mangroves near the ruined jetty and bed frame skeletons. (Ignore our advice if you fancy becoming an NT News headline yourself.)
After being bombed away in the '40s (in 64 separate raids during WWII the Japanese dropped more bombs on the city than on Pearl Harbour), Darwin was blown away by Tracy in the '70s. The town was evacuated for the second time in 30 years, and the relative merits of even bothering to rebuild were debated.
More cheerily, the place names of many of Darwin's regions are the source of much national head-scratching – or appreciative nods, depending on your taste. Let's start, and maybe end, with Humpty Doo, Fannie Bay and Rum Jungle.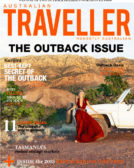 Enjoy this article?
You can find it in Issue 49 along with
loads of other great stories and tips.