There's no shortage of great tours on offer in Kakadu, but a do-it-yourself driving adventure holiday is pretty hard to beat, says Lee Atkinson
It's birdy hour in Kakadu: that magic time of day at the tail-end of the dry season, when the daylight folds around a setting sun rendered red, orange and pink by smoke haze. The landscape glows in the tangerine light and what seems like a million birds materialise from nowhere to fill the sky with their shrill calls and booming honks as they swoop and soar above the shrinking wetlands, floating down to wade through the shallows, seemingly oblivious to the semi-submerged snouts of super-sized saltwater crocodiles lurking nearby.
We've got exclusive front-row seats to this spectacular sound and light show at Sandy Billabong – we've carted our fold-up chairs across the track from the campground and set them up as close to the water's edge as we dare and, armed with a bottle of wine and some cheese and crackers, we've settled back to watch one of the greatest wildlife shows on the planet. There's no one else around and the entire thing has cost us (if you don't include the refreshments) the princely sum of $5 each. Or at least that's what it costs to camp: the sunset show is free.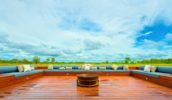 Kakadu is one of those places that has an almost mythical place in the imagination of most Australian travellers. It's wild, beautiful and seriously out there, in a Bear Grylls type of way. But, what most people don't realise is that despite its rather fearsome reputation, it's surprisingly easy to get around, year-round, even in a normal car.
There are two ways you can do Kakadu: on the bitumen or in the dirt.
The sealed road
Getting to Kakadu is easy. From the south it's 150 kilometres from Katherine, via the Stuart and Kakadu highways. Most people come from Darwin though (that's the closest airport), which is also around 150 kilometres from the edge of the park, via the Arnhem Highway. Both roads are sealed, open all year, and in fairly good condition, although you do need to keep an eye out for wandering cattle, buffalo and kangaroos.
Once you're in the park a sealed all-weather road runs right through the centre of the wilderness, roughly forming a triangle from the two highways with the township of Jabiru – 254 kilometres from Darwin, 211 kilometres from Pine Creek – at the apex. All of the must–see attractions, such as Ubirr and Nourlangie with their magnificent rock art galleries, tour hub Cooinda and the wildlife-filled Yellow Water Billabong are easily accessible from this main road, as are the popular accommodation options and most of the parks that cater for caravans. The jaw-dropping cliff-top plunge pool at the top of Gunlom Falls is on a gravel road, which is a bit rough and rocky but fine for most 2WDs in the dry, as are many of the camping areas.
You could see all of these in a stock-standard sedan, but you'd probably be more comfortable in a small SUV if you are planning to drive on the dirt or head out to Gunlom.
The dirt track alternatives
You don't need a 4WD to see the best of Kakadu, although if you do have one there are a few special spots where high-range comes in handy. A 4WD will get you out to Jim Jim Falls and Twin Falls (although you still have to walk the last kilometre or so), Sandy Billabong, the more remote waterholes and some of the bush camping areas. You'll also need a 4WD on the Old Jim Jim Road, which is a great shortcut from Cooinda to the Arnhem Highway. Many of the unsealed roads that are fine for 2WD in the dry season, like Gunlom Falls, are 4WD-only in the wet. The tracks aren't particularly difficult, but some can be rocky and slow and the river crossings can be a bit tricky in the wet.
Camping
There are more than 25 designated campgrounds in Kakadu, ranging from commercial caravan parks to remote bush camping sites with no facilities at all, as well as bush campgrounds that have toilets and hot showers. Hiring a campervan is a great option if you have flown to Darwin: most come with basic camping gear.
Roadtripping tips
• Avoid driving in the dark: your chances
of colliding with a critter are very high, and most car hire insurance policies do not cover you for the damage.
• Many hire car companies will not allow their cars on dirt roads – even SUVs – so check the fine print.
• The visitor centres frequently run out of maps, so download one from parksaustralia.gov.au. The free 'Visit Kakadu' app (iTunes and android) is also useful, but the maps are easier to read on a tablet than a phone.
• You'll need a snorkel fitted to your vehicle if driving on 4WD tracks in the wet season.
• Fuel is available at Jabiru, Cooinda and Pine Creek. No fuel is available at Goymarr Roadhouse.
In the wet: Can go: The Arnhem and Kakadu highways remain open, as do the roads to Nourlangie, Ubirr and Cooinda, although they may close after big storms. Check the road report at Kakadu roadreport.wordpress.com … Can't go: The roads to Jim Jim and Twin Falls are closed. The best way to see these is on a scenic flight. Old Jim Jim Road, Gunlom, Maguk and Sandy Billabong are also out of action. Many minor unsealed roads are closed; those that remain open are 4WD-only and some bush campgrounds are closed. Check the road report for details.
Try one of our dream road trip itineraries
Three Days…
Day 1:
Drive Darwin to Jabiru
Head to Bowali Visitor Centre
Enjoy sunset at Ubirr
Camp at Merl campground (Luxe option: Crocodile Hotel, Jabiru)
Day 2:
Take a two-hour Guluyambi Cultural Cruise up the East Alligator River
See the amazing art at Nourlangie Rock
Do a sunset cruise on Yellow Water Billabong
Camp at Mardugal campground (Luxe option: Cooinda Lodge)
Day 3:
Spend the morning luxuriating at Gunlom Plunge Pool
Drive back to Darwin
Five Days…
Follow the three-day itinerary, plus:
Stay an extra two nights at Mardugal campground or Cooinda Lodge
Spend the afternoon of Day 3 at Sandy Billabong (take a chair and watch the birds descend at sunset)
Spend Day 4 at Jim Jim Falls before heading back to Darwin on Day 5
Eight Days…
Follow the five-day itinerary, plus:
Stay an extra night at Jabiru and do the Bardedjilidji Walk along the Alligator River
Stay an extra two nights at Mardugal campground or Cooinda Lodge and walk out to Gubara Pools
Do a full-day Animal Tracks Tour before heading back to Darwin on Day 8
For more information: Tourism Northern Territory
The Beautiful Kakadu Guide: What else do you need to know about Kakadu?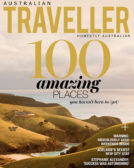 Enjoy this article?
You can find it in Issue 62 along with
loads of other great stories and tips.