It's often considered just a jumping-off point to the Whitsundays, but Airlie Beach is all grown up and now a destination in its own right.
What is it
Airlie Beach is located on the north-east Queensland coast, between Mackay and Townsville.
The coastline is flanked by the Great Barrier Reef, and dotted with the 74 idyllic islands that make up the Whitsundays.
Easy access to these two attractions makes Airlie an ideal escape for those seeking watery fun in the Whitsundays sun, minus the island price tag – although a growing number of luxury accommodation providers also makes it ideal for those seeking a little upmarket R&R.
Airlie is especially good for families with young kids, but couples won't have any trouble finding their own slice of paradise, either.
Where is it
Unless you're up for a long drive (Airlie is 12 hours north from Brisbane and seven hours south of Cairns), the best way to get there is by plane.
Fly to Proserpine Airport (also known as Whitsunday Coast Airport) on any major domestic airline, then take the 25-minute drive to Airlie Beach. A hire car will be handy if you're not staying right in the township, but otherwise take the shuttle – pretty much everything in Airlie is within walking distance.
You can also fly to Hamilton Island, then book a small-plane transfer to Airlie for $75 with GSL Aviation.
What makes it so great?
Aside from the 300 days of sun each year? Minimal crowds, pristine beaches and 74 islands with at least that many activities to enjoy.
The devastation of cyclone Yasi put a massive dampener on tourism, but the net result is a good one: only the best restaurants, bars and service providers survived.
Since then, the newly built Port of Airlie Marina, Outrigger apartments and five-star Peppers resort have helped shape Airlie into a relaxed, upmarket destination that still retains its sleepy beachside vibe.
Things to do: offshore
The most obvious attraction to Airlie is its proximity to the islands, and no wonder – they're stunning. Crystal-clear water, lush green vegetation and sand so white you need sunglasses to look at it: the Whitsundays have all the requisite clichés, minus the overdevelopment.
Better still, staying in Airlie offers you plenty of ways to enjoy them (and they don't all cost an arm and a leg).
Cruise to Whitehaven beach
This 7km stretch of astonishingly white sand regularly makes "best beaches of the world" lists, and with good reason: it's breathtaking! A half-day cruise service runs daily from Abel Point Marina (five minutes from Airlie's main street – book a free shuttle service from your local accommodation at cruisewhitsundays.com).
It includes around two hours of sightseeing each way, as you cruise past an ever-changing vista of island paradise. You'll also get a solid two hours to explore the sand (or sunbake) when you arrive. Just don't forget the sunscreen – or lunch.
Go sailing
"Airlie," one local informed me, "is a drinking town with a sailing problem." I wouldn't disagree!
There are several operators offering boating adventures, and they come in every variety – budget and luxury options, quick daytrips, overnight stays, longer charters… Head to tourismwhitsundays.com.au for more info.
Drink in the sunset
If you think the best thing about yachting is the lifestyle, you'll like what Sundowner Cruises is offering. Its craft may look like a boat, but it's really a relaxed bar on water.
Kick back and enjoy a Whitsundays sunset from the best seat in the house while you enjoy a glass of your favourite tipple.
Take a scenic flight
If there's anywhere in the world you're going to splash out on a scenic flight, here should be on your list.
A 50-minute trip with GSL Aviation will take you over the Whitsunday Islands and out to the Great Barrier Reef, where you'll see just why it's one of the seven natural wonders of the world. The flight also covers off Whitehaven Beach and that other famous Whitsundays landmark, the Hill Inlet. All for the princely sum of $189.
Things to do: onshore
Airlie Beach is more than somewhere to sleep between island-hopping: the thriving café culture and beautiful climate ensure there's plenty to do on shore… or not do, if you're that way inclined.
Have a sunset BBQ
Right next to Airlie's lagoon in front of the beach are a number of public barbecues and picnic tables. As the sun sets, fire up the barbie and enjoy the balmy weather. This is a particularly great idea if you've got little ones – the nearby lagoon is well lit at night (and reassuringly shallow), so they can splash about until they collapse in a happy heap on one of the neatly grassed areas.
Visit Cedar Creek Falls
Fifteen minutes out of town, this lush little waterhole offers year-round swimming in a natural pool at the base of a waterfall.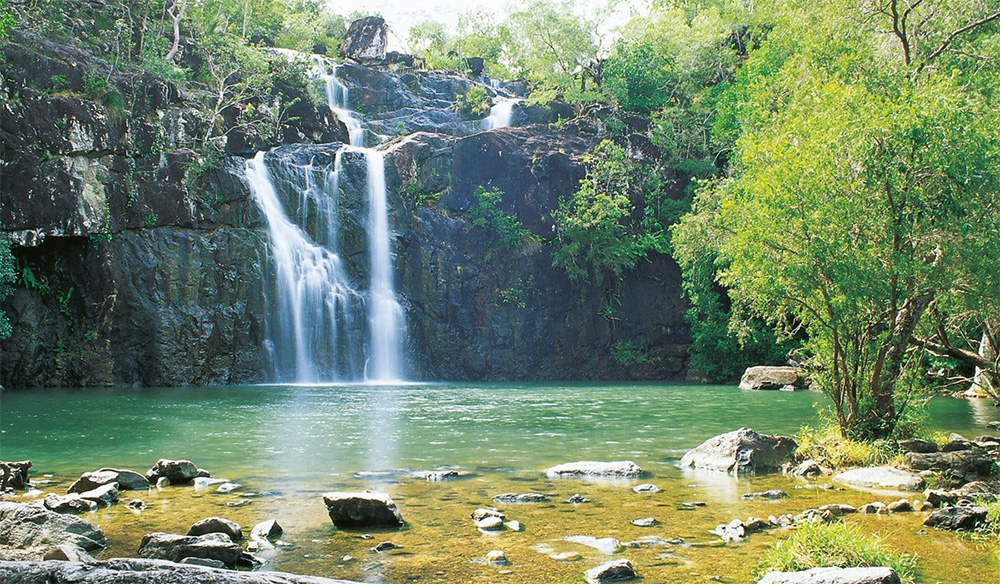 Yes, it's as pretty as it sounds! Pack a picnic, perch under the shade of an Alexandra palm and lunch at the still water's edge while admiring the scenery, then cool off in the clear fresh water of the pool. Unlike the beaches, which can play host to the deadly box jellyfish between October and May, Cedar Creek Falls is swimmable all year and rarely without water flow.
Hit the markets
Every Saturday morning, the local markets open for trade right next to the beach. Grab a coffee and peruse the stalls: you'll find everything from fresh fruit and veg to gourmet treats, clothing, locally made artwork and jewellery for sale from 8am till around midday.
Where to drink
Denman Cellars Beer Café
Airlie's newest hotspot, Denman Cellars Beer Café, has more than 700 beers to choose from – as well as an extensive wine list. Nab an outdoor lounge, order a glass and peruse the tapas menu, if the mood strikes you – the zucchini balls are worth the calories. Shop G15, 33 Port of Airlie Drive, (07) 4948 1333.
Fish D'vine Restaurant
Perennial Airlie favourite Fish D'vine Restaurant is also home to a rum bar.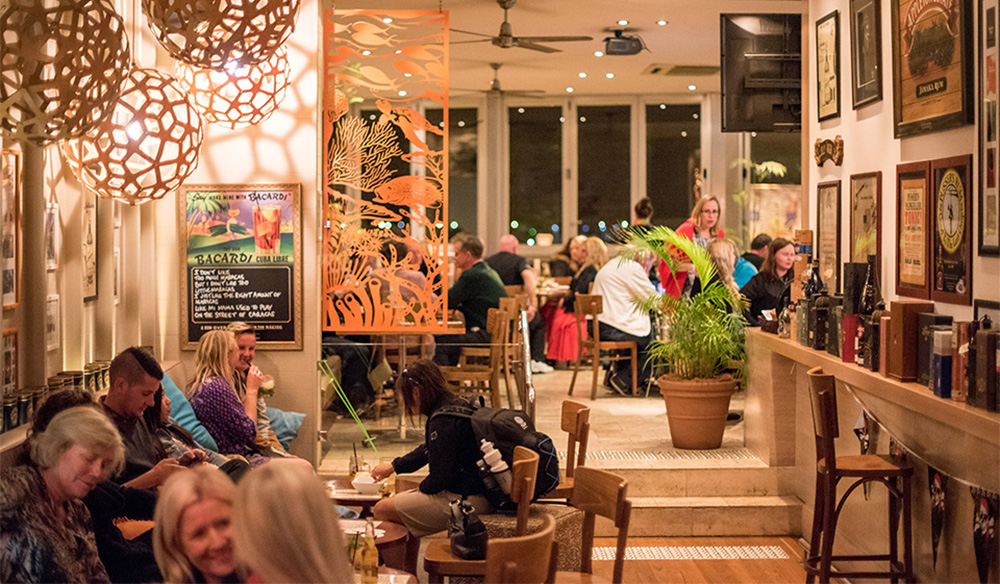 Whatever your normal poison, these guys guarantee they've got a drink you'll love – and with more than 280 rums on hand, they're not lying! The atmosphere here is cracking, too. 303 Shute Harbour Road, (07) 4948 0088.
Whitsunday Sailing Club
If you're looking for a low-key spot to spend a sunny afternoon, you really can't go past a few beers on the balcony at the Whitsunday Sailing Club. It's a local haunt, not an upmarket tourist destination, but that's exactly why it's so charming – and the views from this place are absolutely the best in town. Airlie Point, (07) 4946 6138
Where to eat
Hemingway's
If there's one place to try while you're here, Hemingway's is it. Beautiful decor, warm service and a beachside outlook provide the perfect spot for friends and couples alike. – and, of course, the food is excellent.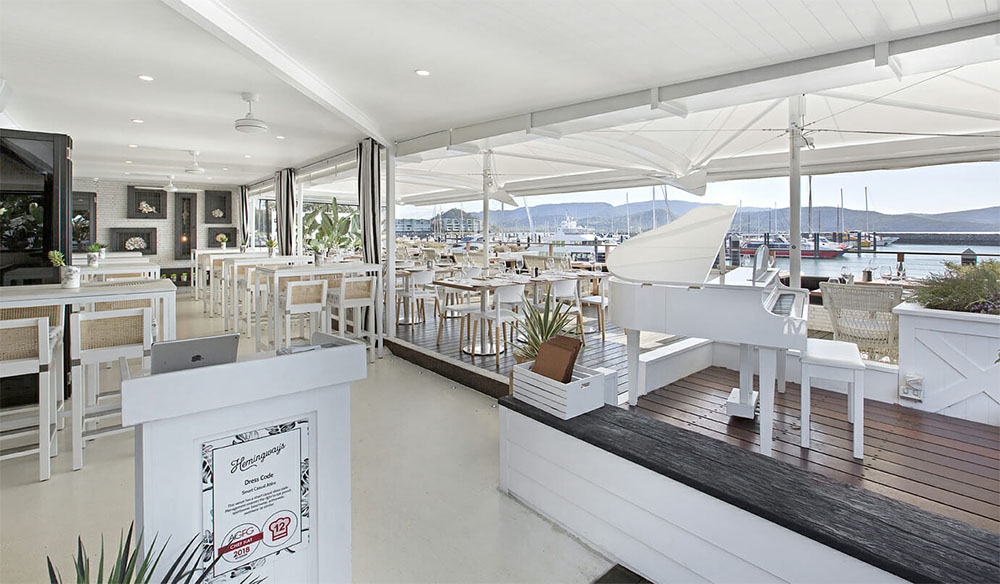 Feast on oysters, gulp down fine wine, take in ocean views and finish your dinner with an edible cigar served with Chantilly cream for dessert. Abell Point Marina, South Village, Shingley Drive, Airlie Beach
Capers restaurant
If it's a warm evening (and Airlie Beach has a lot of those), head to Capers restaurant. The service is slow, but when you're outdoors under white umbrellas and fairy lights, dining on a forward-thinking "localvore" menu (daily specials, with ingredients sourced entirely from within a 100km radius), that's easy enough to overlook.
The waterfront location doesn't hurt, either. 16 The Esplanade, Airlie Beach, (07) 4964 1777;
Sidewalk Café
If you're keen for brekky, there's really only one place to go: Sidewalk Café. It holds the unofficial title for best coffee in town, and the morning menu is a solid combination of crowd-pleasers – think thick-cut French toast, pancakes with crème fraîche, grilled haloumi with oven-roasted cherry tomatoes… Be warned, though: there can be a queue. 1a/293 Shute Harbour Rd, (07) 4946 6425;
Where to stay
There's no shortage of accommodation options in Airlie. Here are three places we stayed at:
Coral Sea Resort
This family-friendly hotel sits smack bang on some of Airlie's best real estate – right on the point. The rooms do feel somewhat dated, though a recent refurbishment has done much to revive them – and you won't be spending too much time inside anyway.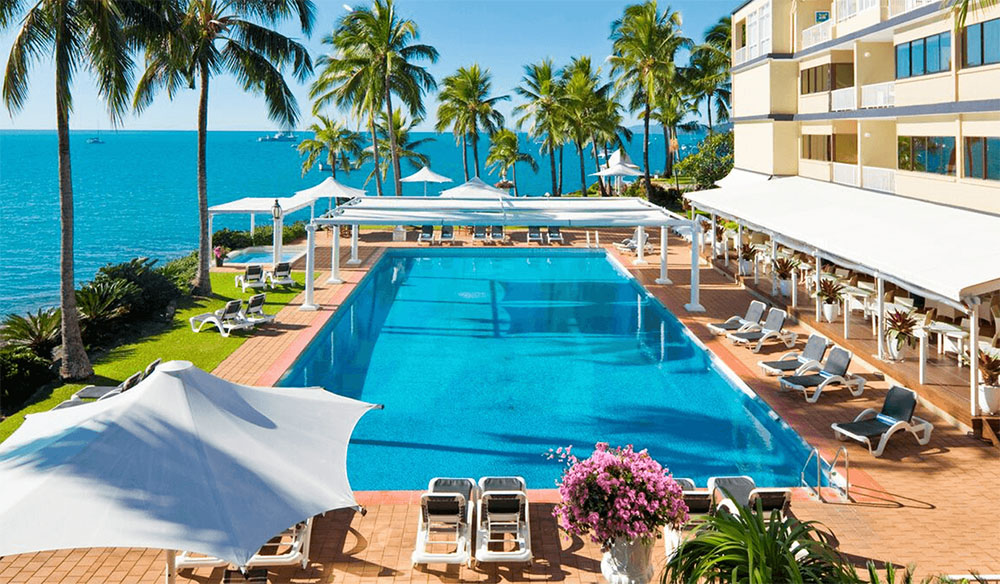 Especially when the rest of the resort is gorgeous – manicured lawns, a beautiful 25m pool, lazy palm trees, a backdrop of expansive island views… If you're feeling a little too relaxed, it's also only a two-minute walk to the centre of town. 25 Oceanview Ave, Airlie Beach, 1800 075 061;
Peppers Coral Coast Resort
The location alone of this place is enough to jump-start any romantic engine – it's set atop the steep crest of Airlie's immediate hinterland, with views that stretch out to the islands and far beyond.
Having only opened in 2010, the resort still has that "new" feeling – without the hiccups that normally accompany a new operation. Generously sized rooms with lavishly oversized tubs and five-star service add to the general sense of luxury, as does the oft-photographed wet-edge pool, perched on a balcony overlooking the town. Mt Whitsunday Dr, Airlie Beach, 1300 737 444 or (07) 4962 5101;
BIG4 Adventure Whitsunday
If you've got kids, you can't beat this place for value and fun – the facilities are phenomenal. Water slides, tennis, minigolf, outdoor movies, playground, a giant jumping pillow and Airlie Beach's largest resort pool will keep them occupied in a safe, friendly environment while you relax in a deluxe cabin (or BYO caravan/tent).
Adventure Whitsunday is a five-minute drive out of Airlie, but within walking distance of Whitsunday Shopping Centre – Airlie's main mall. There are regular shuttles and buses into Airlie. 25-29 Shute Harbour Rd, Airlie Beach, 1800 640 587;
5 reasons to end up in Airlie
The Islands
They're the kind you see on dream holiday wish lists – right in your own backyard.
The Writers Festival
From July 13 to 15, you can listen to talks from respected writers, channel your inner author with a creative writing workshop, sample Airlie's best food and wine and then fly home with a tan.
Hardy Reef
Just off Airlie's coastline as part of the Great Barrier Reef is Hardy Reef: something every Australian should have the privilege of seeing once. Truly breathtaking.
The activities
There really is something for everyone here. Take it as fast or as slow as you like.
The sailing
It's one of the best sailing destinations in the world – and each and every Wednesday, the Whitsunday Sailing Club goes sailing at dusk (volunteer crew members welcome!).
August 10-16 sees the town play host to Airlie Beach Race Week, an event with some 125 participating boats. If you feel like extending your stay this year, the following week (August 17-25) is Audi Race Week on nearby Hamilton Island.
For more info, go to tourismwhitsundays.com.au