Crusing in style in the Whitsundays
Setting Sail For Eternity



On a far-too-belated honeymoon in the Whitsundays, Danielle Lancaster discovers the joys of crewed sailing, the trick is convincing yourself when enough is enough.
With fingers crossed, we gaze out the airplane window. The sky is turning a murky grey as dribbles of rain slowly obscure our view of Hamilton Island. Not the sight we wanted to see escaping to the Whitsunday's for a three-day "Luxury Crewed by the Cabin" cruise. Thankfully, it's not a sign of things to come.
On our arrival at the head office, we're greeted by the tanned island smiles of our crew: Mark, the skipper, and Tess, our hostess. They inform us apologetically that the other expected guests have cancelled. There's a pause while I ask whether we'll still be sailing. "Yes, of course," they confirm, before dragging our bags towards the yacht – a 46ft gleaming white catamaran named Melissa. Thank goodness – after 18 years of marriage and no official honeymoon, this was just too good to be true.
Hamilton Island is no Blue Lagoon, rather a mini Gold Coast. White cockatoos pinch food from unsuspecting tourists. Children lounge in chairs, feet on tables, seemingly unaware of their island marina view, home to a billion trillion dollars worth of sea vessels floating idly at their moorings. Golf buggies, the preferred mode of transport, buzz around adding to the clatter.
As the Melissa motors out of the marina and Hamilton Island slowly fades behind us, the melancholy skies continue to threaten rain and the brochure-depicted turquoise Coral Sea churns. Mark, a born and bred Whitsunday-ite, knows these waters well. He tells us of a waterfall in a beautiful inlet that will be running after the recent rains; if we agree, he'll head there and leave our first choice of Whitehaven Beach for later when the weather improves.
Within a couple of hours, the Melissa purrs into the protected waters of Nara Inlet on Hook Island. The tall rugged mountain tips covered in hoop pines surround us on three sides. Sea eagles soar in the air high above. With the afternoon light quickly fading, we sit on deck sipping wine and nibbling on pâté and crackers. That evening Tess ensures we dine on some of the ocean's finest: a succulent coral trout. And thankfully, with no signs of seasickness, we sleep well – waking to white cockatoos raucously serenading the arrival of the sun's first rays.
We motor out of Nara Inlet then weave our way under sail to Blue Pearl Bay on Hayman Island. Within minutes of dropping anchor we're decked out in stinger suits, snorkels and goggles and deposited on a pure coral beach. Swiftly we overcome our silly landlubber fears about being surrounded by the sea and everything that lives therein. The colours of the fish and coral have us calling and pointing like a couple of hyperactive children. Shivering and wrinkling we eventually climb back aboard, where we lunch like kings and queens on Moreton Bay bugs and prawns.
It appears my husband Nick loves being at sea. He's the doer; I'm the watcher. After lunch, he takes the wheel of the Melissa and, under Mark's guidance, sails us to Scrub Hen Beach on Whitsunday Island.
Here we do find a scene right out of Blue Lagoon. We're delivered to the secluded beach with all the essentials of life – wine, food and the obligatory insect repellent (yes, you'll need it, even here) – well in time to sip, snuggle and watch the sunset all alone.
Next morning, the sails are raised early to clear skies for a short hop around the island to a less frequented reef – one of Mark's hidden secrets – before our final destination, Whitehaven Beach. Again, on with the snorkelling gear and into the water we wade. With the sun on our backs, the reef and its inhabitants leap to life in a flurry of brilliant colour and activity. Huge cod dart in and out of rocky crevices, shy at first, though bold enough to come back for a closer look.
Mark has read the weather perfectly. Sun-drenched Whitehaven Beach, with its pure white silica sand, sits above an aqua sea – complete with curious sea turtles when we arrive. Once again we tuck into an outstanding meal of calamari, salads and freshly toasted breads, all washed down with lunch-o'clock wine.
After a stunning sunset, another sumptuous evening meal, laughter and wine, we toast our skipper and hostess with the mostest with coffee and schnapps. Our shout. They deserve it. Now if only our three-day booking was actually for three months.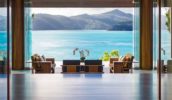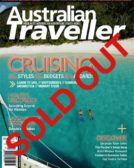 Enjoy this article?
You can find it in Issue 15 along with
loads of other great stories and tips.