Journey to the ultra-remote north-eastern edge of the vast and striking Kimberley and you'll discover a one-of-a-kind luxe oasis at Berkeley River Lodge. By Yasmin Newman
Charles Price Conigrave, a zoologist at Perth Museum, led an intrepid team of seven in 1911 to explore the previously unknown country between Cambridge Gulf and Napier Broome Bay.
Or, in the explorer's own telling words, 'the extreme northern part of Western Australia'. As fate would have it, near on 100 years later, a local publican couple was introduced to the swathe of land Conigrave discovered during that journey, still pristine and as yet undeveloped. They were mesmerised, much as the explorer had been when he first laid eyes upon the site.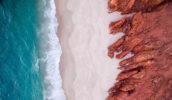 Today, it's the striking vision a select group of visitors witness from 3000 metres above, aboard a light aircraft en route to Berkeley River Lodge, a luxe resort affixed to the mouth of the Berkeley River. It's a far more grand entrance than the expedition team enjoyed, but the air of adventure, isolation and raw beauty is ever present.
Private plane or chartered yacht?
For starters, the only way in or out is by private plane or chartered yacht, or the old way on horseback. There are no roads here and the nearest town, Wyndham, is more than 150 kilometres away. Head north across the sea, and you'll eventually hit one of the Timor Islands.
It takes some guts (or stupidity) to set up shop so far from anything, but Martin and Kim Peirson-Jones, whose prior experience includes an armful of pubs and hotels across the Kimberley, were determined to bring their vision for remote luxury to life.
So, they struck an enthusiastic agreement with the traditional owner of the land, Eugene French, then left their comfortable abode in civilisation to oversee construction. They lived there for over two years.
The result of their hard work is breathtaking. But the vibe here is au naturale rather than opulent, from the dusty red paths and safari-style staff uniforms to the enclosed outdoor timber showers in each private villa. The landscape is the intended centrepiece – windswept dunes, native flora in abundance, and views of a giant vibrant red escarpment to the south.
Sustainability wasn't really a choice, given the locale, but it's immaculately conceived: the resort is run almost entirely on solar power and water is double-purified from an aquifer under the dunes. And with rooms that look more like glamping set-ups than permanent constructions, Berkeley River Lodge's man-made footprint is minimal.
The frequent presence of Martin and Kim, or one of their larrikin children, only enhances the resort's authenticity. Sure, it lacks a few of the bells and whistles of multinational-run mega resorts, but I'd trade that for outback charm any day.
The resort's endearing 12-strong staff who greet you by name and a firm hug are another selling point. Memorable experiences are built on personal encounters, especially way out here, where shared stories of the land and camaraderie is what it's all about.
Communal dining on the dunes
In that vein, dinner is a communal affair, kicking off at the bar with aperitifs and hors d'oeuvres – usually a seafood number prepared from the day's catch, such as sublime tempura queen fish, the pure Berkeley River water captured in each bite – while mains are served on the deck at Dunes Restaurant, where long tables are set for guests to mingle.
Chef Troy Matthews is a creative chap whose playful European food is all the more impressive in light of the lodge's seclusion, where ingredients such as desert lime are foraged from the wild, grown in their on-site permaculture patch or flown from Kununurra.
Like the landscape, the lodge's self-run tours are a focal point – the means to explore the rugged, mesmerising surrounds – and the options to fill each day within a short stay are thrilling.
Fishing enthusiasts, for example, can take to the high sea to hunt for queen fish, trevally, golden snapper and fingermark bream, or scout the Berkeley River, where barramundi, bluenose salmon and threadfin tuna, all local specialties, call home. Novices are welcome, too, as seasoned guides set up hook, line and sinker; all you have to do is sit back and take credit for the catch.
For a more laid-back aqueous expedition, the lodge's river boat calmly chugs along the Berkeley and partway through its two tributaries. It takes you past grand, Lord of the Rings-worthy sedimentary sandstone cliffs – bone dry in summer and marked in areas with indelible black highlighting where thunderous water cascades come the wet season.
You'll also pause en route to spot birds such as the long, thin black-necked jabiru, and the crowd pleaser, crocodile spotting. For every reptile you can see, there are another nine, we were told, bringing it up to a mighty tally from the numbers we eyed.
Where the saltwater meets the fresh water
Twenty-five kilometres up river, the saltwater meets the fresh and the thoroughfare narrows making passage by boat impassable, but you can leap by foot across small rockpools and take in the rising sight of 262-metre tall Mt Casuarina in the distance.
All throughout the region is Bradshaw rock art, placing indigenous occupation of the area to at least 3000 years, and on other tours, guests can walk up trails from the riverside to creek beds and waterholes where these beautiful vestiges of the past can be seen first hand. On the way back, the boat passes Casuarina Falls, marking the border of the lodge's lease and the traditional owner's land.
While water is a star attraction, the view from above is equally alluring, and the resort's private helicopter and pilot is on hand for day trips at guests' discretion and direction. On land, 4WDs that look plucked from the Sahara mount the grand dunes and glide across the sand for beach outings to the north, where remnants of indigenous implements still stand. Then, under the shade of a pandanus tree, lunch is served, and just like characters in Robinson Crusoe, there's only sand and sea in sight.
Guests at Berkeley River Lodge have included the likes of Dick Smith and other private plane owners and yachtsman, who spy this impossible oasis on the northern edge of Australia, and still think it's a mirage when they touch land.
A trip out here to this one-of-a-kind lodge has that effect on people. It also makes you truly appreciate Australia, from the magnitude of the land – the Kimberley itself spans 424,000 square kilometres, bigger than the size of Germany – to the indigenous communities and Aussie battlers who forged the way for our modern lives.
Conigrave lost two men during his arduous expedition; they weren't sure they'd return to Wyndham alive. That vastness is tangible at Berkeley River, and the deep red earth that intoxicates you from first sight lives on long after in your dreams.
The details: Berkeley River Lodge, The Kimberley Coast
Getting there: Flights via light aircraft to Berkeley River Lodge depart and return to Kununurra, WA, and Darwin daily.
Staying there: Rates are based on tailor-made packages and start from $1650 per night, twin share. Food and selected beverages are included in the price.
Playing there: Also included are various tours, from guided treks to river cruises. Pilots on the transport aircraft double as tour guides and provide excellent descriptions of the region, from the number of cattle and ranches throughout the Kimberley to where Baz Luhrmann filmed Australia.
Contact: Berkeley River Lodge, Kimberley Coast, WA. To book, call (08) 9169 1330.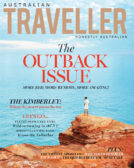 Enjoy this article?
You can find it in Issue 67 along with
loads of other great stories and tips.