Travel to Christmas Island – the Kingdom of the Crabs
ON THE MARCH
Christmas Island has been referred to as the Kingdom of the Crabs. With 33 separate species residing there, it's easy to see why. And when the red crabs are on the move – described for you here by Alan Fealy, who lived on the island for ten years – it's one of the most spectacular animal migrations on Earth.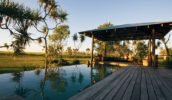 "The migration is triggered by the first rains of the wet season, usually in October or November, but can be as late as April. These rains wake up the millions of crabs who lie dormant for much of the year. Not that you don't see them during the dry, but it's hard to imagine how many there are until the rains come. They literally torrent from the jungle in a headlong – or, rather, sideways – dash for the coast, in a hormone-driven quest to mate and breed.
"After dipping in the Indian Ocean, the males come back to the shore terrace and form burrows in anticipation of the females' arrival. After the females have dipped, they come to the burrows, mate and await the development of their eggs, while the males return exhausted to the jungle. The eggs form in a kind of pouch under the carapace and, coinciding with the next neap high tide – when the difference between high and low is at its smallest – the females jettison their eggs into the water. So great is this discharge that the water runs a reddy-brown, triggering many of the great events of the surrounding ocean: whale sharks come to gorge, and a huge array of fish join the feast. It's truly one of the most remarkable events in the natural world.
"Although the yellow crazy ant, introduced by mistake to the island in the early years of the 20th Century, has caused havoc with the red crab population, there are still many millions of crabs on the march in any year. It's a 'crunching' experience; no matter the care taken, it's impossible for the islanders to miss them all. However, locals are more concerned about running them over nowadays, since the crazy ants arrived. Many jungle roads are closed while the crabs pass, and school buses stop short of the school to avoid the very heavy torrent that runs through that part of the island. Most classrooms have crab boards to stop them filling with crabs.
"The crabs are, like most crabs, totally non-aggressive – but I wouldn't like to become comatose in the jungle, simply because of the numbers . . . they pretty much clear anything in their path. During the migration many of them are squashed on the road, and the kids – in the macabre way of kids – call them "crab pizzas."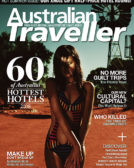 Enjoy this article?
You can find it in Issue 18 along with
loads of other great stories and tips.